Flymo Chevron 32V Specifications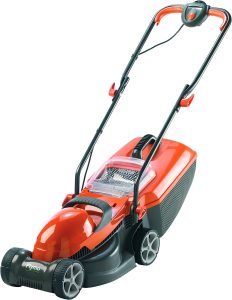 | | |
| --- | --- |
| Manufacturer | Flymo |
| Model | Chevron 32V |
| Type | Walk behind, rotary mower |
| Dimensions (H x L x W) | 99 x 125 x 36.5cm |
| Weight | 8.7kg |
| Power | Corded electric |
| Wattage | 1200W |
| Cable length | 10m |
| Cutting width | 32cm |
| Blade material | Metal |
| Cutting height | 20 - 60mm |
| Grass box | 29L |
| Mulching capability | ❌ |
| Rear roller | ✔️ |
| Warranty | 2 years |
| Price | Check on Amazon |
Flymo Chevron 32V Review
The Flymo Chevron 32V is a budget electric rotary lawn mower. It needs to be plugged into mains power at all times while you're mowing your lawn.
This lawn mower comes with a 1200W motor, making it one of the less powerful mowers that Flymo sells. However, since it doesn't have a battery, or a complex petrol engine, Flymo is able to sell this mower for a pretty reasonable price.
As a cheap option, this mower doesn't have a heap of advanced features. There's no mulching plug for example, so you have to collect grass clippings in the included 32L grass box.
On the whole, this is a simple, budget lawn mower, designed for beginners and those with small gardens.
The Good
Value for money. Given its relatively cheap price, there's a lot to like about Flymo's lawn mower. For starters, it has metal blades, which aren't always available at this price point. They stay nice and sharp over time, and unlike plastic blades, they aren't flimsy, and won't need to be swapped out every so often.
Lightweight design. Because it doesn't have a battery, the Chevron 32V is also very lightweight, and is easy to assemble. It's also quite small once folded down, making it easy to store away when not in use.
Cutting height. The cutting height on offer is good, but not amazing. You can cut as high as 60mm, while more expensive mowers will allow you to go as high as 75-80mm. The cutting height on offer is about what you'd expect at this price point.
32L grass box. The grass box is easy to empty, and the mower does a good job collecting clippings as you mow. There's also a vision window into the grass box, helping you see when it needs to be tipped out.
Durability. This lawn mower is very reliable for the price. It's not made of the most sturdy material, but isn't prone to breaking down. The Chevron 32V is also backed by a 2-year warranty from Flymo, which is great.
Stripe creation. The rear roller is also a nice addition. On the highest blade setting, you can create some decent stripes with this mower. Overall, the rear roller is quite easy to use, and very beginner-friendly.
The Bad
Efficiency. The main limitation of this lawn mower is how small it is. This design does make it nice and light, and quite manoeuvrable, but it's not the most efficient mower. Since this mower is only 32cm wide, and since you need to keep it plugged in at all times, the Chevron 32V is only really suitable for small and medium-size gardens.
The height adjustment mechanism. Changing how low or high you're cutting can be a little fiddly due to the design Flymo has used. You have to manually move the axles themselves into different slots – it's not the most intuitive system. It's also important to note that you only get three height settings with this mower. Although the range of cutting heights is quite good, there are only three to choose from (20mm, 40mm, and 60mm).
Our Verdict
4/5 – Great for small to medium gardens.
For those looking to mow a small area of grass in your garden, the Flymo Chevron 32V is definitely worth considering. It's reasonably durable, lightweight, and offers good value for money – especially given it comes with metal blades.
Before buying this particular mower though, you need to ensure that a corded mower will work for you. If you don't have anywhere nearby to plug the mower in as you use it, then you may be better off looking for a battery-powered mower, so that you don't need to stay plugged in all the time.
And if you have quite a large garden, and mow your grass often, you might want a mower with a bigger cutting width, to improve your mowing efficiency.
Alternative Lawn Mowers
If you're looking for something with slightly wider, or a mower with a battery, these other options are also worth a look.
DIRECT COMPETITOR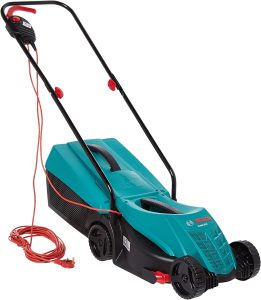 WIDER MOWER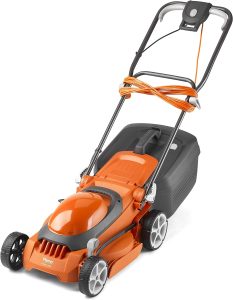 BATTERY POWERED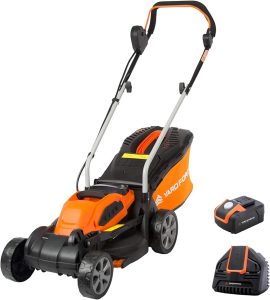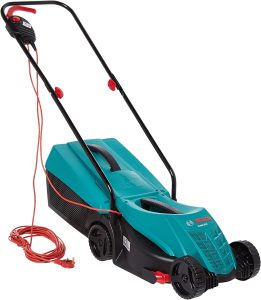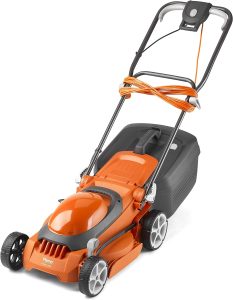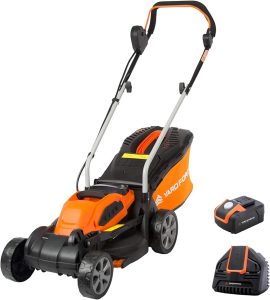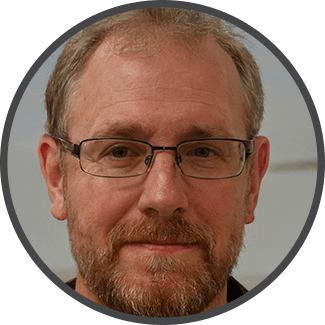 I'm Josh, and I'm the head writer at Lawn Care Pro.
I love everything lawns, but I'm a bit of a lawn mower nerd. I spend a lot of my free time tinkering with mowers, and planning my mowing schedule for the next few weeks.
I'm also into cars, which comes in very helpful when servicing a mower engine!