Flymo Speedi-Mo 360C Specifications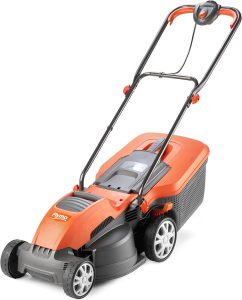 | | |
| --- | --- |
| Manufacturer | Flymo |
| Model | Speedi-Mo 360C |
| Type | Walk behind, rotary mower |
| Dimensions (H x L x W) | 99 x 126 x 41cm |
| Weight | 11.5kg |
| Power | Corded electric |
| Wattage | 1500W |
| Cable length | 12m |
| Cutting width | 36cm |
| Blade material | Metal |
| Cutting height | 20 - 60mm |
| Grass box | 40L |
| Mulching capability | ❌ |
| Rear roller | ❌ |
| Warranty | 2 years |
| Price | Check on Amazon |
Flymo Speedi-Mo 360C Review
The Flymo Speedi-Mo 360C is positioned as a budget electric corded lawnmower. Most Flymo products are hover mowers, but this option sits in their range of wheeled lawn mowers.
It has a 36cm cutting width, and a 40Lnb grass box for collecting clippings as you mow. This mower also has a 1500W motor, which is surprisingly powerful, given what it costs.
No rear roller is included on this lawn mower, and it does not have a mulching function. There are five cutting height settings, between 20 – 60mm, and the blades on the cutting deck are made of metal.
Essentially, the Speedi-Mo is a budget lawn mower from Flymo, designed for those who don't want the hassle of dealing with petrol or battery-powered mowers. It's designed for cutting medium to large sized lawns, due to its width.
Assembly
There's a little bit of assembly required with this mower, as the Flymo Speedi-Mo 360C comes in four pieces.
You first need to put the top cover on the grass box. There are two separate pieces to the grass box that clip into one another.
This can then be attached to the actual mower.
Finally, you can install the handle.
On the whole, the process is quite simple, and the mower is easy to assemble. The different pieces snap into place, which can be a bit fiddly to do, but it's not difficult at all. There are no tools or screws required to put together this lawn mower.
Ease of use
"
…Flymo have prioritised manoeuvrability with this mower.
"
Once assembled, you can essentially plug in and go with this mower. Most corded electric mowers, such as the Flymo Chevron 32V, come with a 10m cable. This one comes with a 12m cable, giving you a bit more freedom to reach the furthest edges of your garden.
Like most other Flymo mowers, the company have prioritised manoeuvrability with this mower. It's easy to make turns and mow exactly where you want to mow. It also allows you to mow right up to the edge of your garden, which is great.
However, most of what makes this mower so manoeuvrable is its weight: it's very light. For some people, this is a good thing – it makes the mower easier to control, and easier to pick up should you want to store it off the ground. But some people prefer to have a heavier, studier-feeling mower. This is entirely down to personal preference, but beware, you'll likely have to spend more to buy a sturdier mower.
Power
"
While this mower will work for larger gardens… you might need an extension cable.
"
This mower comes with a 1500W motor, which is pretty good, given what it costs. Having a mower powerful motor helps make mowing easier, and makes for a better quality cut. More power means you cut rather than rip the grass blades, making for a healthier lawn.
While this mower will work for larger gardens, especially given its 36cm cutting width, you might need an extension cable. Even though the power cable is longer than average, it might not be long enough for large gardens, depending on where your nearest mains outlet is.
This is a slight downside – you may want to consider a battery-powered electric mower if you don't want the hassle of managing a long power cord. However, buying a lithium-ion battery mower will be more expensive.
Mowing effectiveness
"
The performance is very good, given what this mower costs.
"
The metal blade, combined with the 1500W motor, does a great job cutting grass, even if your lawn is very thick or slightly damp. The performance is very good, given what this mower costs.
In terms of cutting height adjustment, there are five settings, between 20mm and 60mm. We would like to see a higher setting, above 70mm, however the available options are decent. It's also easy to adjust the height, helping you find the ideal cutting height for each mow, which is a nice bonus.
The 40L grass box offers plenty of capacity for small to medium-sized lawns. And the mower does a great job picking up your clippings as it goes. If you have a larger garden, you might find the grass box a bit small – you'll need to empty it mid-mow every so often. Fortunately there's a vision window to help you spot when the easy to remove grass box needs tipping out.
Mulching
There is no mulching plug on this mower. It's best to collect your grass clippings in the included grass box. You can technically take the box off, but the mower isn't designed for this, and the clippings it discharges won't be as small as they need to be for mulching.
Ergonomics
The handle on this mower is quite comfortable to use over short periods. You wouldn't want to use it for hours on end, especially given that there is a button you need to keep depressed on the handle to keep the motor running. This is an important safety feature – fortunately, the button doesn't take much pressure, so this design isn't actually that annoying.
The mower also comes with a useful carry handle, making for easy transportation.
In terms of noise, this mower is a bit louder than comparable corded electric mowers, due to the 1500 watt motor. However, it's still relatively quiet overall, and is much quieter than any petrol mower on the market right now. You won't have to worry about your neighbours complaining with this Flymo mower.
Durability
"
Provided you're fairly careful with it, and treat it well, this mower should last for five years or more.
"
As we touched on earlier, this mower is made mostly of plastic, and it doesn't feel extremely sturdy. More expensive mowers will be more durable.
That's not to say that this mower is prone to breaking down. Provided you're fairly careful with it, and treat it well, this mower should last for five years or more. The steel frame and metal blade are very tough, making the mower more durable in the areas in needs to be.
Flymo does include a 2-year warranty (once the product is registered), which covers the cost of repair for major failures.
Value for money
"
In terms of value for money, it's quite hard to beat this mower.
"
This is one of the cheapest lawn mowers you can buy in the UK right now. Because the Speedi-Mo 360C is a corded mower, you save a lot of money because it doesn't come with a lithium-ion battery or a complex petrol engine – both of which would be costly components for Flymo to install.
Of course, there are a lot of benefits to having a battery-powered mower – you don't have to worry about mowing over the power cord, for instance. But provided you don't mind being plugged in, the Speedi-Mo 360C allows for clean, efficient mowing.
In terms of value for money, it's quite hard to beat this mower. It mows really well for a budget mower.
The Verdict
4.4/5 – Excellent value for money.
For medium to large sized gardens, the Flymo Speedi-Mo 360C is definitely worth buying. The width alone makes it a better alternative to many of its direct competitors, unless you have a very small garden.
For smaller lawns, this mower might be slightly too big. If you only have a small patch of grass, we'd recommend checking out the Flymo Chevron 32V.
Alternative Lawn Mowers
Need a slightly smaller lawn mower? Or do you want something more sturdy?
Here are three alternative lawn mowers that offer better performance in different areas.
DIRECT COMPETITOR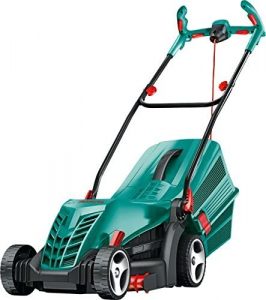 SMALLER VERSION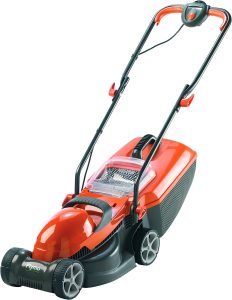 BATTERY ALTERNATIVE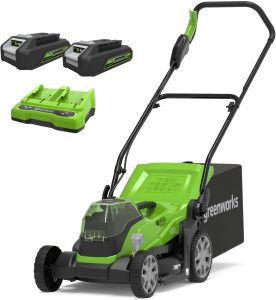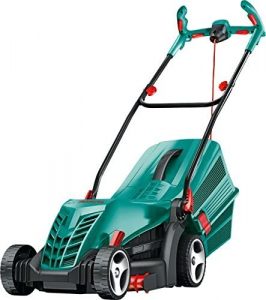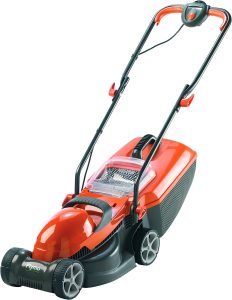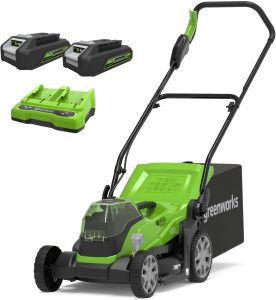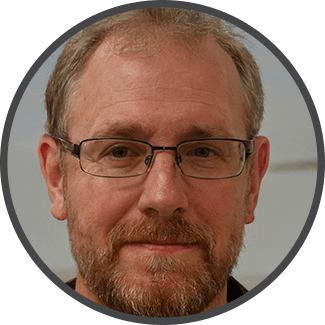 I'm Josh, and I'm the head writer at Lawn Care Pro.
I love everything lawns, but I'm a bit of a lawn mower nerd. I spend a lot of my free time tinkering with mowers, and planning my mowing schedule for the next few weeks.
I'm also into cars, which comes in very helpful when servicing a mower engine!