Looking for a light weight, easy to use lawn mower that works on basically any type of lawn?
In this buyer's guide, we've reviewed the 6 best hover mowers as of 2023.
Quick comparison table
BEST OVERALL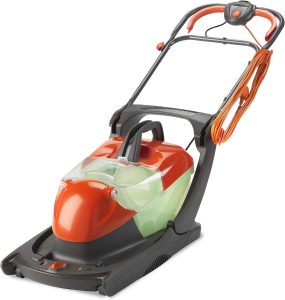 Flymo
Glider Compact 330AX
BEST PRICE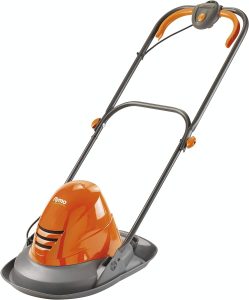 BEST LARGE HOVER MOWER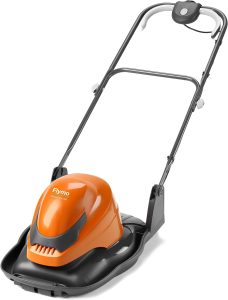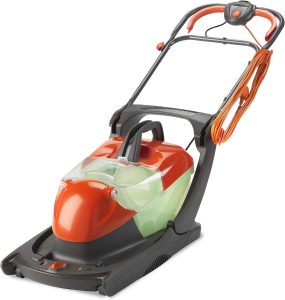 Flymo
Glider Compact 330AX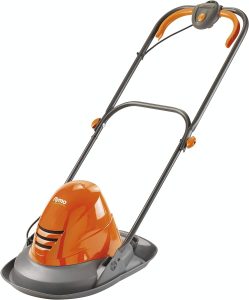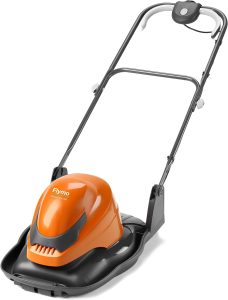 Best hover mowers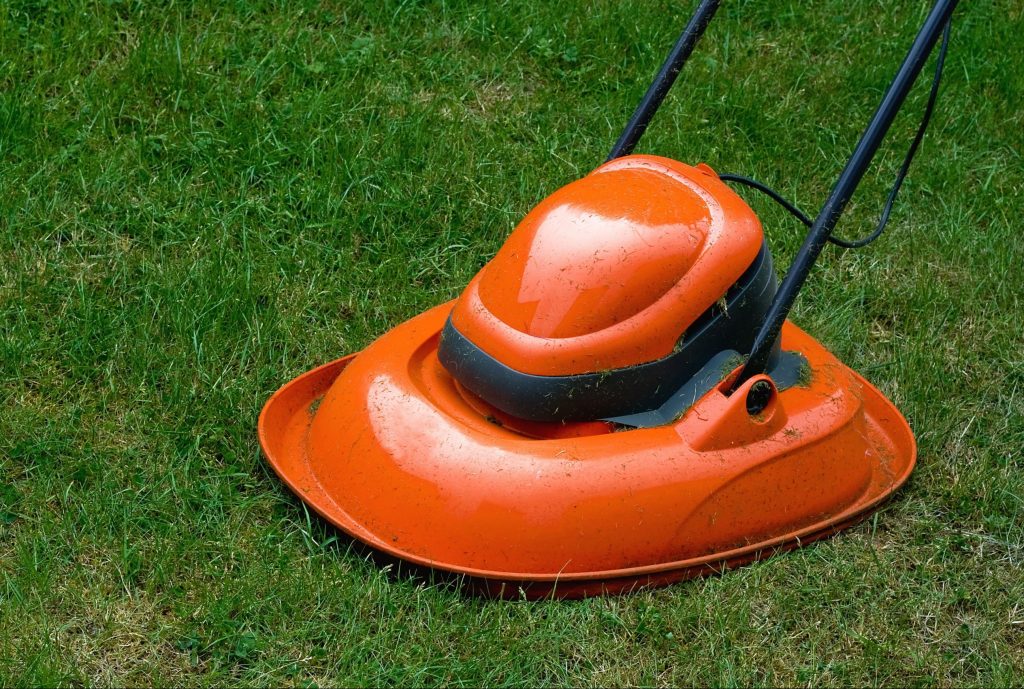 Time to begin our reviews.
In this section, we've reviewed the 6 best hover mowers in the UK right now.
Flymo are the creators of the hover mower, which is why their products are still market-leading to this day.
The 330AX is a more expensive, top of the line hover mower. It doesn't cost that much compared to a wheeled mower, but is still a bit expensive for a hover mower.
In return for the extra cost, you get a grass box included, to ensure you don't leave clippings all over your lawn. The clipping box isn't the biggest – it only has a capacity of 22 litres. However, because this electric hover mower creates incredibly fine clippings, you won't have to empty the grass collection box often, which is great.
The other great thing about this hover mower is its size. With a 33cm cutting width, it's a bit wider than most hover mowers. This means you can cut more grass more quickly, and with less effort – including to the edges. Plus, it has 4 cutting heights to choose from, allowing you to take as much or as little off as you want with each mow.
Despite being a bit wider, this lawn mower is still light weight, making for easy transportation when you want to store it away.
As you'd expect from Flymo, this mower is extremely easy to use, and hovers well. The only downside is, it's not the best on sloping lawns – it hovers much better on flat ground. The 330AX is definitely worth considering though, especially for flat, small to medium-sized gardens.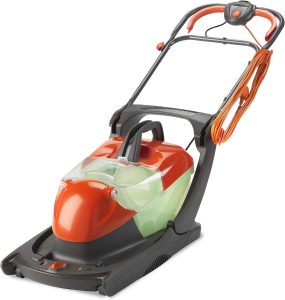 ---
Pros
Easy to use.
Good cutting width.
Includes a small grass collection box.
Works well on sloping lawns.
Cons
A little expensive, but worth the cost in our opinion.
If you have a small lawn, and don't need to collect grass clippings, the Turbo Lite 260 might be what you need.
This mower is smaller than the 330AX we just reviewed. As a result, it costs less, has less weight, and is easier to use. However, it can't collect grass clippings, and only has a 26cm cutting width. Meaning, it's less efficient, especially for large lawns.
The 1400 watt motor in this mower is also less powerful. But that doesn't make it any less effective – since the 260 is so light, it doesn't need as much power to stay hovering above your grass. You still get a 10m power cable to ensure you have plenty of freedom of movement around your garden.
Despite being reasonably cheap, you still get Flymo's standard 2-year warranty with this mower (upon registering the product on their website), which is nice.
Overall, if you're looking for simple hover mowers for small to medium- sized gardens, the Turbo Lite 260 is a great choice.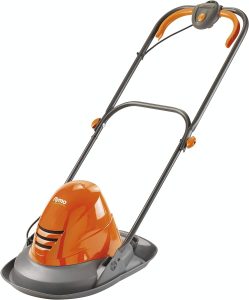 ---
Pros
Small, and extremely lightweight.
Easy to manoeuvre.
Great price.
2 year warranty.
Cons
Cutting width is a bit small for large gardens.
If you're not a huge fan of Flymo, Black+Decker also make an electric hover mower that's worth checking out.
This product is actually a bundle. You get an electric grass strimmer included, which is very useful indeed. Although hover mowers are very nimble, they can't get into nooks and crannies at the edge of your lawn quite like a strimmer can.
The hover lawn mower itself is not too small, nor too big. It has a 30cm cutting width, which is slightly on the smaller side, but is bigger than the Turbo Lite 260 we just reviewed. It has decent manoeuvrability, and works well on slopes, which makes it very easy to use.
However, this electric hover lawn mower isn't all that powerful. It comes with a 1200W motor, compared to 1400W for the smaller Flymo mower. This means it uses less electricity, but the cushion of air it creates isn't as strong. However, you do get 4 cutting heights to choose between.
For the price, this combo is a good deal. But if you need a more powerful hover lawn mower, or don't need a strimmer, there may be better products out there.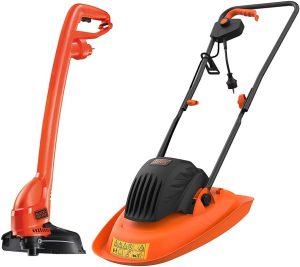 ---
Pros
Nice size mower.
Good manoeuvrability.
Strimmer and mower combo work well together.
Cons
Mower could be more powerful.
This is a similar product to Fymo's other "Lite" mowers, like the Turbo Lite 260.
The difference is, this mower has a much higher cutting width – at 36cm. Meaning, it's much more efficient for big gardens. It also has a much more powerful 1800 watt motor.
In return for these benefits, you pay more – this is a reasonably expensive mower compared to other Flymo Turbo Lite models. It's also a bit heavier due to the larger size. However, it's not that heavy overall, because there's no grass collection box.
Despite how efficient it is, and the power of the motor, this is actually a reasonably quiet mower. It's easy to use, as you'd expect from Flymo, and the metal cutting blade stays sharp for a really long time. On the whole, it's a very durable mower, which is part of the reason why it costs more.
Essentially, this is probably the best hover mower that Flymo currently makes among their large models. If you don't need to collect grass clippings, or don't mind raking them up, then the SimpliGlide 360 is a great pick.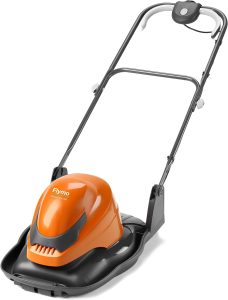 ---
Pros
Durable.
Large cutting width.
Easy to use.
Challenge are another Flymo competitor that make a great lawn mower.
This is essentially a mid-budget, smaller option – it's a very lightweight hover mower. It's easy to use, is very nimble, and comes with a 10m power cable.
The other good thing about this mower is it's designed specifically for mulching. Rather than just distributing your grass blades everywhere, this mower is designed specifically to mulch them into extremely fine pieces that act as compost for your grass.
However, there is an issue with this mower – the blades are made of plastic – it doesn't have a metal blade. This reduces their durability somewhat.
Also, the mower is only 900W. Although this makes for very quiet mowing, it does reduce the cushion of air's strength. Also, there are only 2 cutting heights to choose from. You don't get 4 different cutting heights like with most Flymo hover mowers.
Ultimately, this mower is suitable for small, flat gardens, due to its simplicity and lightweight design.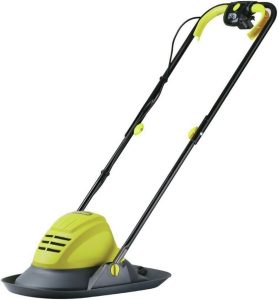 ---
Pros
Very light.
Decent 29cm cutting width.
10m cable.
Does a good job mulching your clippings.
Cons
Only 900W.
Plastic blades.
The Hover Vac 260 is very similar to the Turbo Lite 260. Both have the same cutting width, have the same cable length, and cost about the same.
However, the Hover Vac comes with a small 15 litre grass collection box. This grass box is extremely easy to empty, which means you don't have to worry about going back and raking up all of your clippings after you finish mowing.
Despite the addition of the grass box, this is still a reasonably light lawn mower. It works extremely well on nearly any incline, as you'd expect from Flymo.
This hover mower comes with a 10m power cord, as is typical from Flymo. It has a small footprint, and is easy to put away during the winter months.
Do note though that this isn't the most durable mower that Flymo makes. It can seem a little bit flimsy, in terms of the outer parts of the mower. It won't break down easily though, and even if it did, you're still backed by Flymo's 2-year manufacturer warranty.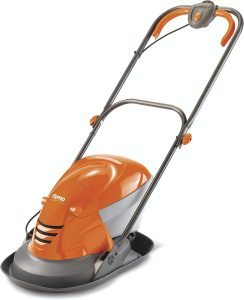 ---
Pros
Very manoeuvrable.
Good price.
Lightweight.
Easy to put away and store.
Cons
Can feel a little flimsy.
Hover mower buyer's guide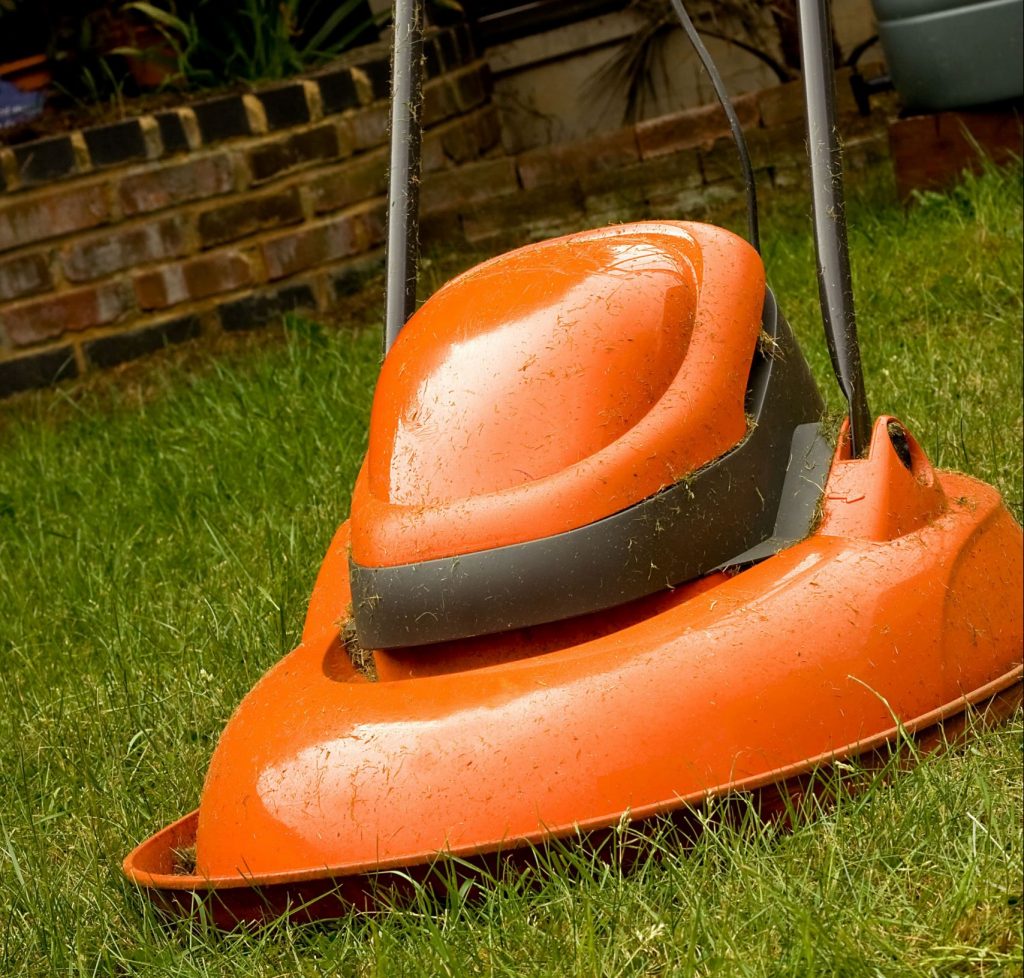 Now we'll discuss some key things to consider when buying a hover lawn mower.
What are the characteristics of a hover mower?
Rather than rolling around on wheels like most other types of lawn mower, hover mowers hover over the grass as they cut.
They do this by creating a cushion of air between the ground and the inside of the mower. When the mower is on, a fan activates inside the cutting deck, sucking in air through inlets on the top of the mower. A high-pressure pocket of air is created, allowing the mower to hover as you push it.
As the mower floats on air, it has a circular cutting blade that trims the grass as you go.
Watch this video to see how a hover lawn mower works:
Why buy a hover mower
There are a number of reasons why hover mowers are very popular in the UK and around the world.
Manoeuvrability. Since a hover mower doesn't have wheels, they're extremely manoeuvrable. They work great on sloping lawns, and can get into hard to reach sections of grass – in large part because they're smaller than a typical lawn mower.
Works in any direction. With a hover mower, you're not limited to moving forwards and backwards. You can go side-to-side as well.
Light weight design. Because hover mowers don't have a large grass box or petrol tank, they're often extremely lightweight. This contributes to their manoeuvrability, but also makes them very easy to pick up and store.
Low noise levels. Most hover lawn mowers are very quiet in comparison to a mower with a petrol engine.
Affordability. Hover lawn mowers are often relatively inexpensive, because they're less complicated than most other lawn mowers, and often don't come with a battery – which we'll explain a bit below.
Why you might not buy a hover mower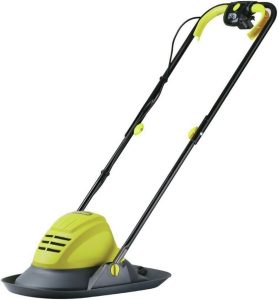 However, there are also some disadvantages to hover mowers that you should be aware of:
Small size. Hover mowers are normally quite small, and therefore don't cut as much as grass on each pass compared to a bigger mower with a larger cutting width. Therefore, a hover mower might not be the best idea if you have a large lawn.
Lack of features. Hover mowers don't normally come with the same amount of advanced features as most petrol mowers. As an example, a hover mower typically leaves grass clippings in place, spreading them over the lawn. They don't normally have a mulching or side discharge setting, meaning your ability to manage your clippings is limited somewhat.
Less effective on uneven lawns. Before using a hover mower, you'll need to ensure that your lawn is fairly flat. It doesn't have to be perfect, but if you have a lot of bumps, or extremely uneven grass growth, then a hover mower might not be able to glide across the surface smoothly.
Powering a hover mower
Hover mowers are nearly always electric, and are powered using a cable you plug directly into a power outlet.
This is because a hover mower needs to be lightweight. With a petrol tank or battery included, a hover mower would be too heavy to hover, which would be a problem.
Therefore you need to ensure that you have a power plug somewhere near the garden that your hover mower can reach. An extension cable is normally a wise investment when getting a hover mower.

View on Amazon
What does a hover mower do with grass clippings?
A hover mower doesn't typically come with a grass box. Instead of collecting clippings, they will return the grass to your lawn. Typically, a hover mower will not actually mulch your grass like a mulching mower does.
However, some more modern hover mowers now include a grass box.
To ensure your hover lawn mower collects as many clippings as possible in the grass box, you'll need to mow in straight lines. Otherwise, the clippings will come out to the side as you mow.
Blades and cutting height
Most of the best hover mowers include a single, dual-edged blade that rotates in a circular motion. Like with other lawn mowers, this blade is normally made of metal and can use sharpening on occasion to ensure the best cut.
To adjust the height of hover mower blades, you normally have to do this manually. This means unplugging the mower, turning it over, undoing the locking bolt, and then adding/removing spacers to adjust how high the cutting blade rests.
Here is a video from Flymo explaining how to adjust cutting height on a hover lawn mower:
Hover mower safety
A hover mower doesn't normally include many of the advanced safety features you'd expect to see on a more advanced mower. You might find safety switch for the throttle on a hover mower, but you won't find other safety features such as a back flap to protect against flying objects such as small stones.
It's always recommended to wear protective glasses when mowing, as well as enclosed shoes.
You need to ensure that the power cord is kept out of the way of the mower, because it will get cut if run over. Always use a safety circuit breaker in case this occurs.
Using a safety RCD adapter is also recommended. Essentially, this is a device that immediately cuts off the electrical connection in case something happens, such as the cable being damaged, to prevent the user from getting an electric shock.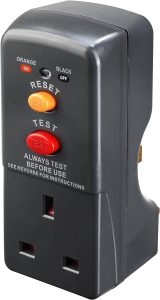 View on Amazon
Is a hover mower better than a traditional lawn mower?
Electric hover mowers are not strictly better or worse than petrol mowers, or other battery-powered mowers.
If you want an easy way to mow your lawn, especially if it's sloping, don't need to mow long grass or wet grass, and don't mind not having the ability to mow perfect stripes, then a hover mower is definitely worth considering.
One of the best things about hover mowers is their price. Since they're so simple, you can actually save a lot of money by buying a hover lawn mower.
However, if you have a larger lawn, want to avoid having a corded mower, and don't mind paying a bit more, then it might be better to look into a traditional petrol or battery-powered mower.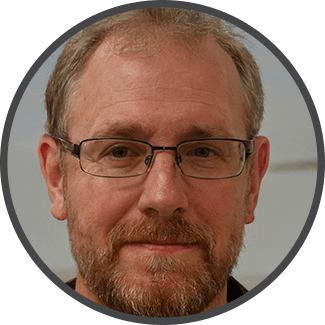 I'm Josh, and I'm the head writer at Lawn Care Pro.
I love everything lawns, but I'm a bit of a lawn mower nerd. I spend a lot of my free time tinkering with mowers, and planning my mowing schedule for the next few weeks.
I'm also into cars, which comes in very helpful when servicing a mower engine!