Looking for a strimmer to trim those tough to reach areas of your lawn?
In this guide, we've reviewed the 5 best cordless strimmers for sale in the UK in 2023.
We've also explained what you need to know when buying a cordless strimmer, so that you can get the best strimmer for your garden.
Quick comparison table
In a rush?
Use this table to quickly compare our top picks.
BEST VALUE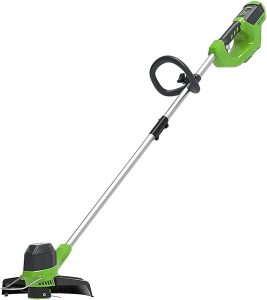 BEST PERFORMANCE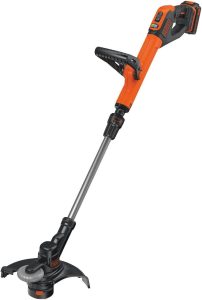 BLACK+DECKER
36V Cordless Strimmer
BEST PRICE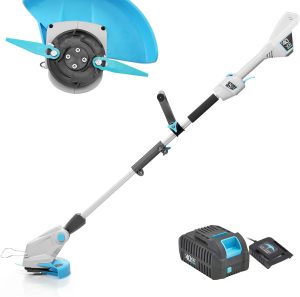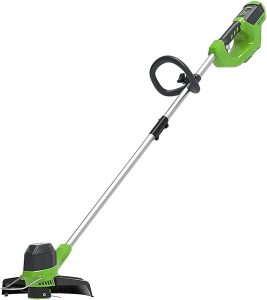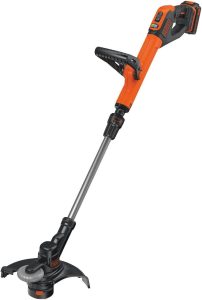 BLACK+DECKER
36V Cordless Strimmer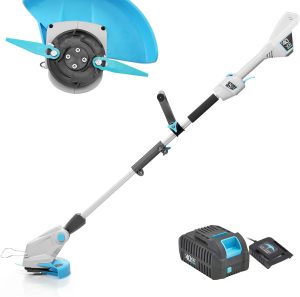 Best cordless strimmers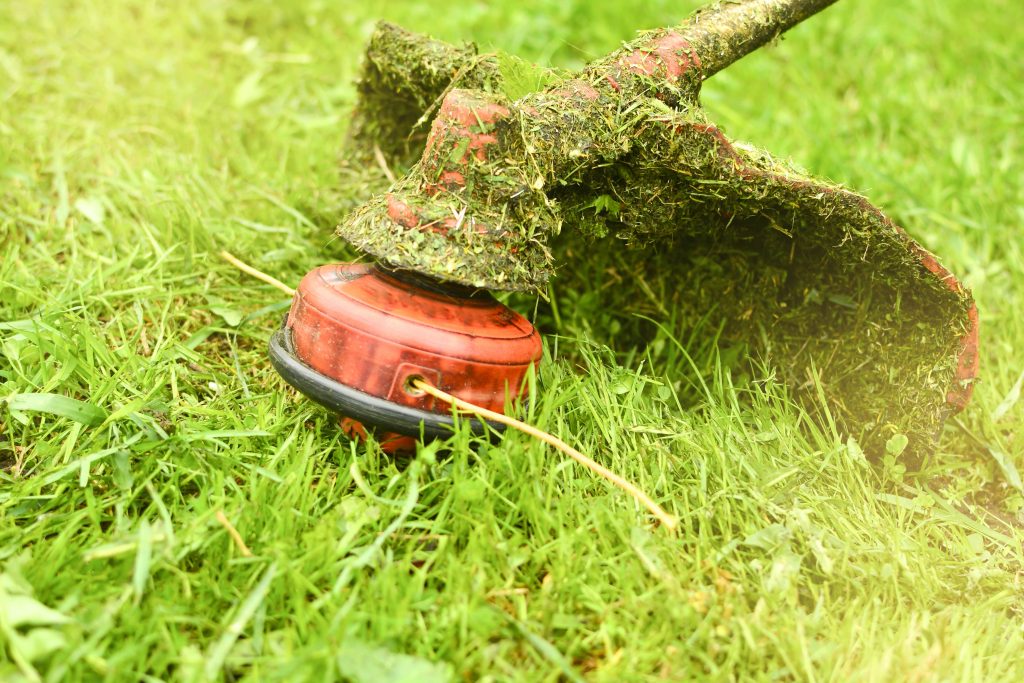 Let's begin the strimmer reviews.
In this section, we've looked at the 5 best cordless grass trimmers you can buy in the UK right now.
The Greenworks G40LT is a reasonably-priced strimmer – it's not the most expensive on the market. However, you get a lot of value, given what you pay.
Firstly, it has a 40V battery, which provides plenty of capacity. You can choose to buy a 2Ah or 4Ah lithium-ion battery to go with this grass trimmer, allowing you to either maximise the life of each battery charge and improve run time, or save some money and weight with a smaller battery. Or you could buy both, so that you have a second battery as a backup.
This strimmer also comes with an auto feed system, which is another nice feature. You don't have to bump it on the ground or feed the nylon blades – the cordless grass strimmer does it for you, to keep the cutting diameter consistent at all times.
Speaking of the cutting width, you get a 30cm cutting swathe on this cordless grass strimmer. This is a nice balance – it's not so big as to make the cordless grass trimmer difficult to use, and not too small so as to make it inefficient. The cutting head does a great job trimming, even on thick or long grass and in hard to reach areas, and the strimmer is relatively lightweight.
On the whole, this is probably the best cordless strimmer you can buy for small and medium sized gardens. The only real downside is the battery and charger are sold separately, however this is typical of cordless grass trimmers sold in the UK.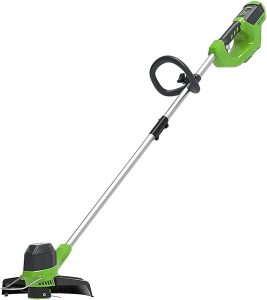 ---
Pros
Good battery capacity.
Automatic feed system.
Very efficient.
Easy to use – lightweight.
Cons
N/A – good strimmer for the price.
If you need a slightly cheaper strimmer, and don't need a 40V battery, this option from Black & Decker is worth checking out.
Rather than use a 40V battery, this strimmer requires an 18V battery – the battery and charger are both sold separately. This does limit the battery life somewhat, especially since the battery you have to buy is only 2Ah.
However, there is a lot to like about this cordless grass trimmer. For smaller lawns, there is plenty of battery capacity, and the 28cm cutting swathe makes it quite nimble and easy to get into tight spots.
It also has an automatic line feed mechanism, which is a nice feature to have for a strimmer at this price. It also worths well on overgrown grass, because the motor has a decent amount of torque.
And as you'd expect for a cordless grass trimmer with a smaller battery, this option is quite light, and very manoeuvrable.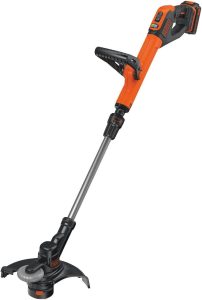 ---
Pros
Lightweight.
Feeds new line automatically.
Surprisingly torquey.
Works well for smaller gardens.
Cons
18V battery – not the best if you need multiple hours of run time.
This strimmer from Bosch is in between the other two cordless trimmers we've looked at in terms of battery capacity. It requires a 36V battery, which is on the higher side, making for decent battery duration.
As a slightly more expensive option, this cordless strimmer comes with dual lines rather than a single thread of nylon. This means faster, more efficient trimming, and better performance on thick or long grass.
Bosch have also included an edging mode on this strimmer, activated using its adjustable head. You can twist the head vertically to switch the strimmer from trimmer to edging, which is a nice feature to have.
Another good thing for existing Bosch owners: the battery is compatible with many of their other garden tools, such as their cordless lawn mowers. If you have a Bosch "LI" lawn mower, then you won't need to buy another battery unless you want a spare.
However, this is a very heavy cordless grass trimmer. Although it has a good cutting speed, and is quite efficient due to the 36cm cutting swath, you might need a harness to manage the weight.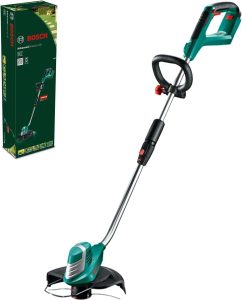 ---
Pros
Very good performance.
Features a trimmer and edger mode.
Good battery duration.
Battery is compatible with many other Bosch products.
Cons
Relatively expensive.
Very heavy.
If you like the look of the 18V cordless Black & Decker strimmer we've already reviewed, but want better battery life, the company also offer a 36V cordless strimmer.
This is a more expensive strimmer, but it comes with some quite useful features. For example, it has an eco mode for regular trimming, and a "turbo" mode for attacking long, thick grass that hasn't been trimmed recently.
On turbo mode especially, this is quite a powerful cordless strimmer, and it has a good cutting speed. It will cut through basically any grass, even if it's wet, with ease. This has affected the weight somewhat though. It's not the heaviest strimmer on the market, but it's not the lightest either, at 3.5KG.
As you'd expect at this price point, you get an automatic line feed system – no need to bump the head to feed more string. Overall, it's an ergonomic design, and is comfortable to hold.
It's also quite durable, which is a nice bonus. You can expect to get years of use out of this strimmer – you only need to worry about the lithium-ion battery wearing out over time. But it can be replaced if you're noticing it doesn't hold charge as well as it used to.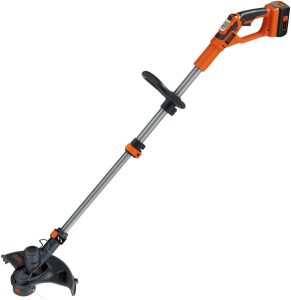 ---
Pros
Plenty of power.
Features useful eco and turbo modes.
Feeds trimmer line automatically.
Heavy duty design.
Cons
Slightly heavy, but fine for most people.
This is probably the cheapest 40V cordless grass trimmer you can buy in the UK right now. Although the price might not seem that low, note that this strimmer comes with a battery, unlike nearly all of its competitors.
But is it worth buying?
In terms of performance, it does quite well. The motor has decent power, and the battery lasts a long time. It has a 25cm cutting width, which is large enough for small and mid-sized lawns. However, it does have a bump feed mechanism rather than a fully automated feed system.
This cordless strimmer is also surprisingly heavy duty, given the price. It's made mostly of aluminium, however there is plastic used in some areas. Swift include a 24-month warranty though (and 12 months on the battery), so you don't have to worry about it breaking immediately.
The only downside really is it can be a bit tricky to put together when you first receive the strimmer.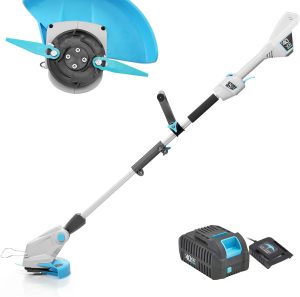 ---
Pros
Great value.
40V battery lasts a long time.
Good performance.
Durable, warranty included.
Cons
Slightly fiddly to assemble.
Feed system.
How to choose a cordless strimmer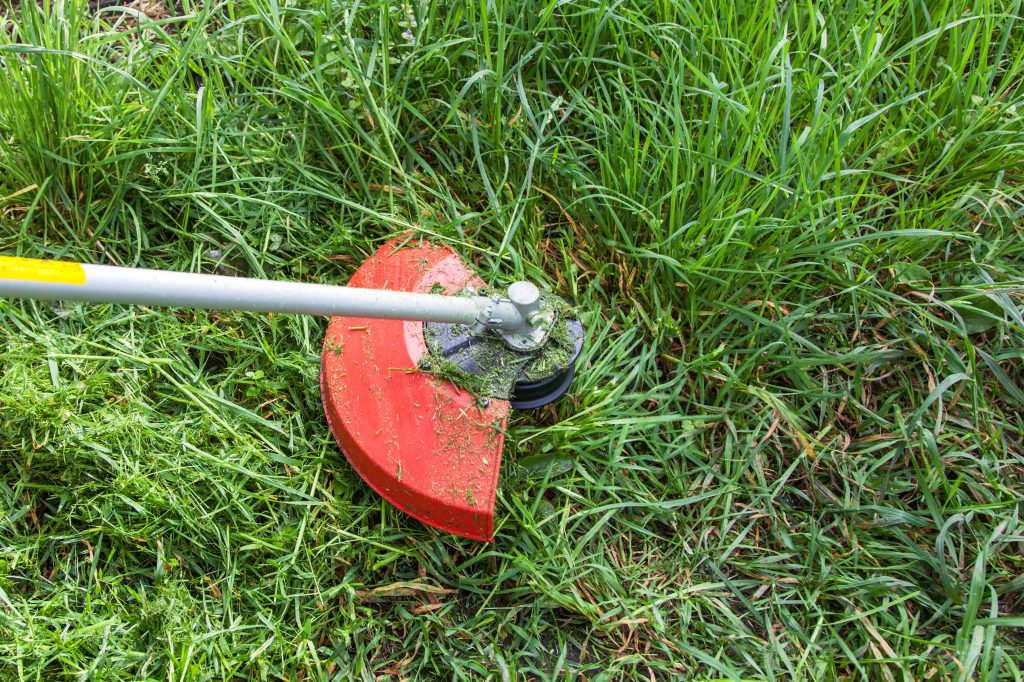 In this part of the buying guide, we'll discuss what you need to know to help you find the best cordless strimmer for your garden.
What do I need to know about buying a cordless strimmer in the UK?
The first thing to know about buying a strimmer is they typically don't come with batteries. While this can be annoying for some people, it also means that you can save money if you buy a strimmer that uses the same battery as your lawn mower. Many brands put the same batteries in all of their lawn products to encourage loyalty.
Secondly, you'll need to think about how much power you need. If you're planning on trimming long, thick grass, you'll need a more powerful, more expensive strimmer.
In the UK, you might also need to consider how wet your grass is when strimming it. The wetter the grass, the harder it is to cut, so you'll need a slightly more powerful grass strimmer if you often trim your grass when it's slightly damp.
Petrol vs corded vs cordless grass trimmers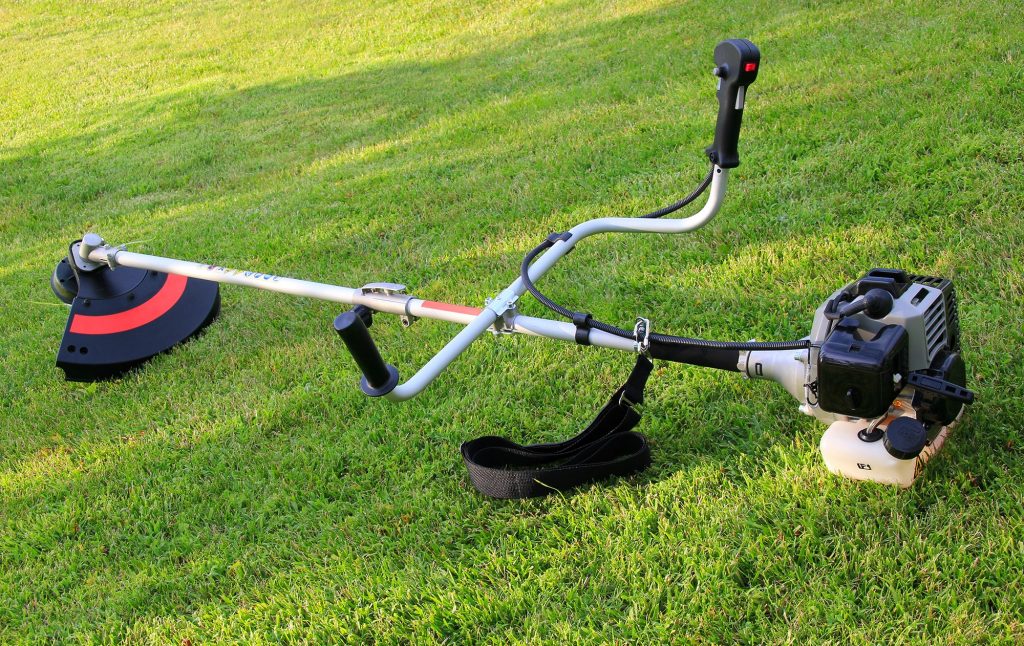 There are three types of strimmers you can buy right now.
Petrol cordless grass trimmers have been around for a long time. They don't require you to be plugged into anything, because they have a fuel tank, and they're not limited by how much charge they can hold. However, they're loud, produce a lot of emissions, and are generally very heavy.
Electric strimmers. With an electric or corded strimmer, you plug it into a mains electricity outlet in order to use it. This means that you're limited by how long the power cord is.
Cordless strimmers. These are essentially battery-powered strimmers. Rather than having a mains power cord, they come with a small battery. Cordless strimmers a much more convenient – you're not tethered to anything, which makes them better for medium to large sized gardens, and for strimming far-away areas such as your driveway. However, they are a bit more expensive, because batteries are not cheap to make – although prices are always going down.
Are electric strimmers any good?
Battery powered strimmers can be quite good, and are generally worth considering if you don't like the idea of paying hundreds of pounds for a petrol strimmer.
Provided you get a good cordless strimmer, it should perform just as well as a corded strimmer. They're also much lighter, easier to use, and cheaper than petrol strimmers.
You just need to ensure that you get a cordless strimmer with enough battery life to meet your needs. The bigger your garden, the bigger the battery you'll need.
This is the downside to cordless strimmers – the bigger the battery, the more expensive they are, which is why some people prefer to use petrol strimmers on larger gardens.
Types of batteries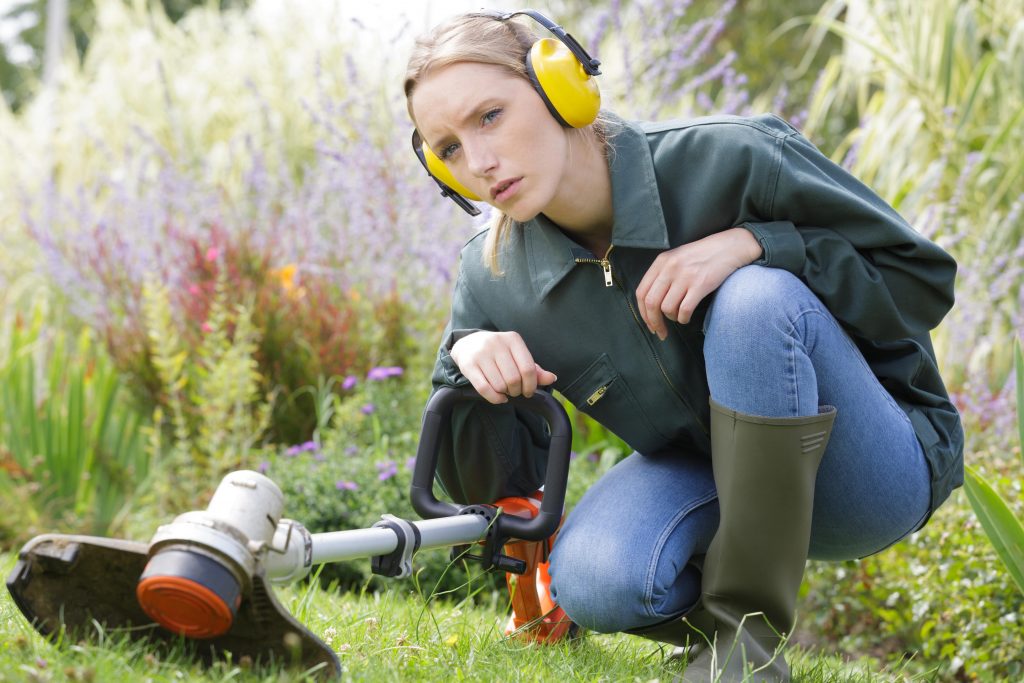 There are a few different types of battery you might find in a cordless grass trimmer.
It's important to ensure that you look for a garden strimmer with a lithium-ion battery, because they're the best type of battery for use in a cordless grass trimmer.
Lithium-ion batteries last longer, and have a lower charge time, than most other types of batteries. They also last a long time without fading, and beginning to lose the amount of charge they hold, which can be an issue on cheaper types of batteries.
Also, lithium-ion batteries can be recharged before they are fully depleted, unlike old Ni-can batteries. This is a nice benefit if you end up using only 75% of the charge and want to ensure you have a full battery before you next use the strimmer.
Battery size, longevity, and recharge time
There are two factors that affect how long a lithium-ion battery in a strimmer will last for.
Voltage (V) is a measure of how big the battery included with the grass trimmer is. Cheaper entry-level strimmers will have a smaller battery, around 18V, while better more upmarket strimmers will have 36V or 72V batteries. Essentially, the higher the voltage, the longer the grass trimmer will last without running out of charge.
Amp hour (Ah) is a measure of the running time of the strimmer. It relates to energy capacity as well as the efficiency of the battery. On a strimmer, you can expect to see Ah values from 1.4Ah to around 4Ah. The higher the amp hours, the longer the garden grass trimmer will last for.
It's important to know that the higher the voltage and Amp hour measures, the heavier the battery, and the heavier the grass trimmer will be. Therefore, strimmers with large batteries won't just cost more – they will be more unwieldy to use as well.
Also, the larger the battery capacity, the longer the trimmer will take to recharge fully. If you don't plan on buying a strimmer with enough capacity to do the entire job in one charge, then you will need to consider the charge time as well. Otherwise, recharge time isn't a big issue – you can simply recharge the battery overnight.
The size of the battery isn't the only factor that affects recharge time, however. Better-quality lithium-ion batteries will recharge considerably faster.
Cutting width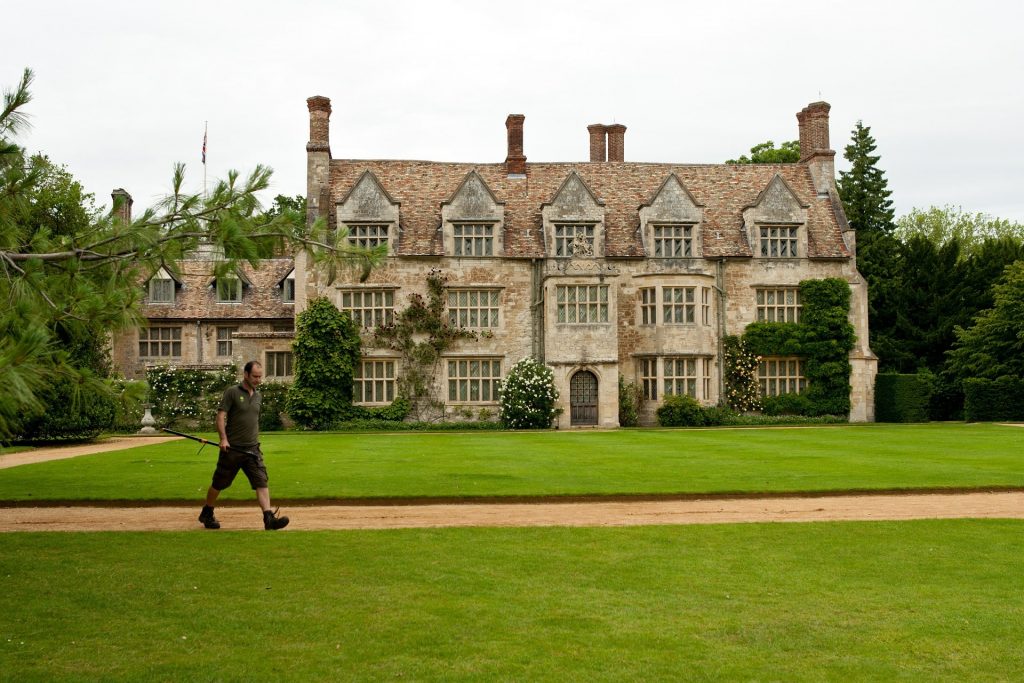 The cutting width (also known as cutting swathe on a strimmer) determines how efficient a strimmer is.
A wider cutting width will allow you to get more strimming done in less time. However, it will also mean that you have to buy a larger, heavier, and potentially more expensive strimmer.
For small gardens, a strimmer with a cutting swathe of 25-30cm will do the job nicely. For medium to large sized gardens, look for a grass trimmer with a cutting width of 30cm and above.
Different line feed mechanisms
As the nylon line in your grass trimmer wears down, you will want to dispense more line from the spool to ensure you have a complete cutting width at all times.
For those that don't know, a strimmer has a spool of cord in the cutting head. It then allows you to feed more line as you cut your grass, until the spool is all gone and you need to replenish it with more nylon blades.
There are a few different mechanisms to help you achieve feed more line as you go.
Automatic feed – your garden strimmer detects when the line is wearing down, and feeds more nylon as needed to maintain the cutting width.
Bump feed – you bump the bottom of the head on the ground to gradually feed more line as it wears down.
Manual feed – you have to stop the strimmer and manually feed more line as needed. These types of feed mechanisms are best avoided as they are quite inefficient.
How much should I spend on a strimmer?
The more you spend, the more features you'll get, and the more durable the grass trimmer is likely to be. However, this isn't a hard and fast rule. Some expensive grass trimmers are not as durable as you might expect.
To decide how much to spend on a cordless trimmer, think about how often you'll use it, and how big you need the strimmer to be. Generally, bigger cordless strimmers will cost more.
If you're looking for a quality cordless strimmer that won't break the bank, rather than the best cordless strimmer overall, expect to pay in the region of £70 – £100.
Is there any alternative to buying a strimmer?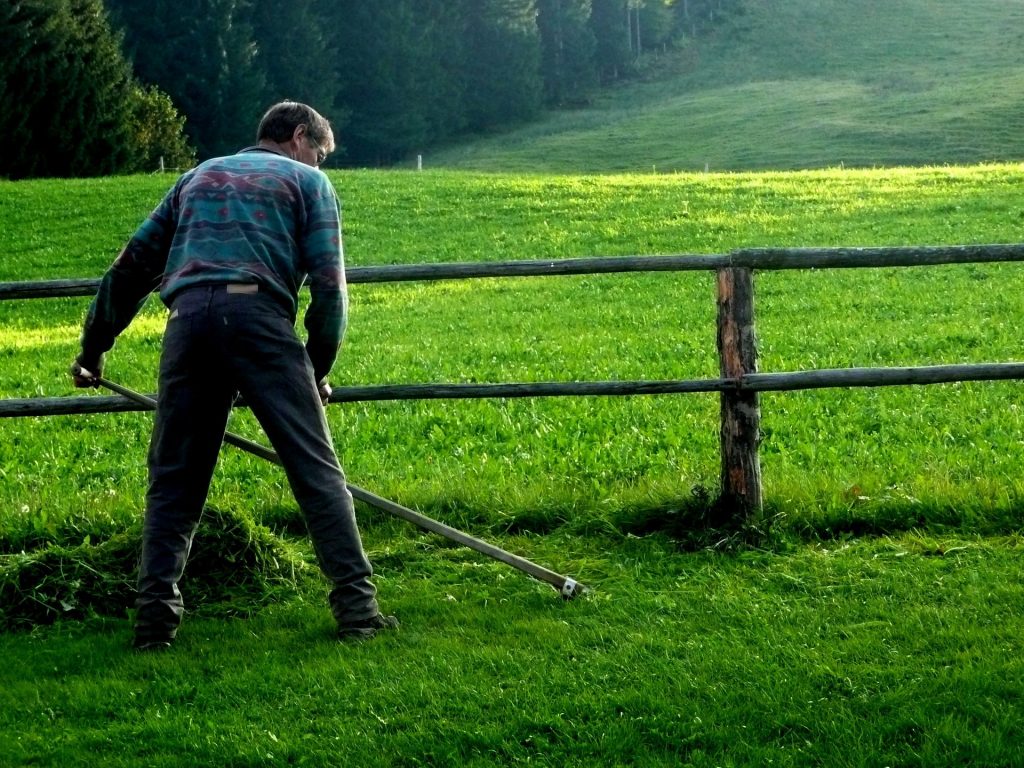 If you don't want to go to the trouble of using a cordless trimmer to cut the edges of your lawn that your mower can't reach, there are some alternatives to strimmers.
Hand scythes or sickles can be useful, but they require bending down and can be quite difficult to use in tight spaces.
Shears can also work, but will require a lot of effort to use, especially for larger gardens. Read our lawn shears guide to learn more.
Small hover mowers will allow you to mow better in tight spots, however they're not perfect and will likely leave areas that will still need strimming.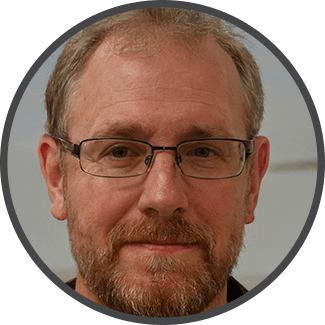 I'm Josh, and I'm the head writer at Lawn Care Pro.
I love everything lawns, but I'm a bit of a lawn mower nerd. I spend a lot of my free time tinkering with mowers, and planning my mowing schedule for the next few weeks.
I'm also into cars, which comes in very helpful when servicing a mower engine!