Looking to buy some new edging shears?
In this guide, we've reviewed the 5 best lawn edging shears for sale in the UK.
We've also explained how to choose the right pair of lawn shears for your garden.
Quick summary table
BEST VALUE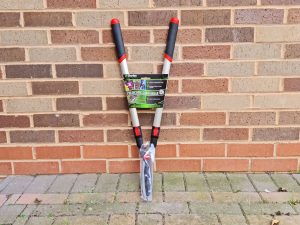 Darlac
Telescopic
Edging Shears
BEST LIGHTWEIGHT SHEARS

Burgon & Ball
GTO/EDGE Edging Shears
BEST PRICE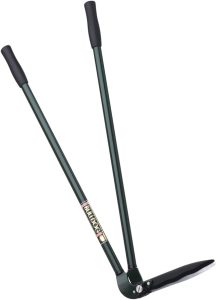 Bulldog
B613W Edging Shears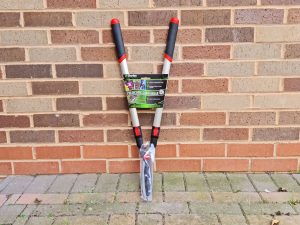 Darlac
Telescopic Edging Shears

Burgon & Ball
GTO/EDGE Edging Shears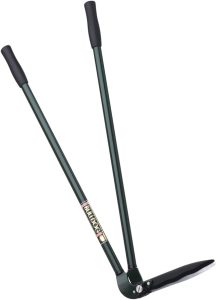 Bulldog
B613W Edging Shears
Best edging shears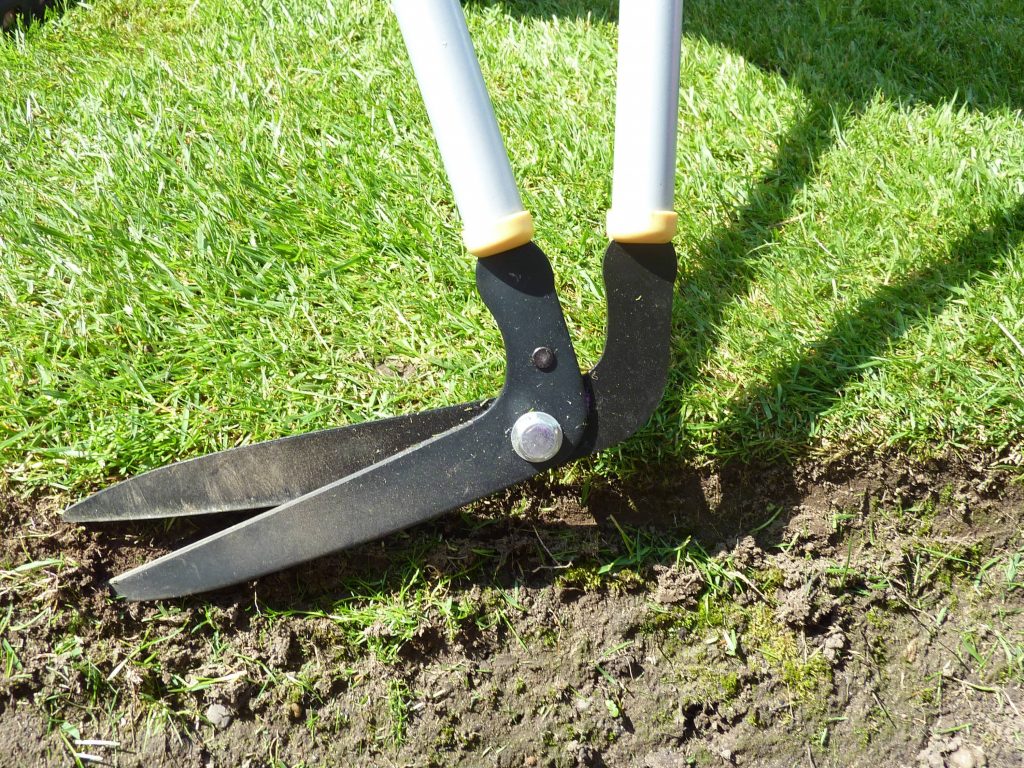 Let's begin our reviews.
Below, we've looked at 5 of the best edging shears that you can buy right now in the UK.
If you're after good-value shears that still work really well, these ones from Darlac are worth looking at.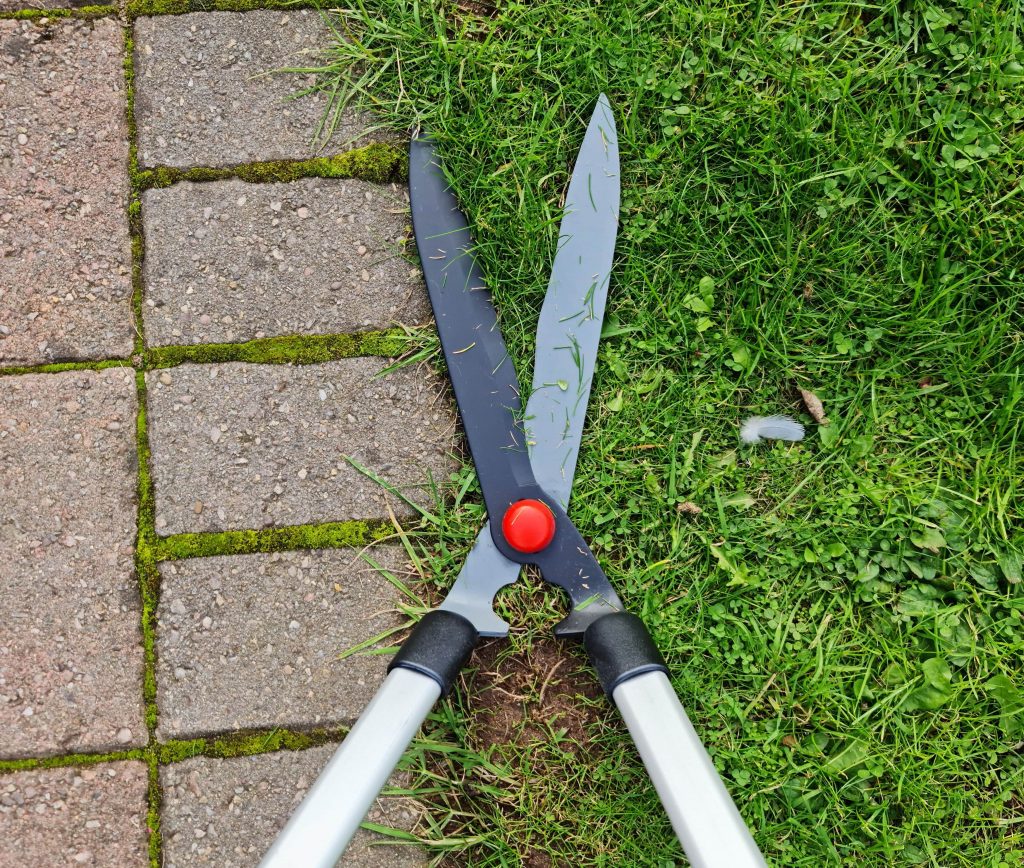 Despite being about half the price of the next product on this list, these edging shears still have adjustable handles, which can be extended quite long, up to 1080mm in length, if need be.
We found that the blades on these shears are nice and sharp, and they stay that way over time. These shears won't have any problems with long grass, weeds, or a damp lawn.
The handles are comfortable to hold, and the cutting action is nice and smooth. However, we did find that the telescopic action of the handles was a bit stiff, when adjusting the blade length.
It's also important to note, with these edging shears, the blades are flat to the ground, meaning they're best for when your mower can't quite reach the edges of your lawn. If you're trying to cut vertically, it's best to look at one of the other pairs of shears on this list.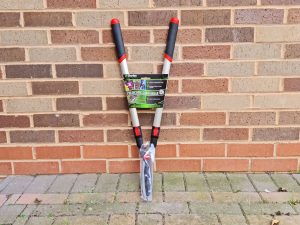 ---
Pros
Good value.
Adjustable handles can be extended quite a long way.
Blades stay sharp over time.
Handles are comfortable to hold.
Cons
Handles are a bit stiff when adjusting them.
These are some of the best lawn edging shears that you can buy at the moment, for a few different reasons.
Firstly, they come with telescopic handles, which can be individually adjusted. You can get each handle the perfect length, depending on how tall you are, and the angle you prefer to work at.
The grips on the handles are comfortable to hold for long periods, and you get stainless steel blades, which helps to make them very durable.
You won't have to worry about these shears going blunt for a very long time. Out of the box, the blades are extremely sharp, making for easy trimming.
The only downside to these edging shears is their price – they're not cheap. However, given their quality, we think that they're worth the investment.
---
Pros
Very sharp blades.
Adjustable handles.
Durable hardened steel blades.
Comfortable to hold.
Given what these edging shears cost, you would probably expect them to have telescopic handles. However, this isn't the case – you cannot adjust how long these edging shears are.
Unlike most other lawn edging shears, you get an aluminium shaft, rather than steel. This material is a bit more prone to being scratched or dented, but it's also much lighter. As a result, these shears are very lightweight, and are easy to use.
You get sharp blades out of the box, and they do a good job staying sharp over time. Overall, these are quite tough edging shears.
You also get a 5-year warranty against manufacturing defects with these shears, which is a lot better than can be said of most other lawn edging shears.
Ultimately, if you want premium edging shears, and don't mind a lack of adjustable handles, these are definitely worth considering.
---
Pros
Very lightweight.
Includes a 5-year warranty.
Sharp blades.
Durable design.
These lawn edging shears from Bulldog are another reasonably-priced option that use a mostly steel construction.
The head is made of Magnese steel, which is very strong, and the forging is done in the UK – these are some of the only shears you can buy at the moment that are made in Britain.
Bulldog's shears are very durable, and do a good job staying sharp over time. They also provide a clean cut, helping to make the edges of your lawn look extremely neat.
You might notice that these edging shears are relatively heavy – we wouldn't recommend them if you're elderly, or frail. However, for most people, the extra weight isn't a major issue.
However, if you don't need adjustable handles and don't mind slightly heavier shears, the Bulldog B613W is a great choice.
---
Pros
Good value.
Very durable.
Provides a nice clean cut.
Made in Wigan.
Cons
A bit heavier than some other options.
This is often one of the cheapest edging shears you can buy, especially when it's on sale. But is it any good?
The handles are surprisingly comfortable to hold, and they're made of steel, making them very tough. The blades don't go blunt easily, and these shears are very durable given what they cost.
There are no telescopic handles, which is to be expected at this price point. We wouldn't recommend these shears for shorter people, as the handles are quite long, and you obviously cannot adjust them to reduce their length.
The other issue with these shears is their weight. They're quite heavy, partly because the handles are so long, and also because they're made mostly of steel.
If you can find these shears on sale, they can be worth buying, especially given their durability. However, we'd recommend avoiding them if you don't want long, heavy shears.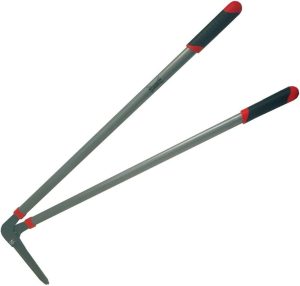 ---
Pros
Very durable.
Comfortable handles.
Sharp blade.
Cons
Quite heavy.
Handles are quite long, and cannot be adjusted.
How to choose the right edging shears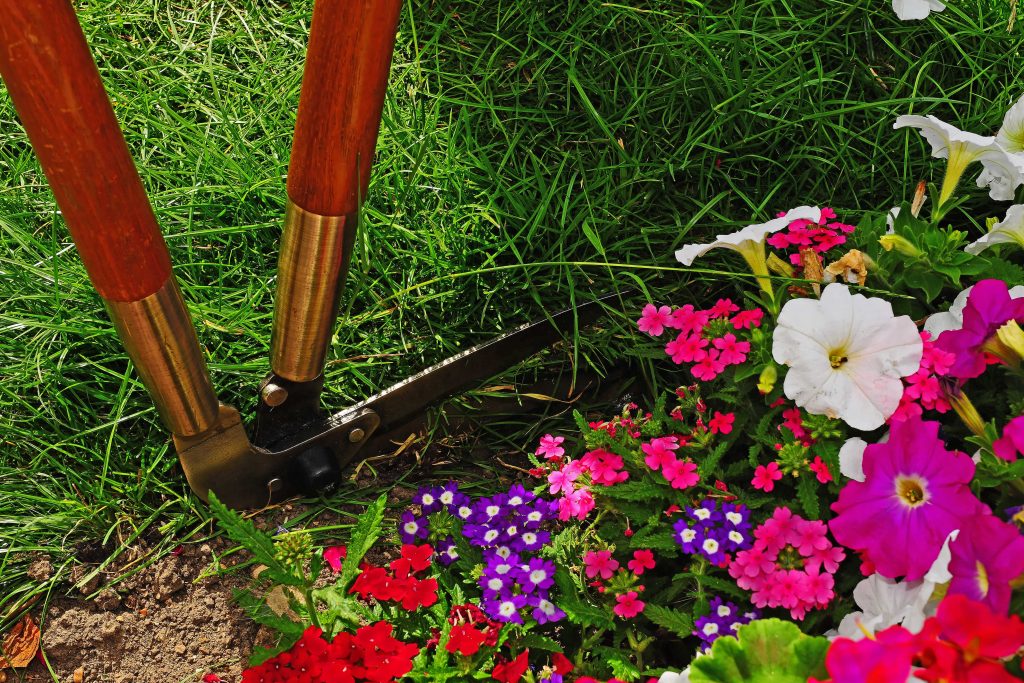 Now, we'll explain some key things to consider when choosing a new pair of edging shears to buy.
What to look for when buying edging shears
There are a number of good things to look out for when buying edging shears.
A lightweight design. This reduces the amount of effort you have to put in when trimming the edges of your lawn. If the shear is too heavy, your arms will get sore very quickly. Edging shears with aluminium blades are typically the lightest options.
A comfortable grip. To ensure good ergonomics, thicker, soft fgrips are generally the best type, but it comes down to personal preference – some people prefer a firmer grip.
Telescopic handles can be nice to have, in that they allow you to adjust the length of each handle depending on how tall you are. However, they're not essential – most edging shears are a good height for most people, you'll just have to change how you grip the shears slightly.
Forged steel blades, especially in the head and blade. It's common for manufacturers to use aluminium in the handle, which is good, but a forged steel or carbon steel blade is what you want.
How to ensure you buy a sharp edging shear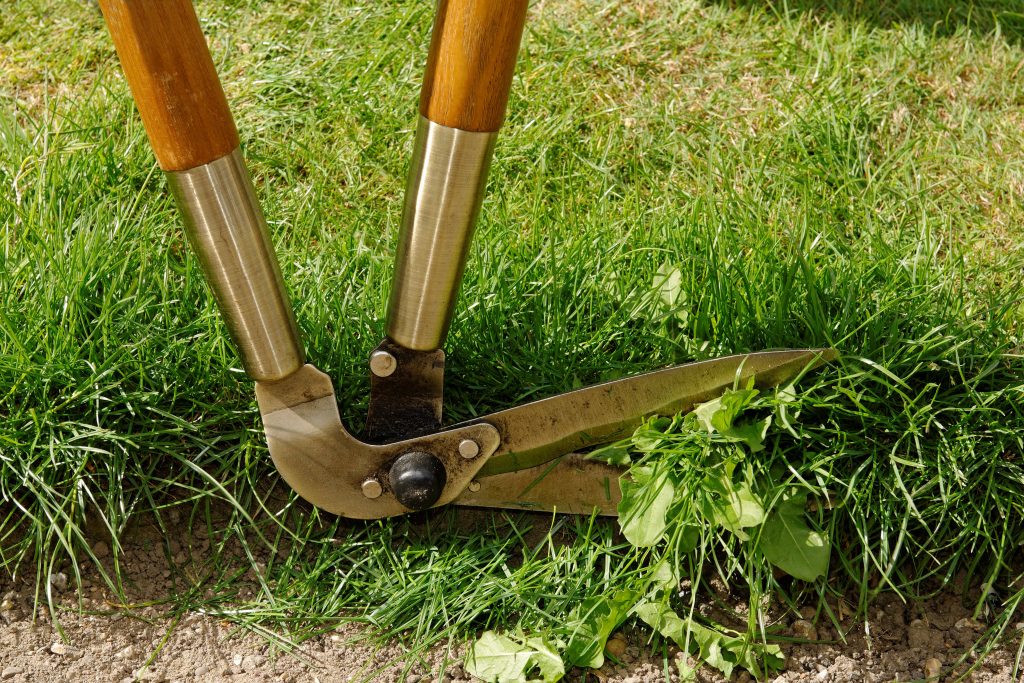 These days, there are plenty of edging shears on sites like Amazon available from brands you've probably never heard of.
These products are often very inexpensive, and often work well when you start using them. However, their blades are never very durable – they will go blunt easily. Therefore, the best way to ensure that your shears will last for a long time is to shop with a reputable brand.
It's also a good idea to look at customer reviews of a given pair of edge trimming shears, to see how they perform over the long term.
Also, ensure to buy shears with a forged steel or carbon steel blade, to ensure they remain sharp and rust-resistant over time.
Edging shears vs lawn edgers vs strimmers
There are three types of tools you might use to trim around the edges of a lawn: edging shears, lawn edgers, and strimmers.
Strimmers cut horizontally. They're designed to cut grass that is growing around obstacles that your lawn mower can't get to.
Grass edgers cut vertically, but they cut through the sod. They're very powerful, and are often petrol-powered.
Edging shears cut vertically, but only trim grass, rather than cutting through the sod. They're designed to cut bits of grass that grow outwards, over the edge of your lawn.
Essentially, edging shears are a much more basic option, and are best if you're not doing serious landscaping. They're cheaper, neater, and easier to use, but not as efficient.
Read our guide to lawn edgers to learn more about these types of machines.
How much should I expect to pay for lawn shears?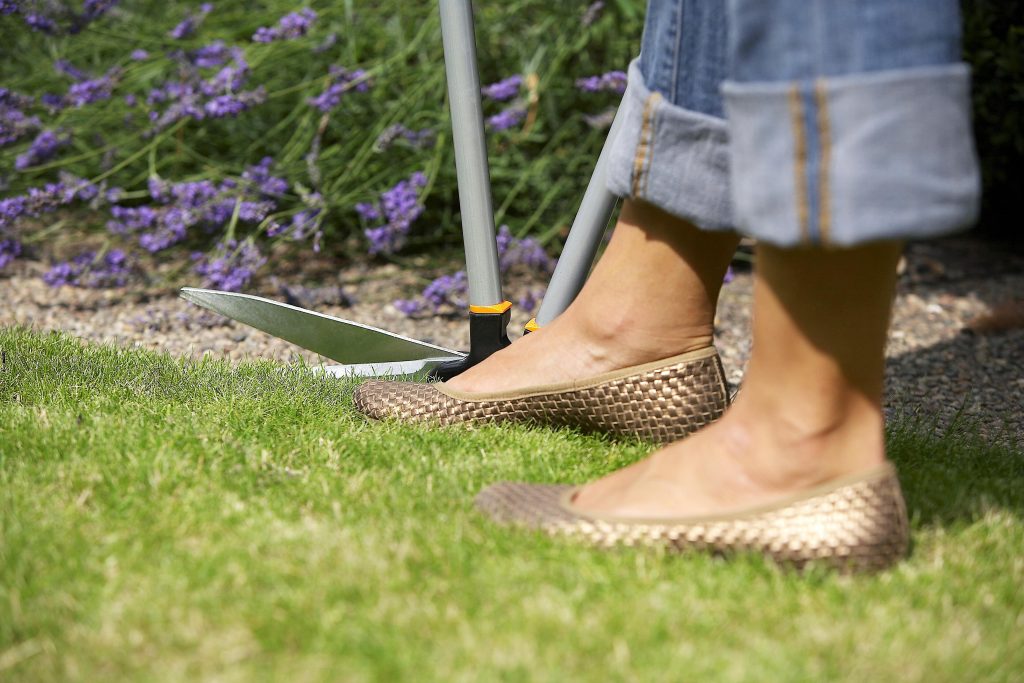 You can expect to pay between £30-£60 for a pair of lawn shears in the UK at the moment.
The cheaper options will be more basic, however you can still find good edging shears at this price point. These cheaper products won't normally have adjustable-length handles, for example.
If you pay more than £50, you can expect each handle to be individually adjustable, and you'll also get steel handles, rather than aluminium, most of the time. The blades should also be made of strong forged steel at this price point.
You can also get cheaper edging shears, at a price of around £20. However, these products are generally best avoided – there aren't many quality shears at this price point.
What is the best brand of edging shears you can buy right now?
There is no single market leader when it comes to edging shears in the UK at the moment.
Spear & Jackson and Bulldog have a good range of mid-priced edging shears. If you need good quality shears for a reasonable price, they're a good choice.
However, there are better, more expensive garden shears available from more premium brands, such as the Carl Kammerling edging shears we looked at above.
Right handed vs left handed edging shears

Nearly all edging shears are designed for use by right-handed people. Meaning, the bolt that connects the blades will be inserted from right to left (making the "clean" side of the blade, without a bolt head, on the left). Also, the right handle will sometimes be a bit longer, to cater to right handed people.
This doesn't mean that you need a specialised pair of lawn edging shears if you're left handed. It just means that using the shears will be ever so slightly less comfortable, or less efficient.
If you are left handed, and are concerned about difficulty using edging shears, we'd recommend buying a pair with telescopic handles. This will allow you to make the trimming process a bit more comfortable.
How to keep lawn shears sharp over time
Here are some tips to keep your edging shears sharp over time.
Clean them after each use, ensuring to remove any dirt or grass, so that it doesn't dry onto the blade. You can rinse the garden shears with cold water, and also wipe off any dirt using an old towel.
Keep your shears in the shed or garage, rather than outside, to keep them out of the weather.
Sharpen your shears every 6 months, or at least every year, using a hand file along the face of the blade.
Conclusion
You've reached the end of our edging shears buyers guide.
Remember, the ergonomics of how you'll use your lawn edging shears are very important. If you're particularly tall or short, or are left handed, it really pays to have garden shears with length-adjustable handles. Also, getting lightweight shears can be very beneficial, especially if you're not especially strong.
If you're not sure which shears to buy, feel free to leave a comment below, and we'll get right back to you.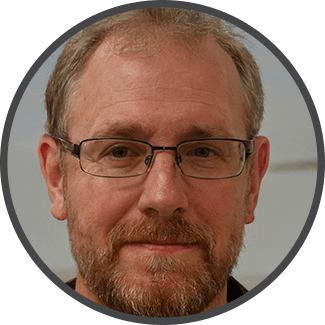 I'm Josh, and I'm the head writer at Lawn Care Pro.
I love everything lawns, but I'm a bit of a lawn mower nerd. I spend a lot of my free time tinkering with mowers, and planning my mowing schedule for the next few weeks.
I'm also into cars, which comes in very helpful when servicing a mower engine!