Looking to create clean, neat edges between your lawn and your patio or flowerbed?
In this guide, we've looked at 5 of the best lawn edgers for sale in the UK in 2021, including simple manual half moon edging knives and more advanced petrol lawn edgers.
We've also discussed some key things to consider when buying, to help you find the best lawn edger for your needs.
Quick Comparison Table
Best lawn edgers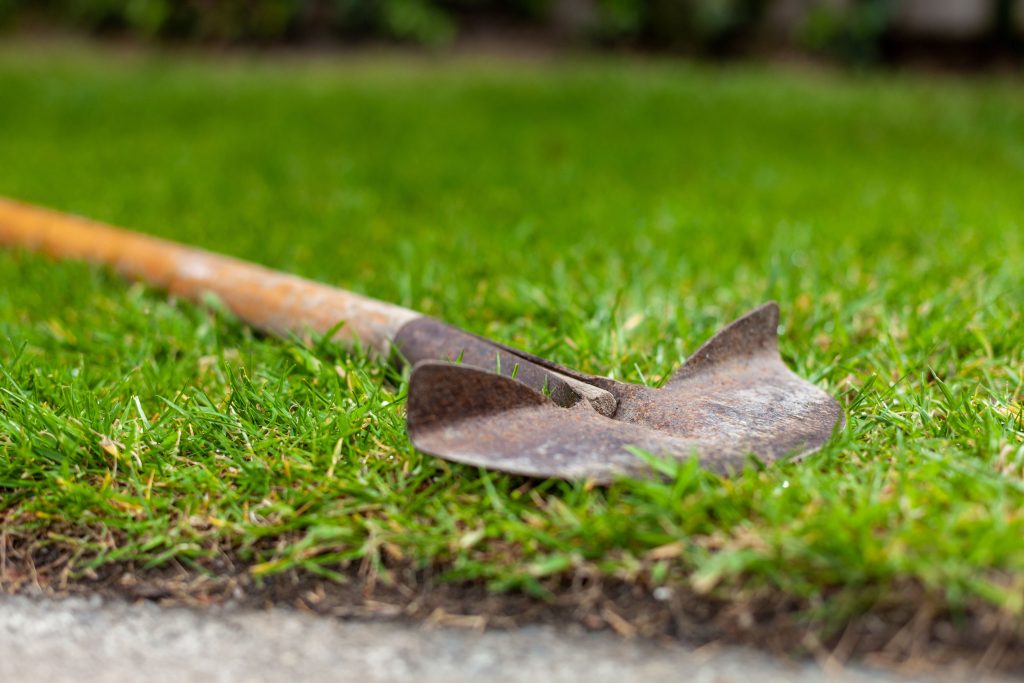 Let's begin our reviews.
In this part, we've looked at 7 of the best lawn edgers for sale in the UK.
This is easily the best lawn edger you can buy right now in the UK, in terms of efficiency and overall quality.
It cuts the edges of your lawn like a hot knife through butter, while still being extremely manoeuvrable. You can easily cut curved edges with the KS 300 PRO, and you're going to end up with a smooth, clean edge, every single time. The blade shaft is perfectly aligned with the front wheel, ensuring that it cuts exactly where you want it to.
The other benefit of this petrol lawn edger is its efficiency. The blade is a good size – it comes with a 30mm diameter. Therefore, on the right setting, you can get the job done quickly when cutting the edge on a large lawn.
The KS 300 PRO also stands out in terms of ergonomics. The handle is fully adjustable, and is nice to hold, making this lawn edger comfortable to use for extended periods.
Because this is a top of the line petrol lawn edger, it's not cheap. But if you're looking for quality, Eliet's machine is a good investment. It even comes with scrapers on the rear wheels to keep the tread clean, ensuring you don't get stuck in the mud if using this lawn edger in wet conditions.
If you're looking for a manual lawn edger, this edging knife allows you to create quality edges quickly.
The blade is nice and large, at 20cm in diameter, allowing you to edge your lawn efficiently. It's not light, but it's not extremely heavy either, despite the handle being made of a good-quality hardwood.
Another good thing about the blade is the serrated edges. This really helps when cutting through thicker grass and roots in the sod. The blade is made of stainless steel rather than carbon steel, making it more rust-resistant. Although carbon steel is easier to sharpen, this isn't an issue since the blade is serrated and doesn't go blunt over time.
The T-bar where you plant your foot doesn't look that thick, but is nice and sturdy and easy to push down with. The sides of the blade and nice and smooth, which also makes it easy to pull the lawn edger out, ready for the next little section.
Overall, if you need a good manual lawn edger that won't break the bank, this half moon edger is worth checking out.
Like the idea of a petrol lawn edger, but don't want to pay more than £500?
The Masport petrol lawn edger is one of the cheapest you can buy right now. The main difference between this machine and most more expensive lawn edgers is it doesn't come with as many fancy features. For example, there's no blade guard or belt guard, no wheel scrapers, and no ability to change the angle of the blade.
However, this lawn edger is still a good bit of kit.
It has a great cutting depth, given what it costs. Masport's walk-behind lawn edger can cut up to 4cm above ground, and 6.5cm below ground. Although this might not be deep enough to install a grass barrier, it's plenty of cutting depth for creating a long-lasting edge.
You also get a quality petrol engine. This edge cutter comes with a 127cc Briggs & Stratton 4-stroke motor, which is quite noisy, but provides plenty of power.
Plus, this petrol lawn edger is also relatively lightweight for one of these machines, at 29kg. This makes it easy to manoeuvre, allowing you to create edges exactly where you want them.
This is another heavy duty, slightly more expensive edging knife.
On this particular manual edger, the blade and most of the shaft is forged from a single piece of steel. Combined with the quality ash handle, this makes for one of the most durable lawn edgers that money can buy.
Another interesting quirk of this manual lawn edger is the blade is not serrated. On the one hand, this means that the blade may go slightly dull over the years. However, on the other hand, you do have the option of sharpening it, unlike with a serrated blade.
Right out of the box though, this edging knife is extremely sharp. It'll cut through basically anything, including roots, even if your ground is quite dry. It has a good weight – not too light but not too heavy – while still being easy to manoeuvre.
If you know you want a manual edging knife, Bulldog's lawn edger is worth the investment.
Kingfisher call this an edging iron. It's actually a half moon manual lawn edger, with a carbon steel blade.
The main difference between this manual edger and the Burgon & Ball one we looked at earlier is this lawn edger has a steel shaft. This is actually a great idea – it's a tube, rather than being a solid steel pole, making it quite light but also very strong.
On this whole, this lawn edger is a good weight, and is relatively easy to use. However, the blade could be sharper. Although it's made of carbon steel, making it very durable, the blade can struggle to cut through thick sod, especially when dry. Sometimes it will tear the grass, rather than cutting it.
Also, the edges of the blade are quite rough. This can make it a bit tricky to pull out of the soil once the blade has been pushed in, depending on how thick your grass is.
This is one of the cheapest lawn edgers that money can buy. However, as you might expect given the price, the quality of the blade isn't the best.
This lawn edge trimmer is more for those looking to cut small amounts of overhanging grass growth. The blade only goes about two inches deep, meaning it's not the best for cutting into the sod or soil itself.
The main advantage of Wolf Garten's lawn edger is it doesn't require you to bend over or exert much lifting effort. Although it still requires a decent amount of manual work to use, you only have to roll it along – the handle is tall enough to be used while walking normally. It also doesn't cost much when compared to many other manual lawn edgers.
One thing to note about this edge trimmer is it's a bit heavier than you might expect. This is to keep the rolling wheel planted firmly on the ground without it slipping as you move forward. However, the downside to this design is it increases the amount of energy you have to use to push the lawn edger along.
This lawn edger is best for those with a small lawn, looking to neatly trim grass overgrowth onto a brick patio or flowerbed. But for cutting the sod, and for large edging jobs, we would recommend a different type of edging tool.
This edging knife actually doesn't come with a handle. You buy a pole separately, which can also be used with other Wolf Garten garden tools in their "Multi-Change" range.
You can also buy rake, hoe, and garden fork attachments, which use the same Wolf Garden handle as this lawn edger. If you're looking for all of these tools, or already have the pole, then you can save a decent bit of money with this iron lawn edger.
The blade is made of stainless steel, making it very rust-resistant. It stays very sharp over time, but can also be sharpened with the right tools if you ever need to in future years.
This lawn edger is also quite efficient. The blade has a working width of 22.5cm, but isn't too heavy, allowing you to create clean edges easily.
However, if you're just looking for a lawn edger, and don't have Wolf Garten's multifunctional handle, it's probably best to buy a tool designed specifically for lawn edging.
Which lawn edger should I buy?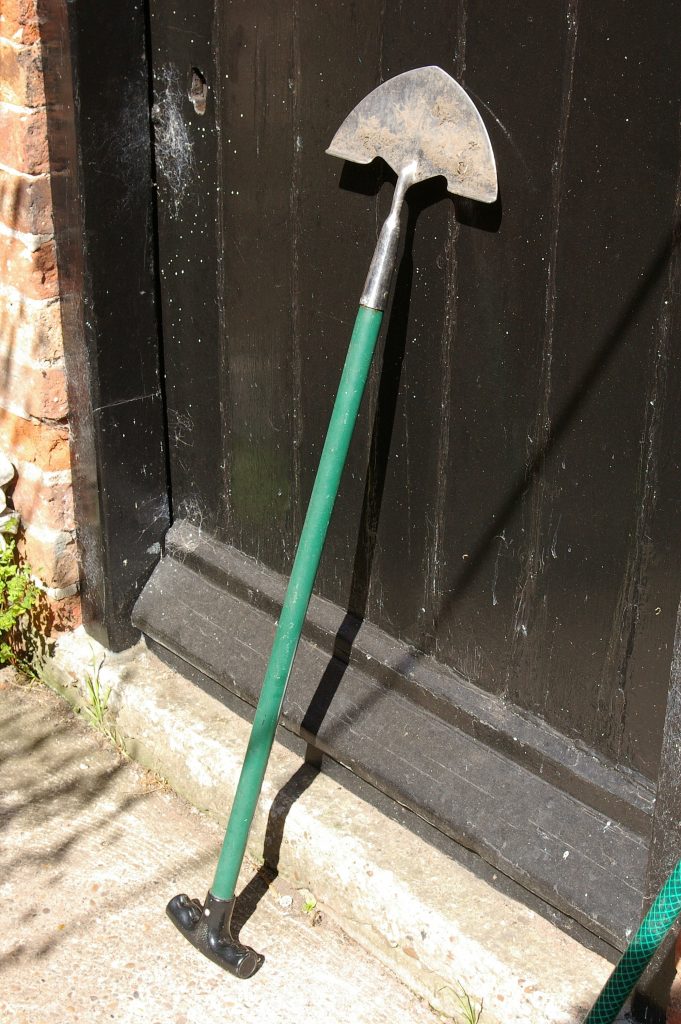 In this section, we've discussed what to look for when choosing a lawn edger.
We'll explore the differences between each type of lawn edger, and explain which type of edger is best for different purposes.
Different types of lawn edgers
Depending on the size of your garden, there are a number of different tools you can use to neatly trim the edges.
Here are some of the most common types of lawn edgers, and their advantages and disadvantages.
Petrol lawn edgers
Petrol lawn edgers are heaviest and the most expensive type of lawn edger, but are also the most efficient. They have a petrol motor which powers the cutting blade, doing all the work for you. As the operator, all you have to do is push it along on its wheels.
These types of lawn edgers are also the most advanced, in terms of extra features. For example, you can normally adjust their cutting depth, and sometimes the cutting angle, allowing you to cut curved edges more easily. And due to the power they offer, petrol lawn edgers can cut through thick grass and the roots of your lawn with ease.
However, petrol lawn edgers are normally the loudest type of lawn edger. They also produce the most emissions, because petrol fuel is used. Also, you will have to create an oil and petrol mix to fuel the machine if you get a machine with a 2 stroke rather than a 4 stroke motor.
Best for: those with large gardens, looking to create the best lawn edges possible.
Electric lawn edgers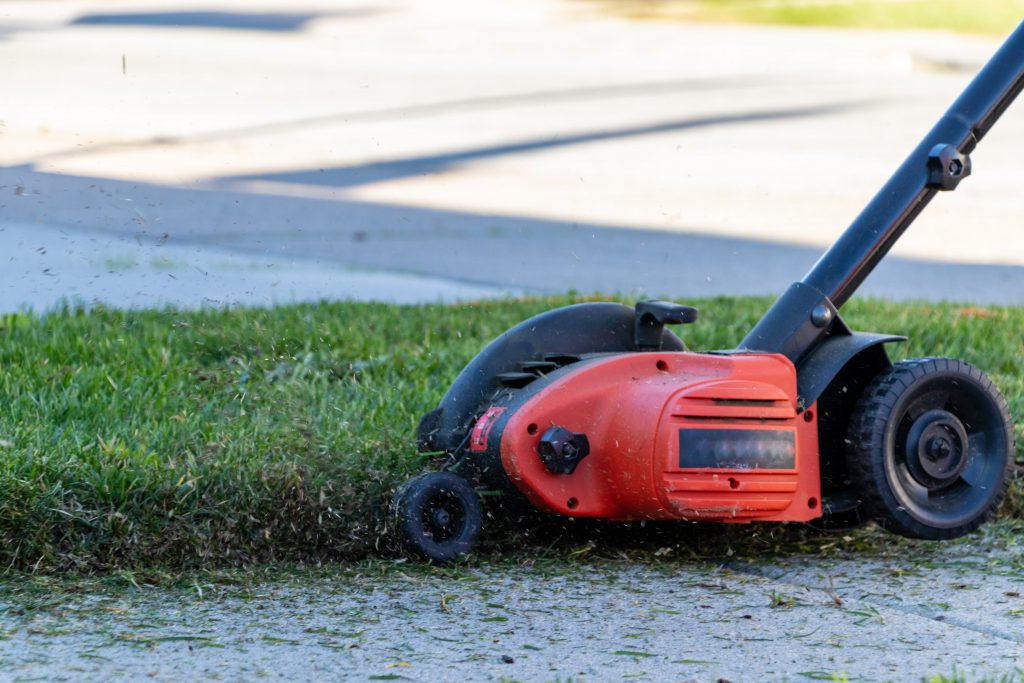 Electric lawn edgers are similar to petrol lawn edgers. Both come with a handle, and wheels for pushing the machine along. The machine does the cutting work for you, with its motorised steel blades.
The difference is, although electric edgers (either corded or cordless) may have less power, they are quieter and easier to use than petrol lawn edgers, and are normally much smaller and lighter.
Electric lawn edgers have much less power than their petrol counterparts. They are generally easier to use and maintain. However, they are relatively uncommon to find in the UK.
Best for: those with medium to large-sized lawns who are concerned about the environmental impact and noise of petrol lawn edgers.
Manual lawn edgers
If you're looking for a simple tool to clean up the edges of your lawn, manual lawn edgers offer a cheap but effective solution.
With a manual edging tool, you normally have a semicircular blade on the end of a long handle. You have to use the blade to cut the edge, doing all the work by hand. Although they have quite a simple design, manual lawn edgers require a lot of effort to use, and will take a long time to clean up the edges of a large lawn.
Edging knives, also known as step edgers or half moon edgers, are the most popular type of manual lawn edger. Edging knives have a semicircular half-moon blade, that you step on to cut an edge on your lawn. After each step, you'll need to reposition the blade. As a result, wider edging knives are more efficient, but will also be heavier and less manoeuvrable.
Best for: small lawns, and those looking for a cheap lawn edger.
Strimmer edging modes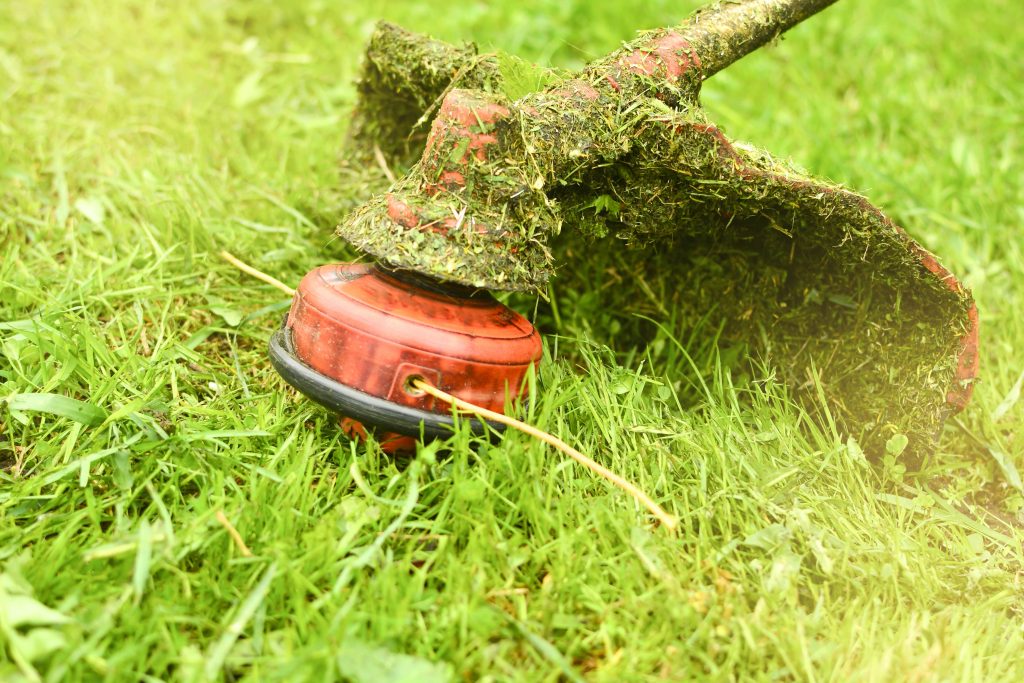 With some string trimmers (also known as strimmers) and multifunction garden tools, you can twist the cutting head at a 90-degree angle to turn the strimmer into a lawn edger.
If you already have the right strimmer, you may just be able to adjust it and begin cutting an edge on your grass. Unfortunately though, only certain strimmers normally have an edging mode.
Strimmers in edging mode cut grass well, but aren't the best when you're trying to cut through the sod and soil itself. They're also not the most precise way of vertically cutting the edge of your grass – strimmers are really designed for horizontal cutting.
Best for: those who already own a strimmer or multifunctional garden tool.
Different steps of lawn edging – and what tool you need
Depending on what you're trying to achieve, there are a few different ways to cut an edge on your lawn. You may be looking to trim overflowing grass, or cut the actual sod to create an edge to your grass.
Here are the two types of lawn edging, and what lawn edger you need for the job.
Cutting the sod. If you don't already have a boundary around your lawn, you can create one by cutting through the sod to the soil below, preventing the grass from growing any further. To do this, you'll either need a petrol or electric lawn edger, or a semicircular edging tool. You may also want to install a barrier after you've created the edge, to keep the edge in the same place over time.
Cutting the grass. If your lawn is spilling out onto the patio for example, or there are patches of lateral overgrowth onto your garden bed, you will want to cut the grass to clean up the edge. In this case, you can use a strimmer, edging scissors, or edging shears.
Technically, strimmers and edging shears are not true lawn edgers, they're just for trimming grass. Therefore we haven't discussed them in this guide.
What can I expect to pay for a lawn edger?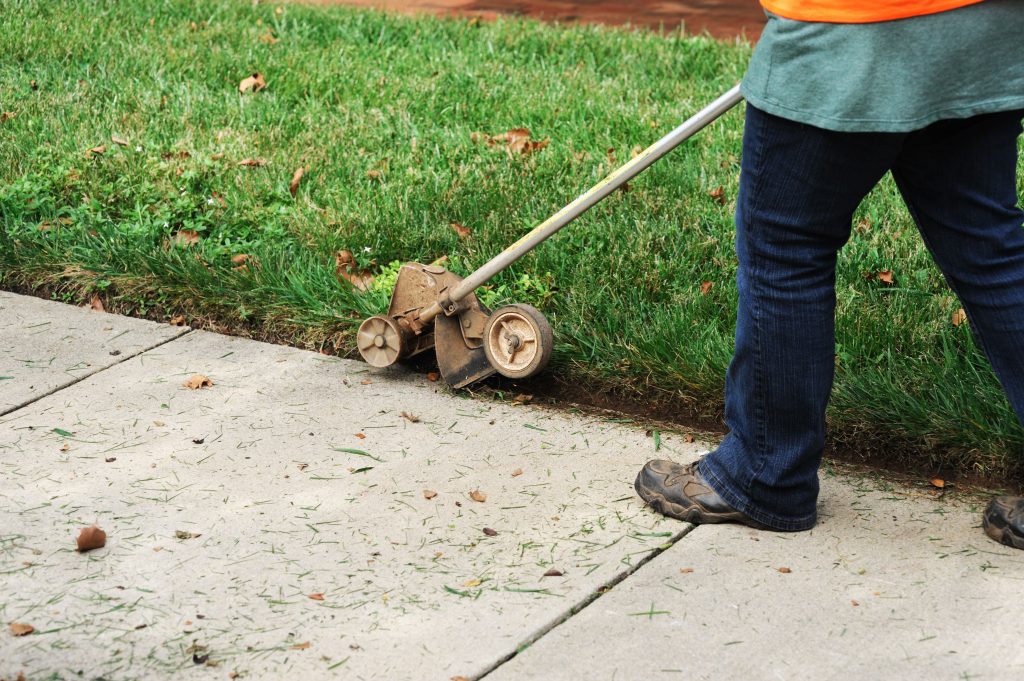 The amount you pay for a lawn edger will have a significant impact on how effective it is, and how easy the edger is to use.
Here's what you can expect to pay for a good quality lawn edger that will help you get the job done quickly and effectively.
Good petrol lawn edgers will cost £1000 or more.
Good electric lawn edgers will cost about £100-£300.
Good manual lawn edgers will cost about £30-£40, depending on the design and the quality of the blade.
Lawn edger weight
As mentioned previously, powered lawn edgers, especially petrol ones, are very heavy – about 30-50kgs. This is because of the weight of the engine.
This means that you can't really pick them up to move them easily. You will need to be able to wheel your petrol lawn edger wherever it needs to go – around your garden, and wherever you plan to store the machine.
The weight of your lawn edgers is also an important consideration if you buy a manual edging knife. The lighter than lawn edger, the easier it will be to manoeuvre and use. However, the bigger the blade, and the heavier it is, the more efficient the edger will be.
If you are concerned about the amount of effort required to use a manual lawn edger, it's best to get a lighter tool to make the job easier. But if you're used to using heavy garden tools such as spades and pitchforks and want to get the job done as fast as possible, you can go for a bigger, heavier lawn edger.
Stainless steel vs carbon steel blades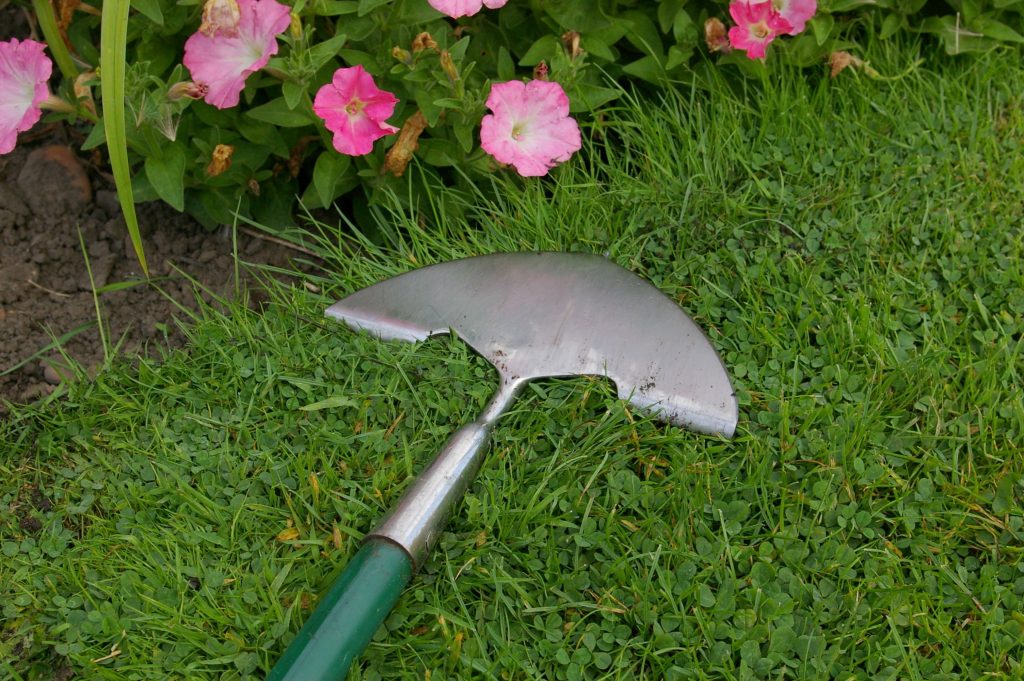 Edging knives will either come with a stainless steel blade or a carbon steel blade.
The last thing you want is to have your edging knife go dull over time, making it difficult to penetrate through the sod. You also want to ensure that the blade will not rust easily, because if it does get extremely rusty the blade may need replacing.
Stainless steel is more rust-resistant, but is less durable than carbon steel. Also, carbon steel is easier to sharpen. Therefore, it's best to go for a lawn edger with a carbon steel blade if you can afford it.
You can also find powder-coated carbon steel, which is more rust resistant than uncoated carbon steel.
What edging knife shaft material is best?
Step lawn edgers will either come with a plastic, steel (hollow), or hardwood shaft.
It's best to avoid edgers with a plastic shaft at all costs. They can become brittle over time, and will break easily.
Stainless steel shafts are typically lighter than wood, although they are often cheaper and aren't quite as durable.
Therefore, a wood shaft is the best type, although stainless steel is also a good material if you're looking to get the lightest possible manual lawn edger.
How deep do I need to penetrate the ground when edging?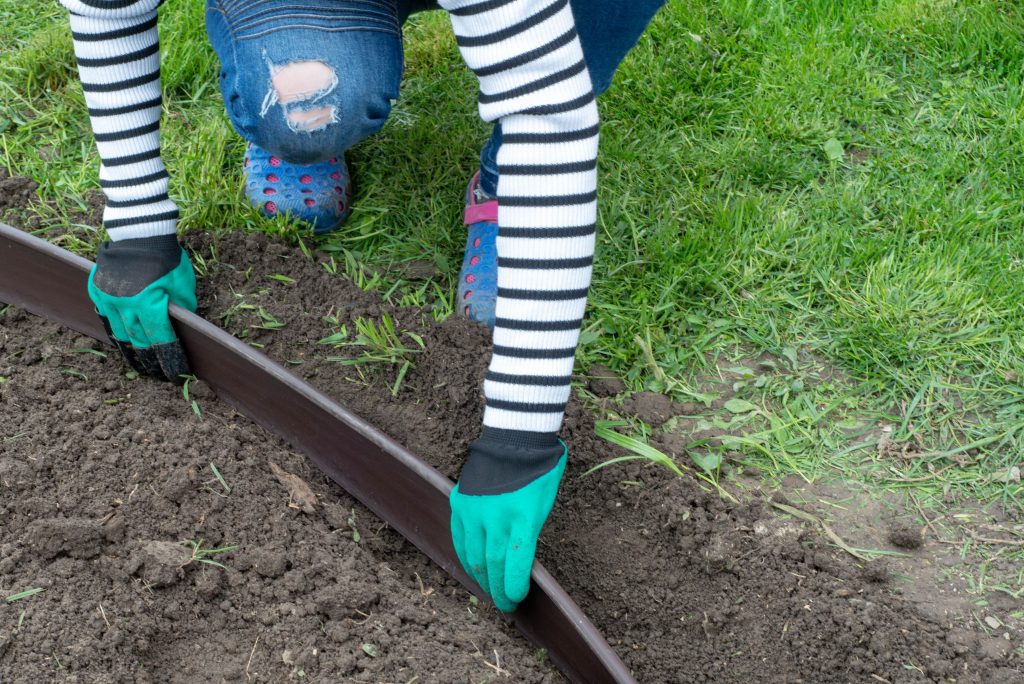 When creating an edge on your lawn, you're not just trimming the grass. You're cutting through the root system as well. This helps to prevent the grass from regrowing immediately.
Therefore, you want to penetrate at least 3-4 inches into the soil when edging. You may want to go deeper, to a depth of around 6″, when installing a grass barrier, so that the lawn doesn't grow under the barrier and push it towards the surface.
The average lawn edger has a blade depth of about 5″, while good quality petrol and electric lawn edgers will reach about the same depth below the surface.