Looking for an electric corded lawn mower for your lawn?
In this article, we've reviewed the 7 best corded electric lawn mowers you can buy in the UK in 2023.
We've also discussed some key things to consider when buying, to help you find a corded electric lawn mower that will meet your needs.
Quick Comparison Table
BEST OVERALL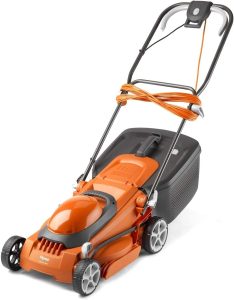 BEST CORDED HOVER MOWER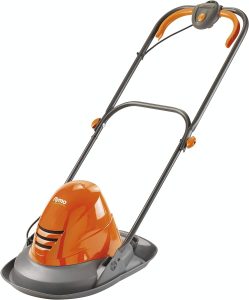 CHEAPEST CORDED MOWER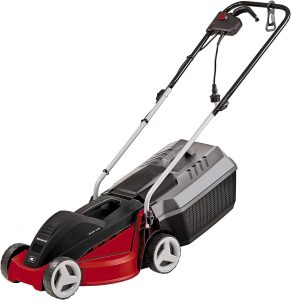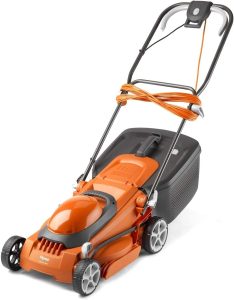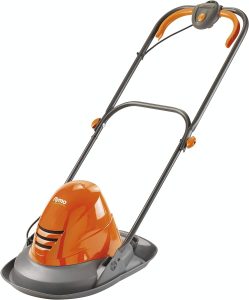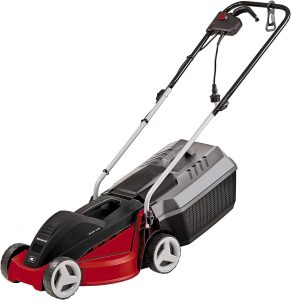 Best corded electric lawn mowers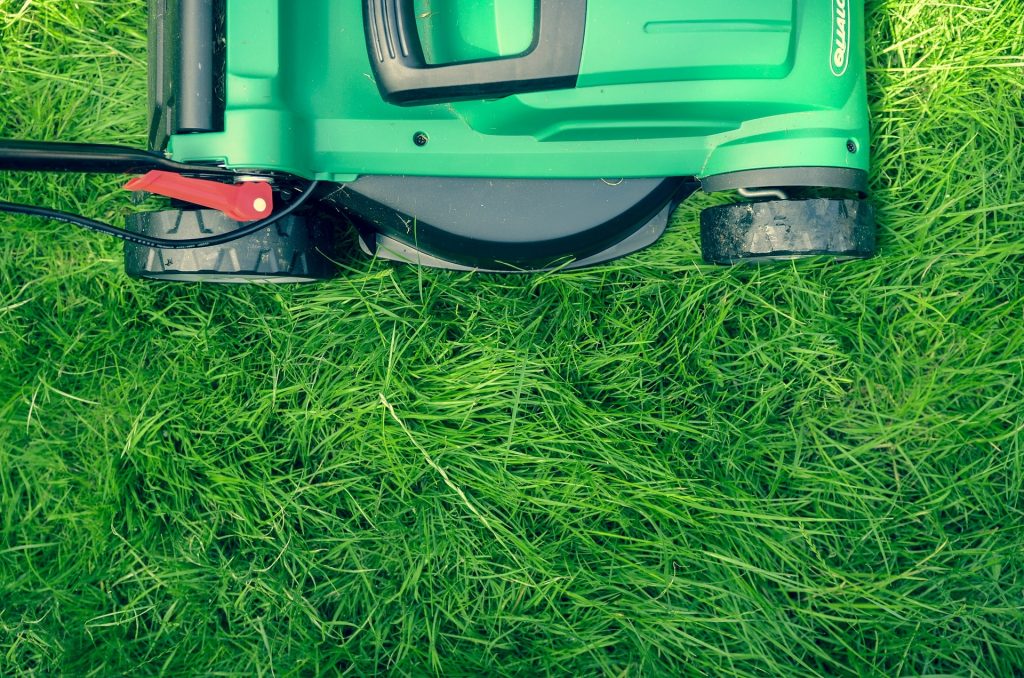 Let's begin our reviews.
In this part, we'll review the 7 best corded electric mowers for sale in the UK in 2023.
The Flymo Easistore 380R is one of the larger corded mowers you can buy in the UK right now.
It comes with a 38cm cutting width, meaning it cuts a lot of grass with each pass, which makes it very efficient. It also has plenty of power, and will cut through thick grass with ease, thanks to the 1600W motor. And if you need a smaller, more manoeuvrable mower for a smaller garden, there are 30cm and 34cm versions available as well.
As the name implies, Flymo has tried to design this mower so it can be stored in very small spaces, despite its size. They've done a great job – the handles fold down so that they're horizontal to the ground, making it possible to fold down this lawn mower into a sort of rectangular cube shape that fits into a relatively small space.
This lawn mower collects your clippings in a 45L grass collection box, which offers good capacity, and has a full indicator, showing you when it needs emptying. You shouldn't need to empty it out mid-mow, unless your grass is extremely long. However, it doesn't have a mulching function, which would be good to see at this price.
On the plus side though, this corded mower is very easy to use. Despite being on the bigger side, it's very lightweight, and has dual lever handles – meaning you can take turns applying pressure to the trigger with either hand, rather than just having to use your right hand like you do on many other mowers.
---
Pros
Efficient.
Good grass box capacity.
Powerful motor.
Smart fold-down design – can be stored easily.
Cons
No mulching function, which would be good to see at this price point.
If you're looking for a smaller, slightly more manoeuvrable lawn mower, it might be worth looking at a hover mower, like the Flymo Turbo Lite 260.
This corded electric lawn mower is one of the smallest you can buy. It has a 26cm cutting width, and one of the smallest profiles you'll find of any lawn mower.
As a result, you won't cut a massive amount of grass with each pass with this corded mower. However, for small lawns, this isn't a big deal – it will still get the job done quickly.
This hover mower is great value for money. Despite the price, it still comes with a comfortable dual-lever handle, providing good ergonomics.
And despite being small, Flymo still includes a 1400W motor with this lawn mower, which provides plenty of cutting power. The strength of the air cushion it hovers on is great – this is one of the most manoeuvrable mowers you can buy right now.
It also comes with a 10m power cable, which should be plenty of length, depending on where your nearest power outlet is. However, it won't collect your grass clippings. There simply isn't enough room for a grass box on a mower of this size.
---
Pros
Good value.
Extremely nimble and easy to use.
Powerful motor.
Dual-lever handle.
Cons
No grass box included.
McGregor also makes corded electric lawn mowers. This particular one is almost like a slightly smaller version of the Flymo EasiStore 380R mower we reviewed above.
This lawn mower comes with a 34cm cutting width, which offers a good balance between efficiency and manoeuvrability. The 1400W motor offers plenty of power, and the steel blades are good quality – they'll stay sharp over time.
You get 6 cutting height adjustment settings, between 20mm and 60mm, which is a great range of adjustments for a mower at this price point. McGregor's 34cm mower also comes with a rear roller, which is nice. However, it doesn't mow the best stripes, since it's not a very heavy lawn mower.
One downside to this corded lawn mower is the design of the handle. The trigger or lever you use to turn on the blades is only on one side of the handle – it doesn't have dual levers. This means you'll always have to press the lever with your right hand while mowing your lawn.
While the grass box is a little small on this mower, at 35L, it generally offers a good amount of capacity if you're mowing a small lawn. It also does a great job ensuring that your grass cuttings end up in the grass box, rather than strewn around your garden, which is nice.
---
Pros
Efficient but manoeuvrable.
Good quality blades – they stay sharp over time.
Great cutting height adjustment options.
Cons
Rear roller could create better stripes.
The Mountfield ME370 is a simple, cheap corded mower with a 37cm cutting width.
Mountfield has made this mower quite a bit lighter than most other similar-sized mowers on the market. This is why they've only included a relatively small 1300W motor. Due to the size of the motor, it can struggle to mow very tall or very thick grass, but in most situations this lawn mower performs well.
The benefit of this lack of weight is it makes the mower much easier to use without much effort, and easier to pick up and store. However, it can feel a bit flimsy. You might want to consider getting a more expensive lawn mower if you'd prefer something more sturdy.
The grass box offers plenty of capacity, and has a helpful indicator to show you when it's full. There is no mulching plug on this mower, so you have to collect your clippings. Unfortunately, the handle only has a trigger on one side.
One thing we really like about this mower is the length of the power cable. It comes with a 15m power cable, while most other mowers only come with a 10m cable. This helps you avoid the need to get an extension lead if you have a medium-sized lawn. However this cable can get in the way a bit if you have a small garden.
---
Pros
Great manoeuvrability.
Good grass box design & capacity.
15m power cable.
Cons
Not the best on tall or thick grass.
Can feel a bit flimsy.
Looking for a hover mower with a cutting width greater than 30cm?
The Flymo 330AX allows you the manoeuvrability of a hover mower, while still allowing you to mow your lawn efficiently. It's obviously heavier than the Turbo Lite 260 we looked at earlier, due to being bigger, but it has a more powerful 1700W motor to help create a stronger air cushion.
Other than the power it offers, the other great thing about this hover mower is it comes with a grass box. It's only a small one – at 22 litres – so it might need emptying mid-mow, depending on how big your garden is. However, this mower does a good job creating very fine grass cuttings, meaning this grass box has a better capacity than you might expect.
This is a relatively expensive corded hover lawn mower. However, it's comfortable to use, due to the double-lever handle, and comes with a 3-year warranty.
The only issue with the 330AX is it's not that good on slopes. Despite being a hover mower, it's not the best on uneven terrain.
---
Pros
Offers plenty of power.
Comes with a grass box.
Good cutting width.
3-year warranty.
Cons
Not the best on sloping grass.
Like Flymo, McGregor, and Mountfield, Bosch have a range of different size corded lawn mowers. The Bosch Rotak 34 R is one of the most popular.
This corded electric lawn mower is another very lightweight option. It's easy to manoeuvre, and the quality of the wheels is great, but it doesn't feel extremely sturdy. The grass box in particular seems quite thin, as it's mostly made of plastic.
However, the quality of the cut on this mower is second to none. It works well on thick grass, and leaves a clean, consistent cut. The available cutting heights, from 20mm to 70mm, can be set without having the flip the lawn mower over, and it comes with a 3-year warranty after you register the product on the Bosch website, which is great.
Although it could be sturdier, the grass box is quite large, at 40L, meaning you won't need to empty it until you finish cutting the grass, provided you have a small lawn.
Assembly can take around 30 minutes, but the instructions are easy to understand. With the help of another person, you can get this lawn mower put together much faster.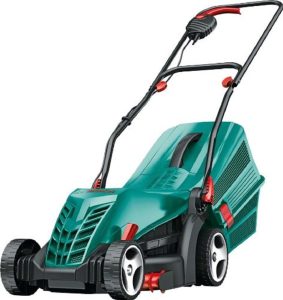 ---
Pros
Offers a quality cut.
Light and easy to manoeuvre.
Works well on thick grass.
Great grass collection box capacity.
Cons
Could be more sturdy.
This is probably the cheapest corded lawn mower you can buy in the UK right now. But is it any good?
As you might expect given what it costs, this is a very basic mower. The handle only has a lever on one side, the cable length is only 10m, and the motor only has 1000W of power.
However, this corded mower actually performs surprisingly well. The blades are decent quality, and cut grass well. Its mower doesn't feel very underpowered, despite the low wattage rating.
The grass collection box isn't very big, at 25L, and the cutting width is quite small, at 30cm. But this lawn mower is definitely big enough for small lawns. It's light, and easy to use.
Assembly is a bit tricky though, especially with the grass box. It comes in two halves – clipping them together can be a little difficult.
---
Pros
Great price.
Lightweight.
Good for small gardens.
Cons
Tricky to put together.
Corded lawn mower buyer's guide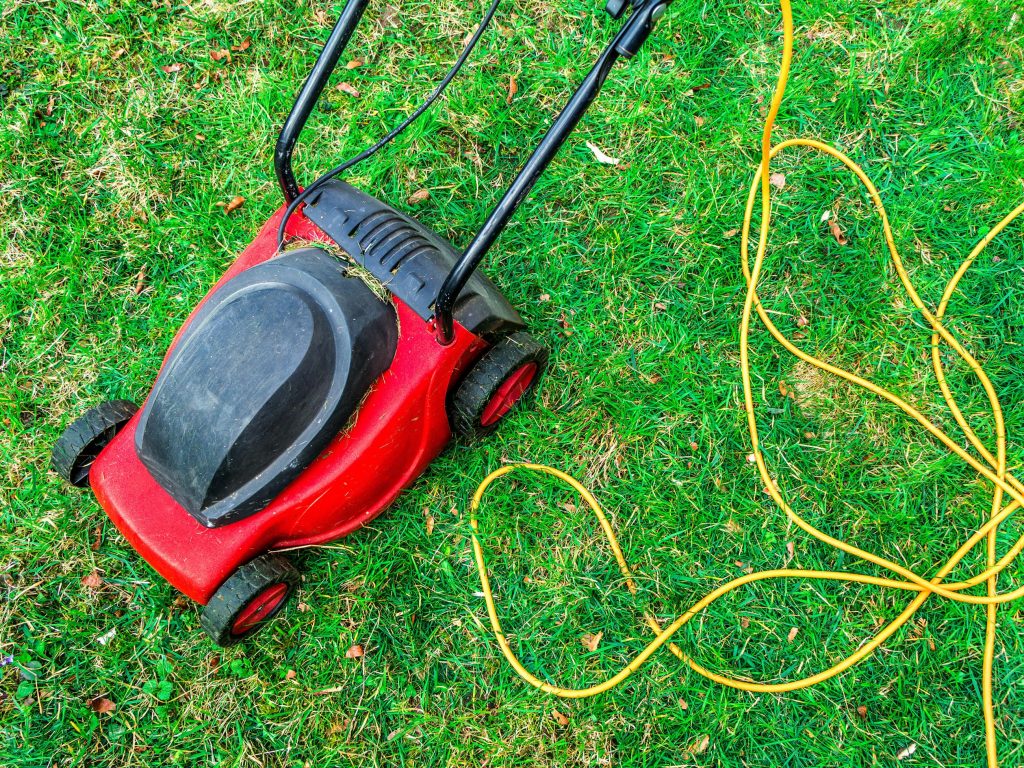 Wondering which corded lawn mower to buy?
In this part, we'll explain what to look for when buying a corded electric lawn mower.
Electric vs petrol lawn mowers
There are a number of advantages and disadvantages of electric mowers, when compared to petrol mowers.
Advantages of corded mowers
Corded electric lawn mowers are a lot quieter, and produce much less emissions than petrol mowers. You simply plug them into a nearby power outlet, without having to worry about refuelling, or the hassle of managing petrol. You likely don't need earmuffs to protect yourself from the noise of a corded lawn mower.
Petrol mowers are also normally a lot more expensive than corded electric mowers. In addition, they're often heavier, due to the weight of the fuel tank, making them less manoeuvrable.
And finally, one of the big benefits of an electric lawn mower is they require a lot less maintenance. You don't have to do thing such as replacing spark plugs, or changing oil filters. Although electric mowers do require maintenance, it's generally more simple to keep them maintained when compared to petrol mowers.
Disadvantages of corded mowers
However, there are also some disadvantages of corded electric lawn mowers when compared to petrol mowers. The biggest one is the fact that they must be plugged in at all times. This limits their usefulness on large lawns, and means that you need to be careful not to mow over your power cable when cutting your grass.
Electric corded lawn mowers are also less efficient than petrol mowers, in most cases. They're often smaller, and have a smaller cutting width, meaning they cut less grass with each pass. Petrol mowers are often heavier and sturdier, and have more cutting power, which is useful when mowing long grass.
Corded vs cordless electric lawn mowers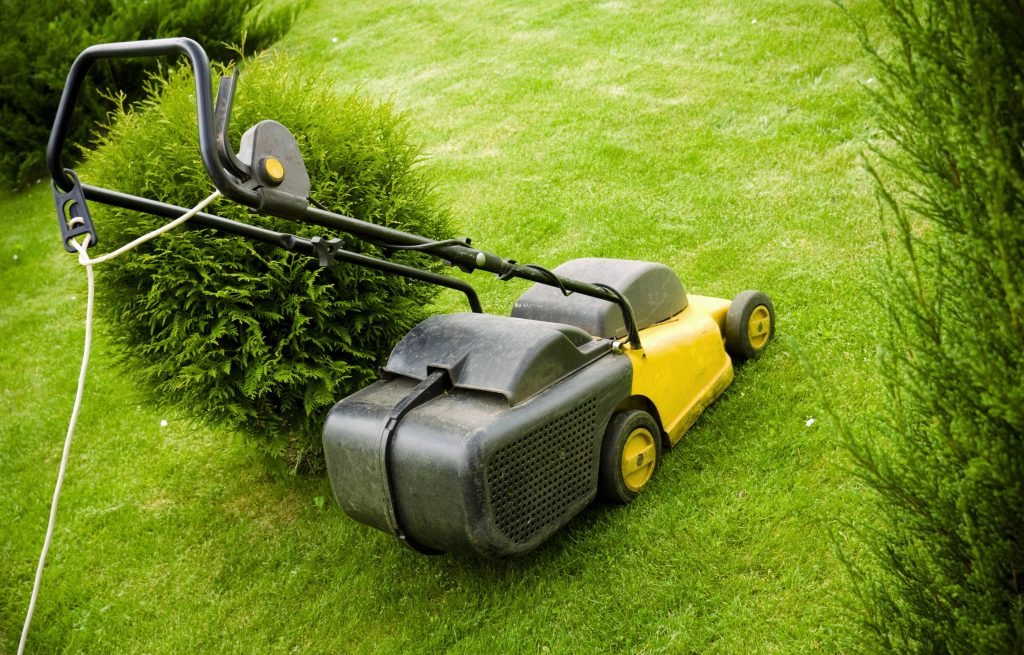 It's also important to compare the benefits and downsides of corded lawn mowers compared to battery-powered electric lawn mowers.
Advantages of corded lawn mowers
Corded mowers are often a lot cheaper than battery mowers. This is because lithium-ion batteries are still very expensive to make. These types of batteries are also very heavy, making corded lawn mowers much lighter typically than battery-powered lawn mowers.
Also, corded lawn mowers don't require charging up. As long as you can keep them plugged in, they'll keep on mowing for as long as you need them to.
Disadvantages of corded mowers
The main disadvantage of corded mowers compared to electric lawn mowers with a battery is they need to be kept plugged in at all times. They won't be able to reach the far end of your garden without a long extension cord, unless you have a small lawn.
The other downside to this design is it means you'll be constantly tethered to your house via the power cord. This can make the mower less manoeuvrable.
Rotary vs hover corded mowers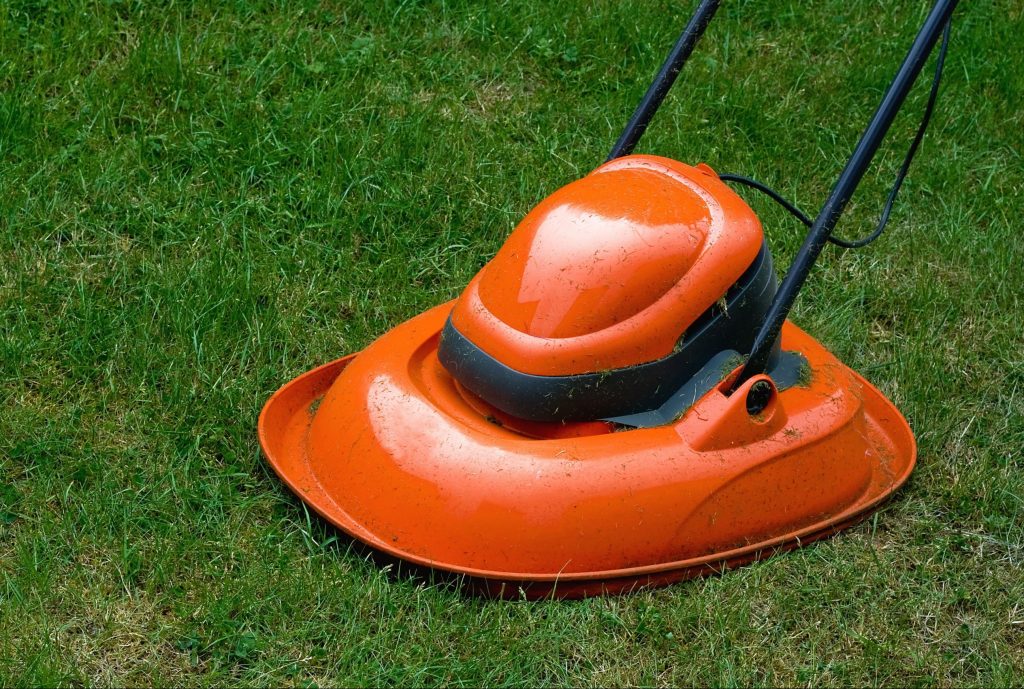 There are two types of electric corded lawn mowers you can buy: rotary mowers and hover mowers.
Rotary mowers are probably what come to mind when you think of a lawn mower. They have a rotary blade that sits parallel to the ground, and are pushed along on wheels by the user as you mow your lawn.
Hover mowers on the other hand don't have wheels. While they still have a rotary steel blade which cuts horizontal to your lawn, they float around on a cushion of air under the cutting deck, rather than moving backwards and forwards on wheels.
The advantage of hover mowers, and why so many people now use them, is they're much more manoeuvrable. Since they don't have wheels, you can push them forward and backward, as well as side to side. This also makes hover mowers better for cutting grass in tight spots, and around obstacles such as bushes and trees. Plus, hover mowers perform better on sloped lawns.
The disadvantage of hover mowers is they don't always have the ability to collect your grass clippings, due to their size. They're also no good at mowing stripes, since they don't come with a rear roller.
What motor power should I get?
Corded lawn mowers engine power is rated in watts (W). Typically, corded lawn mowers have an electric motor between 1000-1900W.
The amount of power you need depends on the size of the mower. The bigger and heavier your lawn mower, the more power it needs to cut effectively.
Also, hover mowers often need a more powerful motor to keep them floating above the ground. Since most corded rotary mowers are not self propelled, the motor just powers the blades, because the user pushes the mower. But with a hover mower, the engine also has to keep the lawn mower hovering above the ground by creating a constant air cushion.
What size electric lawn mower should I buy?
Corded electric lawn mowers normally come with a cutting width of between 28-40cm. If you need a larger lawn mower, you'll likely need to buy a petrol mower.
For small lawns, a cutting width of between 28-35cm will be a good size to go for, depending on the shape of your garden. If you'll need to make lots of sharp turns, going for a smaller mower is best. But if you have an even square or rectangle of grass, with no fences or other obstacles in the way of making turns, a bigger mower will allow you to mow more efficiently and get the job done faster.
It's also important to remember that bigger mowers will take up more space when stored in your garage or shed. Think about where you'll keep your lawn mower, and how wide the space it needs to fit into is.
Power cord length
Getting a lawn mower with the right cable length is actually quite important.
If the power cable is too short, you won't be able to mow the far end of your garden, without an extension lead. On the other hand, if the cord is too long, you'll need to be careful to keep it out of the way of the mower, to avoid mowing over it.
Unfortunately, you don't get much choice about the length of the power cord when buying a corded lawn mower. You'll normally either get a 10m cable or a 12m cable.
While a 10/12m power cable is plenty for most small lawns, you might need an extension cord or extension box, depending on where the nearest power outlet is located.
If possible, get a waterproof extension lead, with a three-prong connector, to ensure it will work well in outdoor conditions.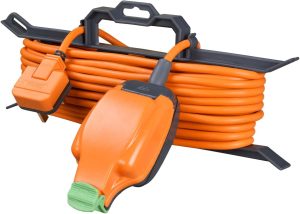 View on Amazon
What to look for when buying a corded lawn mower
Apart from the buying considerations we discussed above, here are some other things to look for when choosing which corded electric lawn mower to get.
Lightweight design. The less weight your corded lawn mower has, the easier it will be to manoeuvre around your garden. Although lightweight lawn mowers can feel a bit flimsy, their manoeuvrability tends to make up for it.
A quality, ergonomic handle. Even if it doesn't take very long to mow your lawn, you still want to have a mower with good ergonomics that is comfortable to use. Look for a mower with a dual-sided trigger mechanism on the handle. This will allow you to take it in turns applying pressure to the trigger with both hands, rather than having to keep holding it down with a single hand. Also take a good look at the quality of the grip on the handle. You want a relatively soft grip, that isn't too thin, nor too thick.
A steel blade. Nearly all mowers have a steel blade these days, but if looking for a cheap corded mower, make sure that it doesn't have a plastic blade before you buy.
Some corded rotary mowers come with a rear roller, allowing you to mow stripes on your lawn. This isn't essential, but a rear roller can be nice to have if you like to mow patterns.
A good cutting height adjustment mechanism. The best corded lawn mowers will have a simple lever you can use to adjust the cutting heights. But on some cheaper lawn mowers, you might have to flip the mower over, take off the blade, and manually install or remove a spacer to adjust the cutting heights. Some of Flymo's cheaper hover mowers only have a manual cutting height adjustment option, which it's important to be aware of.
A good warranty is also good to have. The typical corded mower warranty is 2 years. However, some manufacturers will offer 3-year warranties, with the condition that you register your product on their website.
How different corded mowers manage grass clippings
Most corded electric lawn mowers will either collect your grass clippings in a grass box, or mulch your grass clippings back into the soil. Some better, more expensive mowers will do both.
The type of grass collection mechanism that you need depends on how you like to look after your lawn. If you generally take a very hands-off approach, mulching might be a good option, as your clippings will act as compost for your lawn, feeding it vital nutrients. By mulching your clippings, you're avoiding the need to feed or fertilise your lawn as often.
However, if you like to take care of your lawn by feeding and fertilising it often, then collecting grass clippings might be a better option. Using a grass box is also best if you have an existing thatch buildup – a layer of dead organic matter just below the surface of your lawn – that you don't want to exacerbate.
How to use an electric corded lawn mower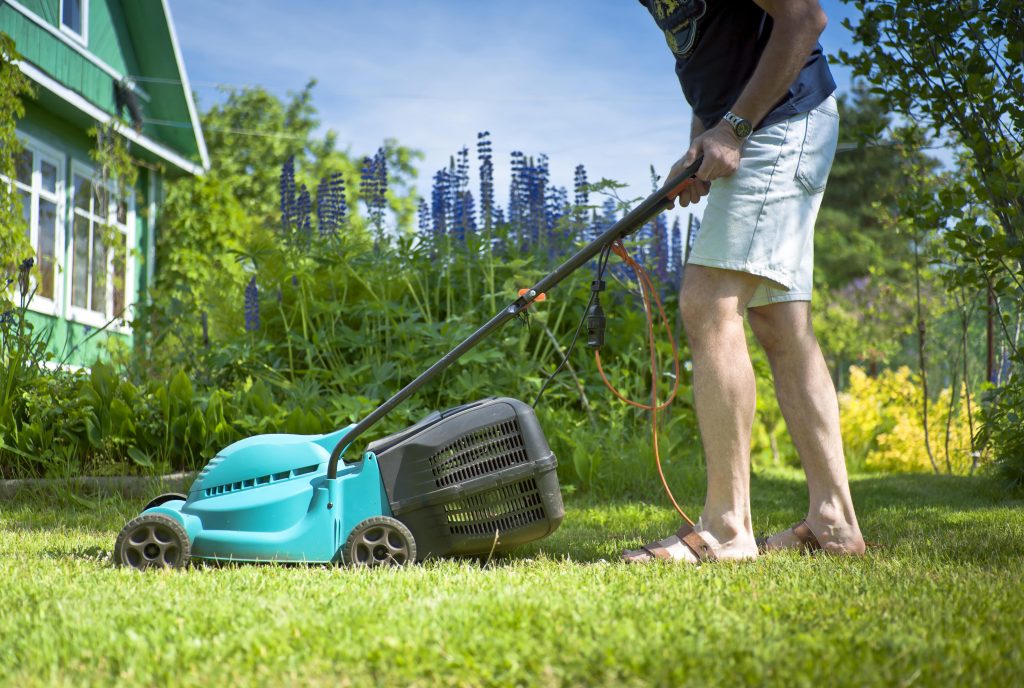 Once you've got your new electric corded mower, here's how to use it.
First, prepare the mower for mowing. You'll need to ensure that the grass box is in place (if you're using one), adjust the cutting heights, and push the handle into the correct position.
Plug the mower in, and turn it on.
Mow in stripes, with a slight overlap between each stripe to ensure you don't miss any spots. If using a hover mower, you can use a more freestyle mowing approach – you don't have to mow in a specific pattern if you don't want to.
Keep mowing until you've cut the grass – it's really that simple.
Turn off and unplug the mower, empty the grass collection box, clean the cutting deck, and store your corded mower, ready for next time.
How to maintain an electric corded lawn mower
After every mowing job, you want to clean off the cutting deck of your lawn mower, to prevent grass cuttings and mud from sticking onto the blades and undercarriage.
Fortunately, electric lawn mower motors don't require much maintenance. They don't need oil, spark plug, or air filter replacements.
However, you will need to be careful with the power cable, to avoid it getting worn and potentially fraying over time. It's a good idea to visually inspect it before every mow.
Also, you will need to sharpen your lawn mower blades every so often. Here's our tutorial on sharpening lawn mower blades. Also, the wheels may need lubrication every so often. WD-40 works well to get them spinning nicely again.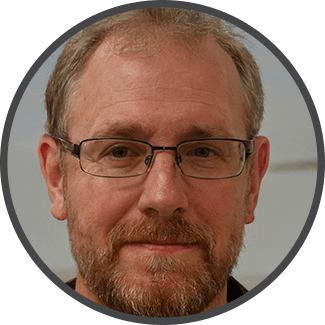 I'm Josh, and I'm the head writer at Lawn Care Pro.
I love everything lawns, but I'm a bit of a lawn mower nerd. I spend a lot of my free time tinkering with mowers, and planning my mowing schedule for the next few weeks.
I'm also into cars, which comes in very helpful when servicing a mower engine!