Considering buying a McGregor lawn mower, but not sure if they're any good?
In this McGregor lawn mower review, we've looked at three different McGregor lawn mowers, included corded rotary mowers and hover mowers.
We've also looked at McGregor as a brand more broadly, to see if their mowers are good value for money.
CORDED ROTARY MOWER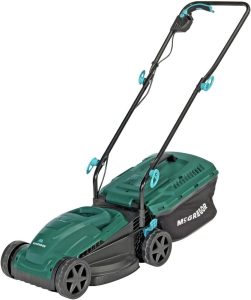 McGregor
32cm Corded Rotary Mower
CORDED ROTARY MOWER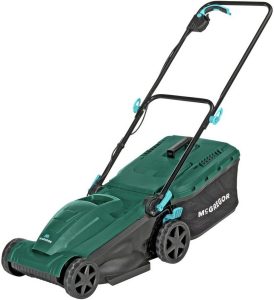 McGregor
37cm Corded Rotary Mower
CORDED HOVER MOWER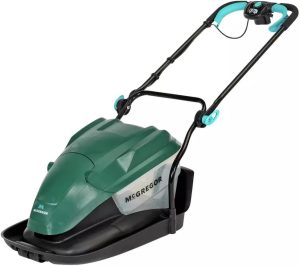 McGregor
30cm Corded Hover Mower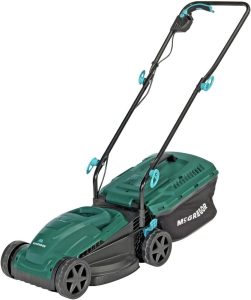 McGregor
32cm Corded Rotary Mower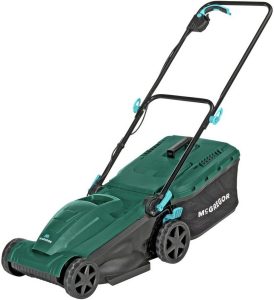 McGregor
37cm Corded Rotary Mower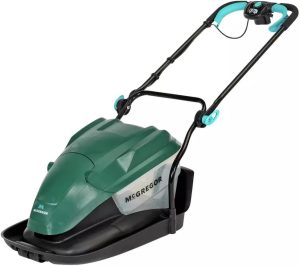 McGregor
30cm Corded Hover Mower
Contents
Click to jump to the relevant section of our review.
About McGregor
McGregor is a brand of garden tools owned by Argos, that are also available online on websites such as Amazon. This means that McGregor isn't a company that makes lawn mowers. Instead, Argos licenses the ability to apply the McGregor brand name to their own brand products, and the manufacturing process is normally outsourced.
McGregor specialises in lawn mowers, but the brand also includes strimmers, hedge trimmers, and chainsaws.
Their lawn mowers come with a 2 year manufacturer warranty.

Are McGregor lawn mowers any good?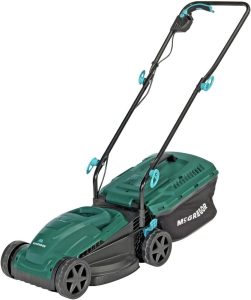 Although McGregor lawn mowers are outsourced to international manufacturers, their quality is actually pretty good.
McGregor mowers generally are made of a decent amount of plastic, like many mowers are these days. However, they're still relatively durable, and always come with a good-quality metal blade, no matter whether you get one of their rotary mowers or hover mowers.
One thing that sets McGregor apart is the power of their mowers. They normally opt to use a motor with more wattage than you might expect on a mower of that size. Therefore, they often work well on lawns with thick grass – you're unlikely to find an underpowered McGregor mower.
McGregor mowers are generally very good, especially given what they cost.

Who makes McGregor lawn mowers?
McGregor lawn mowers are made by a number of different companies, such as Sumec, which is a Chinese manufacturing firm.
Typically, McGregor mowers are made in China.

McGregor Rotary Corded Lawn Mower Reviews
First, we'll review two different McGregor corded rotary mowers, to see if they're worth buying.

McGregor 32cm corded rotary mower review
This is the smallest electric corded lawn mower that McGregor makes right now.
It comes with a 32cm cutting width, and a relatively small 30L grass box at the back. This makes the mower quite small, and reasonably lightweight. It's very manoeuvrable, partly due to its small size, but also because the wheels are quite well made.
The motor has a decent amount of power, at 1200W, with a 10m power cord. This is plenty for most small to medium size lawns, as long as the grass is not too wet. However, this isn't the most powerful mower you'll find.
McGregor allows you to adjust the blade to 5 different cutting heights, between 20mm and 60mm. This is plenty of range, and the height is easy to adjust. There's also a rear roller, helping you to mow stripes, which is a nice bonus.
The grass box has an indicator to show when it's full, but is a little tricky to detatch and empty. However, this mower is very reasonably priced. It's also quite durable, and comes with a 2-year warranty from McGregor.
Pros
Lightweight & manoeuvrable.
Easy to adjust the cutting height.
Reasonable price.
Durable.
Cons
Can be tricky to empty the grass box.
Overall value rating
⭐⭐⭐⭐⭐
McGregor 37cm corded rotary mower review
Looking for a wider mower for a larger lawn?
This mower comes with a 37cm rather than a 32cm cutting width, which does reduce its manoeuvrability somewhat. It's more expensive, a bit heavier, and slightly less agile, reducing its effectiveness on uneven ground.
However, this mower is a decent bit more efficient on larger lawns, because you can mow more grass with each pass.
Other than its size, McGregor's 37cm mower is pretty similar to the 32cm one we just reviewed. It also has good quality steel blade, and a 10m power cord. However, the mower is much more powerful, at 1600W. This, along with the quality of the blade, makes it better for longer, thicker grass, even when it's slightly wet.
You also get an extra centimetre of cutting height on this mower. There are 6 settings, between 20mm and 70mm. This 70mm setting is helpful if you have a lawn you want to nurture back to health by leaving it longer and cutting it less frequently. However for most lawns you'll want to use the 20mm or 30mm setting, especially in the summer and autumn.
This mower also has a much larger 40L grass box. And if you don't want to collect your grass clippings, there's a mulching function, which is a nice feature to have. However, the rear roller on this mower isn't the best – it's not very heavy. If you're looking specifically to mow stripes, it's best to avoid this mower.
Pros
Very efficient.
Plenty of power.
6 height adjustment settings.
Includes a mulching function.
Cons
Rear roller could be heavier.
Slightly expensive.
McGregor Hover Mower Review
McGregor has a range of hover mowers – they're one of the closer competitors to Flymo in the UK.
In this part, we'll review one of McGregor's hover mowers to see if it's any good.

McGregor 30cm hover mower review
This product is one of the better small hover mowers you can buy at this price point. It comes with a 1450W motor, which is very powerful given what this mower weighs. As a result, it cuts nicely, and hovers well on its cushion of air, even on slightly sloped lawns.
There are four cutting height settings you can choose, between 12mm and 33mm, which is quite a good range for a hover mower this size. You can even adjust the blade with the included handle – no need to turn the mower fully over to add or remove spacers on the cutting deck.
McGregor have made this mower extremely lightweight, to make it lighter and more manoeuvrable. As a result, it's mostly made of plastic. This raises an important question – is it durable?
The blade is made of metal, and stays sharp over time. And the cutting deck is strong, as well as the 20L grass bag.
Provided you don't knock the mower too much, and are fairly careful when putting it in storage, it's very durable. Like all McGregor mowers, it comes with a 2-year warranty, and is plenty tough.
There's just one issue with this mower – the grass box. It doesn't always collect all your clippings, especially when used on slopes, and can leave a bit of a mess in your garden.
Pros
Powerful motor.
Easy height adjustment.
Good price.
Very light and easy to manoeuvre.
Cons
Grass collection could be better.
Overall value rating
⭐⭐⭐⭐⭐
Are McGregor Mowers Worth The Money?
McGregor isn't the most expensive lawn mower brand. Their rotary and hover mowers are generally quite cheap.
For the price, McGregor mowers are often very good value. They cut well, are lightweight, and offer good durability. You will even find that some of their mowers have the ability to mulch grass clippings, unlike many of their direct competitors.
McGregor mowers are for people who want a simple, reasonably-priced way of cutting their lawn, without having to worry about the mower having too little power.
However, McGregor doesn't normally include too many advanced features on their mowers. They don't really have upmarket, expensive models, if you're looking for a premium mower.
Therefore, McGregor mowers are worth the money, if you're looking for a good value mower that just gets the job done.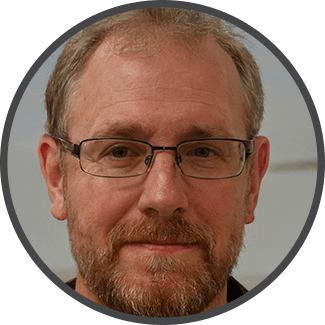 I'm Josh, and I'm the head writer at Lawn Care Pro.
I love everything lawns, but I'm a bit of a lawn mower nerd. I spend a lot of my free time tinkering with mowers, and planning my mowing schedule for the next few weeks.
I'm also into cars, which comes in very helpful when servicing a mower engine!