Looking for a petrol hedge trimmer for your garden?
In this guide, we've reviewed the 7 best petrol hedge trimmers for sale in 2023.
We've also discussed some key things to consider when buying a new petrol hedge trimmer.
Quick Comparison Table
BEST OVERALL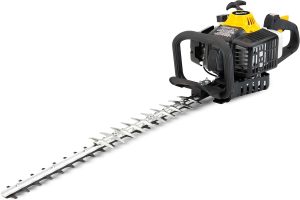 LIGHTWEIGHT TRIMMER

BEST PRICE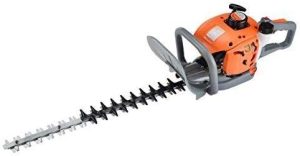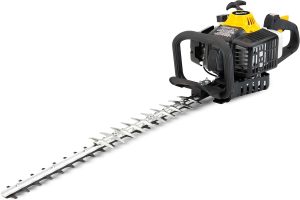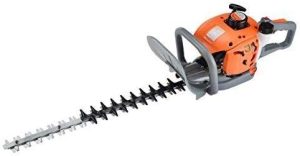 Best petrol hedge trimmers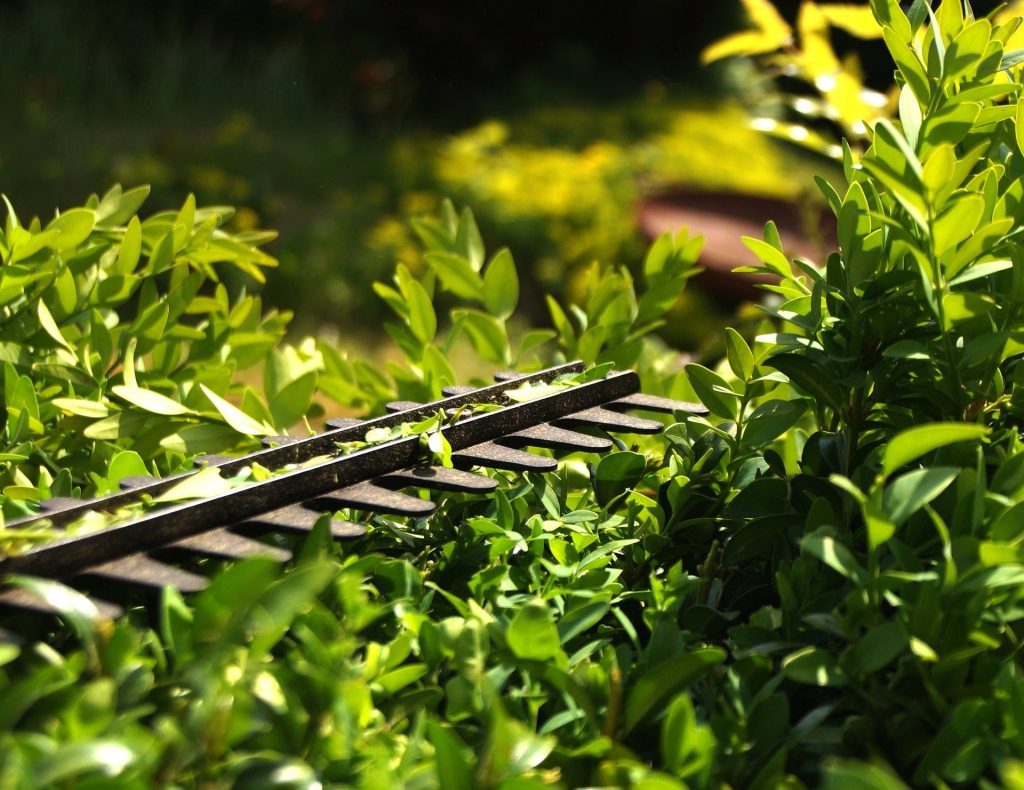 In this section, we'll review 5 of the best petrol hedge trimmers you can buy right now in the UK.
We've put this petrol hedge trimmer as #1 because it's a mid-budget, medium-sized hedge trimmer, that performs extremely well.
The best thing about this hedge trimmer, no matter how much experience you have with garden tools, is how easy it is to use. For example, it comes with a soft start system, which reduces resistance in the starter cord. This, combined with the design of the purge bulb, makes it very easy to start, every time.
Another thing that makes this petrol hedge trimmer easy to use is the design of the rear handle. It's comfortable to hold for extended periods, and the ergonomic handle can twist to allow you to hold it at the most comfortable angle – no matter if you're cutting sideways along a low hedge or shrub, or reaching up to trim the top of a tall bush. Plus, you don't feel much vibration while using the HT 5622 – it has a good anti-vibration system and a quality suspension.
The 22cc petrol engine on this trimmer isn't the most powerful you'll find, but it provides plenty of oomph. It's very reliable, comes with a large fuel tank, and the cutting blades do a great job, even on slightly thick branches.
Given what it costs, it's very hard to fault this trimmer from McCulloch.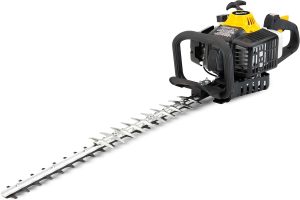 ---
Pros
Comfortable & easy to use.
Reasonable price.
Starts easily.
Does a great job trimming, even on thicker branches.
Cons
N/A – great hedge trimmer for the price.
This is another slightly larger, but slightly cheaper petrol hedge trimmer from Mountfield.
The MHJ2424 comes with a 24.5cc two-stroke engine, which provides plenty of power. Combined with the extended 61cm blade, this hedge trimmer makes light work of large, tall hedges, as well as smaller bushes and ferns. It's a little heavy compared to many smaller petrol hedge trimmers, at 5.5KG, but this is a pretty good weight for a hedge trimmer of this size.
Mountfield has also done a good job with the rear handle of this petrol hedge trimmer. It can be twisted into three different positions, and is easy to adjust based on the angle you're cutting.
One area where this petrol hedge trimmer doesn't perform particularly well, especially compared to many McCulloch trimmers, is its starting mechanism. It can be a bit difficult to start – after a while, the starter cord can gain resistance, and it can stop when the throttle is opened on rare occasions.
However, Mountfield does include a 1-year warranty with this petrol hedge trimmer, which covers these types of issues.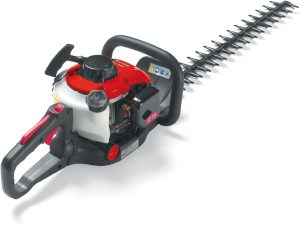 ---
Pros
Powerful engine.
Very efficient – long cutting length.
Good adjustable rear handle design.
Cons
Can sometimes be difficult to start.
This is a similar but slightly more expensive version of the McCulloch HT5622 we just reviewed.
The difference between the two is, the SuperLite has a shorter blade length, at 45cm instead of 56cm. It also weighs less, at just 4.8KG. And despite being relatively small, it still comes with a 22cc engine – giving it plenty of power.
As a result, it's more manoeuvrable, and easier to use on small hedges and shrubs than the HT5622. However, it's not as efficient for bigger jobs since the cutting blade isn't as long.
Apart from having a lightweight cutting blade, the SuperLite performs as you'd expect from a McCulloch petrol hedge trimmer. It's very easy to start, has a good suspension and shock absorption, and comes with dual action blades for more efficient cutting. It's also relatively quiet, and the teeth opening is quite large, at 28mm, making this trimmer better at cutting thicker branches.
The only downside to the McCulloch SuperLite 4528 is the price. It's relatively expensive for a small petrol trimmer.

---
Pros
Very lightweight.
Manoeuvrable.
Starts easily.
Large teeth opening.
This is the cheapest petrol hedge trimmer we've looked at so far. Despite this, it's still quite a large option, with a 60cm blade, and it weighs in at nearly 6KG.
As a result, this trimmer feels a little heavy, but is quite efficient if you need to cut a large hedge. It also does a good job with thicker branches, as the 22.5cc 2-stroke engine provides a good amount of power.
Despite being a reasonably cheap petrol hedge trimmer, the HT60-S7 is still comfortable to use. The handle is adjustable, and eSkyde have done a good job with their anti-vibration system. The quality of the suspension is actually quite good.
However, you do notice that they've used relatively cheap materials in places. The frame and engine housing are made of plastic, and aren't very thick.
This isn't the studiest petrol hedge trimmer on the market. But if you're on a tight budget, and don't mind the weight, then it's worth looking at.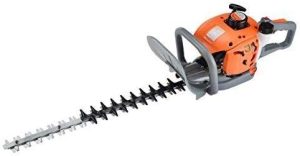 ---
Pros
Great price.
Good blade length.
Comfortable to use.
Cons
Could be more sturdy.
This product from Mountfield isn't actually a petrol hedge trimmer. It's a multifunction garden tool, including a grass trimmer, brush cutter, chainsaw, pruning saw, and hedge trimmer – all in one.
Each included cutting head is powered by a 25cc petrol engine, and comes with a long shaft to access tall areas. To change between the different cutting modes, you simply swap the head, which is secured using screws – it's a very easy process.
Given what you get, there's a lot of value to be had with this multifunction tool. The engine is powerful enough, and with the hedge trimmer attachment in place, it can cut tall hedges due to the length of the shaft. Unfortunately the shaft isn't telescopic, but it does come with an extension pole, which you can add or remove to cut taller or shorter hedges.
This doesn't reduce its effectiveness though. Although the trimmer blade is smaller than on most proper hedge trimmers, it cuts very nicely.
Mountfield's product is also very reliable – the quality of the engine is superb. They also include a 12 month warranty for peace of mind when buying. However, this tool is quite heavy – you will likely need to use the included harness, especially when trimming hedges.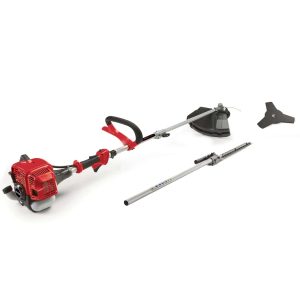 ---
Pros
Excellent value for money.
Great quality petrol engine.
Long reach petrol hedge trimmer.
Easy to swap the cutting heads.
Petrol hedge trimmer buyer's guide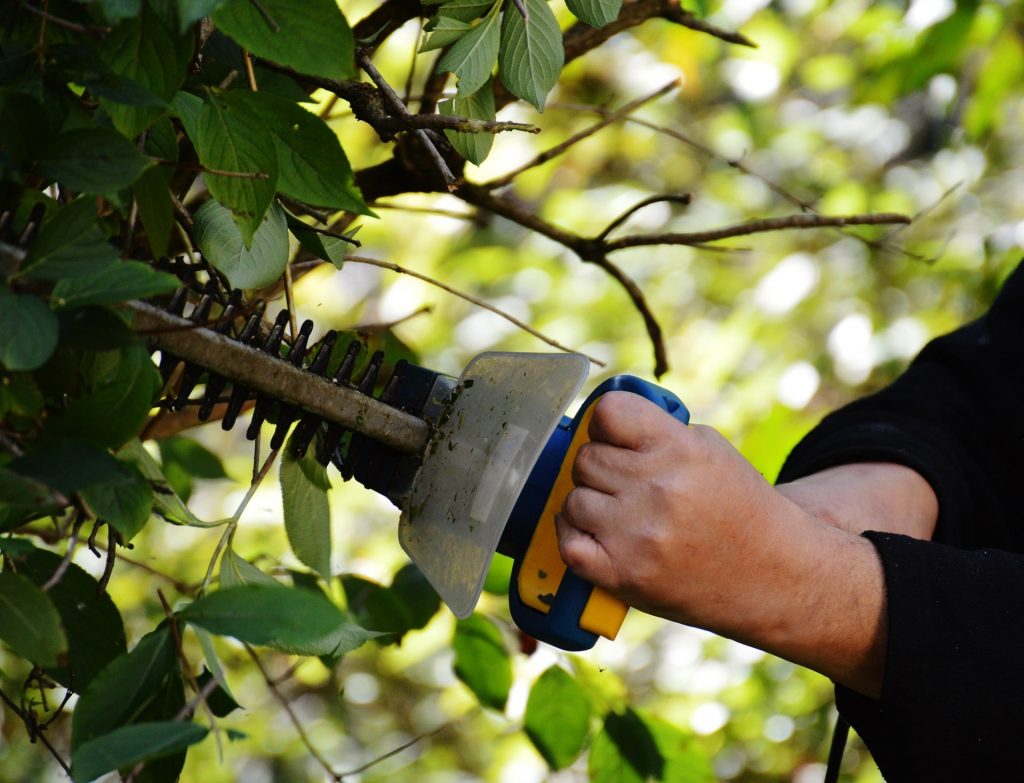 Now we'll discuss what you need to know when buying a petrol hedge trimmer.
Types of hedge trimmer – and why choose petrol
There are many different types of trimmer you can buy in the UK, based on how they're powered.
Corded electric hedge trimmers use an electric motor, but must be plugged in at all times. This really limits their useful range. Unless you look for electric corded hedge trimmers with an extremely long cable, you might have to get an extension cord, which will be difficult to manage.
Cordless electric hedge trimmers use an electric motor powered by a lithium-ion battery. Because you don't need to be plugged in, you have a lot more freedom to move about with cordless hedge trimmers. However, these types of products can be quite heavy, and are often very expensive, because batteries are not cheap.
Petrol trimmers are the most popular option. They have the mobility you need to trim anywhere, but aren't too heavy, and don't cost too much either. The only downside to petrol hedge trimmers is they're often quite noisy, and will produce petrol fumes.
In most cases, petrol options with a two-stroke engine are the best hedge trimmer to buy, rather than electric trimmers. They offer great cutting power and good mobility at a reasonable price. The only reason you would consider an electric hedge trimmer is if you have a smaller garden, or don't want to go through the hassle of buying and storing petrol for your hedge trimmer.
Key parts of a hedge trimmer (and what to look for)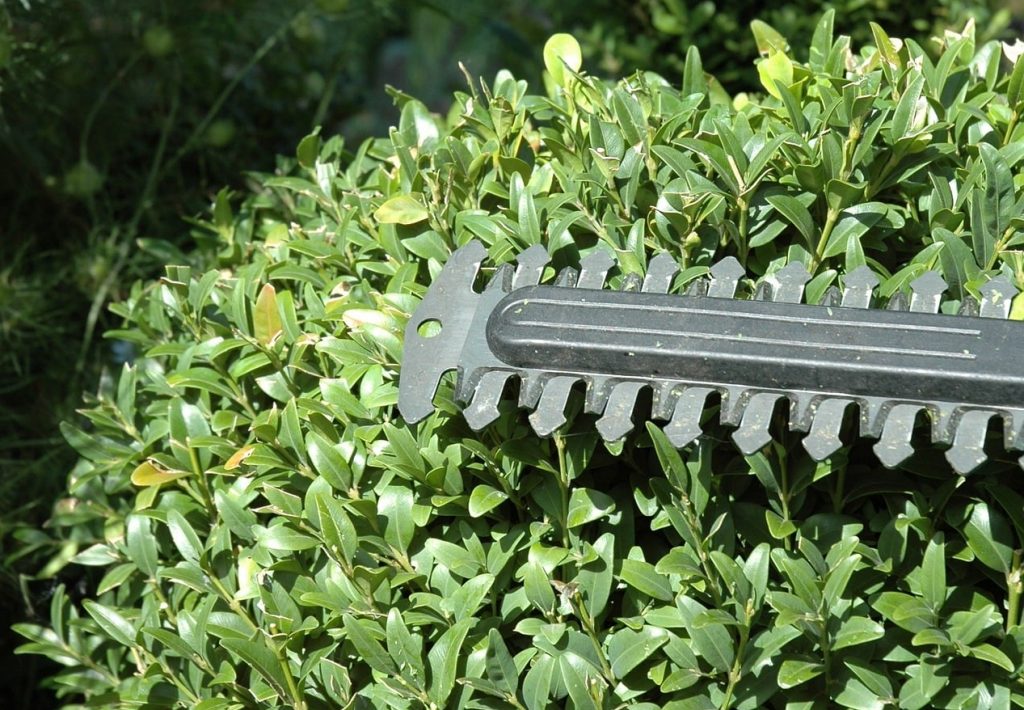 Here are the key components of a hedge trimmer, and how to find a trimmer with the right type of components.
The engine is the powerhouse of your machine. You need an engine with enough power to cut through whatever it is you want to trim – from leaves to branches.
The engine housing is where the engine sits, and is normally made of plastic or metal. In general, a plastic engine housing is best, as it weighs less and won't transfer heat as easily (helping to keep your hands cool).
The shaft connects the engine to the blade. Again, you want to find a balance between a lightweight shaft and a strong shaft. Good hedge trimmers will use an aluminium shaft, as it's strong and lightweight.
The handle sits on the edge of the shaft, and is what you hold as you use the trimmer. You want a relatively soft handle that will be comfortable to hold for extended periods of hedge trimming. The more vibrations it can absorb, the better – this prevents these vibrations from going down your arm. The best petrol hedge trimmer manufacturers will use rubber washers on the screws attaching the handle to the shaft, to keep vibrations at bay. Some hedge trimmers also come with a rotating rear handle, which you can adjust based on the angle you're cutting, which is a great feature to have.
The blade is what trims your hedge. Most trimmers come with a double-sided blade, also known as dual action blades, allowing you to cut in either direction. The cutting capacity of the blade is also important. Essentially, the cutting capacity is the distance between the teeth on the blade. The bigger the capacity, the bigger the object the blade will cut – allowing it to trim large branches, at the cost of reduced precision cutting.
Hedge trimmer engines explained
Petrol hedge trimmers typically come with a 2-stroke engine, with a power rating in the 20-25cc range.
These engines typically are powered by an oil and fuel mixture. You can use regular petrol for the fuel, but you'll need to buy 2-stroke engine oil to mix with it. The instruction manual will help show you the required mix. For a hedge trimmer, a fuel to oil ratio of 50:1 is typical.
You need to mix the fuel and oil external to the machine. If you simply tip the required amounts into the petrol tank, it won't mix properly.
Just like in a car, the 2-stroke engine will require regular maintenance, meaning you'll need to replace parts over time. It's a good idea to swap out the spark plug if it becomes damaged or dirty, change the air filter every year, and replace the carburettor if the engine begins to stall.
Can petrol hedge trimmers cut thick branches?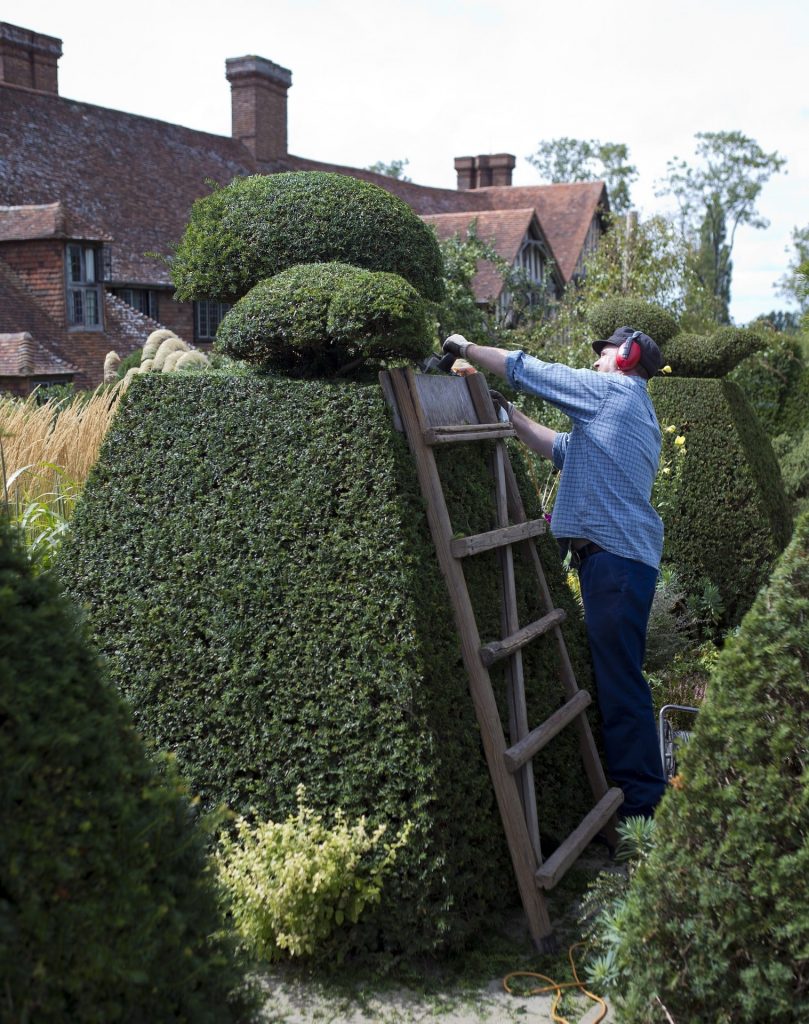 Hedge trimmers cannot cut extremely tough branches. They're designed to cut leaves, and the types of small branches you would find in a hedge.
If you need to cut very thick branches, it's best to buy a chainsaw or a hedge cutter instead. Otherwise you may damage your hedge trimmer blade.
Important hedge trimmer safety features
There are a number of important safety features you should look for when buying a hedge trimmer.
The throttle lock ensures that you only ever engage the clutch and activate the hedge trimmer when you're in control of the machine. The throttle lock is on the handle, and must be depressed at the same time as the trigger to activate the petrol hedge trimmer blades.
The blade guard can help to prevent anything unwanted from entering the cutting teeth. The blade guard sits above the blade, and is slightly wider than the width of the teeth. This ensures that if something falls onto the blade, rather than the blade being moved in its direction, it doesn't get cut.
A blade tip protector. Blade tip protectors help to stop the blade wearing too much when working in contact with the ground. However, they also help to prevent you accidentally poking yourself with the hedge trimmer when moving or storing it. The tip protector will also protect you in case you start the hedge trimmer up with something right in front of it. Rather than violently jolting the hedge trimmer as you engage the clutch, the tip protector will prevent the object from suddenly entering the blade at the first few teeth.
The hand guard sits between the front handle and the top of the blade. It helps to protect your left hand from debris, and also prevents your hand from touching the blade if it slips forward.
Although hedge trimmers are very safe nowadays, it's still very important to use the right protective gear when using them. Always wear safety glasses, safety glasses, enclosed shoes, and long pants when using a hedge trimmer. Earmuffs are also important, especially when using a petrol hedge trimmer.
What is a long reach hedge trimmer?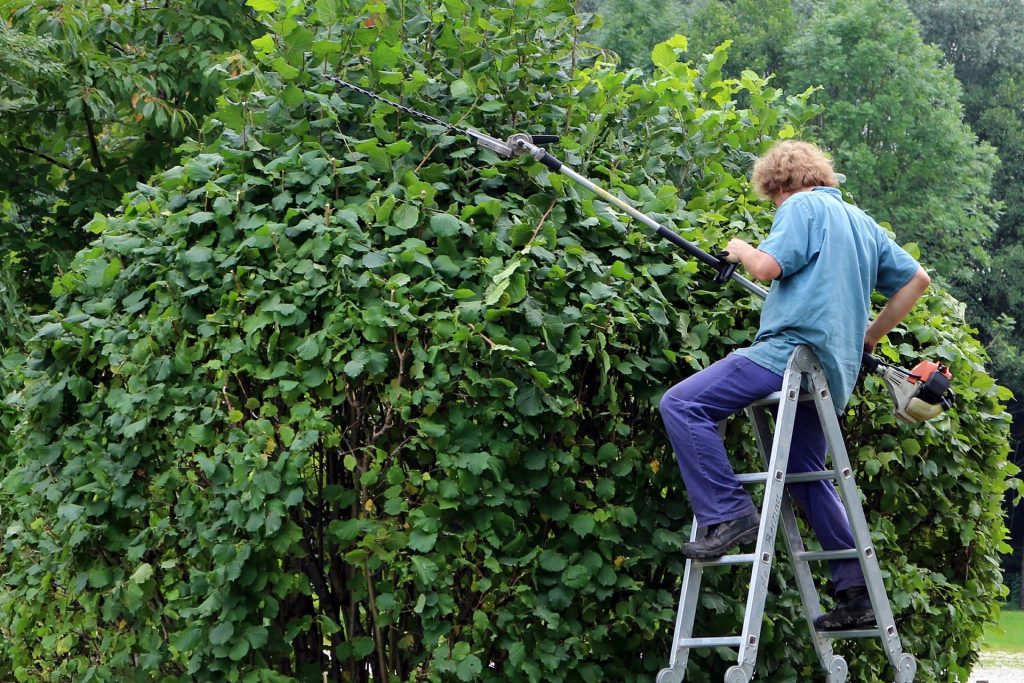 A long reach hedge trimmer has a longer shaft than a regular hedge trimmer. It may also have a shorter blade, to ensure it's still manoeuvrable when used at long range.
Petrol hedge trimmers with a long shaft allow you to trim taller hedges while still staying on the ground. This can make the job of cutting the top of your hedge a lot safer and easier.
However, they can also make it more difficult to cut bushes or hedges, because the handle is extremely long. This is why some petrol hedge trimmers come with an extendable telescopic handle, or an extension pole. Alternatively, you could look at buying a ladder designed for use by gardeners to cut tall hedges.
What size hedge trimmer should I buy?
As we just discussed, the more blade length, the further your petrol hedge trimmer it can reach. However, hedge trimmers with long blades are more difficult to control.
A normal size for a hedge trimmer blade is 50cm. But if you have taller hedges, or want to work more efficiently with a large garden, you might look for a trimmer with a 60cm+ blade.
How much should I spend on a petrol hedge trimmer?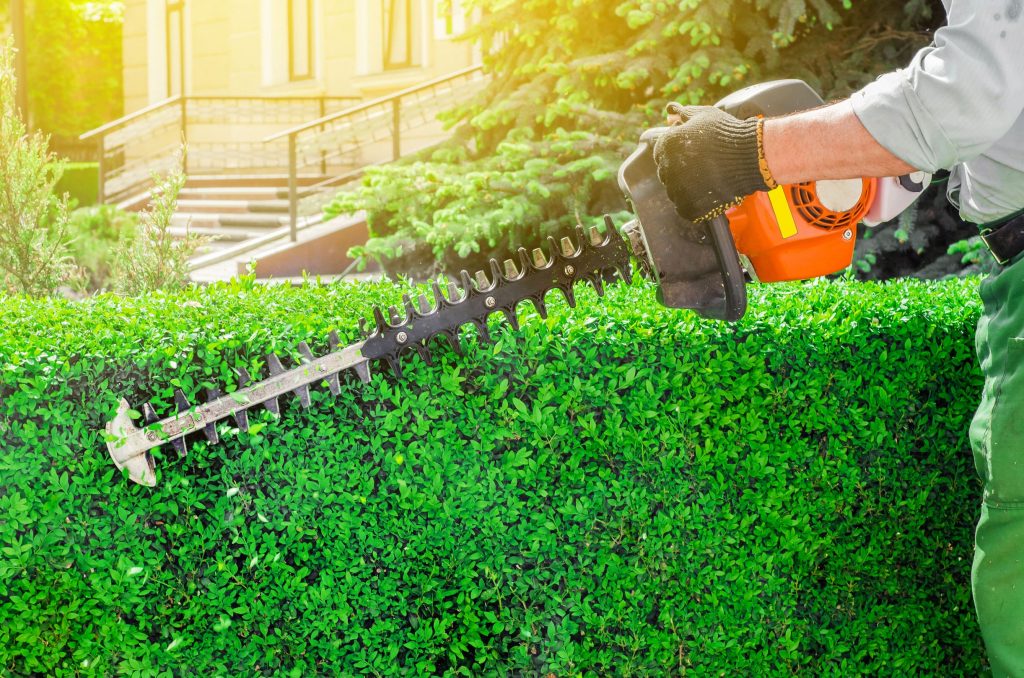 The amount you need to spend on a hedge trimmer really depends on what you're trying to cut.
The more you spend, the better quality trimmer you can get. This means a more powerful motor, better safety features, a better-quality blade, and a hedge trimmer that's easier to start.
You can get a small, good-quality petrol hedge trimmer for about £150. But expect to pay £200 or more for a top-of-the-line model.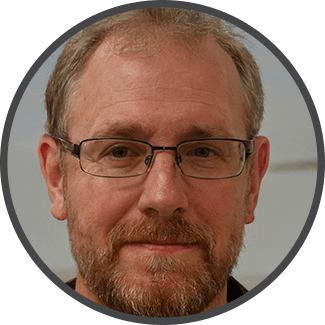 I'm Josh, and I'm the head writer at Lawn Care Pro.
I love everything lawns, but I'm a bit of a lawn mower nerd. I spend a lot of my free time tinkering with mowers, and planning my mowing schedule for the next few weeks.
I'm also into cars, which comes in very helpful when servicing a mower engine!