Looking to aerate and improve the health of your lawn?
In this buyer's guide, we've reviewed the 7 best lawn aerators you can buy in 2023.
We've also explained the different types of lawn aerators, and discussed some key things to consider when buying.
Quick Comparison Table
BEST CORING AERATOR

Yard Butler
Coring Aerator
BEST POWERED AERATOR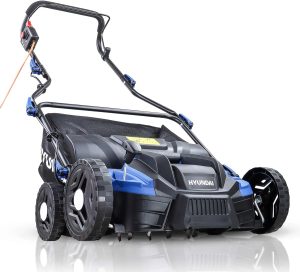 Hyundai
Scarifier & Aerator
BEST AERATOR SHOES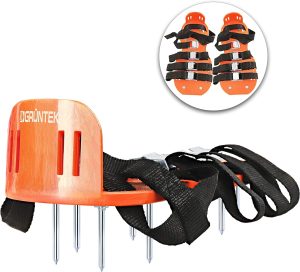 Yard Butler
Coring Aerator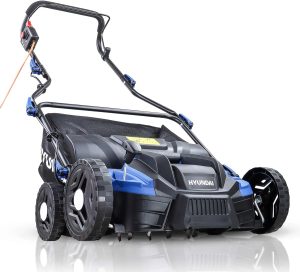 Hyundai
Scarifier & Aerator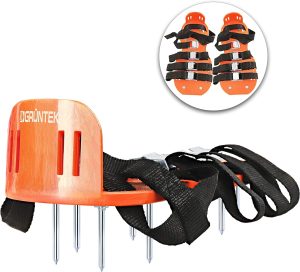 Best lawn aerators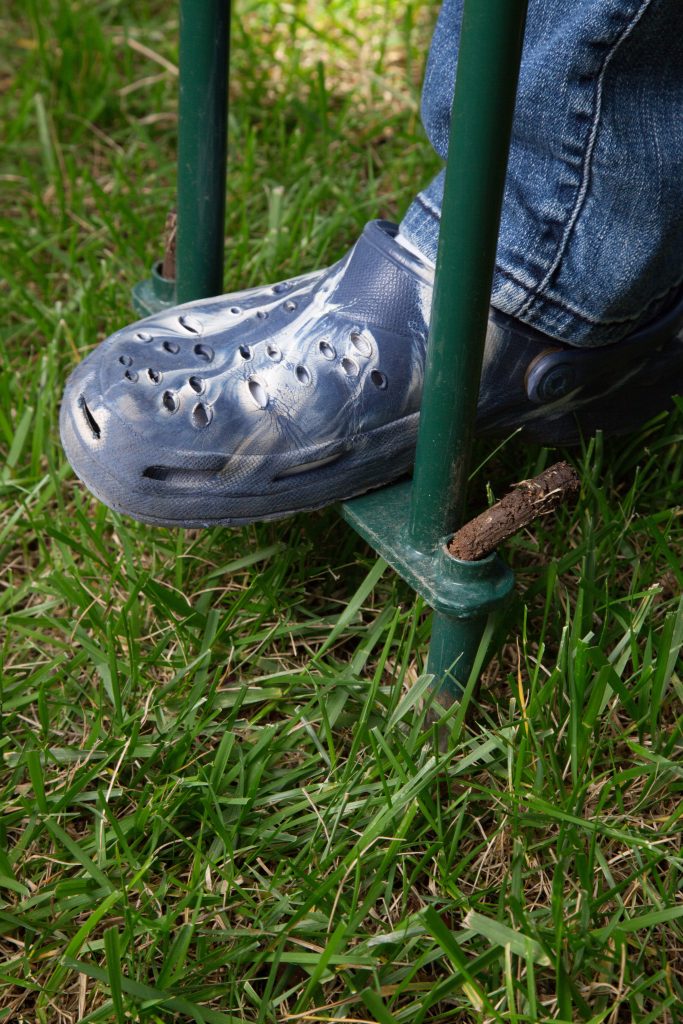 Let's begin our reviews.
In this part, we've reviewed the 7 best aerators, including rolling lawn aerators, powered lawn aerators, aerator shoes, and manual aerators.
Pitchfork-style coring aerators are a simple, effective way of aerating small to medium sized lawns.
The Yard Butler coring aerator does a great job improving oxygen flow to your soil and revitalising the health of your lawn. It removes 3.5″ deep plugs of soil, rather than just poking holes without removing the soil, ensuring excellent aeration results.
Although a fair amount of manual work is required to use this lawn aerator, it allows you to be very precise, ensuring you don't poke too many or too few holes. It also has a foot bar, making it relatively easy to push the aerator deep into the soil.
Another great thing about this lawn aerator is how durable it is. Since it's made of steel, it's very heavy duty, and the cushioned handle makes it relatively comfortable to use for extended periods. It's also much cheaper than a walk-behind lawn aerator, and much less hassle as well.
The only reason this might not be the right lawn aerator for you is if you have a large lawn. It takes about an hour to do 50 square metres of grass. So if you have a big lawn, it might be better to get a walk-behind aerator.
---
Pros
Comfortable to use.
Durable.
Reasonable price.
Penetrates very deep.
Cons
Not the most efficient for large lawns.
If you have a big garden, having an electric lawn aerator you can walk behind is going to make the process much quicker.
This particular machine is a lawn scarifier and raker by default, rather than being sold specifically as an aerator. This means its focus is more on clearing thatch rather than turning the soil, although it does aerate the ground as it goes.
However, despite being focused on scarifying and raking, Hyundai's machine can still penetrate deep into the soil. The deepest you can set it to is -12mm below the surface, which is quite low for a machine like this.
To power the aerator, it comes with a 1500w motor, which you plug into mains power – it has a 10m power cord. It's quite a heavy lawn aerator, at 11.4KG, ensuring that it can penetrate dry ground. But despite the weight, it's still easy to push, and the handle height can be adjusted to ensure maximum comfort.
This walk behind aerator does a good job collecting thatch in the collection box when scarifying, and is very reasonably priced. However, assembly can be a little difficult, especially if you've never put together a similar machine (like a lawn mower) before.
---
Pros
Good price.
Easy to push.
Penetrates relatively deep for a scarifier.
Cons
Bit tricky to put together.
Another simple, reasonably-priced lawn aerator for smaller lawns is these aeration shoes from Gruntek.
Each shoe comes with 13 solid spikes, which penetrate at a depth of about 5.5cm when pushed all the way down. They make a great way to create deep aeration holes efficiently, on a small lawn.
Provided your lawn is slightly damp, these shoes are very easy to use. The nails are slightly tapered, helping them pierce the ground more easily, and the shoes stay snug on your feet as you walk, including when you pull them back up out of the ground.
You wear these aeration shoes while also wearing regular shoes – there are four adjustable velcro straps you use to secure them in place. It's important that you do up the straps correctly, otherwise the shoes might slip as you use them. There are no instructions, so it might take a bit of experimentation with the straps to find a setup that helps to keep them secured.
Although the orange plastic may look a little thin, these aerator shoes are actually quite strong. Provided you have them strapped on correctly, and use them on a slightly damp lawn, they won't snap or break.
---
Pros
Allows for the creation of deep holes.
Easy to use.
Durable.
Great value for money.
Cons
Would be good to have some instructions included.
Rolling aerators are great because they allow you to aerate your lawn efficiently, without the cost of buying an electric walk-behind aerator.
This particular rolling aerator is reasonably priced, and is quite wide, at 30cm. It's not the best aerator for large lawns, but allows for efficient aerating of small gardens.
It doesn't have hollow tines, but the solid tines are quite deep, at 4.5cm. This aerator is also easy to push – it won't get stuck, as long as you wait until your lawn is slightly damp before aerating.
Some assembly is required before you begin using this aerator. However, it's still easy to assemble – there are only a few parts to put together, and the included instructions are easy to understand.
The main issue with this lawn aerator is its weight. If you've got a very compacted lawn, it might not be heavy enough to penetrate the ground fully. You may need to put some weights around the handle to help it push down into the grass if the dirt is very compacted.
---
Pros
Good spike depth for a rolling lawn aerator.
Great price.
30cm width.
Easy to push.
Cons
May not be heavy enough for extremely compacted soils.
This is another pitchfork-style plug aerator, similar to the Yard Butler aerator we looked at previously. The difference? This aerator is three times the price.
For the extra money, you get an extra hollow tine on the pitchfork, allowing you to remove more plugs in less time. But this lawn aerator also removes much longer plugs. The tines are 5.1″ rather than 3.5″ long, and are 16mm in diameter. As a general rule, deeper aeration is better – this pitchfork aerator allows you to aerate the full depth of your lawn's root system.
The other reason why this lawn aerator is expensive is how sturdy it is. The entire thing, including the tines and foot bar, is made of thick stainless steel, and is very heavy duty. The tines are screw-in, and can easily be replaced if needed over time. This lawn aerator will last for generations after being bought.
Swardman has left the handle bare, rather than including some type of cushioning. This makes pushing down a little less comfortable – we would recommend either using gardening gloves, or relying exclusively on the foot bar to push the tines into the ground.
We think Swardman avoiding putting cushioning on the handle because this aerator is designed to last for decades. Most soft materials would fade, wear out and go hard after a few years. You could always put a pool noodle over the handle if you prefer a soft feel.
---
Pros
Durable.
Comes with sharp nails.
Nice and wide, at 42cm.
UPP has produced a manual rolling lawn aerator, similar to the Greenkey aerator we reviewed earlier.
The nails on this device are quite long – they'll penetrate 3.5cm deep. This rolling lawn aerator is also 42cm wide, making it more efficient when aerating medium-sized gardens.
Each nail is tapered, making it quite sharp. However, you'll still want to use manual lawn aerators like this one on a soft, damp lawn – it's not heavy enough to penetrate extremely dry ground.
This aerator isn't expensive, but it does cost a bit more than most other rolling lawn aerators. This is likely because it's quite a large device. Plus, it's made almost entirely of steel, making it very rust-resistant.
If you want a rolling lawn aerator to improve water and oxygen supply to your lawn's roots, and need a wider aerator to improve efficiency, this device is worth looking at.
---
Pros
Durable.
Comes with sharp nails.
Nice and wide, at 42cm.
Rather than coming with nails attached to multiple bars, this spike aerator comes with five star-shaped spikes along a single horizontal bar.
The main benefit of this design is it makes the lawn aerator easier to push on very compacted soil. It's able to roll smoothly, rather than each individual nail having to penetrate the ground separately.
However, this spike aerator still takes a bit of effort to push. It's still best to use it when the lawn is slightly wet.
Also, another thing to consider is how this lawn aerator creates slits, instead of poking holes. From an aeration point of view, this lawn aerator is less effective at reducing soil compaction. However, by creating slits, you're cutting through the lawn thatch layer, making this device good at improving the look of your lawn.
Although Garland's spike aerator doesn't cost much, it would be better if the spikes were deeper. In saying this, it is very durable given what it costs, in large part because the design is so simple.
---
Pros
Great price.
Cuts through lawn thatch and dead grass.
Rolls across the lawn smoothly.
Durable device.
Cons
Not the best for reducing compaction.
Would be better if it created deeper slits.
Lawn aerator buyer's guide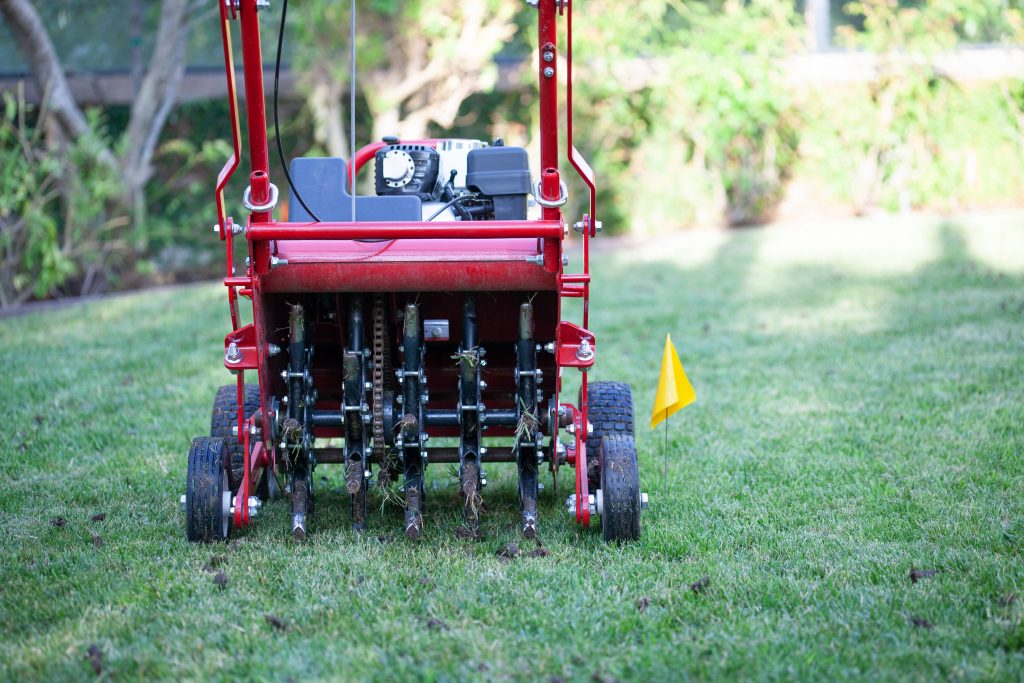 Now we'll explain some key things to consider when buying a lawn aerator, helping you find the right type of aerator for your lawn.
Benefits of aerating your lawn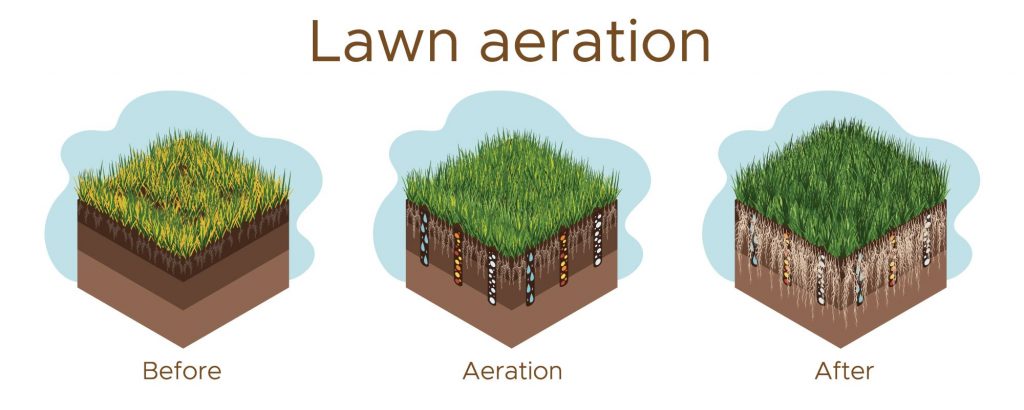 Over time, your soil can become compressed, due to a combination of foot traffic, wet weather, and having soil with a higher than average clay content.
When the ground becomes compacted, it is starved of moisture and oxygen. As a result, your grass root system can't get the water and air it needs to grow strong. This can result in patchy grass, lawn thatch buildup, or areas of yellow grass appearing.
By aerating your garden with the right type of aerator, you're reintroducing more oxygen and moisture to your soil's roots, by reducing compaction, helping the roots grow deeper and stronger, and making your lawn healthier.
Different types of aerators
There are a number of different types of aerators you can use to aerate your lawn. Here are some of the most common ones, and what they're good for.
Hollow tine aerators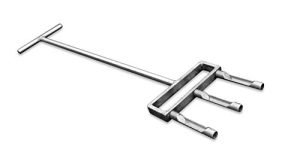 Hollow tine aerators look just like a garden fork. They're much less efficient than rolling aerators, due to their small size, however they penetrate much more deeply.
These garden tools are called hollow tine aerators because they have hollow spikes, which remove a core or plug of soil when pulled out of the turf. This results in better aeration, especially on extremely compacted ground, as you're creating more room in the soil for air to flow.
Some other devices, such as powered aerators, may also have hollow tines.
Good for: small to medium lawns, where you're looking for the best aeration possible.
Manual rolling aerators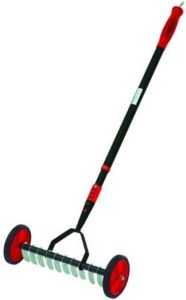 Manual rolling aerators are essentially a cylinder of spikes, attached to a handle. You push it along and the cylinder rotates, pushing the solid tines into the ground.
A good rolling aerator will have a telescopic handle, which you can adjust to change the height to suit depending on how tall you are.
However, the spike depth on rolling spike aerators isn't great – normally they will only penetrate 3-4cm deep.
Good for: medium-sized lawns, and people looking for a simple, cost-effective way to aerate their grass.
Lawn aerator shoes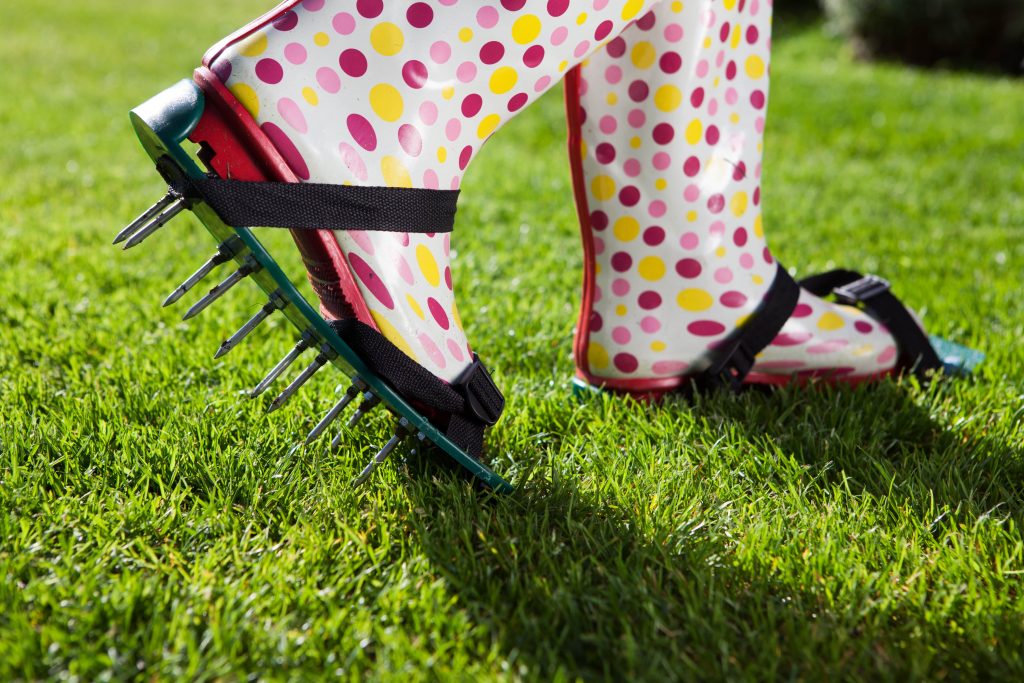 Lawn aerator sandals are another more basic, less heavy duty option. They're shoes with long nails that you walk on your grass to aerate the soil.
Aeration shoes aren't as effective as an aerator with hollow tines. They don't penetrate very deep. However, they're very easy to use – all you need to do is stomp around your garden for 5 minutes, assuming it's a small lawn, and you're done.
Good for: small lawns, and those looking for a cheap way to aerate their grass.
Powered aerators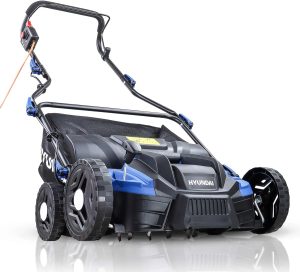 Powered electric aerators are similar in size and shape to rolling aerators. However, an electric aerator requires much less effort to use, and are much more efficient.
Walk behind aerators are often sold as lawn scarifiers. You need to be careful here, as while lawn scarifiers do a great job dethatching your lawn, their spikes don't penetrate as deep as most other aerators.
Good for: larger lawns, and those looking for efficient aeration.
Aerator attachments (for tractors/quads)
You can also buy aerator attachments that tow behind a tractor or quad bike.
These garden tools are very efficient, and can offer good penetration, especially if weighed down. They normally have hollow tines as well, which is great.
Good for: golf courses, farmers, and those with acreage, fields, or large lawns.
Should I pick up plugs after aerating?
If using a hollow tine or plug lawn aerator, you will have a number of soil plugs left over on your grass when you're done.
You can eave these plugs in place – after all, they're just soil, and will have useful nutrients for your lawn. By doing some lawn aerating, you're just relocating the soil to give your lawn roots the chance to breathe.
After a few weeks, the plugs will break up and filter back into the ground. After they've dried, you can go over them with your lawn mower on a mulching setting to redistribute them more quickly.
How your soil type affects aeration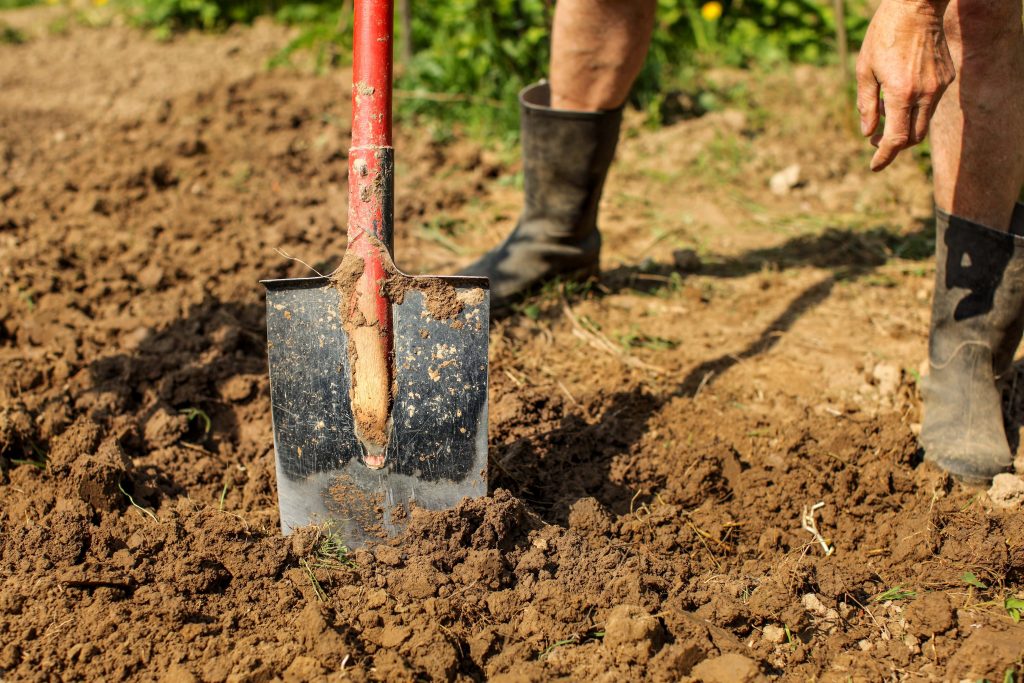 The easier your soil becomes compacted, the more you need to care about keeping it aerated.
For example, clay soils become compacted quite easily, as they have small particles that clump together easily. This means that you need to aerate your grass more often. But it also means that aeration will be more difficult – the more compact the soil, the tougher it will be to aerate, especially when dry.
Therefore, if you have clay soil, you may want to consider a more heavy-duty aerator, that will make it easier to penetrate deeper into the ground. On the other hand, if you have loamy soil, you might be able to just use simple shoe aerators once a year to keep the soil aerated.
Aerators vs lawn scarifiers
Aeration means to poke deep, thin holes in your lawn to improve soil oxygen levels. Scarification on the other hand means to remove debris from your lawn, such as dead leaves and thatch.
Although the two are often confused, they are actually quite different. You need to scarify your lawn to address a thatch overgrowth problem. While aeration can help with thatch, it also helps your lawn root system health, which is why it's an important part of regular lawn care. Scarifying will not help to solve compacted soil issues.
There are many all-in-one walk behind lawn scarifiers that also claim to work for aeration. If you're mostly concerned about soil compaction, then it's best to buy a separate aerator. Dethatchers and scarifiers that also do aeration often don't penetrate deep enough into the soil to help a great deal with compaction.
When to aerate your lawn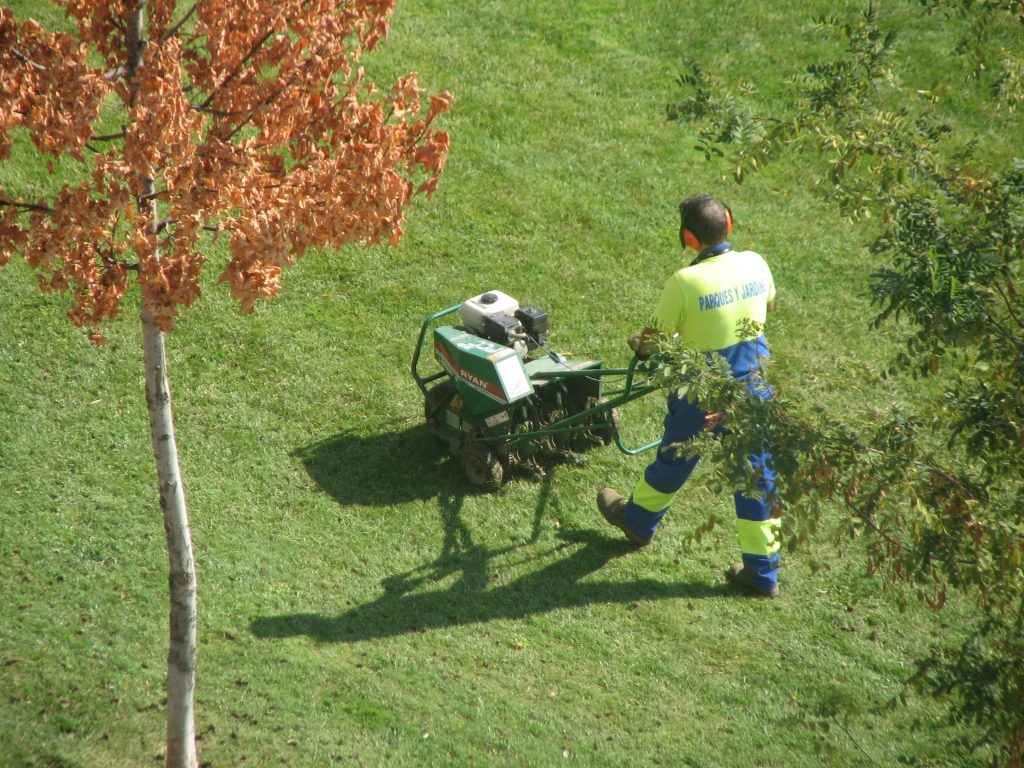 The best time of year to aerate a lawn is during the spring. This is when the soil is becoming warm again, your grass is growing, and there is no chance of frost forming in the holes you create. Your grass will get the maximum benefit from aeration when it's growing at its strongest.
For most lawns, you want to aerate about once a year, or every spring. However, if your soil is very compacted, or your lawn gets a lot of foot traffic, you may want to aerate more often – up to 5-6 times per year, during the spring, summer, and autumn.
To tell if your lawn needs aerating, try to push a pitchfork into the grass when it's dry. If it can't easily penetrate more than halfway down the fork, then your lawn may need aerating. Also, if your lawn easily becomes waterlogged after heavy rain, this is another sign that aeration is needed.
Aeration is best done when the lawn is damp, but not soaked. This will make it a bit easier to make the necessary holes, but ensures that these holes do not collapse immediately if the soil is extremely wet.
How deep should I aerate my lawn?
Different lawn aerators will have a very different spike depth.
Spiked shoes might penetrate about 4cm deep, while a proper pitchfork hollow tine plug lawn aerator will go as deep as 10cm.
You want to aerate as deep as you possibly can. 8-10cm is a good depth to aerate. The deeper the holes, the more aeration you provide to your complete root system.
Can I just use a pitchfork to aerate my lawn?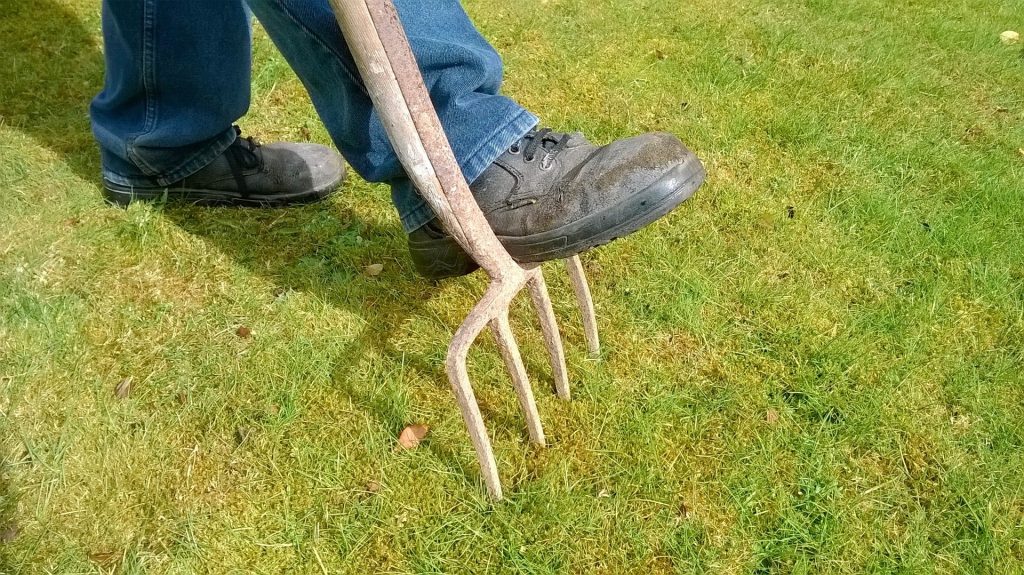 You can technically poke aeration holes in your lawn with a pitchfork. However, there are a few issues with doing so.
Firstly, pitchforks have solid tines. Although they can penetrate quite deep, they don't remove cores of soil. You need an aerator with hollow tines for the best results.
Secondly, pitchfork spikes are not particularly sharp. Pitchforks aren't designed specifically for making holes in grass, so they will require you to use a lot of effort to aerate your lawn.
It's much better to use a pitchfork-style hollow tine aerator to aerate a lawn, rather than a regular pitchfork.
How to aerate a lawn
The technique you use to aerate your grass will depend on the size of your lawn, and the aerator you're using.
Prior to aerating, you want to cut your grass short. This will make it easier to make deeper holes, since you'll be closer to the soil.
As a general rule, you want to make a lot of holes, all over your lawn. Try to ensure an even spread, with at least 4cm between each hole. If you're using aeration shoes, the spacing of the solid tines on the sole will show how far apart the holes should be.
After aerating, it's a good time to apply fertiliser to your lawn. The aeration holes you've poked will allow water and nutrients to travel deeper underground, where they can be most effective.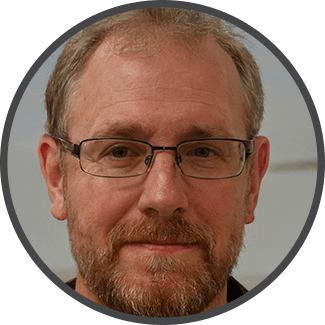 I'm Josh, and I'm the head writer at Lawn Care Pro.
I love everything lawns, but I'm a bit of a lawn mower nerd. I spend a lot of my free time tinkering with mowers, and planning my mowing schedule for the next few weeks.
I'm also into cars, which comes in very helpful when servicing a mower engine!