Looking for a new lawn mower?
In this buyer's guide, we've reviewed the 7 best lawn mowers in the UK in 2023.
We've assessed each lawn mower based on its cutting ability, durability, and value for money.
Comparison table
BEST ELECTRIC CORDED LAWN MOWER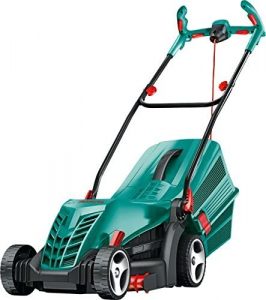 BEST ELECTRIC CORDLESS LAWN MOWER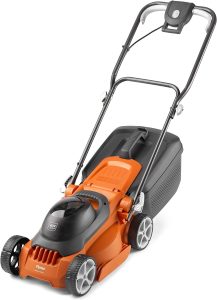 BEST PETROL LAWN MOWER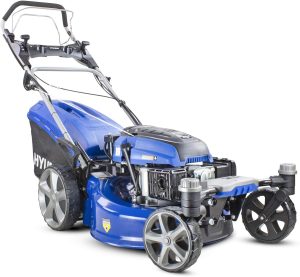 BEST ELECTRIC CORDED LAWN MOWER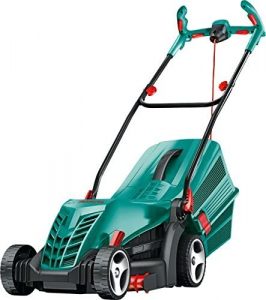 BEST ELECTRIC CORDLESS LAWN MOWER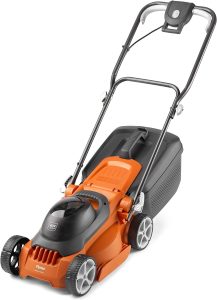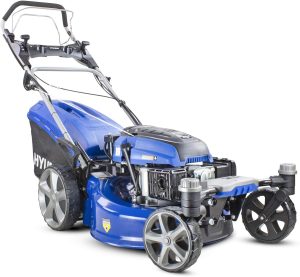 Best lawn mowers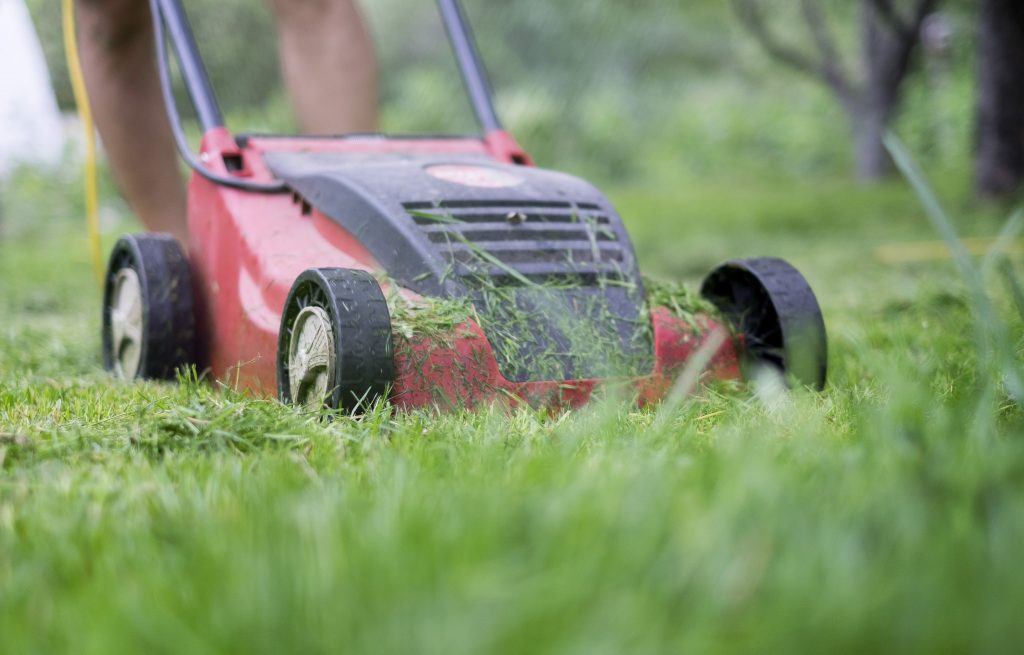 Time to begin our reviews.
In this part, we've looked at the top 7 best lawn mowers you can buy in the UK in 2023.
We've put the Rotak 36 R number one on this list because it's a great all-rounder.
It's not cheap, but not too expensive, and comes with the convenience of a quite large 40 litre grass box.
The cutting width on this mower is on the smaller side, at 36cm. This is definitely not the smallest lawn mower ever, but it's not incredibly big, making it a good choice for small to medium sized lawns.
One thing to note about this option is it's an electric mower, with a power cord. This is another reason why this lawn mower isn't the best fit for larger lawns. However, the cable length is decent, at 12m. Provided you have a small lawn with an outlet nearby, you shouldn't have any mower mobility issues. Otherwise, you might want to look at cordless mowers.
The only downside to the Rotak 36 R is it does feel a bit flimsy, because it's so lightweight. On the plus side though, its weight makes it very manoeuvrable, and it comes with a 3-year warranty – so you don't have to worry too much about it breaking on you.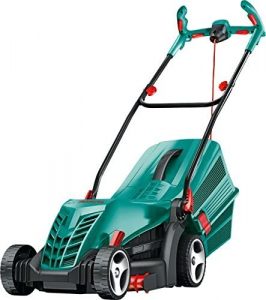 ---
Pros
Very manoeuvrable.
Nice size – not too big, not too small.
3-year warranty.
Large 40 litre grass box.
Cons
Feels a little flimsy due to the plastic construction.
If you have a larger garden, you might like to have a cordless lawn mower with a lithium-ion battery and a good battery life, like this option from Flymo.
This mower is called the EasiStore mostly due to its weight. It's another lightweight mower, at just 8.8KG. It's also easy to fold down, and you can store it vertically during the winter months, helping to save space in the shed or garage.
This is a slightly smaller lawn mower than the Bosch we just reviewed, and the grass box also has less capacity. It has a 30cm cutting width, making it slightly less efficient for larger gardens, but more nimble, which is good if you have a smaller garden.
You can set the cutting height from 25mm up to 65mm, which is quite good, and the motor has decent power, helping you cut thicker grass. There's also a rear roller, allowing you to mow stripes, which is a nice touch.
If you want a cordless lawn mower that works great on smaller gardens, this is definitely worth looking at. Just be aware that this isn't the cheapest mower, like most other cordless mowers.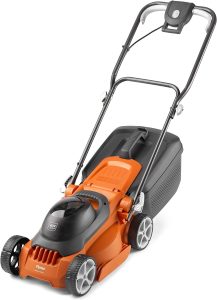 ---
Pros
Easy to put in a small storage space – can be packed away vertically.
Good mowing efficiency.
Can mow stripes.
Great manoeuvrability for smaller lawns.
Cons
Slightly on the expensive side.
The two mowers we've looked at so far are smaller options, designed for smaller lawns. By contrast, this mower from Hyundai, with its 51cm cutting width and petrol engine, is much better for bigger gardens.
As you'd expect from a petrol lawn mower at this price, this lawn mower is self propelled, making your life much easier when mowing large areas of lawn. It also has a special wheel design which makes it possible to turn the lawn mower within its own footprint, which is another little thing that makes for easier mowing.
This mower is also a good choice if you're not a fan of flimsy-feeling plastic lawn mowers. It's made mostly of metal, and has a nice heavy feel to it, without being difficult to manoeuvre. The 196cc engine means you can cut almost any grass in any conditions – including if your garden is a little wet.
Hyundai also includes engine oil with this lawn mower to help get you started, and it's backed by a 3-year warranty. If you don't mind the high price, and want to invest in an efficient, long-lasting mower, this is definitely worth a look.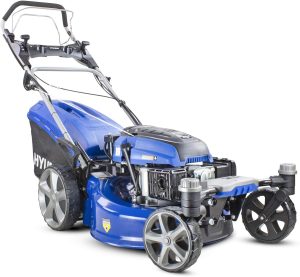 ---
Pros
Very sturdy.
Efficient, even on wet or thick grass.
Large 51cm cutting width.
Makes mowing easy.
Another option for smaller gardens is hover lawn mowers, like this one from Flymo.
As you'd expect from a hover mower, this is one of the most manoeuvrable mowers you can buy right now. It allows you to mow from side to side, and even works on slopes.
The nice thing about this specific hover mower is the 1400W motor. Given that this is a small, lightweight mower, the motor provides plenty of cutting power, even for long grass. It also does a good job keeping the lawn mower floating nicely as you mow your lawn.
Be aware that the available cutting heights on this lawn mower are a fair bit lower than on most other mowers, at 11mm to 31mm. It can't cut at 65mm like a rotary mower can. This may be an issue if you like to keep your grass a bit longer in the winter – you'll need to make your final mow for the year a bit earlier than you otherwise would.
Also note that this lawn mower doesn't have a grass collection box, so it can make a bit of a mess, although this does save you the hassle of having to empty the grass box repeatedly. Flymo does have other similar mowers that will collect the grass clippings, however, if you'd prefer something with a grass collection box.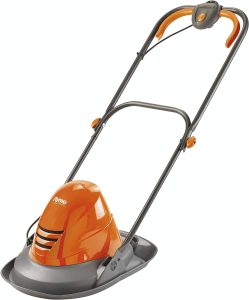 ---
Pros
Very light.
Works on slopes, and can mow side-to-side.
Good cutting power.
Cons
Limited maximum cutting height
Manual cylinder mowers are becoming fashionable again – and for good reason.
This Bosch hand mower is easy to use, inexpensive, and doesn't harm the environment one bit.
There are downsides to this lawn mower though. For one, it's not the most efficient. Despite the 38cm cutting width, it will take longer to mow large lawns with this lawn mower than it would with a petrol lawn mower.
However, you do reclaim some time through the simple design. You don't have to worry about charging any batteries for example, and it's easy to keep the blades clean.
Be aware though that the basket isn't the best – it won't collect the clippings as well as you might expect. But it can be removed if you don't mind leaving the clippings in place.
On the whole, this is an easy to use, reasonably-priced push mower – just don't expect it to do a great job collecting grass clippings.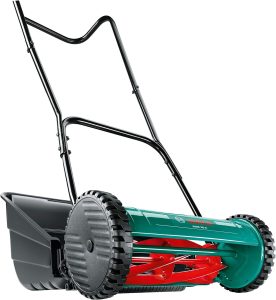 ---
Pros
Simple and easy to use.
Reasonable price.
Easy to keep clean.
Cons
Basket design isn't the best – won't collect all clippings.
This Worx lawn mower is another cordless lawn mower. It's a mid-budget option with a 34cm cutting width, designed as a basic electric lawn mower for small and medium-sized gardens.
The best thing about this mower is its cutting performance. It works well on longer grass, and will cut right up to the edge of the mower, helping to save you time when you mow.
It's not the cheapest electric lawn mower on the market, but there are six cutting height adjustment options, from 20mm to 70mm, which is better than you'd expect on a lawn mower at this price. You can adjust the cutting heights with a simple lever, which is a nice addition.
Another thing to note is this is a fairly lightweight mower. This makes it more manoeuvrable, but also makes it feel slightly more flimsy. It's up to personal preference whether or not you'd prefer a lawn mower with a heavier feel.
But you don't have to worry about its durability – this lawn mower comes with a 3-year warranty once you register it with Worx, and it's quite tough. Metal is used in the areas that need reinforcement, such as the blades and cutting deck.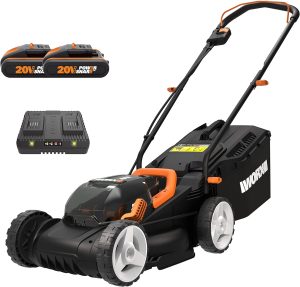 ---
Pros
Lightweight and easy to manoeuvre.
Great cut quality.
Good range of cutting heights.
3-year warranty.
Cons
Lightweight feel isn't for everyone.
Of the two battery-powered mowers we've looked at so far, both have been relatively small, lightweight options, designed for small gardens. This lawn mower from Bosch is one of the few electric lawn mowers designed for medium and large lawns.
The Rotak 430 LI comes with a 43cm cutting width, and a 20-70mm cutting heights. It's still a lightweight mower, but is heavier than most other electric cordless lawn mowers.
This is quite an expensive lawn mower, due to its cutting width, and lithium-ion battery design. Despite this, the batteries themselves are actually quite small. They charge fast, but don't last an incredibly long time. You might need to buy an extra battery, depending on the size of your garden.
On the plus side though, this is a very ergonomic lawn mower. Bosch have included their "Ergo flex" handles, which include an extension that sits at a 90-degree angle to the main handles. This makes the lawn mower more comfortable to use over long periods.
In terms of mowing ability, the 430 does a great job. Although the rear roller isn't that heavy, it still mows stripes, and can handle almost any type of grass with ease.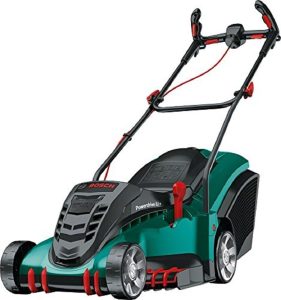 ---
Pros
Efficient.
Good range of cutting heights.
Ergonomic design.
Can mow stripes.
Cons
Quite expensive.
Battery capacity could be bigger.
How to choose a lawn mower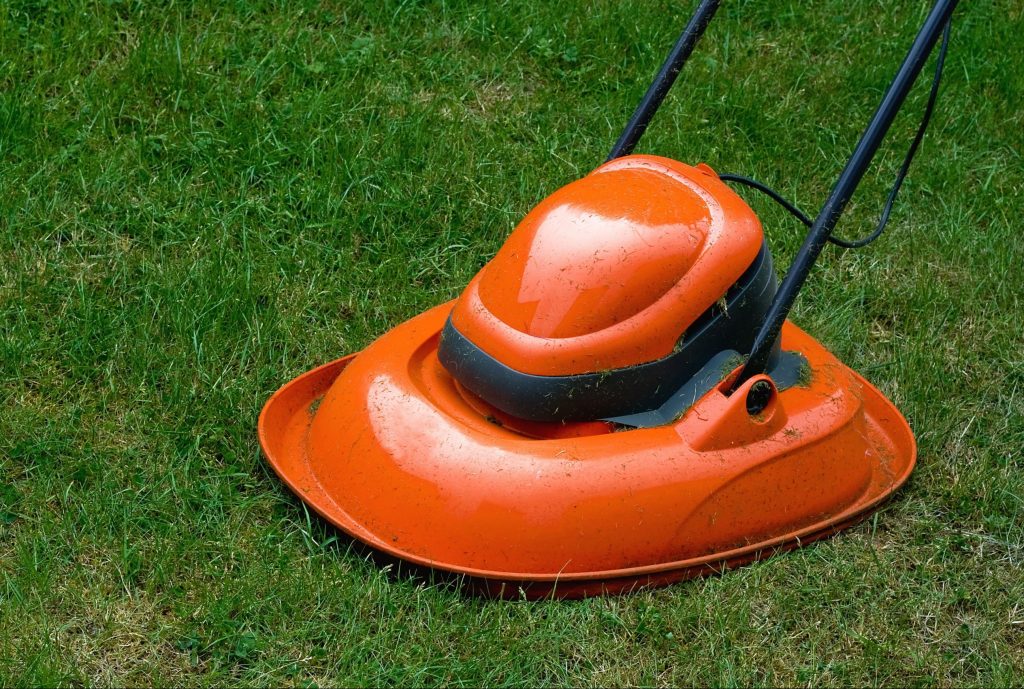 In this section, we'll explain what you need to know when choosing the right lawn mower for your lawn.
What type of mower do I need?
When you hear the term lawn mower, the image that normally springs to mind is of a rotary mower. Rotary mowers are the most common type of lawn mower. They have a metal blade that rotates parallel to the ground, and typically come with four wheels to help you manoeuvre the mower. They're the best lawn mower type for medium-sized gardens, where you just want a traditional lawn mower to get the job done. Rotary mowers are typically the best for stripes, as they often come with a rear roller, which is another reason why they're so popular.
Ride-on mowers also work in a similar way, in that they also have a rotating metal blade on the cutting deck, and come with four wheels. But with a ride-on mower, you drive it around, rather than pushing it. Ride-on mowers typically come with a petrol engine, and make for more efficient mowing for large gardens.
There are also mowers that don't have wheels, known as hover mowers. Hover mowers are similar to rotary mowers, in that they also have a metal blade that cuts parallel to the grass, and are normally about the same size. However, hover lawn mowers float around on a cushion of air, rather than using any wheels. This means you can mow side-to-side, and on slopes, depending on the hover mower you buy.
And finally, there are cylinder mowers. Cylinder mowers have a reel of spiral-shaped blades, which rotate forward as you mow. There are powered cylinder mowers, which are used on ornamental lawns, where a short, neat cut is required. There are also hand mowers, which also feature a cutting cylinder, but are pushed forward manually by hand. Hand mowers are best for those looking for a cheap, simple mowing solution.
How are different mowers powered?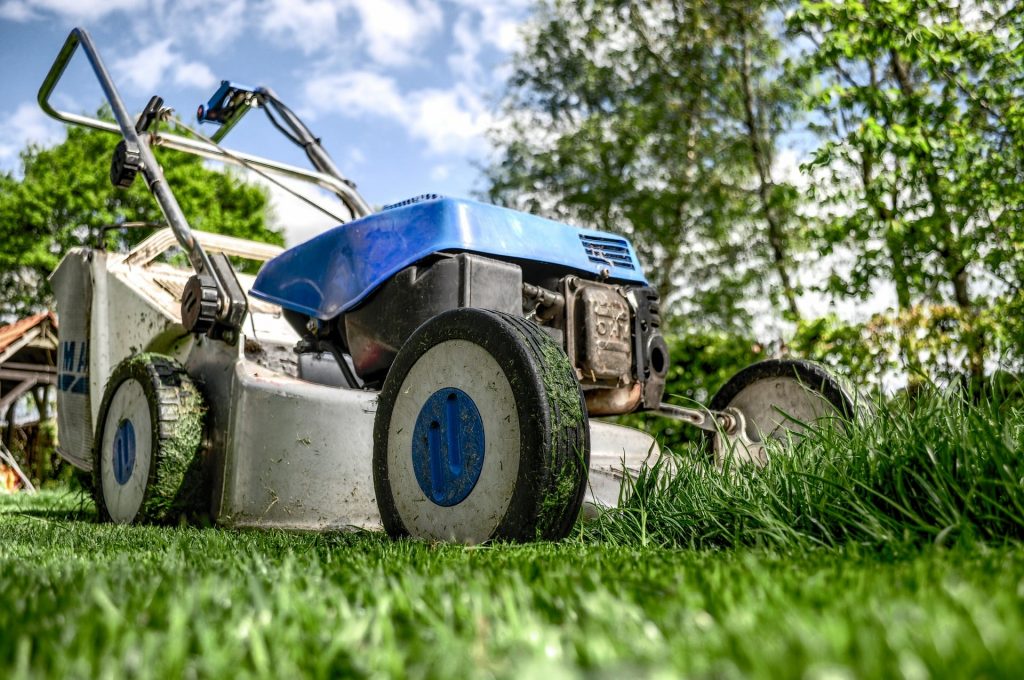 There are a number of different ways that mowers might be powered, which you'll also need to consider when purchasing a lawn mower.
Petrol. Lawn mowers powered by a petrol engine have long been the traditional option. With a petrol-powered mower, you can get the job done efficiently, with no need to wait for batteries to charge. However, for some people, it can be a bit of a pain to buy and store petrol for use in your mower. Petrol lawn mowers can also be very loud, and require regular maintenance.
Electric – battery. If you buy a lawn mower with a battery, you'll obviously need to charge the battery regularly to keep it running. However, in exchange you get unrestricted mowing, with less noise, less environmental impact, and no need to manage petrol.
Electric – corded. Electric corded mowers are often quite cheap, because they don't need a complex petrol engine or an expensive battery system. The downside of course is that you'll need to be tethered to a mains power outlet. Typically, you'll get a 10-12m power cable included, making corded mowers better for small gardens where you've got a power outlet nearby.
Hand mowers. Hand mowers are powered by your walking, and don't have a motor. This means they're cheap and easy to use, but aren't the best for those with limited mobility. They're another option that's more suitable for smaller gardens.
Most of the different types of mower we discussed above are available with each of these different power options, with the exception of hand mowers and ride-on mowers. Hover lawn mowers are normally electric (either corded or cordless), however.
What cutting width do I need?
The cutting width on a lawn mower refers to the width of the blade. It determines how much grass will be cut with each pass.
The larger your lawn, the larger your cutting width should be, and vice versa. You don't want to mow a medium to large-sized lawn with a small lawn mower, or you'll be mowing for hours. Likewise, if your lawn mower is too big for your garden, it will be difficult to manoeuvre.
For smaller gardens, a cutting width of roughly 25-34cm is recommended. Small hover lawn mowers are a good choice for their manoeuvrability. But for larger lawns, you can look at mowers with a cutting width of 35cm or more, depending on how much grass you have.
What cutting height settings do I need?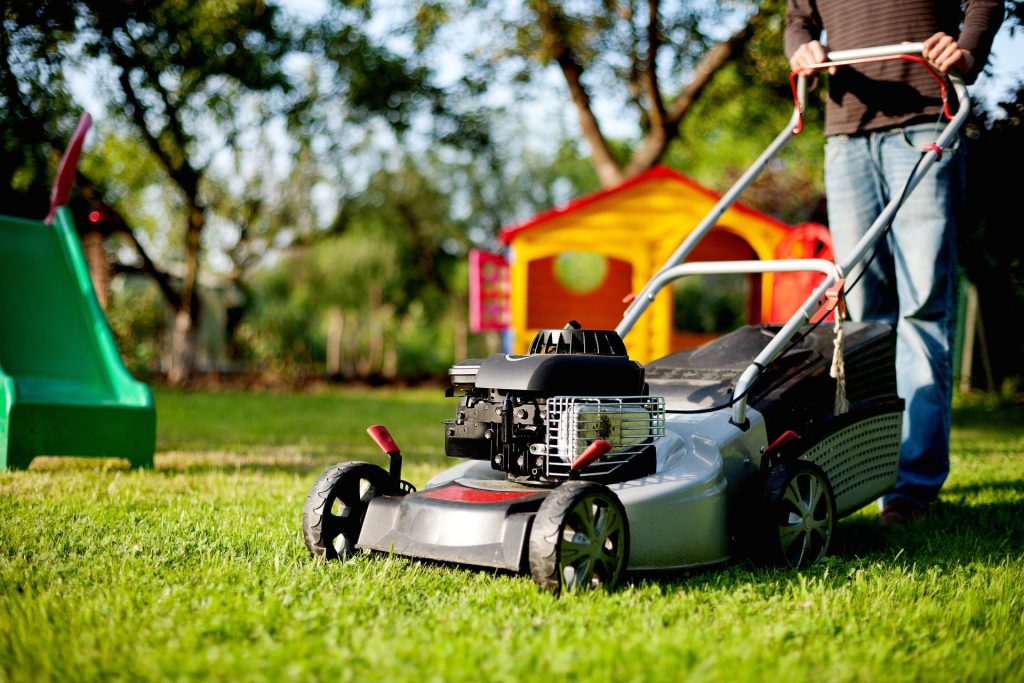 Different lawn mowers will have different cutting height settings. The more expensive the mower, the more cutting heights it will have, and the easier it will be to change between them.
For example, on some mowers you'll have to move the actual axles, moving the wheels to change how high the blades are. On others, you'll have a simple switch to raise or lower the blade.
The cutting heights you need will depend on how often you like to cut the grass. If you mow regularly, you will want a higher maximum cutting height, of 50-70mm and up. This is because you'll want to take off less grass with each cut. But on the other hand, if you just want to avoid having to mow as much as possible, then the minimum height will be more important.
Remember, if you're cutting your grass short, be careful not to take too much off, especially in the cooler months. Your grass needs to stay a bit longer when it has less ability to regrow quickly.
Do I need a self-propelled mower?
Electric lawn mower power is rated in wattage. You will typically see electric lawn mowers in the 1000 – 1600W range.
On the other hand, petrol lawn mowers are rated in terms of horsepower. Rotary petrol-powered lawn mowers normally have between 4 – 6HP.
You will also see some petrol lawn mowers advertised with their engine cc. cc refers to the volume of air and petrol that can be pushed through the cylinder in the mower. A higher cc generally means more power, although HP is a better measure of the actual power output, as cc only measures the capacity of the engine.
How do lawn mower warranties work?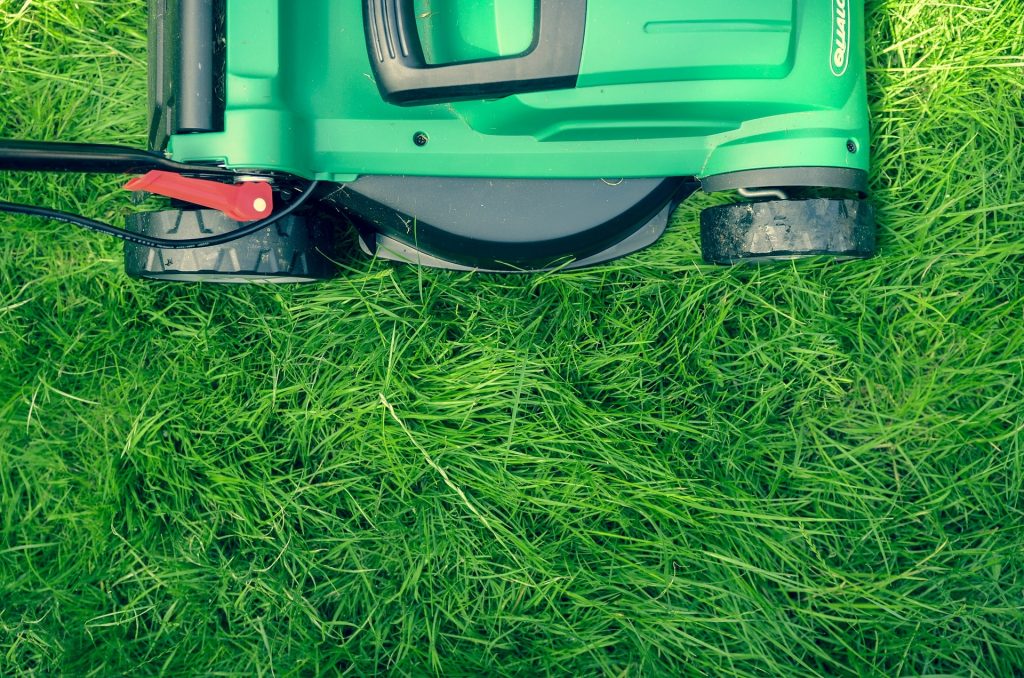 Basically all lawn mowers sold in the UK will come with a 2 or 3-year warranty.
These warranties normally cover repairs or a replacement product in case the mower breaks, in the course of regular use. They do not cover neglect or problems that arise due to user error, such as water damage if you leave a mower out in the rain.
Do note that with some mowers, you'll need to register your product on the manufacturer's website to get the full warranty. If you don't register your product, the warranty duration will typically be a year shorter.
Apart from the manufacturer warranty, you're also covered by the 2015 Consumer Rights Act in the UK. According to this legislation, you're entitled to a refund if the mower breaks down within the first 30 days after purchase.
Do I need a self-propelled mower?
With rotary mowers, you can either get a mower that you have to push, or one where the included motor also powers the wheels for you.
Self-propelled mowers are best if you have a medium to large large garden, have limited strength/mobility, or cut the grass regularly. This is why gardeners use them – they're much easier to use, especially over long periods.
However, they're by no means necessary. Most people will be fine using push mowers.
Although self-propelled mowers are more convenient, they're also more expensive. What's more, they're nearly always petrol mowers. Finding a self-propelled cordless lawn mower is very rare because with this design, the battery life gets drained too quickly.
How do different mowers deal with grass clippings?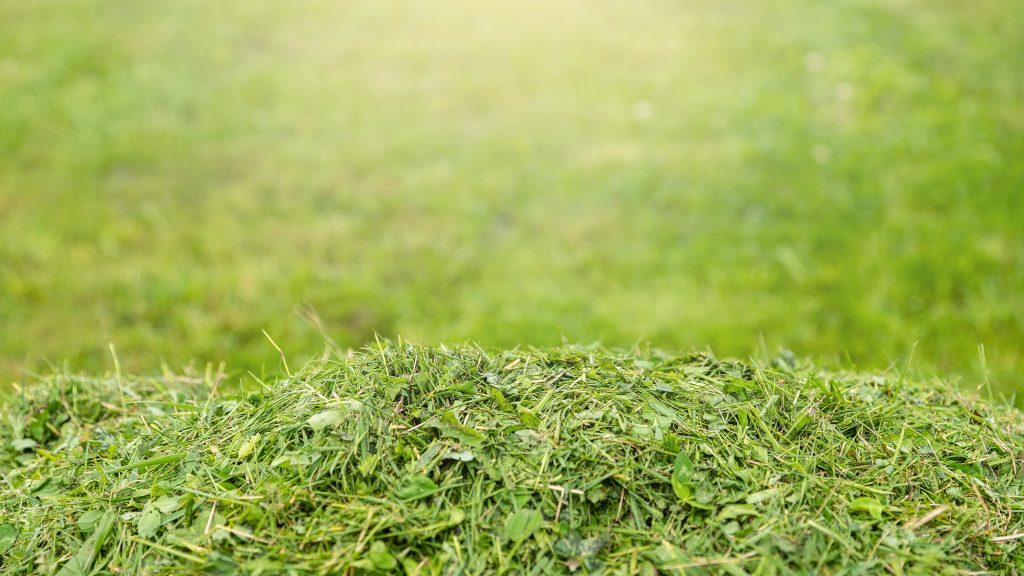 There are three different ways that mowers will manage grass clippings as they cut:
Collecting them in a grass collection box. This is the most common method. Clippings will be pushed into the grass box by the air currents created by the blades, and once it's full, you'll have to empty it. Using a grass collection box is a good idea if your grass is often very long when you cut it, because if you're leaving your clippings in place, you don't want to leave too many of them, or you could block sunlight from reaching your grass.
Mulching them and leaving them in place. With a mulching mower, clippings are recirculated through the cutting deck repeatedly, cutting them into very fine pieces, before being pushed down into your grass to be used as mulch. There are actually a lot of reasons to mulch your grass clippings – it means less cleanup, and can improve the health of your lawn. However if you do fewer, less frequent cuts, you don't want to leave too much mulch in place because your grass is too long.
Side ejecting the grass blades. Some mowers have a setting to push clippings out to the side as you mow. The reason you might do this, instead of mulching your clippings, is it means that clippings are less likely to get stuck in the blades and cutting deck over time. Side discharge is the easiest option of the three. But if you really care about mulching your clippings, it's better to use a proper mulching mower, so that the mulch is forced down into the grass, rather than being left strewn on the grass as it's discharged from the side of the mower.
Other nice to have lawn mower features
Depending on how much you decide to spend, you might find lawn mowers with other features which are nice to have.
Engine oil is sometimes included with petrol-powered mowers. You'll need this to get started, so it's definitely something that's useful to have.
Extra batteries are sometimes thrown in when buying an electric cordless lawn mower. This can be quite useful if you have a larger lawn.
Grass box cutting window. Having a vision window into your cutting box is quite useful if you have a large lawn. But if you're not likely to be emptying the grass collection box multiple times per mow, then this window isn't a big help.
Ergonomic handles. Bosch for example have a special type of handle on some of their mowers, which has an extension that sits at a 90-degree angle to the main part of the handle. Anything that makes the lawn mower more comfortable to use, especially if you have a large garden, is always nice to have.
Swivel wheels. Hyundai for example has a design on some of their rotary mowers that allows you to turn the lawn mower around within its own footprint. This can be helpful if you're mowing in tight spots.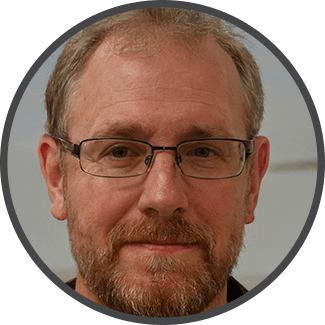 I'm Josh, and I'm the head writer at Lawn Care Pro.
I love everything lawns, but I'm a bit of a lawn mower nerd. I spend a lot of my free time tinkering with mowers, and planning my mowing schedule for the next few weeks.
I'm also into cars, which comes in very helpful when servicing a mower engine!