Considering buying a Makita lawn mower?
In this guide, we've reviewed three different Makita lawn mowers, to see if they're any good.
We've also looked at Makita as a brand more broadly, to see if they're worth buying from.
About Makita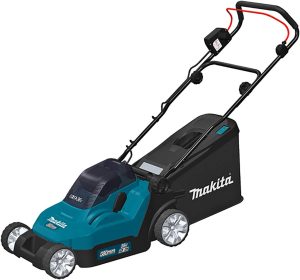 Makita is a Japanese manufacturer of power tools and garden equipment.
Founded in 1915, Makita has an extensive global presence, including in the UK. They are now an extremely large company, having acquired Dolmar, a German manufacturer of garden tools, in 1991.
When it comes to lawn mowers, Makita mostly focuses on two types of products:
Petrol lawn mowers (using 4-stroke Briggs & Stratton engines)
Makita doesn't make hover mowers, corded electric mowers, or manual lawn mowers.
Where are Makita lawn mowers made?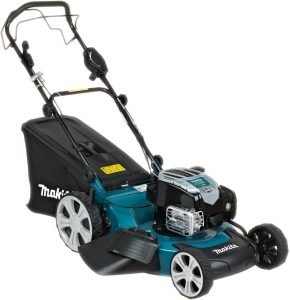 It is unclear where Makita lawn mowers are made. The company has factories all over the world, including in the UK, but does not state where their lawn mowers are made.
It is likely that Makita lawn mowers are made in China. Makita has a major factory in China, and this is where the majority of the world's lawn mowers are made.
Makita's plant in the UK mostly focuses on making power tools – they do not make lawn mowers at the Makita factory in Telford.
Are Makita lawn mowers any good?
Makita lawn mowers are generally known to be very good.
Since the company specialises in only two types of lawn mowers, they have been able to really refine their designs, which is part of the reason why Makita mowers are so popular these days.
Their lawn mowers are not cheap, but they are known to be very durable and relatively heavy, when compared with other mowers that use more plastic in their design. This reduces their manoeuvrability somewhat, but Makita mowers are known to be very sturdy. We're not saying that Makita's cordless mowers are heavy, but they are generally heavier than mowers made by companies like Bosch, for example.
You also tend to get a lot of functionality with the average Makita mower. For example, you typically get more cutting height adjustment options than on most mowers at a similar price point. You also normally get at least a 40L grass box, even on their cheaper, smaller lawn mowers.
Makita lawn mower reviews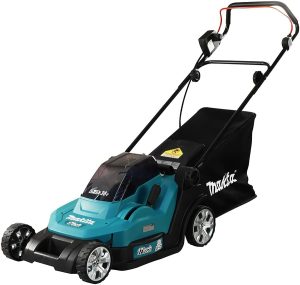 Below, we've reviewed three of the most popular lawn mowers that Makita makes at the moment.
This is one of the smaller cordless lawn mowers that Makita makes, with a 38cm cutting width. However, it's also one of the most popular.
With the DLM382Z, you get 13 cutting height adjustment options, which you can switch between using an easy lever. Most mowers at this price point only offer 4-5 different adjustment options, unlike this Makita.
You also get the ability to mulch your grass clippings, or collect them in the 40L grass box. This collection box offers plenty of capacity – you won't need to empty it mid-mow.
The main downside of this lawn mower is its performance on long grass. It doesn't quite have the power to deal with an overgrown lawn, like a petrol mower might. However, this is by no means an underpowered lawn mower.
The DLM382Z is also easy to put together, which is great, and although it's not extremely heavy, it is quite durable.
Pros
Easy to assemble.
Can mulch or collect your grass clippings.
13 cutting height adjustment options, easy to switch between them.
Durable.
Cons
Not the best on overgrown grass.
Overall value rating
⭐⭐⭐⭐⭐
If you want a slightly more powerful lawn mower, Makita's petrol mowers are worth looking at.
The PLM4626N is one of Makita's mid-sized petrol lawn mowers. It's great for larger gardens, but isn't the best for small lawns, since it has a reasonably large turning circle.
You get a nice big 65L grass box on this mower, as well as large back wheels. These wheels are quite tough, and because they're quite big, they can handle uneven terrain quite easily.
This mower is self propelled, and the 4-stroke motor produces 3.5HP, giving it plenty of power. The PLM5113N2 can handle long grass with ease, as well as slightly damp lawns.
Although this mower is well designed, and is also very tough, it is quite expensive. There are slightly cheaper petrol mowers on the market, if you're on a tight budget.
Pros
Powerful engine.
Tough design.
Large wheels, making for good manoeuvrability.
Cons
Relatively expensive.
This is a slightly larger cordless electric lawn mower than the DLM382Z, with a larger 50L grass box.
As with most Makita cordless mowers, you get the ability to mulch or collect your grass clippings, and 13 cutting height adjustment settings.
This is another relatively lightweight mower, especially with the batteries removed, which makes it easy to store away.
When mowing, the DLM432Z is easy to manoeuvre, mostly due to its weight. If you really like the feeling of having a heavy mower, this isn't the best choice, but most of the time, the lightweight, manoeuvrable design feels great to use.
Just remember, this mower does not come with batteries or a charger when you buy it online. They will need to be bought separately, and they're not cheap. With the batteries and charger included, this lawn mower is quite expensive.
Pros
Easy to manoeuvre.
Includes a mulching function.
13 different cutting height options.
Overall value rating
⭐⭐⭐⭐⭐
Conclusion
This is the end of our Makita lawn mower reviews.
If none of the Makita lawn mowers we've looked at here meet your needs, browse the full range of Makita mowers available on Amazon.
Not sure which Makita lawn mower to buy, or whether you should look at another lawn mower brand? Feel free to ask us in the comments below.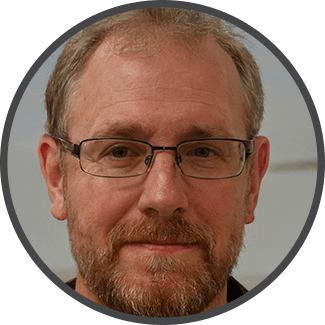 I'm Josh, and I'm the head writer at Lawn Care Pro.
I love everything lawns, but I'm a bit of a lawn mower nerd. I spend a lot of my free time tinkering with mowers, and planning my mowing schedule for the next few weeks.
I'm also into cars, which comes in very helpful when servicing a mower engine!