Looking to buy a new garden hose reel?
In this buyer's guide, we've reviewed the 5 best garden hose reels that you can buy right now.
After, weäve explained some things to look for in a garden hose, to help you choose the right reel to buy.
Quick Comparison Table
BEST VALUE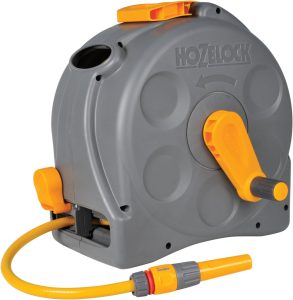 Hozelock
2415 0000 2 in 1 Hose Reel (25m hose)
BEST OVERALL
Giraffe Tools
Wall Mounted Hose
Reel (30m hose)
MOST DURABLE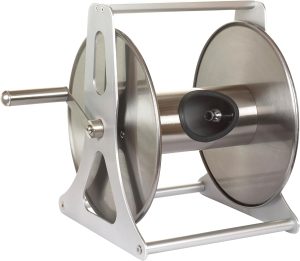 Flopro
2435 0000 Hose Reel Cart (50m hose)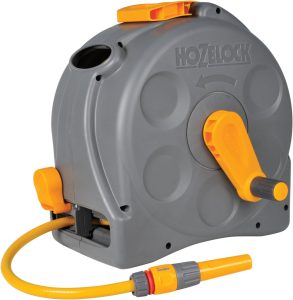 Hozelock
2415 0000 2 in 1 Hose Reel (25m hose)
Giraffe Tools
Wall Mounted Hose Reel (30m hose)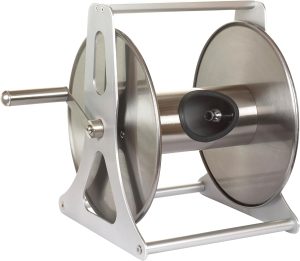 Flopro
2435 0000 Hose Reel Cart (50m hose)
Contents
Best garden hose reels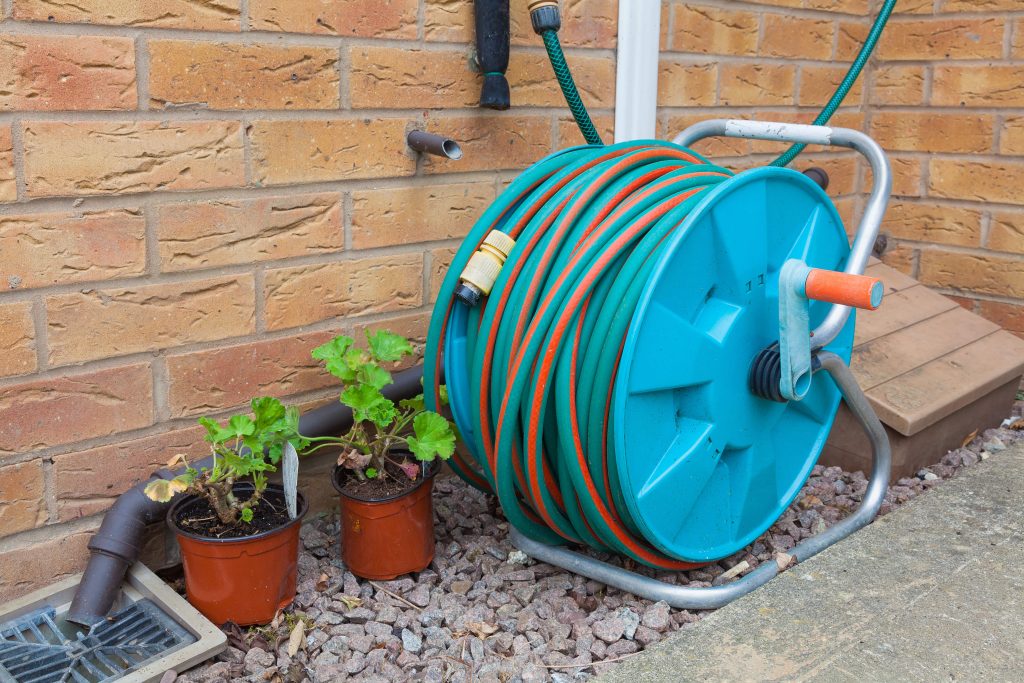 Time to begin our reviews.
Below, we've looked at 5 of the best garden hose reels that you can buy in 2023.
If you're looking for a good-value garden hose reel and don't need a particularly long hose, this option is worth looking at.
You can use this garden hose reel on the ground, as it has plenty of weight, so it doesn't shift easily when pulled. But you can also wall mount it very easily, using the clip bracket system.
Rewinding the hose is a smooth process using the handle, and the included 25m hose folds away nicely. For small gardens, the size of this reel and the length of the included hose is almost perfect.
The one downside to this hose reel is the assembly process. There are lots of pieces included, so it can be a bit tricky to put together – we'd recommend watching the assembly video that Hozelock has made.
Overall, if you want a cheap, simple garden hose reel, this product is a good choice.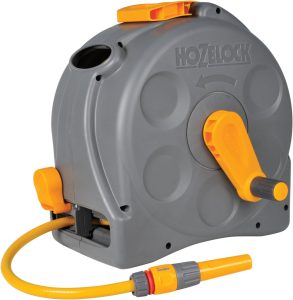 ---
Pros
Great price.
Easy to use the reel.
Sturdy design.
Good wall mounting system.
Cons
Bit tricky to assemble.
This garden hose reel is a much more expensive option. However, you do get a lot of value in return for the extra money.
For starters, the hose has a spring retraction system. Rather than having to turn a handle, you just pull on the hose slightly, and it will retract automatically.
You also get a 7-in-1 spray gun attachment, and a rotating bracket. When mounted on a wall or a post, the hose reel can rotate 180°, preventing you from having to bend the hose to reach where you need to go.
Giraffe Tools include a 2-year warranty with this reel, and there is even a 2-metre connector hose included, helping you to connect the reel to the nearest tap.
If you don't mind spending the extra money, this garden hose reel is a great investment. It's very sturdy, so you won't have to worry about replacing it, even beyond the warranty period.

---
Pros
Automatic rewind system.
Includes a rotating bracket.
Comes with a 2m connector hose.
Durable.
If you already have a hose that you want to use, or you don't like the idea of a plastic hose reel, Flopro makes a reel that might meet your needs.
Because it's made of stainless steel and aluminium, this garden hose reel is extremely durable. It's also quite heavy, as you would expect.
The metal doesn't rust easily, and the reel remains nice and smooth for years after your original purchase. It's possible to install a hose up to 40m long on this hose reel.
There are some disadvantages to this design, however. Since there is no roof, the hose will be a bit more exposed to the elements, which can make it wear out a bit more quickly than it otherwise would.
Also, this hose reel is relatively expensive, especially considering it doesn't come with a hose. However, if you tend to experience durability issues with plastic hose reels, then it might be worth paying more for a metal reel.
---
Pros
Extremely durable.
Doesn't rust easily, or seize up over time.
Heavy – doesn't shift easily when used on the ground.
For those with bigger gardens, you might want a hose reel that you can wheel around, like this one from Hozelock.
The wheels are a good size, making it easy to move around the garden. However, they're not too big, and the reel isn't very tall, helping to ensure that it doesn't tip over when you pull out more hose.
You get 50m of hose with this reel, preventing you from having to move it all the time. There is also a 20m option, if you don't need an extremely long hose.
The other benefit of this type of hose reel is how it helps to save space. Rather than having to wall mount your hose reel, or keep it on the patio, you can wheel this reel in and out of your shed, rather than having to keep it in view all the time.
However, there is an issue with this reel cart – its durability. Unlike most other Hozelock hose reels, this product isn't extremely strong, because there's not much housing included on the reel to reinforce it.
---
Pros
Great portability.
Extra-long hose.
Stable design.
Cons
Not extremely durable.
This is another more expensive hose reel, with a fully enclosed design and all the bells and whistles you'd expect at this price point.
The wall bracket is easy to install, and once clipped in, the reel can pivot 180°, helping your hose to reach every corner of the garden.
With this reel, there is an automatic retraction mechanism, making it easy to rewind the hose back into place. However, the design isn't as good as with the Giraffe Tools hose reel we previously looked at. It can become a bit sticky over time, preventing the hose from automatically retracting.
The rest of the design is very durable though, and there is also a child lock, which is nice to have if you're afraid of kids trying to pull the hose out.
On the whole, if you want this type of hose reel, Giraffe's option is a slightly better choice for most people. However, this Hozelock product does come with more hose (40m instead of 30m), which is useful if you have a bigger garden.
---
Pros
Has the ability to pivot 180°.
Durable casing and reel design.
Includes a child lock.
Bracket is easy to install, and is very tough.
Cons
Auto rewind system can sometimes stop working after a few years.
Quite expensive.
Garden hose reel buyer's guide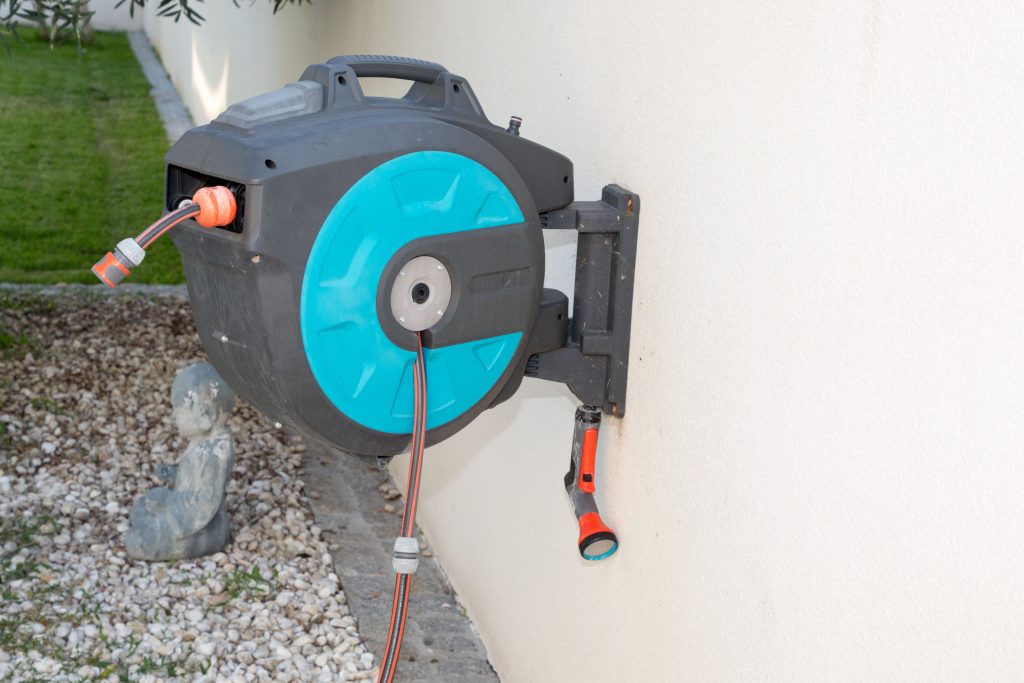 In this section, we've explained what you need to know when choosing a garden hose reel to buy.
Types of garden hose reels
There are essentially three different types of garden hose reels:
Wall mounted hose reels, which can be attached to a wall. Typically, they come with a separate attachment that you screw into the wall, which you can then hook the hose reel into. These types of hose reels can normally be left on the ground if you don't have a good place to mount them.
Stand hose reels, which are designed to be left on the ground. These types of hose reels come with a larger, sturdier stand, which is better for keeping the hose reel on the ground. Sometimes, they can be wall mounted as well, using this stand.
Wheeled hose reels, which come with a stand with wheels. Using one of these products is best if you have a large garden, as the hose reel can be moved around much more easily.
How long do I need my hose to be?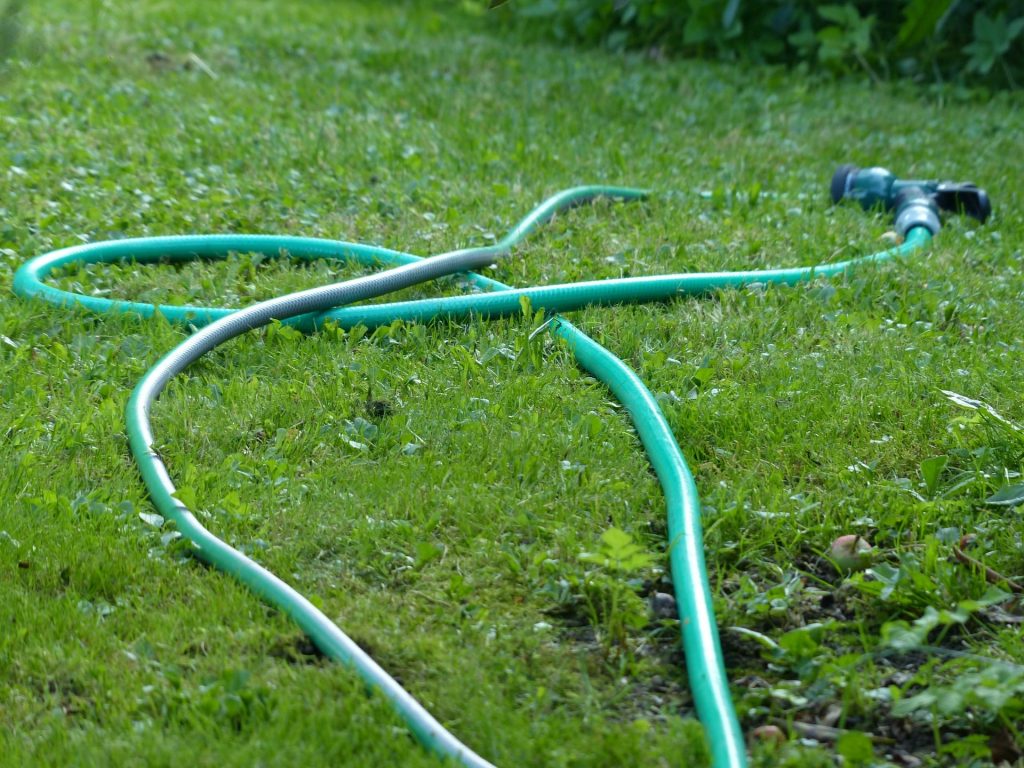 Typically, the hose included with a hose reel will be anything from 25m to 60m in length.
As a general rule of thumb, it's better to get a slightly longer hose than you think you need. This will not only ensure that you never run out of hose, it will also ensure that the hose reel has more hose weighing it down at all times, preventing it from shifting as you increase the length.
This extra weight can be important if using a hose wheel on the ground, especially if it's a lighter product made mostly of plastic.
However, the more hose length you get, the bigger and bulkier the hose reel will be, and the more you'll pay.
If you're unsure what length to get, try to measure the distance from one corner of the garden (where the reel will be) to the other. This should give you a good idea of the maximum distance you'll need to cover with the hose.
Nices to haves when buying a garden hose reel
Here are some good things to look out for when buying a garden hose reel.
An automatic hose retraction and stopper system. Most good garden hose reels allow you to pull the hose out to a certain point, and then stop it in place. But the best ones then allow you to tug on the hose again, to make it automatically retract. Cheaper garden hose reels have a handle, which you have to manually turn to retract the hose.
A sturdy design, that isn't too light. You want the reel to stay in the same place when you're using it, if it's resting on the ground. While most hose reels these days are made of plastic, this doesn't make them all extremely lightweight. Plastic reels are still a good idea if you want something sturdy, but it's a good idea to check how much the reel weighs, and how sturdy it is.
A good quality handle, if buying a reel that you plan to move around the garden.
Extra hose attachments, such as spray guns, and sprinkler attachments.
A rotating bracket, if buying a wall mounted hose reel. This makes it easier to point the hose in the right direction, if you have a large garden.
A strong but supple hose. The last thing you want is the hose to stiffen up over time, because this will make the reel very difficult to turn. But at the same time, you want the hose to be nice and strong, so there is a bit of a balance to achieve.
What should I expect to pay for a garden hose reel?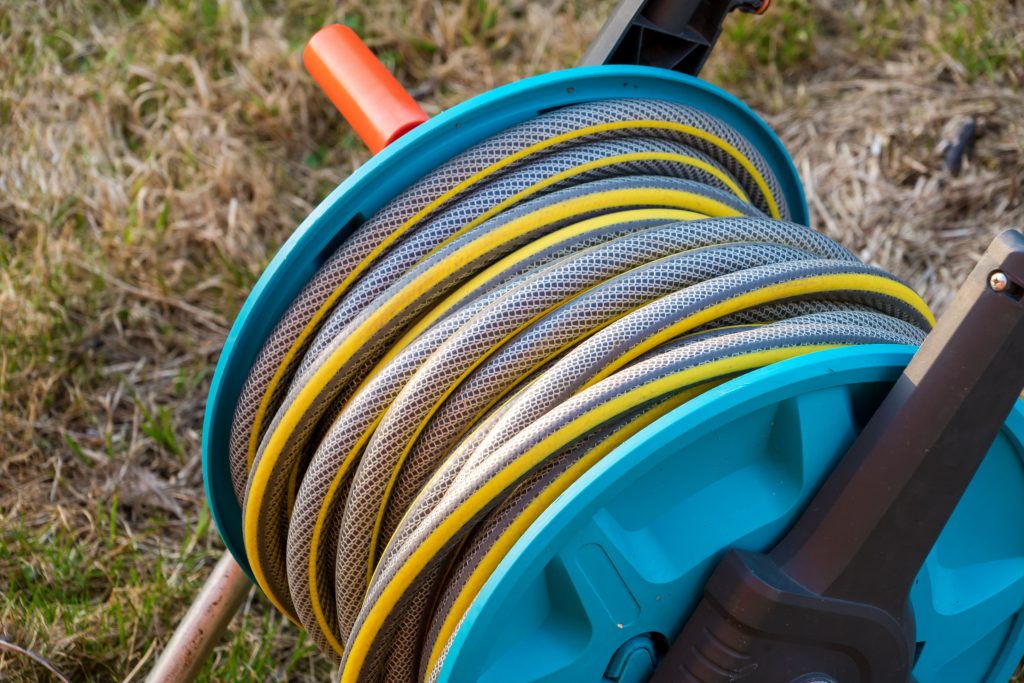 For a good garden hose reel, with a hose included, you can expect to pay between £30-£100 for a product with a plastic frame.
The exact price will depend on the length of the hose, the complexity of the device (such as whether it has an automatic rewind system, or a handle you manually turn) and the extras included (such as spray gun nozzles).
Can I use an existing hose with a new hose reel?
It is possible to buy hose reels that do not come with a hose. To install your existing hose, you attach it at one end of the device, and wind it around the wheel.
In most cases, it's probably best to buy a hose reel with a hose already installed. This ensures that you have a nice new hose, that isn't too stiff, and will wind around the reel nice and easily.
Sometimes, manufacturers include specialised hoses, to make the experience of using the reel a bit better. For example, some have different designs at the end of the hose, such as a stopper to make the hose compatible with a spring retraction system.
How to ensure you buy a durable hose reel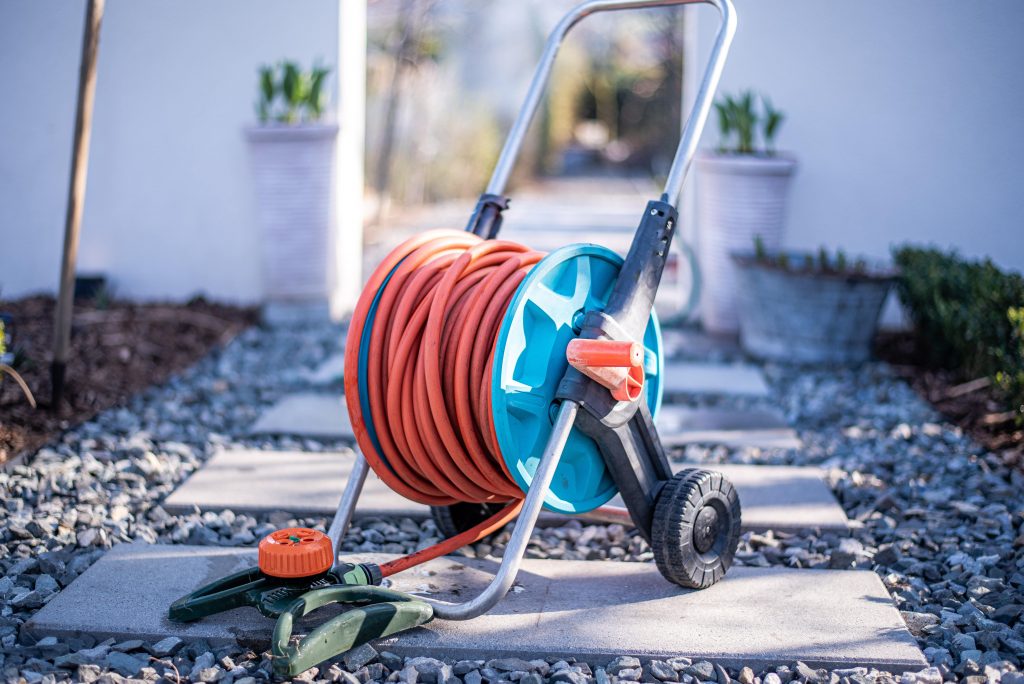 To identify a durable hose reel, you want to look for the following:
A good warranty, at least two years long. This shows that the manufacturer is willing to bet on the durability of their garden hose reel.
A good weight to the hose reel. If the reel is extremely light, as a rule of thumb, it will typically be more prone to breaking as a result of small knocks or bumps it's likely to face during its life in your garden.
Good customer reviews, from people who have owned the hose reel for at least a year.
Which brand of garden hose reel is best?
Hozelock is the leader when it comes to garden hose reels in the UK. They really specialise in making these types of products, while for most other brands, it's just an auxiliary product line.
This doesn't mean that you should just buy the first Hozelock garden hose reel you can find. They're not perfect – they don't make metal hose reels. However, if we had to choose a brand to buy from, it would be Hozelock.
Conclusion
You've reached the end of our garden hose reel buyer's guide.
Remember, it's important to consider where you'll be keeping the hose reel. If you want to store it in your shed most of the time, it might be a good idea to get a reel on wheels. However, most people prefer to wall-mount their hose reels, somewhere near the tap.
If you're still unsure which garden hose reel to buy, feel free to leave a comment below, and we'll respond as soon as possible.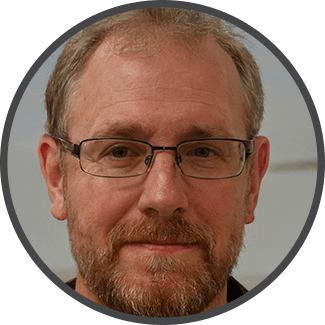 I'm Josh, and I'm the head writer at Lawn Care Pro.
I love everything lawns, but I'm a bit of a lawn mower nerd. I spend a lot of my free time tinkering with mowers, and planning my mowing schedule for the next few weeks.
I'm also into cars, which comes in very helpful when servicing a mower engine!