Want to buy a lightweight lawn mower, that's easy to manoeuvre?
In this guide, we've reviewed 5 of the best lightweight lawn mowers you can buy in the UK, perfect for elderly people, or those with restricted mobility.
After, we've explained some key things to consider when choosing a light lawn mower.
Quick Comparison Table
LIGHTEST OVERALL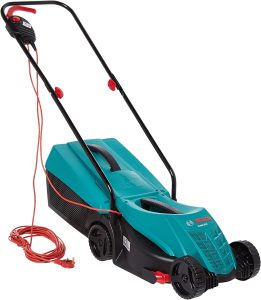 BEST OVERALL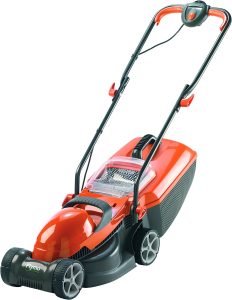 BEST LIGHT CORDLESS MOWER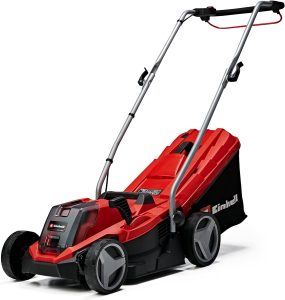 Flymo
Einhell GE-CM 18/33 (10.9kg)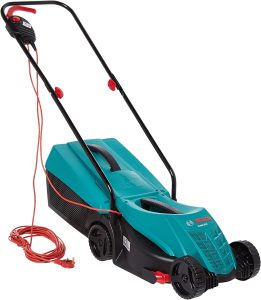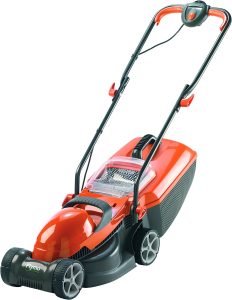 BEST LIGHT CORDLESS MOWER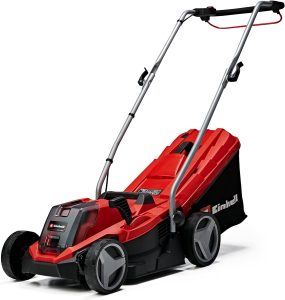 Flymo
Einhell GE-CM 18/33 (10.9kg)
Best lightweight lawn mowers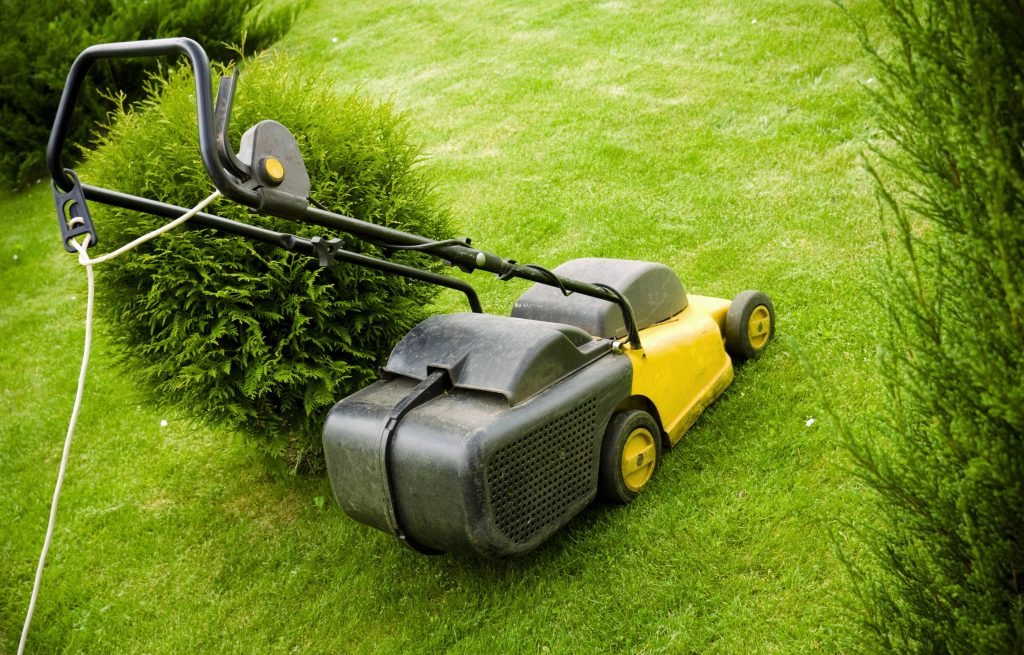 Let's begin our reviews.
Below, we've looked at some of the best light lawn mowers that are easy to manoeuvre, use, and store away.
We have previously been critical of this lawn mower's design because of how much plastic is used, especially in the grass box. It's not the most sturdy lawn mower on the market – it can feel a bit flimsy.
However, the massive advantage of this design is how light it makes the mower, at just 6.8kg. Because it's so light, this mower is very easy to steer, manoeuvre, and bring in and out of the shed.
Despite being a bit flimsy-feeling, the Rotak 32R is still quite tough, so you don't have to worry about its durability. You also get a 2-year warranty from Bosch with this lawn mower.
The Rotak 32R provides a clean, efficient cut, but because it only has a 32cm cutting width, we wouldn't recommend it for large gardens, otherwise it'll take a while to mow your lawn.
As a small, lightweight mower, the Bosch Rotak 32R is quite reasonably priced. It comes with a 10m power cable, so you'll need to keep it plugged in at all times when mowing. But the benefit of this corded design is there are no batteries, which often end up weighing the mower down quite a lot. until you take them out to recharge.
---
Pros
Great price.
Very light.
Provides a clean, efficient cut.
Easy to steer and manoeuvre.
Cons
Feels a bit flimsy, because it's so light.
This lawn mower is essentially Flymo's version of the Rotak 32R. Both mowers are corded electric options, and have the same 32cm cutting width.
The Chevron 32V is a bit heavier than the Rotak 32R, weighing in at 8.6kg. This is partly because it comes with a rear roller, allowing you to mow stripes in your lawn if you'd like. But it's also because Flymo's lawn mower is a bit more sturdy.
Despite not being the lightest lawn mower of this size, the Flymo is very easy to carry. It comes with two handles – the main one you use to push it, and another carry handle lower down, making it easy to pick up the mower with your right hand on the carry handle, and your left hand on the main handle.
Adjusting the cutting height is a bit difficult with this mower, which is its main downside. You have to turn over the mower and manually move the axles into different slots to raise or lower the blade – you don't get a lever that can be accessed at the top of the mower, like on some other mowers. However, this isn't a big issue if you don't often need to change the cutting height.
Flymo's mower is quite easy to assemble, which is a bonus. Plus, it's very reasonably priced, mostly because it's quite a small lawn mower.
---
Pros
Lightweight.
Easy to carry.
Reasonable price.
Easy to assemble.
Cons
Adjusting the cutting height is a bit tricky.
If you want to avoid power cables, and don't mind adding a bit of weight, the Einhell GE-CM 18/33 is worth looking at.
Since this mower comes with a battery, it is a bit heavier than most corded lawn mowers, but is still quite lightweight. The batteries also add a bit to the cost – this isn't a cheap mower, especially given it only has a 33cm cutting width.
However, the GE-CM 18/33 is still very easy to use, in large part because of its size. It also has a large trigger that spans the entire width of the handle, unlike most cheaper lawn mowers we've looked at so far. This means that you can use either hand to push the mower, reducing the potential for wrist strain, and making mowing more comfortable, especially if you're elderly.
The cutting height is easy to adjust, and this mower has plenty of power – it works well on thick grass, and provides a clean cut. It's still only good for small lawns, due to its size, however.
Also, when you take the batteries out, this reduces the weight by about 800 grams or so. This mower is only heavy when in use – it's easy to move into and out of storage.
Overall, if you don't need the lightest lawn mower on the market, and don't mind paying a bit more for the convenience of batteries. Einhell's lawn mower is a great choice.
---
Pros
Cordless – comes with batteries.
Provides a clean, efficient cut.
Easy to adjust the cutting height.
Relatively lightweight for a cordless mower.
Cons
Slightly expensive compared to most corded mowers.
This is one of the lightest lawn mowers you can buy right now. However, that doesn't mean you should jump straight in and buy it.
The Hover Vac 250 is a hover mower. Part of the reason it's so light is it doesn't have wheels – instead it floats on an air cushion when turned on.
This means that when the mower is turned off, it's a bit more difficult to push around, due to the lack of wheels.
However, this isn't necessarily a problem, depending on where you want to store the mower. If it'll go in a shed right near your grass, you should be fine, especially if you can keep the mower running right up until you reach the door.
It's important to note, another reason this mower is so light is its size. It has just a 25cm cutting width, and only a 15L grass box. As a result, we wouldn't recommend it for large lawns, or uneven gardens – hover mowers work best on flat ground.
Although this mower is very reasonably priced, you should know that it can leave a bit of a mess. The grass cuttings don't always end up in the grass box.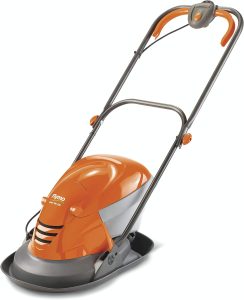 ---
Pros
Very lightweight.
Great value.
Easy to use, because it's so small.
Cons
Can leave a bit of a mess.
This is another corded lawn mower that's lightweight, and has a lot of things going for it.
For starters, you get double-sided levers on the handle, so you don't have to always hold the trigger down with your right hand. This isn't something you normally see on a mower at this price point.
The EasiMow 300R is also very small, with just a 30cm cutting width. This makes it quite inefficient on large lawns, but on small gardens, it's simple to manoeuvre, and folds down easily to be stored away in a small space.
This isn't the lightest lawn mower on the market. The Bosch Rotak 32R for example is bigger, but is more than a kilo lighter. However, with the EasiMow 300R, you get a rear roller for mowing stripes, and a sturdier design.
Flymo's mower is also quite good at mowing right up to the edge of your grass, which is a nice touch. However, you do have to change the cutting heights manually, which can be a bit of a nuisance if you like to mow the lawn shorter sometimes, such as in the spring and autumn.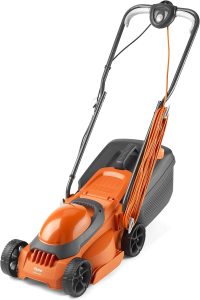 ---
Pros
Quite lightweight.
Small – easy to manoeuvre and store.
Mows right up to the edge of your grass.
Cons
Manual cutting height adjustment mechanism.
How to choose a lightweight lawn mower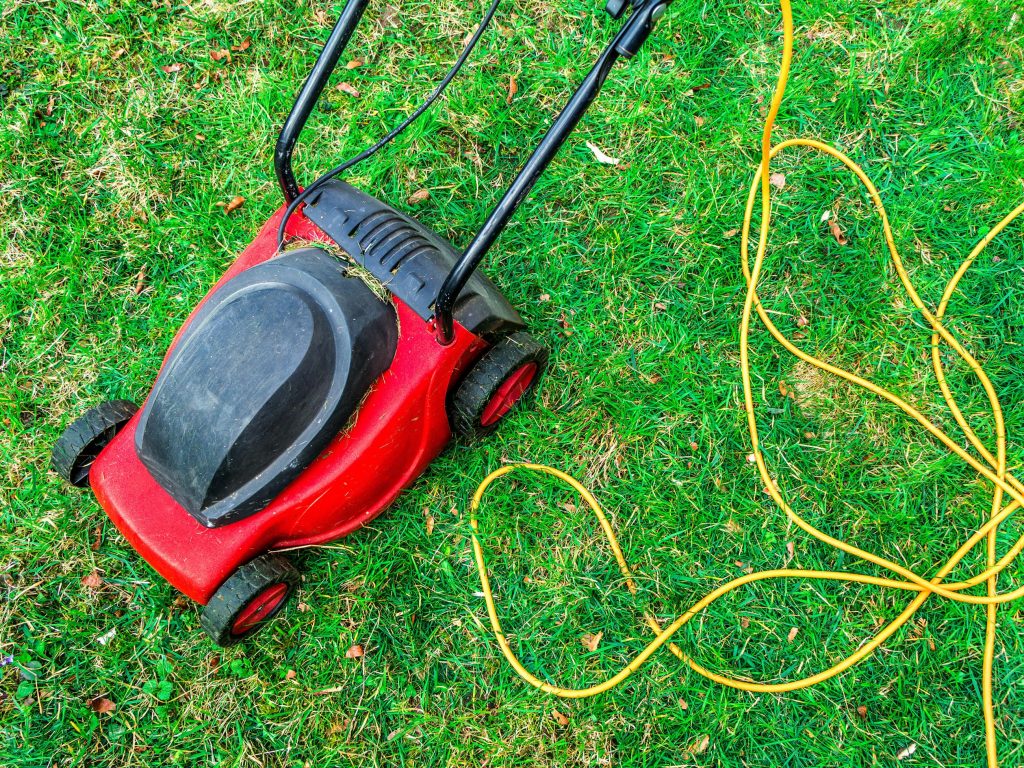 In this section, we'll explain a bit more about how to choose a lightweight lawn mower, depending on your specific needs.
How to find a lightweight lawn mower
To find a lightweight mower, the first thing to do is think about the type of mower that you want to look at. Typically, corded electric mowers are your best choice.
Then, look for small mowers in this category. Once you find some mowers that you like, search for the brand and product name, and try to find its weight.
If a mower is about 6-8kg, this is considered very light, and 8-10kg is still quite lightweight at well. Remember, some petrol lawn mowers weigh 50kg or more, so corded electric mowers and hover mowers, especially small ones, are very light by comparison.
Then, check that the mower meets your needs. How does it manage clippings – do you want to collect them, or mulch the cuttings? Is the size right for your garden? And is the mower going to be sturdy enough to handle your lawn?
Remember, there are some sacrifices you will have to make to get a light lawn mower, which we've explained in more detail below. For example, you might need to buy a smaller mower than you otherwise would, which will make mowing your lawn take a bit longer, but possibly make the overall mowing process much easier, as the mower will be more manoeuvrable.
What types of lawn mowers are the lightest?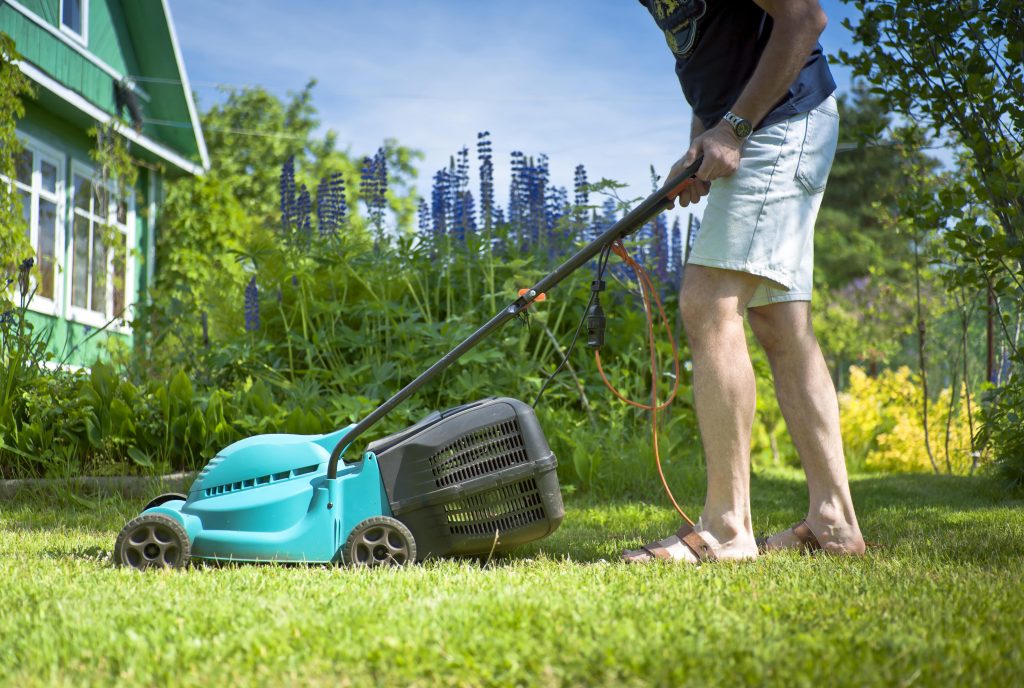 The lightest types of lawn mowers are corded electric mowers.
These types of mowers don't have a battery to weigh them down, nor do they have a heavy petrol motor. Petrol lawn mowers are often quite large, and are designed for medium to large sized gardens. On the other hand, corded electric mowers are designed for smaller lawns, and as a result, they aren't as big.
Hover mowers also feel quite light to use, because they float around on a cushion of air, rather than being pushed around on wheels. However, they are a bit difficult to move around when not switched on, making the process of putting them into and taking them out of storage a bit difficult, if you have limited mobility.
Also, it goes without saying, the smaller your mower, the lighter it will be.
Are there any disadvantages to lightweight mowers?
There are some disadvantages to choosing a lightweight lawn mower:
They're not typically very powerful. This can be a problem if your lawn has a lot of slopes, or you often leave the grass quite long. For example, if your garden has steep inclines, self-propelled petrol mowers are normally recommended, because they can deal with hills easily. The issue is, these types of mowers are very heavy, as well as very expensive.
Light lawn mowers are often quite small. This means that if you have a larger garden, it will take a while to mow it.
You normally have to buy a corded electric mower if you want to reduce weight as much as possible. This means you need to keep the mower plugged in at all times, which is a bit inconvenient.
Light mowers can be quite flimsy. They will most likely be made with a lot of plastic, meaning you need to be quite careful to find a mower that's durable, as well as lightweight.
As an elderly person, are there any other things I should look for in a mower?
Apart from finding a light lawn mower, you also want to find a machine that is manoeuvrable. The wheels should be a decent size, and the handle should be easily adjustable, making the mower easy to steer.
You also want the mower to be easy to carry, ideally. Think about how its handle folds down, and how you'll store the mower away during the winter, or in the shed in between each mow. Does it have a handle to make it easy to carry?
When mowing, it can be quite helpful to have a mower with a double-sided trigger, especially if your lawn is not super small. This basically means that you can switch between using either hand when mowing, to reduce the likelihood of developing wrist strain.
Finally, you also want your mower to make it as easy as possible to mow your lawn, reducing as much effort on your part as possible. For example, you might not like to bag your grass clippings, so that you don't have to worry about emptying them each time you mow. In this case, a mower designed to help mulch your grass cuttings back into the lawn would be a good choice.
What size lawn mower should I get, to find something light?
With a rotary walk-behind lawn mower, you will want to find something with a cutting width of 35cm or less to minimise weight as much as possible.
Any larger, and the lawn mower will be reasonably heavy, and will also be a bit more difficult to manoeuvre. With a small lawn mower, that has a cutting width of less than 35cm, you'll find mowing your lawn much more manageable.
How much should I expect to pay for a light lawn mower?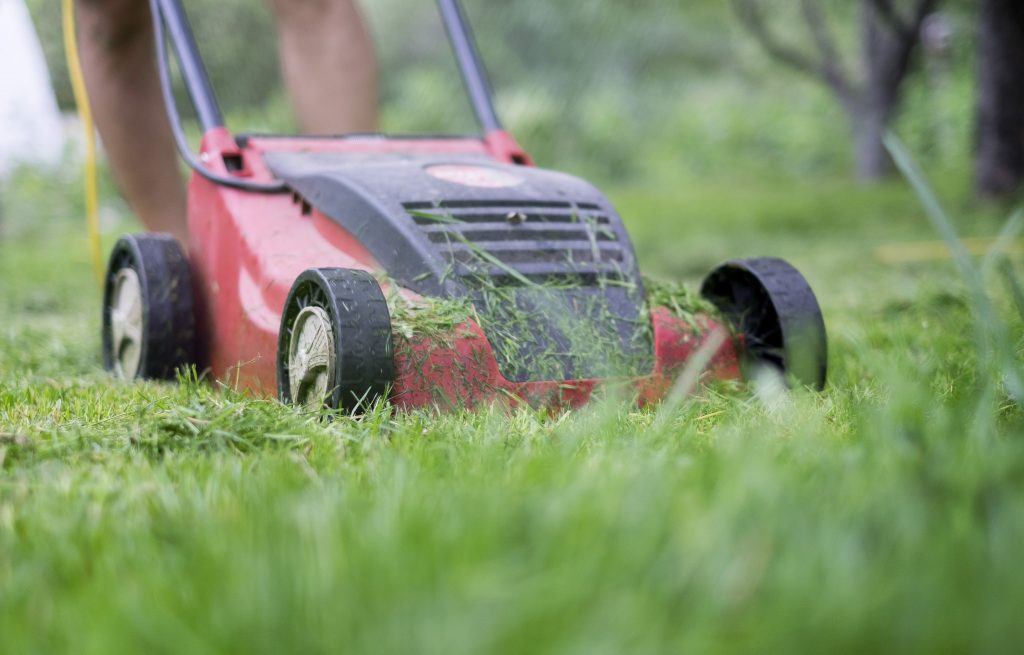 One of the best things about buying a lightweight lawn mower is you'll probably save a decent bit of money.
Small corded electric lawn mowers are some of the cheapest types of mowers on the market right now, as well as being extremely light. Hover mowers are also quite cheap, especially the smaller ones.
You can expect to pay about £100-£120 for a good-quality lawn mower that's easy to manoeuvre, and isn't extremely heavy.
Should I consider manual lawn mowers?
If you compare by weight, you'll notice that manual lawn mowers that you push through your garden are also very light – normally in the range of 7-8kgs.
The issue is, these push mowers take a lot more effort to use. They're simple, cheap, and light, but require you to actually push them quite hard in order to cut the grass.
This is why we haven't looked at manual mowers in this guide. You can read our push mower buyer's guide if you think that this type of mower might work for you.
Conclusion
This is the end of our guide to buying a lightweight lawn mower.
Still unsure which mower to buy? Feel free to leave a comment below, and we'll respond as soon as possible.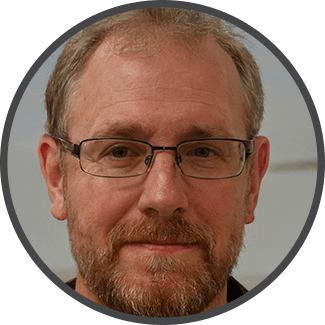 I'm Josh, and I'm the head writer at Lawn Care Pro.
I love everything lawns, but I'm a bit of a lawn mower nerd. I spend a lot of my free time tinkering with mowers, and planning my mowing schedule for the next few weeks.
I'm also into cars, which comes in very helpful when servicing a mower engine!