Looking to learn more about Mac Allister lawn mowers?
In this guide, we've reviewed three different Mac Allister lawn mowers, to see if they're any good.
We've also looked at Mac Allister as a brand, to find out more about them, and where their lawn mowers are made.

About Mac Allister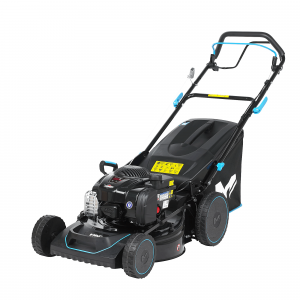 Mac Allister is a brand of tools and garden equipment owned by B&Q. Under the Mac Allister name, B&Q sells lawn mowers, circular saws, power drills, and other power tools.
You can only buy Mac Allister products from B&Q, either online or in-store. Also, this brand of power tools and garden equipment is only available in the UK.
Mac Allister has a wide range of lawn mowers available. They make robotic lawn mowers, petrol lawn mowers, and corded/cordless electric lawn mowers.
Where are Mac Allister mowers made?
Mac Allister lawn mowers are made by an external supplier in China. This is part of the reason why these mowers are so cheap, which we will discuss in more detail below.
Are Mac Allister mowers any good?
Mac Allister lawn mowers are designed to be low-budget options. Many of their mowers are some of the cheapest options on the market, when compared to other similar lawn mowers of a similar size.
As a result, you shouldn't expect world-class grass-cutting performance from a Mac Allister mower. They're not the best lawn mower brand on the market, although some of their models are quite good value for money.
The main thing Mac Allister does well is make their mowers easy to assemble. Many other mowers at these lower price points can be quite fiddly to put together.
Also, you can expect to get everything you need to do a good job at mowing with Mac Allister mowers, especially their more expensive options. Their mowers typically come with good height adjustment options, good grass box capacity, and the ability to be stored upright.
The issue with Mac Allister mowers is they can feel a bit flimsy, especially their cheap corded mowers. Also, they don't have many of the bells and whistles you can expect with premium mowers, such as grass combs, or a push-button start on petrol mowers.
Therefore, Mac Allister is a good choice if you have a very tight budget, but many other companies produce better, more expensive lawn mowers.

Mac Allister lawn mower reviews
Below, we've reviewed three of the best-selling lawn mowers that Mac Allister makes.

As a relatively large petrol mower, this model is one of Mac Allister's more expensive options. However, it's not extremely costly when compared to other similar petrol mowers.
Given the price of this mower, you get quite a lot for your money. For starters, it's self propelled, so it's very easy to use, even on uneven ground. You also get the option to mulch or side-discharge your clippings, if you'd prefer, but the 60L grass box offers plenty of capacity.
This mower is also very easy to assemble, unlike many other petrol mowers, and can be stored upright to save space. Overall, this is quite an easy mower to live with.
You do miss out on some things with this mower. It has a recoil start, rather than a button you push, and there is no rear roller, meaning you can't mow stripes.
Pros
Easy to use.
Folds down to be stored upright.
Offers side discharge & mulching.
Good price.
Cons
No rear roller or push button start.
Overall value rating
⭐⭐⭐⭐⭐
If you'd prefer an electric lawn mower, rather than petrol, the Mac Allister MLM3635-Li-3 is worth looking at.
This is another relatively cheap lawn mower, especially given that you get batteries included in the price (they're often sold separately with other lawn mowers). Part of the reason it's cheap is the 35cm cutting width. If you have a medium or large-sized garden, this mower won't be very efficient, and might run out of charge before you finish mowing your lawn.
Assembly is also easy with this lawn mower, and it does a good job collecting grass in the 40L grass collection box. You won't have to empty the grass box mid-mow – this is actually quite a large capacity for a mower of this size.
There is no mulching function on this lawn mower, so you won't be able to automatically return your clippings to the ground to be used as mulch. However, there are six cutting height settings, allowing you to adjust the blade from between 25mm and 75mm off the ground, which is great.
Overall, if you have a small lawn, and want a reasonably priced battery powered lawn mower, this option is worth considering.
Pros
Great value.
Plenty of capacity in the grass box.
Easy to put together.
Cons
Battery capacity is only enough for small lawns.
This corded electric mower is the cheapest mower that Mac Allister currently sells.
There are a few drawbacks to this mower, and reasons why it's so cheap. For starters, it's very small, with just a 33cm cutting width. This is great for small gardens, because it makes the mower manoeuvrable, but this mower is not very efficient when used on larger lawns.
Also, there is no mulching function, and the grass box is only 30 litres in size. It also feels a bit flimsy, and is quite lightweight. This again makes the mower easier to steer and use, but does reduce its sturdiness somewhat.
On the plus side, this mower is easy to assemble, unlike many alternatives at this price point, and the 1200W motor offers enough power for thick patches of grass.
If possible, we would recommend increasing your budget, and investing in a slightly more expensive corded mower. However, if you only have £60 or so to spend, this mower does get the job done.
Pros
Great price.
Easy to use.
Offers plenty of power.
Cons
Slightly flimsy feel.
Small grass box.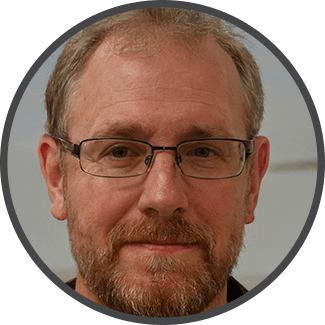 I'm Josh, and I'm the head writer at Lawn Care Pro.
I love everything lawns, but I'm a bit of a lawn mower nerd. I spend a lot of my free time tinkering with mowers, and planning my mowing schedule for the next few weeks.
I'm also into cars, which comes in very helpful when servicing a mower engine!