Considering buying a Ryobi lawn mower?
In this guide, we've reviewed Ryobi lawn mowers, to see if they're any good.
We've also looked at Ryobi as a brand more broadly, to discover if their lawn mowers are worth buying.
About Ryobi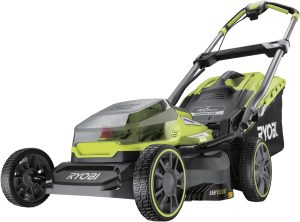 Ryobi is a Japanese company that manufactures a range of power tools and outdoor equipment. Apart from lawn mowers, the company also produces LED lights, drills, chainsaws, and water pumps.
The company was founded in 1943, and began making power tools for the first time in 1968. These days, Ryobi is owned by Techtronic Industries, a company which operates a variety of power tool brands.
The unique thing about Ryobi is its focus on battery-powered tools. They only produce cordless electric lawn mowers, rather than petrol-powered or corded electric mowers.
Ryobi's rechargeable batteries are designed to be interchangeable between many different types of Ryobi products. For example, their "ONE+" battery can be used with Ryobi lawn mowers, lawn scarifiers, and trimmers, among other power tools. The benefit of this is that if you have multiple Ryobi products, you will have multiple batteries to use as spares. If your lawn mower's battery runs out, you can swap it for the battery in your strimmer, provided it has some charge.
Ryobi offers a three-year warranty on their lawn mowers sold in the UK.
Where are Ryobi lawn mowers made?
Ryobi's products, including their lawn mowers, are mostly manufactured in China. However, the company still operates a manufacturing facility in Indiana, in the United States.
Are Ryobi lawn mowers any good?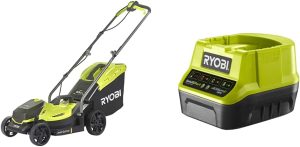 If you're looking for a cordless electric lawn mower, Ryobi's mowers are typically a good choice for small lawns.
Their mowers aren't the most expensive, nor the most study options on the market. This results in them feeling quite lightweight, which is good if you're looking for manoeuvrability, but does result in the mower feeling a bit flimsy.
Ryobi lawn mowers tend to be quite well-designed, given what they cost. For example, they often come with a mulching plug, which isn't very common on battery-powered lawn mowers. It's also typically very easy to adjust the cutting height, and you will have a good range of adjustment options depending on the height you're trying to achieve.
Another benefit of Ryobi's mowers is they're typically very quiet, even when compared to other electric lawn mowers. However, their batteries do not tend to last for an incredibly long time. This is why Ryobi lawn mowers are best for small lawns, or those with other Ryobi tools, who can use the spare battery in their lawn mower as well.
The main downside to Ryobi mowers is their power, or lack thereof. They can struggle a bit if your grass is very tall, or very thick.
It's also important to note: some Ryobi mowers are sometimes sold without the battery and charger. If you don't already have these items, be careful to find a listing with them included.

Ryobi lawn mower reviews
Below, we've taken a look at three of Ryobi's best-selling lawn mowers, to see whether or not their mowers are worth buying.
This is one of the larger cordless mowers that Ryobi makes, with a 40cm cutting width.
Unlike many similar battery-powered mowers, the RY18LMX40A-0 is quite heavy, and feels sturdy. This makes mowing feel quite satisfying, and also makes this mower quite durable.
You also get a mulching plug with this lawn mower, if you'd prefer not to collect clippings in the 50 litre grass box. Being able to mulch your clippings is quite a good thing to have – normally it's only petrol mowers that can do this. If you choose to collect your clippings, this mower does a good job at ensuring they end up in the grass box.
The one issue with this lawn mower is its performance on long, thick grass. If you don't mow your lawn very regularly, this mower can struggle a bit to get the job done efficiently.
However, if you have a well-kempt, small to medium-sized lawn, this mower is a good choice if you're looking for something that feels sturdy, and isn't too lightweight.
Pros
Sturdy.
Can mulch your clippings if you'd prefer.
Durable lawn mower.
Cons
Not the best on long or thick grass.
In contrast to the 40cm Ryobi mower we just reviewed, the OLM1833B is one of the smallest mowers that Ryobi makes.
Because this mower is quite small, it's very lightweight. This results in it feeling a bit flimsy, especially when compared to other larger Ryobi mowers.
However, the benefit of this is that the mower is quite easy to manoeuvre. Provided your lawn is relatively flat, the wheels won't get stuck either. If you have a smaller lawn with some obstacles or tight turns, this manoeuvrability is very helpful to have. And although it's quite light, this mower is still durable – plus it comes with a three-year warranty.
Another good thing about this mower is how it has a double-sided trigger on the handle. Many mowers at this price point have a trigger on just one side, meaning you have to apply pressure with just one hand for the entire time that you mow, which can be tiring. You also get the option to mulch your clippings, and there are five cutting height adjustment options (25-65mm), which are easy to switch between.
Similar to the other Ryobi mower we've reviewed so far, the one downside of this mower is how it does when faced with tall grass. You might need to mow a given spot a few times to properly cut the grass, if your lawn is more than a few inches long. We wouldn't recommend this mower if you tend to leave your lawn for a long time in between each mowing session.
Pros
Easy to manoeuvre.
Quite durable.
Ergonomic design – comfortable to use.
Cons
Doesn't handle long grass very well.
This mower is relatively small by typical standards, with a cutting width of 37cm. However, it's the mid-sized option in the Ryobi range, since they don't make many large lawn mowers.
With their mid-size option, Ryobi tries to achieve the best of both worlds. You get a 45 litre grass box, which offers plenty of capacity for most smaller lawns you'd want to use this mower with. It also does a good job at sending clippings into the grass catcher, and won't leave a huge mess on your lawn.
You also get six cutting height adjustment settings, which gives you the ability to take down the height in summer when the lawn is growing fast, and bring up the height as you prepare the lawn for the winter months.
Another nice thing about this mower is the grass combs that Ryobi has included. Using this mower, you won't have to use a strimmer in most situations, as it can mow right up to the edge of your lawn – such as along fences.
This mower is not cheap, especially given it doesn't have an extremely long-lasting battery. However, it's a good option if you have a small lawn, but don't want to use an extremely small (<35cm), extremely lightweight lawn mower.
Pros
Large grass box capacity.
Six cutting height settings.
Will mow right up to the edge of your lawn.
Cons
Slightly expensive given its size and battery capacity.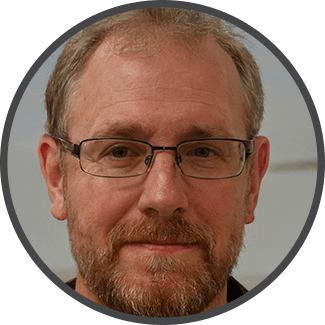 I'm Josh, and I'm the head writer at Lawn Care Pro.
I love everything lawns, but I'm a bit of a lawn mower nerd. I spend a lot of my free time tinkering with mowers, and planning my mowing schedule for the next few weeks.
I'm also into cars, which comes in very helpful when servicing a mower engine!