Looking at potentially buying a Spear & Jackson lawn mower?
In this article, we've reviewed three of the most popular Spear & Jackson lawn mowers, to see if they're any good.
We've also looked into Spear & Jackson as a brand, to determine whether or not their mowers are worth buying.
About Spear & Jackson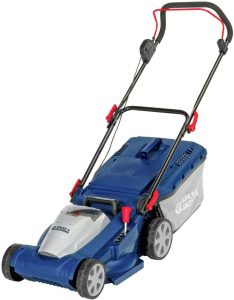 Spear & Jackson is a British garden tool brand, which has been around since 1760. Originally, the company made hack saws at their base of operations in Sheffield, before expanding into other types of tools, including garden tools.
Confusingly, Spear & Jackson mowers are not made by Spear & Jackson. Rather, the company has licensed its brand name to Argos in the UK. If you buy a Spear & Jackson lawn mower, it will actually be an Argos product with Spear & Jackson's blue and red branding on it.
Under the Spear & Jackson name, Argos manufactures a few different types of electric lawn mowers, including corded mowers, cordless mowers, and hover mowers. There are no petrol mowers or robotic mowers available from Spear & Jackson at the moment.
Spear & Jackson mowers are designed to be quite price-competitive. They are often some of the cheapest mowers you can find, when compared to other models of a similar size and design.
Where are Spear & Jackson mowers made?
Spear & Jackson lawn mowers are currently made in China. Although Spear & Jackson still makes garden tools in Bradford, Argos lawn mowers with the Spear & Jackson brand are not made in the UK.
Are Spear & Jackson mowers any good?
Spear & Jackson lawn mowers offer a lot of value, given what they cost. They come with everything you need to make for a good-quality cut.
For example, Spear & Jackson rotary mowers come with a rear roller, allowing you to mow stripes. They also come with a good range of different cutting heights, and allow you to mow the lawn nice and short, if you want to. Their corded mowers also include a 12m power cable, rather than the 10m cable you tend to get with most other electric mowers.
You also get a sharp metal blade, which does a good job at managing thick grass. The brushless motor you get on Spear & Jackson mowers provide plenty of power most of the time.
The main downside to Spear & Jackson mowers is they can feel quite flimsy. They're not sturdy, heavy mowers – although they won't break easily, and do come with a three-year warranty. This flimsiness just means that these mowers don't feel amazing to mow with, although they do perform well given what they cost.

Spear & Jackson lawn mower reviews
In this section, we've reviewed the performance and value for money of three of Spear & Jackson's most popular mowers.
As a relatively small, corded electric option, Spear & Jackson's 32cm lawn mower is one of the cheapest mowers you can buy right now. But is it any good?
The main downside to this mower is how flimsy it is. The majority of the mower is made of plastic, and it doesn't feel very sturdy, especially around the grass collector.
Since it's not very heavy, this does affect the performance of the rear roller on this mower – it doesn't mow great stripes. However, its weight does make the mower easy to manoeuvre though, and it's also easy to store, especially if you need to lift it onto a shelf in your garage or shed.
Fortunately, its flimsiness is the only real downside to this mower, given what it costs. The handle height can be easily adjusted, ensuring that the mower is comfortable to use no matter how tall you are.
The grass clippings collection box isn't massive, at just 30 litres, but it should be enough to mow small lawns, provided your grass isn't extremely long. If you are mowing with tough grass conditions, such as tall grass, this mower performs well, and the motor offers plenty of power – you'll just need to empty the grass collector a few times each time you mow.
Image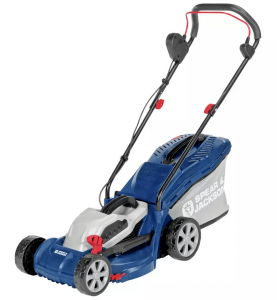 Pros
Great price.
Easy to manoeuvre.
Good performance.
Cons
Flimsy design.
Small grass clippings collector.
If you need a slightly larger corded lawn mower, this option with a 37cm cutting width is worth looking at.
This mower is about double the weight, and is twice as powerful, as the mower we just reviewed. It also comes with seven different cutting height settings, rather than six. However, it's also considerably more expensive (although this mower is still cheap, relative to most of its competitors, like the Bosch Rotak 36 R).
With the size increase also comes a larger grass bag. You get a 40 litre capacity with this mower, which is plenty for a small garden. The grass box is also easy to detatch and empty when you're finished mowing. However, there is no mulching functionality, which it would be good to see on a mower at this price point.
This Spear & Jackson mower does a good job at cutting your grass – the blade and cutting deck are well-designed. It's also easy to put together, which is nice.
It's important to note: although this mower isn't flimsy, it's not as sturdy as some other more expensive mowers of this size. It's a good weight really, unless you really like the feeling of a heavier, more planted lawn mower.
Pros
Offers plenty of power.
Easy to empty the grass box.
Assembly is quite straightforward.
For slightly larger gardens, or those prepared to pay a little more, Spear & Jackson also offers this cordless mower with a 40cm cutting width.
The first thing you'll notice about this mower is its price. Since lithium-ion batteries are still quite expensive to make, this mower is not cheap when compared to most corded mowers.
However, unlike with most other cordless lawn mowers, Argos include two batteries with this mower. This means you can swap them around in between mowing sessions, if you have a slightly larger garden. Some people have faced issues with receiving batteries that are dead on arrival, and won't charge up, but you'll be covered under warranty if this occurs.
Regarding cutting performance, this mower performs very well. It's quiet, offers a neat cut, works on thick grass, and is also easy to put together. It's also relatively light, meaning it's easy to use, but doesn't feel too flimsy.
Image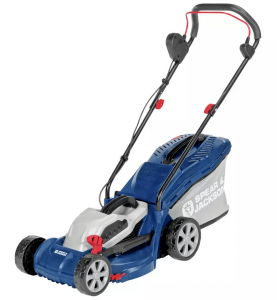 Pros
Comes with a spare battery.
Performs well, including on thick grass.
Lightweight, but not too flimsy.
Cons
Relatively expensive, due to the second battery.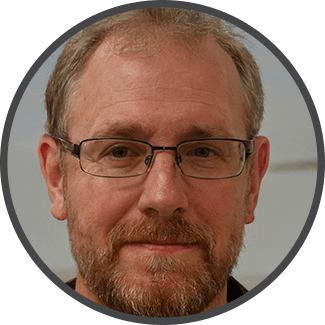 I'm Josh, and I'm the head writer at Lawn Care Pro.
I love everything lawns, but I'm a bit of a lawn mower nerd. I spend a lot of my free time tinkering with mowers, and planning my mowing schedule for the next few weeks.
I'm also into cars, which comes in very helpful when servicing a mower engine!