Considering buying a Cobra lawn mower?
In this guide, we've reviewed a few different Cobra mowers, to see if they're any good.
We've also looked at the Cobra brand in more detail, to see if Cobra mowers are worth buying.
BEST PETROL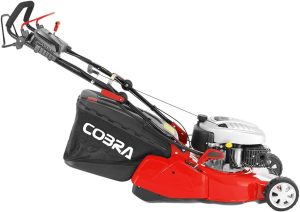 BEST CORDED ELECTRIC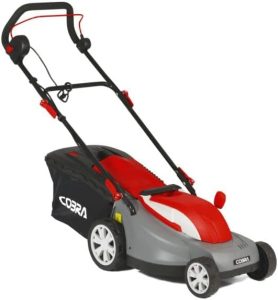 BEST CORDLESS ELECTRIC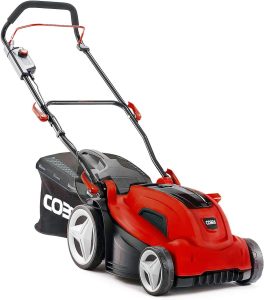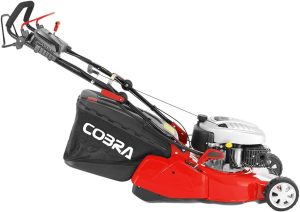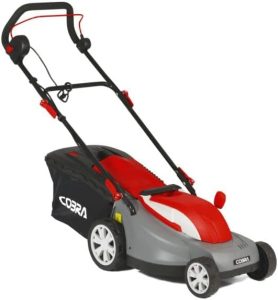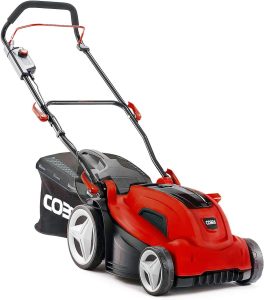 Contents
About Cobra
Cobra is a brand name of Henton & Chattell – one of the UK's biggest garden machinery distributors, founded in 1931.
Henton & Chattell are also behind other well-known gardening equipment brands, such as Briggs & Stratton.
Under the Cobra brand name, which was launched in 2013, you'll find a wide range of garden tools and machinery, including lawn mowers, chainsaws, strimmers, and hedge trimmers.
When it comes to lawn mowers specifically, Cobra has a wide range of products available, including robotic mowers, hover mowers, rotary petrol mowers, and cordless electric mowers.
Who makes Cobra lawn mowers?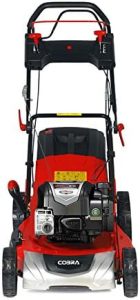 Cobra mowers are made by a number of external suppliers, rather than by Cobra or Henton & Chattell themselves. Henton & Chattell is a distributor, meaning they do not make their own mowers, and they do not reveal which suppliers they use.
Where are Cobra lawn mowers made?
Although Cobra products are designed in the UK and for British conditions, they are not manufactured in the country.
Cobra lawn mowers are made overseas by foreign suppliers.
Are Cobra mowers any good?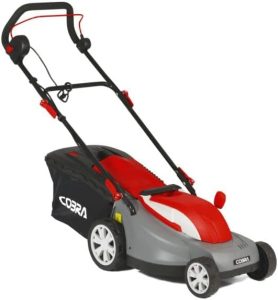 Cobra mowers are generally known to be quite good. They're not the cheapest options on the market, but they are known to be sturdy, durable, and easy to use, with a quality cutting deck.
Cobra petrol lawn mowers in particular are known to be tough, and very well made. The company actually has a separate line of lawn mowers designed specifically for professional gardeners. You won't find flimsy plastic grass boxes, like on some cheaper mowers.
Cobra's electric mowers are also known to be quite good. They use a lot more plastic on these types of mowers than their gasoline-powered machines, meaning they're lighter, and can feel a bit flimsy. However, their mowers are still very well made.
One thing many Cobra mowers lack is a mulching function. Often, you can only collect clippings in the included grass box, rather than mulching them back into the grass.
If you don't mind paying a bit more for a quality mower, then Cobra is definitely worth looking at.

Cobra petrol mower reviews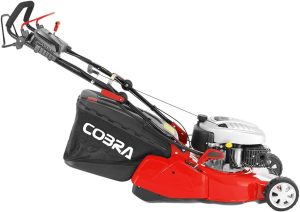 Below, we've looked at two lawn mowers from Cobra with a petrol engine.
1. Cobra M40B 40cm petrol lawn mower review
Cobra specialises in petrol mowers, and the M40B is one of their mid-size options, with a 40cm cutting width.
If you're looking for a petrol mower for a small to medium-sized garden, this machine is a great pick. Since it's relatively small, it's not too heavy, and the wheels make it easy enough to manoeuvre. The grass bag isn't massive, but at 50 litres in size, it won't need to be emptied mid-mow on a medium sized garden.
The Briggs and Stratton engine isn't extremely powerful, but has plenty of power for smaller gardens, even if you have thick grass. Plus, there are ten different settings for the cutting heights, and it's easy to switch between them with the simple lever Cobra has included.
Although it's very reasonably priced, given the build quality, there are some limitations to this mower.
It doesn't have a rear roller, meaning you can't mow stripes, and it's not self propelled, so you'll need to do all the pushing. Also, there are no mulching settings on this mower. You have to collect clippings in the included grass bag.
Pros
Reasonably priced.
Good amount of power.
Easy to manoeuvre.
10 different cutting height settings.
Cons
Not self propelled.
No rear roller.
2. Cobra RM46SPCE 46cm petrol lawn mower review
If you have a slightly larger lawn, and want a bigger, more powerful mower, the Cobra RM46SPCE is worth looking into.
This is a reasonably expensive mower, but it's a great investment to make, especially for large lawns.
For starters, it's nice and big, with a 46cm cutting width, but isn't unwieldy – you can still cut the grass with precision. The mower is self propelled, meaning it's very easy to use, even during long mowing sessions, and comes with a two year warranty.
The grass box is large, but it isn't massive, at 55 litres. For large lawns, you might need to empty it once or twice while you're mowing.
This Cobra mower also does a great job ensuring that your grass clippings end up in the bag, rather than all over your lawn. However, there's no mulch plug, so you'll need to collect your clippings as you mow.
You get a heavy rear roller included, and as a result, this machine does a great job mowing stripes. There are only six cutting heights to choose from, but the range is great – from 75mm all the way down to 17mm. This ensures you can achieve the right cutting height, depending on the time of year you're mowing.
Pros
Large, but easy to use.
Self propelled.
Doesn't leave a mess.
Can get the cutting blade nice and low.
Cons
Slightly expensive.
No mulch plug.
Cobra corded electric mower reviews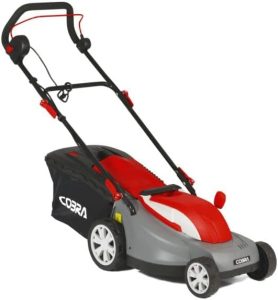 In this section, we'll review two Cobra corded electric mowers.
1. Cobra GTRM38 38cm corded electric lawn mower review
This is one of the cheapest and simplest lawn mowers that Cobra makes right now, because it has a small cutting width, and needs to be plugged in at all times when mowing.
From looking at it, you might notice the amount of plastic on the chassis and grass box. This mower doesn't feel extremely sturdy when compared to Cobra's petrol engine mowers. However, it's still durable, despite feeling quite lightweight.
This lawn mower is very manoeuvrable, partly because of the 38cm cutting width, and party because it's so light. However, the mower is also easy to steer thanks to its large rear wheels – they do a great job ensuring that you don't get stuck if you have an uneven garden.
There are seven cutting height settings, which is plenty for an electric mower at this price point, and you also get a rear roller for mowing stripes. As you mow, you'll need to collect your clippings in the included 40 litre collection bag – there is no option to mulch your clippings.
Overall, for small lawns, this mower gets the job done for a reasonable price. We just wish the build quality was a bit better, so that the mower felt a bit more sturdy.
Pros
Good range of cutting heights.
Manoeuvrably & lightweight.
Includes a rear roller.
Good price.
Cons
Feels slightly flimsy.
Overall value rating
⭐⭐⭐⭐⭐
2. Cobra GTRM40 40cm corded electric lawn mower review
If you have a bigger garden, but also have a power outlet nearby (or a long extension cable), the GTRM40 is a bigger electric mower designed for slightly larger lawns.
Apart from its larger cutting width, this mower also has quite a stronger 1600W motor, which provides plenty of power, even when mowing very thick or very tall grass.
This isn't a self propelled mower, but it is nice and light weight, making it quite easy to use. The steel cutting blade does a great job of staying sharp over time.
There are seven blade heights to choose from, which you can select with a single lever. This is quite good, especially given what this mower costs. You also get a rear roller at the back, like on most Cobra rotary mower models, and the clippings collection bag has a decent capacity.
Like many electric mowers, this machine is a bit flimsy, because it's designed to be light. However, it is well made, and comes with a two year warranty from Cobra.
Pros
Strong 1800 watt motor.
Light & easy to use.
Good range of cutting heights.
Cobra cordless electric mower reviews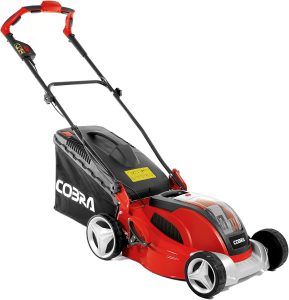 Finally, in this part we'll review two of Cobra's cordless electric mowers, to see if they're any good.
1. Cobra MX3440V 34cm electric lawn mower review
Cobra makes a few different cordless electric lawn mowers, and this is one of their smaller, cheaper options.
Despite battery powered machines typically being quite heavy, this one is reasonably light weight, and is easy to manoeuvre. The back wheels are nice and large, which is helpful when lifting the mower up to turn it around.
The lithium-ion battery pack actually lasts quite a long time, because this mower is very energy efficient. The electric motor isn't super powerful, but has plenty of power for most small to medium sized lawns. Plus, it's very quiet compared to other electric mowers.
Cobra has included five cutting height settings, from 25mm to 75mm, which is less than on many of their petrol mowers. The lowest setting isn't as low as on many of their other mowers, but still allows you to cut the lawn low enough in the warmer months.
Pros
Easy to use.
Good price for a battery powered mower.
Good battery life.
Cons
Only five cutting height settings.
You get a two-year warranty from Cobra, and the batteries and charger are included, which is nice – some manufacturers try to charge you extra for them.
2. Cobra MX4140V 41cm electric lawn mower review
If you have a large garden and want to minimise your environmental footprint when mowing, the Cobra MX4140V is a bigger, slightly sturdier option.
Unlike many other electric mowers, this model has nearly a full steel chassis and cutting deck. As you can see from the pictures, very little plastic has been used.
The settings for the cutting heights are similar to on the model we just looked at, meaning the range is a bit limited, from 25 to 75mm.
However, the big benefit of this machine is it can mulch your clippings, or feed them into the 50 litre collection bag. If you like to mulch your clippings to save time in your lawn care routine, this is a great feature to have, and not many cordless electric mowers offer it.
For large gardens, you might want to buy a spare battery to use with this mower. Its range is quite good, but it's not massive, so whether you need a spare will depend on your lawn size. However, since the mower is a bit expensive, you might not want to shell out for a second battery due to the cost.
Pros
Sturdy design.
Can mulch your clippings.
Decent battery life.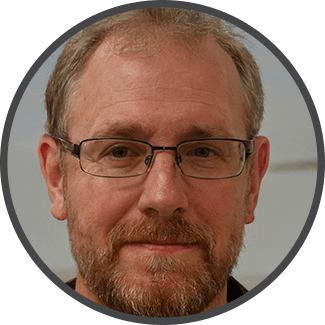 I'm Josh, and I'm the head writer at Lawn Care Pro.
I love everything lawns, but I'm a bit of a lawn mower nerd. I spend a lot of my free time tinkering with mowers, and planning my mowing schedule for the next few weeks.
I'm also into cars, which comes in very helpful when servicing a mower engine!