Do you have an uneven lawn you're struggling to mow?
In this buyer's guide, we've looked at the 5 best lawn mowers for uneven ground in 2023.
We've also looked at what type of lawn mower to buy for uneven ground, bumpy lawns, and sloped grass, helping you find the right lawn mower for your garden.
Quick comparison table
BEST SELF PROPELLED MOWER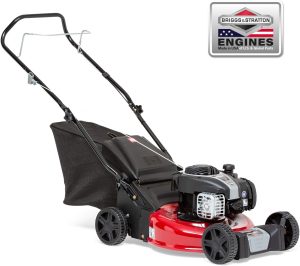 BEST HOVER MOWER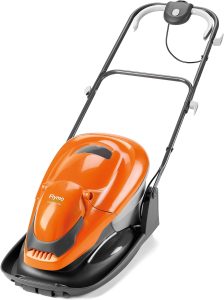 BEST ELECTRIC ROTARY MOWER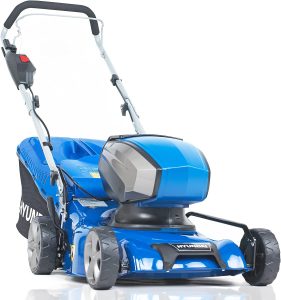 BEST SELF PROPELLED MOWER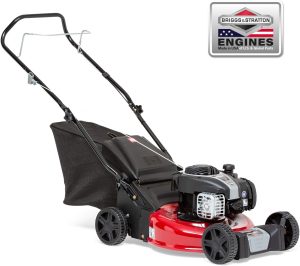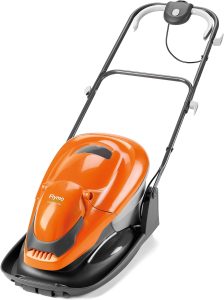 BEST ELECTRIC ROTARY MOWER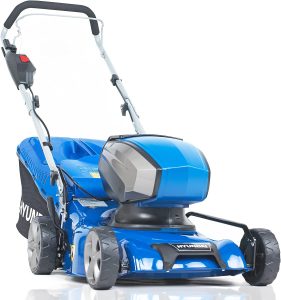 Best lawn mower for uneven ground
Let's begin our reviews.
Below, we've looked at 5 of the best lawn mowers for rough ground in the UK.
When mowing uneven ground, it helps to have a self propelled petrol lawn mower, to give you the power you need to traverse tough terrain. However, you don't want the mower to be too big or too heavy, otherwise it'll get stuck in the bumps on your lawn.
The Sprint 460P is a relatively small (compared to some other petrol mowers) but powerful mower with a petrol engine, and plenty of self propelling power. It has a 46cm cutting width, meaning it's not too bulky, and only weighs 25kg, which is quite light given the power of the motor. As a result, it can handle uneven ground with ease.
Another good thing about the 460P is the wheel design. The wheels aren't massive, but they're fairly large, and won't get stuck in small holes. Plus, you also have the choice to either rear discharge or collect your grass clippings.
This is also quite a tough little mower. It comes with a strong steel deck, and the blade remains sharp over time. The 4 stroke 140cc motor is also quite reliable, which is great.
Given its size, this isn't a super-cheap lawn mower, but it does perform well on uneven or sloping lawns.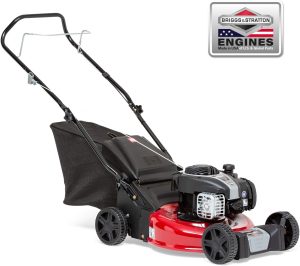 ---
Pros
Relatively light.
Large wheels.
Durable design.
Plenty of power.
Cons
Not a cheap mower, but worth the investment in our opinion.
If you'd prefer a slightly more manoeuvrable mower, or don't want something with a petrol engine, Flymo's hover mowers are worth looking at.
We've chosen the Flymo Easi Glide 330 as our #2 pick because of the strength of its air cushion. As a mid-size hover mower, it's not too heavy, meaning it floats well on uneven grass. And because it's a decent size, this mower is still wide enough to allow for efficient mowing on larger gardens, although it's best for a medium-sized lawn.
Because of the strength of the air cushion, you can push the mower in the direction that works best, given the shape of your lawn. For example, you might like push it side to side, to mow sloping ground. Or, you might push it diagonally forwards to get into hard-to-reach spots.
This mower comes with a 20 litre grass collection box, helping you avoid making a mess on your lawn as you mow. Plus, the cutting height can be set as low as 10mm, which can be helpful in ensuring that you are able to cut grass in lower spots on your lawn.
However, there is a downside to this hover mower – it needs to be plugged in at all times, and only comes with a 10m power cable. This means you might need an extension cord, depending on the size of your garden.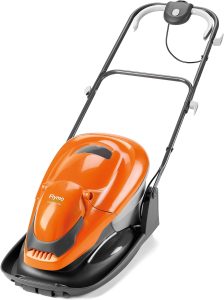 ---
Pros
Floats well, even on bumpy terrain.
Low minimum cutting height.
Easy to manoeuvre.
Cons
Needs to be plugged in at all times.
This is another self propelled lawn mower that's the same size as the Sprint mower we looked at before.
The EQ2-500 is a lightweight option, with a relatively small 41cm/16 inch cutting width, which works well on uneven ground. It's light enough to push on rough terrain, and the self propulsion system has plenty of power to keep you moving forward.
However, the best thing about the EQ2-500 is probably the handle design. It's very comfortable to hold, even for extended periods, and can be adjusted to three different height settings. This ensures that you can get the handle in exactly the right position, depending on how tall you are.
The Briggs and Stratton engine is very reliable, and the grass collection box has decent capacity, at 50 litres. You also get a 2-year manufacturer's warranty included from Murray, and there are six different settings for the cutting heights – and it's a simple single lever design, making it easy to adjust the cutting height.
It's actually quite hard to separate this mower from the Sprint 460P – they both work well on uneven ground, will cut thick grass with ease, and cost about the same amount. The best way to decide between them is to see if one is available for a slightly cheaper price at the time of buying.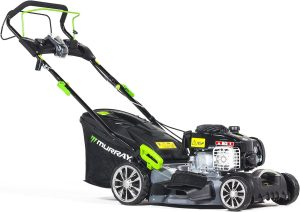 ---
Pros
Has plenty of self propelled power.
Reliable engine.
Smart, comfortable handle design.
Traverses uneven ground with ease.
If you're looking for a smaller, cheaper hover mower, this option from Flymo is worth looking at.
Because it only has a 30cm cutting blade width, this mower can get into tight areas more easily, including small bumps and holes in your lawn. You can get the cutting height down to 10mm, helping you reach grass blades you probably wouldn't be able to with a rotary lawn mower.
Also, Flymo has included an extra-long 12m power cable with this hover mower. This can be quite helpful if you're mowing the lawn a long way away from the nearest power source.
The issue with this mower is how much power it has. Flymo has included a 1300 watt motor, meaning the air cushion isn't as strong as it would be with a 1500W+ motor. In saying this, Flymo's lawn mower is easy enough to manoeuvre on most uneven lawns, because the chassis is so lightweight.
Ultimately, this is a great lawn mower for small lawns with uneven ground as opposed to a large garden. For those with a slightly bigger lawn, you might be better off with the larger version.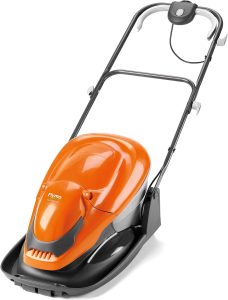 ---
Pros
Small, nimble design.
Extra long 12m power cable.
10mm minimum cutting height.
Cons
Motor could be more powerful.
Don't want a petrol powered mower, but still want something you won't have to plug into a power outlet?
This lawn mower from Hyundai is one of the very few self propelled electric mowers on the market right now. It comes with a 40v electric battery, meaning you don't need to fuel it, and you don't need to keep it plugged into a power source when mowing.
The battery powers an 800 watt brushless motor, which does a good job on uneven ground, even if you have thick grass. This electric motor also provides plenty of power for the self propelled wheels, which is helpful if you have a sloped lawn.
You also get a steel deck and chassis, just like with most petrol mowers, making this product very durable – although it is a little expensive. It doesn't have a rear roller, but it does include quite a large 46L grass box.
Another thing to note about this cordless mower – the average battery charge lasts for about 15 minutes of mowing. You may want to invest in a second battery for your electric lawn mower, unless you have a small lawn.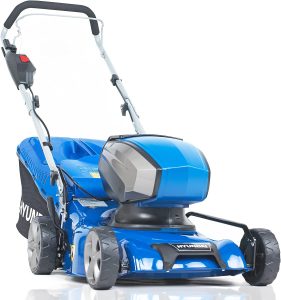 ---
Pros
No petrol needed.
Doesn't require being plugged in.
Powerful motor.
Very durable.
Cons
Relaitively expensive.
15 minute battery life.
What to look for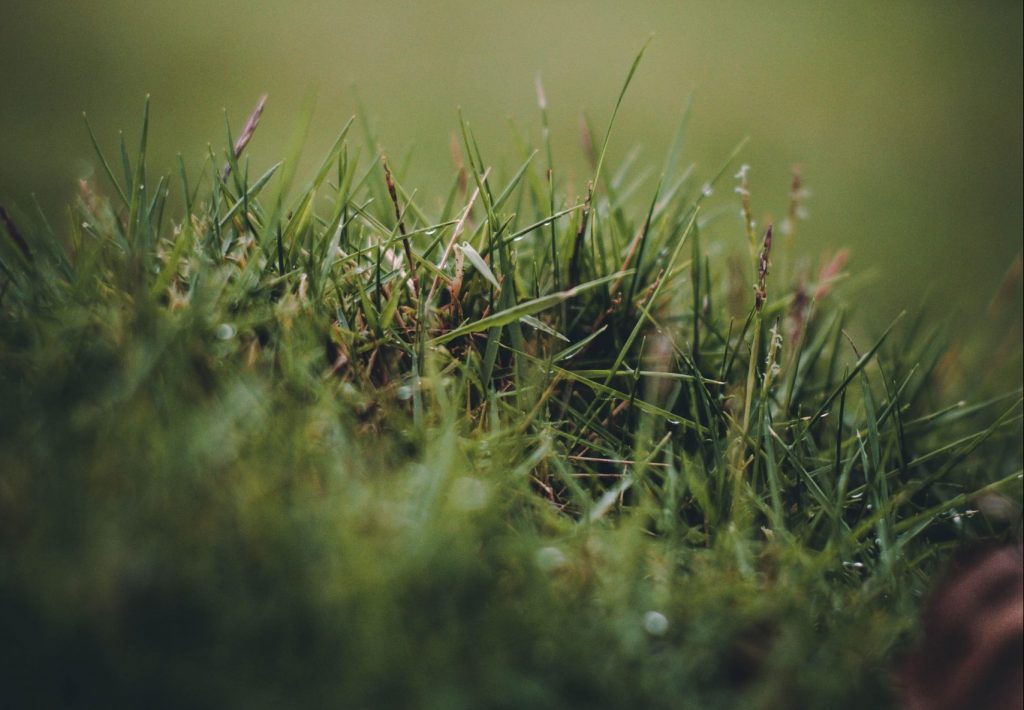 In this part, we'll explain how to find a lawn mower for uneven ground, and how best to mow grass on uneven terrain.
What are the best types of lawn mowers for uneven ground?
There are two types of lawn mower that work well on rough ground and sloping grass.
The first, and the most common option, is self propelled mowers, which only require a small amount of pushing. Their wheels are powered by the petrol engine, meaning they are easier to use when going up hills or over bumps in the ground.
Plus, like most petrol lawn mowers, self propelled mowers are generally more powerful than an electric lawn mower, especially battery powered lawn mowers. This makes mowing much more efficient when dealing with uneven ground.
The second option for mowing uneven ground is a hover mower. This type of lawn mower doesn't actually have wheels – instead, it floats around on a cushion of air inside the cutting deck. As a result, hover mowers are very manoeuvrable, even on uneven ground, and can work at up to a 45 degree angle.
Also, while most rotary lawn mowers are quite large, it's possible to buy extremely small hover mowers. This is helpful if you have an uneven garden with lots of nooks and crannies that are sometimes difficult for a large petrol lawn mower to get into.
What features should I look for in a self propelled lawn mower?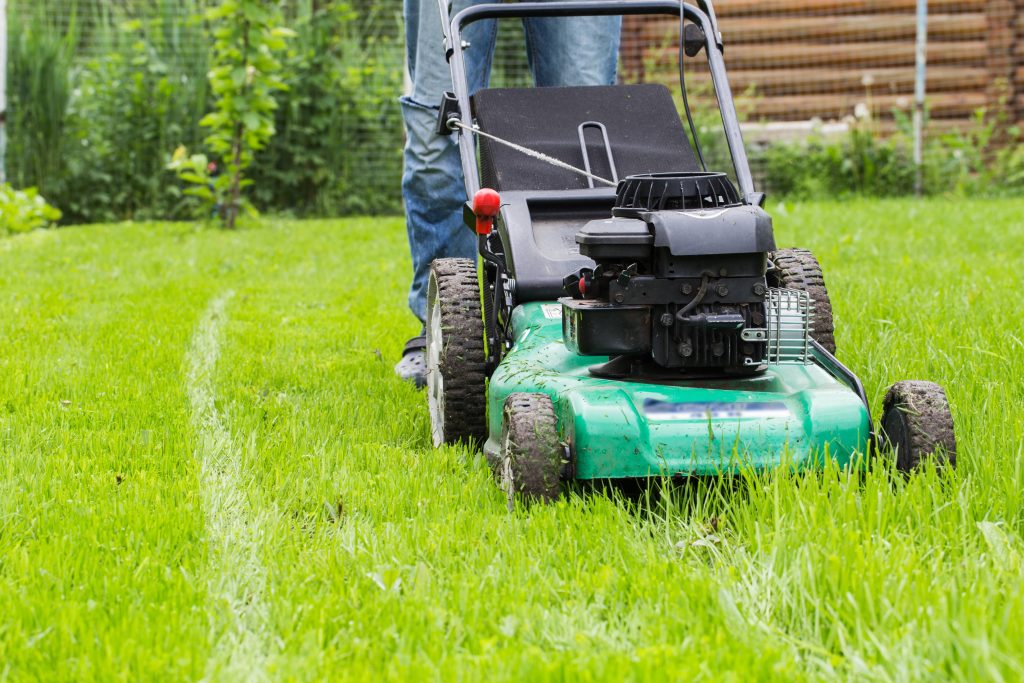 If you decide to buy a self propelled lawn mower for an uneven lawn, here are some things to look out for.
A strong petrol engine, with about three horsepower or more. Remember, the engine on your rotary mower will also power the wheels, so you want it to have plenty of power for the blade as well as propulsion. This will help it to power over uneven ground, including bumps, divots, and hills.
Large rear wheels. This is especially important if your lawn is bumpy. Having big wheels ensures that your mower won't get stuck in any holes or bumps in your lawn. If your wheels are too small, they may dig into the ground if there are any lumps in your lawn, especially if it's muddy.
A light chassis. When mowing uneven grass, you don't want your mower to be too big and heavy, as this increases the likelihood of it getting stuck, or becoming too difficult to push on uneven lawns. The issue is, most self propelled lawn mowers are very heavy by design, so even the lightest models will still be quite heavy.
What features should I look for in a hover lawn mower?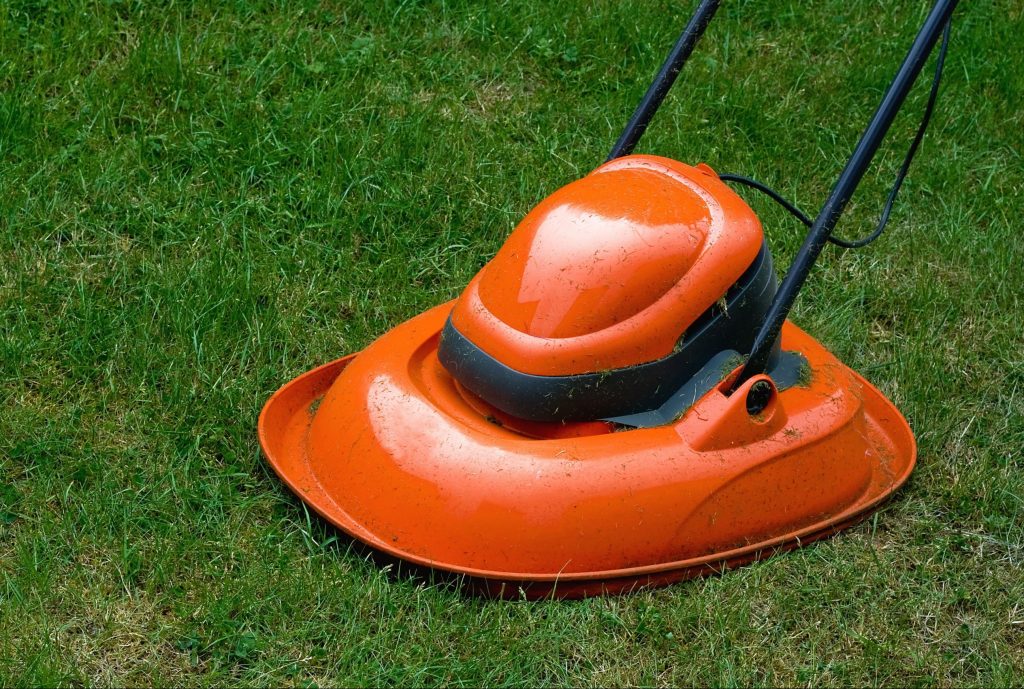 If you decide to buy a hover mower for an uneven lawn, here are some things to look out for.
A strong motor, with plenty of power. You want the lawn mower to have a very strong air cushion, otherwise you might struggle to push it up steep slopes. Ideally, you want the mower to float effortlessly, even when the ground is not perfectly flat.
A smart cutting deck design. Even if the motor has plenty of power, this won't be of much benefit if the cutting deck doesn't create a good air cushion. Ensure that you buy from a reputable brand that won't cut corners when it comes to cutting deck design, and look at customer reviews to ensure that the mower does a good job maintaining a strong air cushion, even on uneven lawns.
A lightweight design. The lighter the mower, the easier it will be to push, and the better it will work on slopes. However, there is a balance to achieve here – lighter lawn mowers will have a smaller cutting width, meaning they won't be as efficient on larger lawns.
A small cutting width. The smaller the blade, the easier it will find its way into bumps in your lawn, without having to push down. However, as we just mentioned, this will come at the cost of mowing efficiency.
How to mow an uneven lawn
There are a number of steps you can take to get a better cut on an uneven lawn.
Before mowing, remove as many stones and other obstacles as you can. If your lawn is uneven because it has rocks, stones, and other debris, you need to remove them, or consider strimming instead of mowing the lawn. Otherwise, you risk damaging your mower, and you probably won't get a good cut.
Use a slightly lower cutting height. On uneven ground, your mower blade might not be able to contact the ground easily. By using a lower-than-normal cutting height, you'll be more likely to reach the low points of your grass. However, don't adjust the cutting height too low, or your mower will be mowing the ground all the time, which you don't want.
Go slowly, and make multiple passes. Even with the best mowers for uneven ground, mowing rough terrain may prove tricky. Go slow to maximise your chances of doing a good cut, and if you're leaving patches of grass uncut, get them with a second pass.
Consider doing a second pass with a strimmer. If your lawn mower is too big to reach certain patches of grass on uneven ground, consider going back for them with a strimmer.
How to even out a bumpy lawn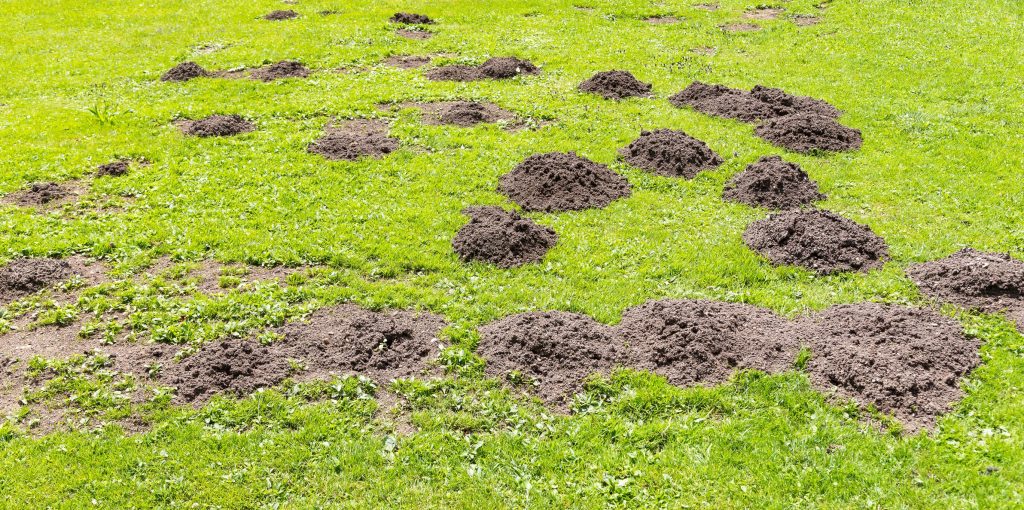 It might actually be easier than you think to level out your lawn, and make mowing much easier. This is especially true if you have lumps from the ground settling, or issues with molehills.
To level your lawn, you might be able to fix the problem using top dressing, if your bumps are less than 2cm deep. Otherwise, you might have to remove the sod, fill in the hole, and replace the turf.
You will also need to address the issues that are causing your lawn to be uneven in the first place. For example, you may need to deter animals/insects, or fix drainage issues to improve the look of your lawn.
Read our tutorial on how to level a lawn to learn more.
On slopes, should I mow uphill, downhill, or side to side?
If your lawn has a lot of steep hills, you might be wondering whether you should walk your lawn mower to the top, and then mow downhill. Or doesn't it matter whether you mow uphill or downhill?
Most good lawn mower owner's manuals will actually give some guidance as to the maximum safe operating incline. They may even tell you whether to mow uphill, downhill, or side to side on so[es.
The answer is, it depends on the type of incline you're working with. Sometimes, mowing side to side will make the most sense from a safety point of view, however this may provide tricky with a heavy mower. If the hill is not extremely steep, then mowing up and down may be the safest option.
When choosing which method to use, safety should be your number one priority. In terms of lawn care and grass health, it doesn't matter which way you mow your grass, although it's a good idea to mow in different directions with each cut, to prevent the grass blades from bending over time.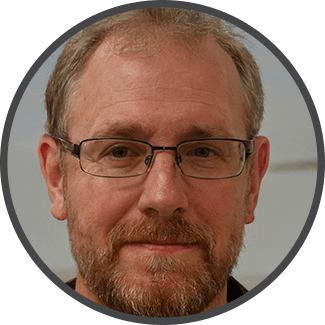 I'm Josh, and I'm the head writer at Lawn Care Pro.
I love everything lawns, but I'm a bit of a lawn mower nerd. I spend a lot of my free time tinkering with mowers, and planning my mowing schedule for the next few weeks.
I'm also into cars, which comes in very helpful when servicing a mower engine!