Looking for a self propelled petrol lawn mower that will allow you to mow efficiently?
In this buyer's guide, we've reviewed the top 7 best self propelled lawn mowers for sale in the UK in 2023.
After that, we've explained what you need to know to find the best petrol lawn mower for your needs.
Quick comparison table
BEST FOR LARGE LAWNS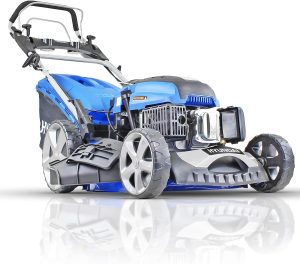 BEST FOR MEDIUM LAWNS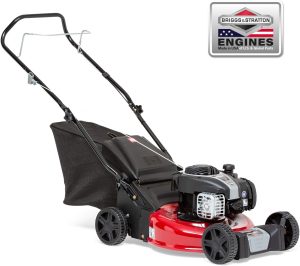 BEST FOR SMALL LAWNS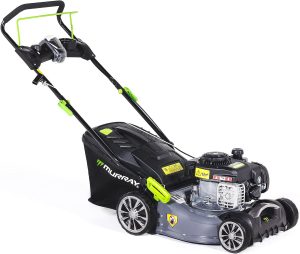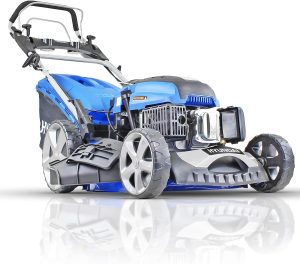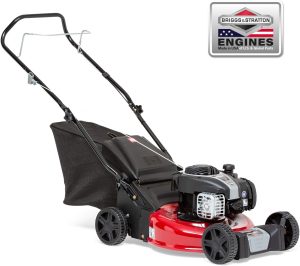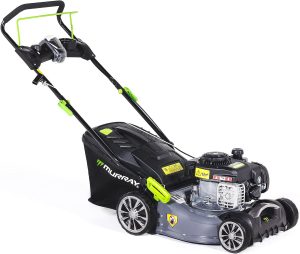 Best self propelled lawn mowers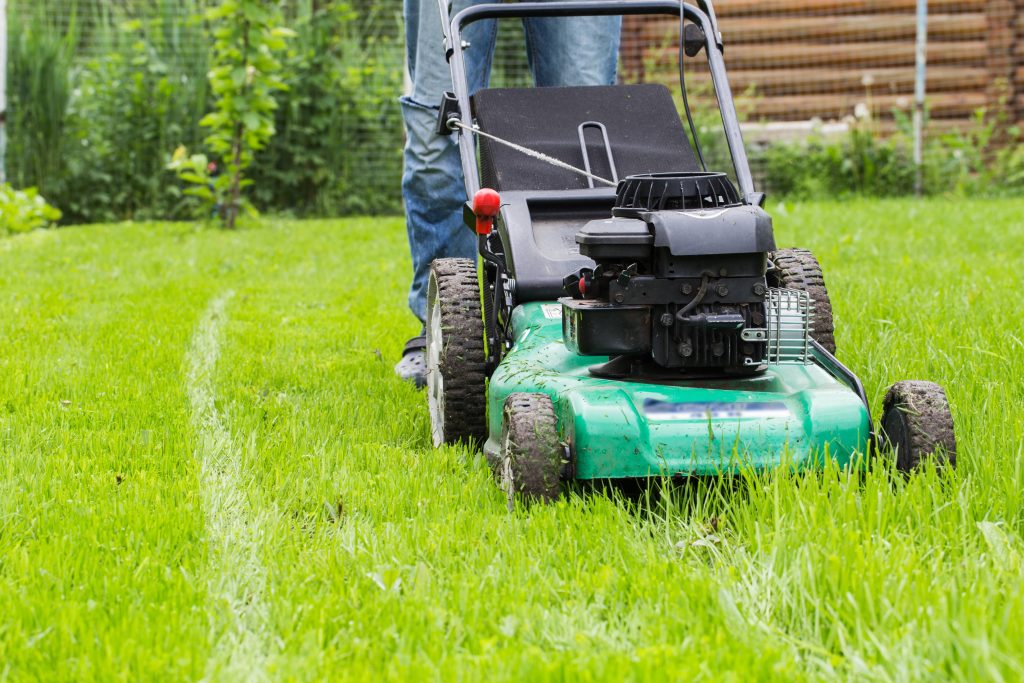 Time to begin our reviews.
In this part, we've looked at the 7 best self propelled mowers you can buy right now, based on their efficiency, cut quality, durability, and value for money.
This mower from Hyundai is just about the best self propelled mower you can buy, in terms of overall quality.
It's not a cheap mower, but it's extremely efficient, and very well made. It comes with a 51cm cutting width, allowing it to cut a massive amount of grass with each pass. And despite being quite big, this lawn mower is still reasonably manoeuvrable – the wheels are great quality.
The 4 stroke motor has plenty of power, enabling the durable steel blade to cut through thick grass with ease. This also ensures that you can go uphill easily with this lawn mower, without having to push it. The HYM510SPE has plenty of self propelled power.
It comes with a 70 litre grass bag, ensuring you don't have to keep emptying it all the time. Plus, you can side discharge or mulch your grass cuttings, if you'd prefer. You also get a push button electric start, making it effortless to get going with this lawn mower. And Hyundai includes a wash port, to help you clean the cutting deck more easily.
This isn't a cheap lawn mower. However, if you have a large garden, or are just looking for the best self propelled lawn mower you can buy, then it might be worth the investment.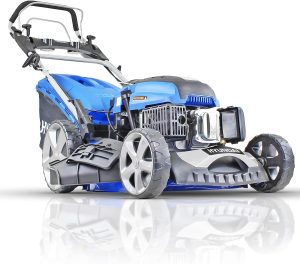 ---
Pros
Wide – very efficient.
Works well with thick grass.
Has plenty of power, even for steeper slopes.
Includes an electric start.
If you're looking for a cheaper, smaller self propelled lawn mower, the Sprint 460P is worth looking at.
It comes with a 46cm cutting width, which is still quite a wide blade for a rotary lawn mower. However, it's not too big, and is still easy to turn and manoeuvre if you have a small or medium sized lawn.
This isn't the most expensive self propelled mower out there, which is why it has a recoil start, rather than an electric push button. However, it still comes with a reliable Briggs and Stratton engine, and delivers a clean, consistent cut.
You can collect or rear discharge your grass clippings as you mow, and the handlebar is very comfortable to hold for extended periods. This is also a tough little lawn mower – it's very sturdy, but isn't too heavy.
The only downside to this self propelled mower is it's not the best on steep slopes. Although the self propulsion system is good, you might need a more powerful mower on uneven lawns, since the mower is slightly heavy, given its cutting width.
However, If you're looking for a good value mower, or only have a medium-sized garden, this lawn mower is a great pick.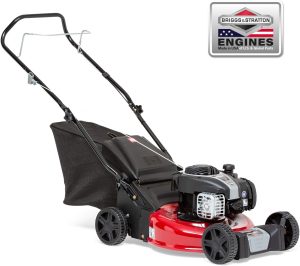 ---
Pros
Great value.
Durable.
Good cut quality.
Lightweight.
Cons
Not the best on steep lawns.
This is another relatively cheap self propelled lawn mower from Murray. The difference is, this is possibly the smallest self propelled mower you can buy, with just a 41cm cutting width.
As a result, this lawn mower is very manoeuvrable, especially compared to most other petrol lawn mowers. It also has good self propelling power, allowing it to perform well on steep lawns, and it can cut grass of almost any length with ease.
The grass box is also a decent size, at 60L, and the four-stroke Briggs and Stratton engine offers good durability. It's easy to start, and doesn't begin to cough or splutter over time if maintained properly. You can also rear discharge your grass clippings, but there is no mulching function.
The issue with the EQ2-300 is it's not the easiest mower to use. It comes with a recoil start, and the bar on the handle you use to activate the throttle is quite thin, making it a bit uncomfortable to hold for extended periods.
Also, the grass box is angled downwards, meaning that you will nearly always spill clippings when you take it off.
---
Pros
Good power – allows you to mow almost any length of grass.
Small & manoeuvrable.
Great price.
Cons
Not the easiest mower to use – some parts could be designed better.
Honda's self propelled petrol mower is surprisingly expensive. It's more expensive than the Hyundai we looked at before, despite being smaller (46cm vs 51cm).
The main reason that this lawn mower is expensive is the material it's made of. Honda's mower comes with a pressed steel deck – there is much less plastic used in the design when compared to most mowers. As a result, it's very durable, and comes with a 5 year warranty, but is relatively heavy for a 46cm mower, at 31kgs.
Another reason for the price of this mower is the quality of the engine. Honda's petrol motor is powerful, but also very clean and quiet for a four-stroke engine. It's also relatively easy to service – you can access the spark plug easily, and can get to the air filter without having to use any tools.
Although there's a well thought-out mulching function on this mower, it doesn't come with a rear roller, and there's no option to attach one. Also, you only get a recoil start with this mower, which is a little disappointing given what it costs.
This mower is really for those looking for a powerful self propelled mower who know what they're doing, and want to perform their own maintenance. If this is you, then the ease of servicing the engine will be very useful, and you won't be too concerned about the lack of an electric start.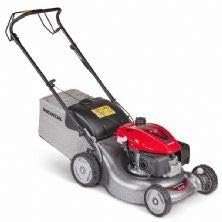 ---
Pros
Great build quality.
Can mulch clippings.
Excellent quality engine.
Easy to service.
Cons
No electric start.
Expensive.
The Cobra RM40SPB is a 40cm wide petrol mower, suitable for lawns up to 600 square metres in size. It's not the biggest mower, but offers great manoeuvrability due to the small blade length.
One of the first things we should mention about this mower is it does a great job mowing stripes. The included rear roller has a good weight to it, and does a good job pushing the grass down as you mow, especially if you cut the grass short.
Speaking of which, this petrol lawn mower has one of the lowest cutting settings on any self propelled rotary mower you can buy in the UK. It will cut as low as 17mm, which is perfect for those looking for an extra manicured look. On the highest setting, it will cut at 75mm, and the 6 cutting height settings are easy to change between using the adjustment lever.
Another unique thing about this self propelled petrol mower is the rear wheels are shrouded in plastic, which is quite an unusual design. This is to prevent dirt or mud from flicking up and towards the user as you mow. However, it does make it a bit difficult to scrape mud off the back wheels, if you're mowing slightly damp grass.
The 125cc motor Cobra has used offers a good amount of power from its rear-wheel drive system, moves at a decent speed when self propelled. However, there's no mulching or side discharge setting, which would be nice to see on a mower at this price point.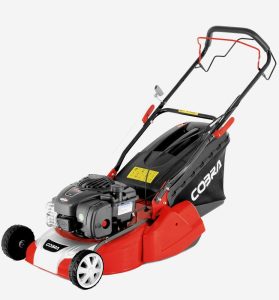 ---
Pros
Great cutting height adjustment options.
Perfect for mowing stripes.
Offers plenty of power.
Easy to manoeuvre.
Cons
No mulching or side discharge setting.
Not the best for large gardens.
Einhell's 46cm self propelled mower is another premium option. It's not the most expensive petrol mower on the market, but it's not cheap either.
In return for the extra money, you actually get quite a lot of value from Einhell's lawn mower. As an example, it will mow right up to the edge of your garden, thanks to the includes grass combs.
You can also disengage the rear wheel drive if desired, stopping the mower from being self propelled, which is useful when mowing in tight spots where you don't want to move forward too fast.
This isn't the lightest or the most manoeuvrable petrol mower out there. However, its steel blades are great quality, and produce a quality cut, even on thick grass. The 1 cylinder 4 stroke motor provides plenty of power, and good endurance. This is an extremely efficient lawn mower – it's suitable for lawns up to 1400 square metres in size.
The rear wheels are nice and large, which makes helps this mower to perform well on undulating terrain. The steel housing is tough, as is the 50 litre grass box, because it's made of a tough, thick type of fabric.
---
Pros
Sturdy design.
Produces an excellent cut.
Mows right up to the edge of your garden.
Cons
Slightly expensive, but you do get a lot in return.
This lawn mower is another option with a 46cm blade and a quite powerful 125cc/2.7hp 4 stroke motor.
The McCulloch M46-120R is for those looking for the best cut possible. It'll destroy thick or long grass, thanks to the quality of the steel blade, with next to no effort on your part, because it's self propelled.
However, this lawn mower isn't the best for those looking for a short, manicured finish. In terms of cutting height, it's easy to adjust, but will only cut as low as 30mm, not 20mm as is the norm on most rotary lawn mowers. The maximum cutting height is better though, at 80mm tall.
In terms of build quality, McCulloch has done a great job with this mower. It comes with a durable steel deck (although there's no wash port) and the wheels are very tough. Plus, the handle is comfortable to hold, even for extended periods, and can be folded down easily. This mower works well if you need something easy to store in a small space in your garage or shed.
The downside to this mower is it won't mulch your clippings. You'll have to collect them in the 50 litre grass collector. However, the price is quite good, given this mower's durability.
---
Pros
Good price.
Great durability.
Excellent cut quality.
Can fit in small spaces when folded down.
Cons
No mulching plug.
30mm minimum cutting height.
Self propelled lawn mower buyer's guide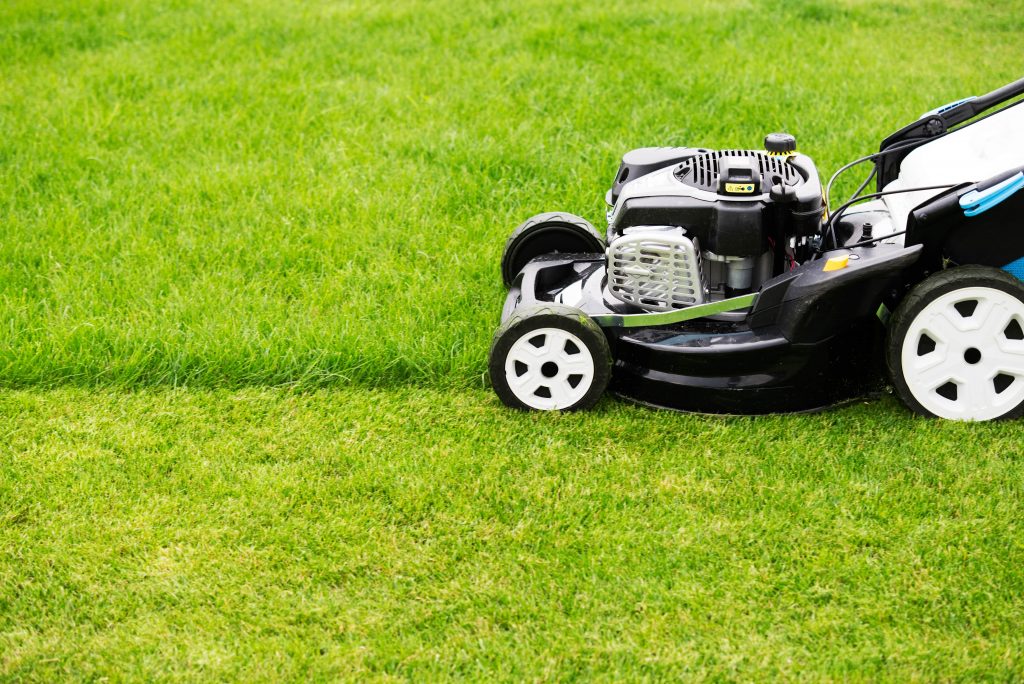 Now we'll explain what you need to know when looking for a petrol self propelled lawn mower.
What types of lawn mower are self propelled?
Generally, only some petrol lawn mowers are self propelled.
Electric lawn mowers, on the other hand, are very rarely self propelled. Only the most expensive cordless electric lawn mowers have a self propelled setting, because this feature makes their batteries run out quickly.
Therefore, if you want a self propelled mower, you're looking for a petrol mower, either with a single speed or variable speed self propelled motor.
What size of self propelled lawn mower do I need?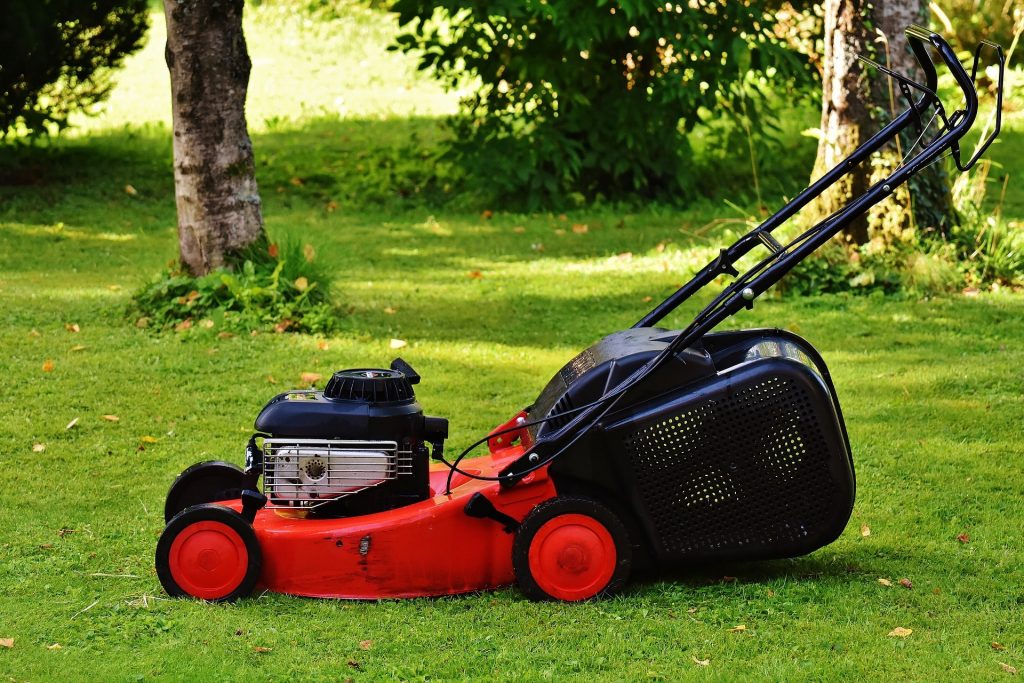 Self propelled lawn mowers are a popular option for those with large gardens. They make it much easier to mow large areas, especially if your garden is sloped in areas.
If you do have a large garden, it's best to get a large petrol lawn mower to maximise efficiency. Look for a mower with a cutting width of 50cm or more to maximise the amount of grass you're cutting with each pass. You may also want to consider a ride on mower if you have acreage.
Self propelled petrol mowers are also popular for those with limited mobility or strength – you don't need to have a massive lawn to find value in a self propelled lawn mower.
If you only have a small or medium sized garden, then you can choose a smaller petrol-powered mower, with a cutting width of around 40cm, to improve manoeuvrability.
What power self propelled lawn mower do I need?
The power output of self propelled petrol lawn mowers is measured in horsepower (HP). Typically, petrol lawn mowers come with a horsepower rating in the 2-3hp range.
The larger the mower, the more horsepower you'll need. More power means that the mower will be easier to push, even if it's heavy, and will help the rotary blades to cut through thick grass more easily.
We recommend getting a lawn mower with at least 2.5hp, or 2.8hp if you have a large lawn with slopes and undulating terrain. This will give you more propulsion, which will be helpful on uneven ground.
How to manage the self propulsion on a petrol mower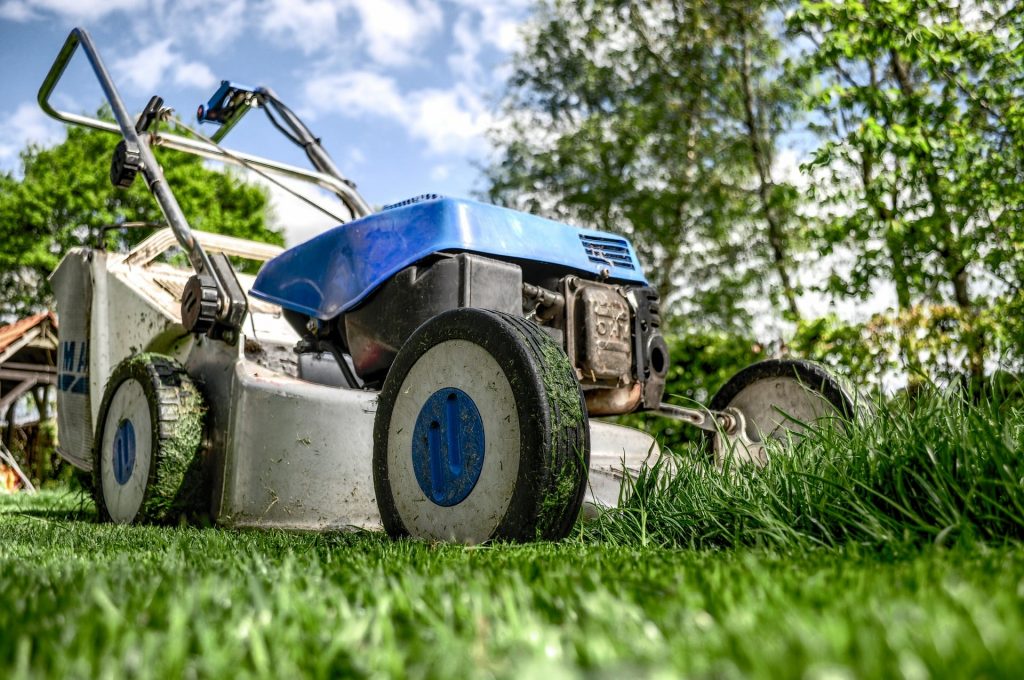 There are two steps to operating the drive on a self propelled lawn mower:
Choose the speed setting. Your mower may have multiple settings to define how fast the wheels spin when the drive is activated. This is known as variable speed.
Pull the bar on the handle towards you once the mower is switched on to engage the drive. You can then guide it where you want to mow, without having to push. You can then release the bar to stop the wheels from turning, stopping the mower.
Nice to have features to look for on a petrol lawn mower
Apart from self propulsion, there are a number of good features to have on a petrol mower.
Here are some of the features that are actually worth paying for.
Electric start – you push a button to start the lawn mower, rather than having to use a ripcord (also known as a recoil start). This is very helpful is you have limited strength. As a lawn mower gets older, the recoil start can be quite tough to use.
Zero turn – some lawn mowers are able to turn within their own footprint. Having a zero turn mechanism can be very useful for improving manoeuvrability, especially on large petrol lawn mowers.
Mulching plug – some lawn mowers give you the option of mulching your grass clippings, rather than collecting them in the included grass box. This means that the clippings are chopped into extremely fine pieces, and then returned to the ground. They will then decompose and act as compost for your garden, providing vital nutrients.
4 stroke motor – petrol lawn mowers will either come with a 1 cylinder 4 stroke motor or a 2 stroke motor. 4 stroke motors are generally quieter and produce less pollution than a 2 stroke motor. They also require you to add fuel and oil separately – you don't have to mix the two together prior to fueling the mower, saving you the hassle of doing this. Plus, 4 stroke engines are generally longer lasting. While 2 stroke motors do have their advantages, in that they're lighter and more powerful, 4 stroke engines are generally the better choice when buying a lawn mower.
Easy cutting height adjustment lever – avoid any lawn mowers that require you to tip them over and access the cutting deck to adjust the cutting height. The cutting height should be adjustable with a lever on the top of the mower.
Variable speed – some self propelled petrol lawn mowers have variable speed settings, allowing you to adjust how fast the mower moves forward. However, these lawn mowers with variable speed settings are often very expensive.
How much should I expect to pay for a self propelled mower?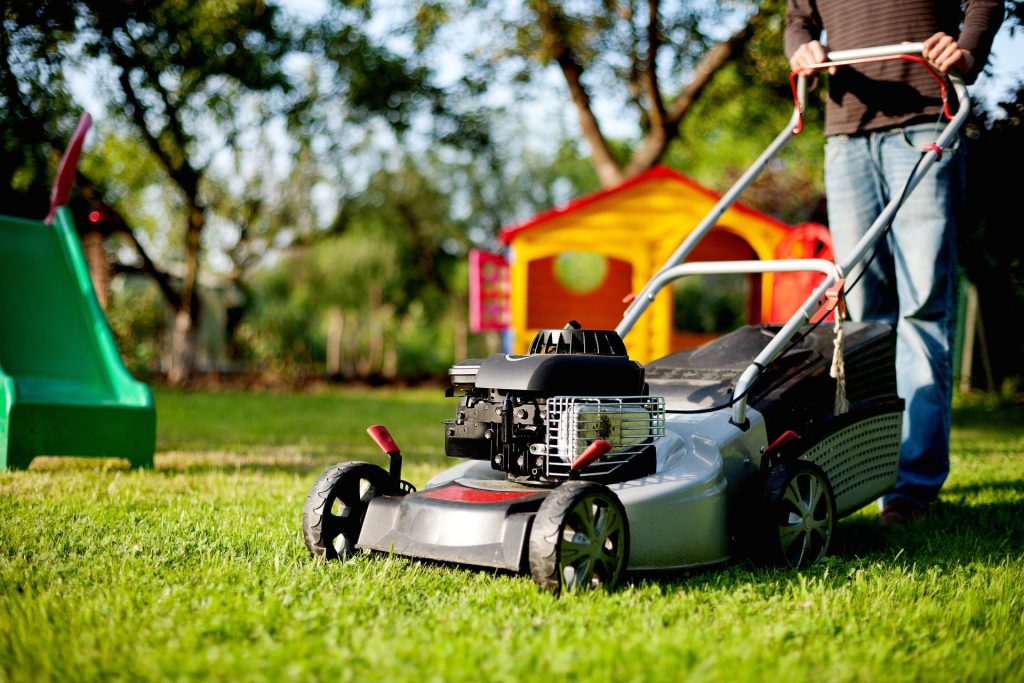 The cost of different lawn mowers depends on a) their size and b) the amount of extra functionality you get. For example, if there are two mowers with the same cutting width, and one has a mulching plug and an electric start and the other doesn't, the mower with these two features is generally going to be more expensive.
For a good quality petrol mower with self propulsion, you can expect to pay about £300-£350 or more, depending on the blade width.
What do I need to know about operating a petrol lawn mower?
If this is going to be your first time owning a petrol lawn mower, it's important to know how they work, and how they're maintained.
Here's what you need to know about owning a lawn mower with a petrol engine.
Petrol mowers normally come with a 4 stroke motor. This means that you will need engine oil to begin using the lawn mower, as well as fuel. Sometimes, manufacturers will include engine oil with the lawn mower, but most often they don't, so you'll have to buy it separately.
Petrol-powered lawn mowers can be quite loud, and produce a decent amount of petrol fumes. You'll need earmuffs to protect yourself from the noise, and you'll need to avoid mowing early on a Sunday morning to keep the neighbours happy. In saying this, more modern petrol mowers are a lot quieter than older models. Keep an eye out for lawn mowers with specific noise-cancelling functionality if you want a quieter mower.
Petrol mower engines need maintaining in a similar way to a car's motor. For example, you'll need to replace the spark plug when it gets dirty, and change the oil on a regular basis. You'll also need to clean out or replace the air filters. Fortunately, there are dedicated mower mechanics you can use if you'd prefer not to do this work yourself.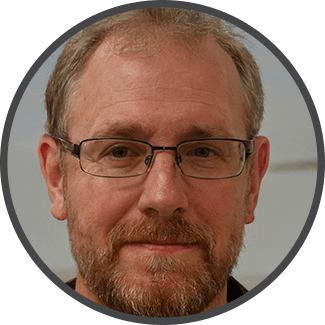 I'm Josh, and I'm the head writer at Lawn Care Pro.
I love everything lawns, but I'm a bit of a lawn mower nerd. I spend a lot of my free time tinkering with mowers, and planning my mowing schedule for the next few weeks.
I'm also into cars, which comes in very helpful when servicing a mower engine!