Want to mow awesome lawn stripes in your own back garden?
In this article, we've reviewed the 5 best roller lawn mowers in the UK, for mowing stripes.
Quick comparison table
BEST ELECTRIC ROLLER MOWER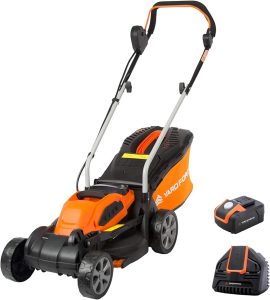 BEST PETROL MOWER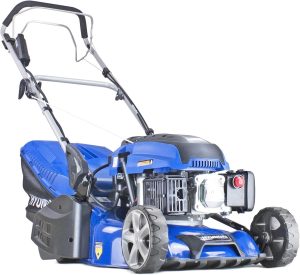 BEST PRICE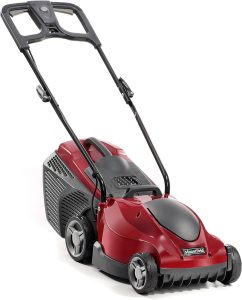 BEST ELECTRIC ROLLER MOWER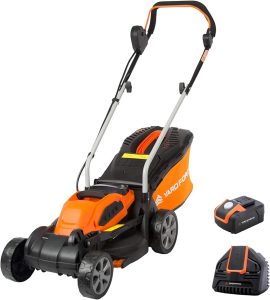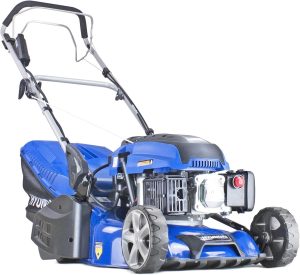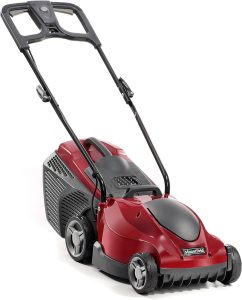 Contents
Best roller lawn mowers in the UK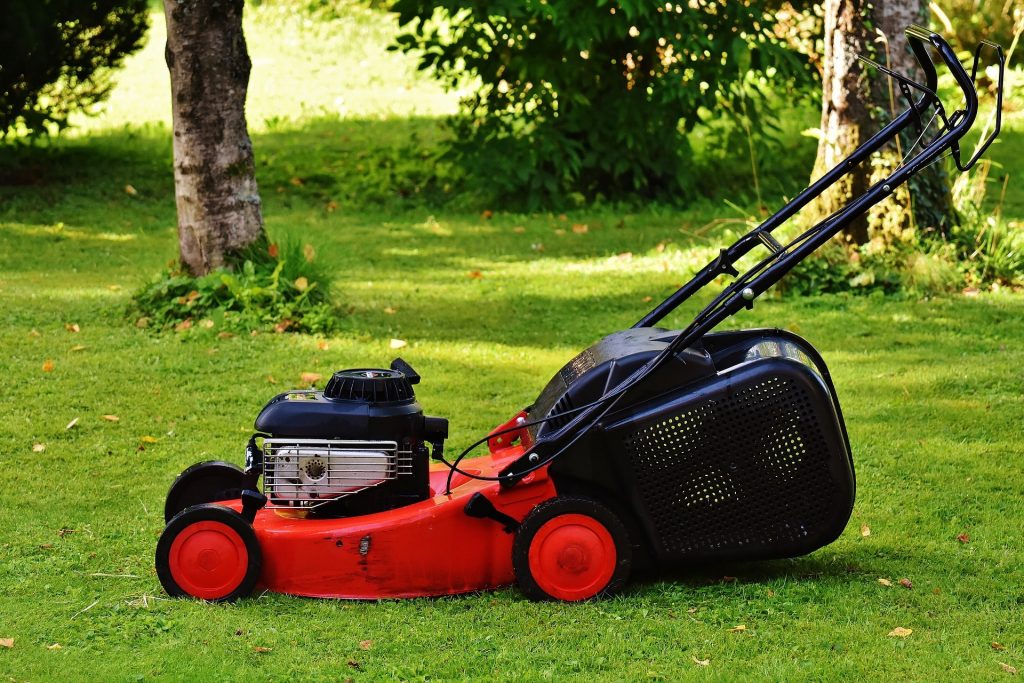 Let's begin our reviews.
In this section, we've looked at the 5 best lawn mowers with a rear roller for mowing stripes in the UK.
Cordless battery-powered lawn mowers are becoming increasingly popular in the UK, especially for those with a small to medium sized garden. They're convenient, quiet, and easy to maintain.
This electric rear roller mower from Yard Force is a mid-budget option. It's not cheap, but not expensive either. For the price, it's very sturdy, and is actually quite nice to use. The folding handles are nice and soft, and the wheels turn smoothly.
For mowing stripes, it does a great job. It's easy to mow in straight lines, and the roller does a good job flattening your lawn behind you. There are seven different cutting heights, from 25-75mm, making it possible to keep the lawn high enough to create more obvious stripes.
As you mow, you can collect your clippings in the 40 litre grass bag, to make it easier to see the pattern you're mowing. There is no mulching feature, but the cutting width is decent, at 37cm, allowing you to create wide stripes if desired.
This mower isn't the best choice for large gardens, as the battery capacity isn't going to be big enough. However, if you want to mow stripes on a mid-sized garden, this is a great choice.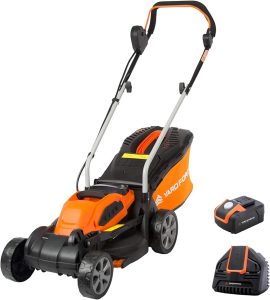 ---
Pros
Reasonable price.
Good cutting width.
Does a great job mowing stripes.
Sturdy.
Cons
Not the best for large lawns.
This is a sell propelled petrol mower, designed for lawn care enthusiasts and those with large gardens.
Compared to Mountfield's petrol mower, which we've looked at below, this option has a slightly weaker engine, at 3.7 HP/139 cc. However, it has a larger cutting width, at 43cm, making it slightly more efficient.
Hyundai's mower also has a higher maximum cutting height adjustment, at 75mm, which is great for mowing stripes. No matter which of the cutting heights you use, the rear roller does a great job bending your lawn blades, making your stripes really stand out.
The grass collection is also better on this rear roller mower – it comes with a 45 litre grass box, and can also rear discharge your clippings. The push button electric start mechanism is also very useful, and is a self propelled mower, which is helpful when mowing on slopes.
Overall, if you're looking for the best self propelled petrol lawn mower with a rear roller, it's hard to go past this option. However, it is slightly expensive.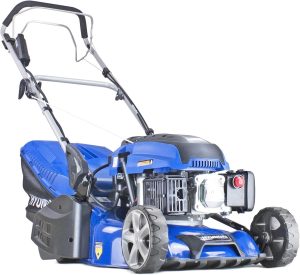 ---
Pros
Good range of cutting heights.
Works great for mowing a striped finish.
Wide cutting width.
Self propelled.
The Mountfield Princess 34 is one of the cheapest rear roller mowers you can buy in the UK right now. But is it any good?
Part of the reason it's so cheap is how it's powered – this is a corded mower. Because there's no battery, and no complex petrol engine, meaning it's not self-propelled, Mountfield is able to keep the price down.
However, this does make the mower a bit more difficult to use. You'll need to ensure you have somewhere nearby to plug it in, and you'll have to be careful to avoid mowing over the power cable.
There is one good feature about the Princess 34 though, especially given its price: this mower comes with a mulching plug. This means you can turn your clippings into compost for your lawn, while also mowing stripes, if you'd like. You can always discharge them too, by taking out the mulching plug.
For the price, this mower does a great job mowing patterns – the rear roller works well. If you want a mains electric rear roller mower, this is a good choice.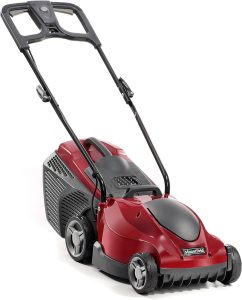 ---
Pros
Great price.
Includes a mulching plug, or you can discharge clippings.
Rear roller works well.
Cons
Corded – can be a bit of a hassle.
Flymo is known for making beginner-friendly, easy to use lawn mowers. This particular option, which includes a rear roller, is no exception.
It has a three hour battery life, which is plenty for mowing stripes on a smaller garden. It's quite light for a mower with a lithium-ion battery, and is easy to manoeuvre.
However, the cutting width is only 30cm, which limits the width of the stripes you can cut. Although they might end up thin, you can still take the cutting heights up to 65mm, ensuring the stripes will be nice and visible.
The best part really about this rear roller lawn mower is what it costs. Given its battery life, and its ease of use, the price represents quite good value for money, especially if you want to minimise lawn mowing hassle.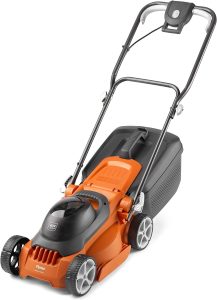 ---
Pros
Easy to use – beginner friendly.
3 hour battery life.
Great value for money.
Cons
30cm cutting width – only good for a smaller garden.
For larger lawns, or those who prefer petrol mowers, this product from Mountfield is worth checking out.
With a 41cm cutting width and 4-stroke Stiga engine, this mower allows for efficient, consistent mowing. You can mow more grass in less time, and with less waiting around for batteries to charge. It works great on longer grass as well.
The rear roller on this mower is nice and thick, and does a great job flattening your lawn as you go. In terms of sheer stripe-making ability, this mower is one of the best on the market.
Mountfield's mower includes a large grass box, at 55L, and does a fantastic job collecting your grass clippings. The engine is also very reliable – however you do have to supply your own oil to begin with. Also, this mower is self propelled, meaning you won't have to push it along.
This isn't a cheap lawn mower. However, for those serious about lawn care, this rear roller petrol mower is worth the investment in our opinion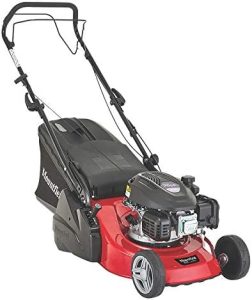 ---
Pros
Self-propelled.
Large 41cm cutting width.
Fantastic rear roller, does a good job leaving a striped finish.
Large grass box.
Roller lawn mower buyer's guide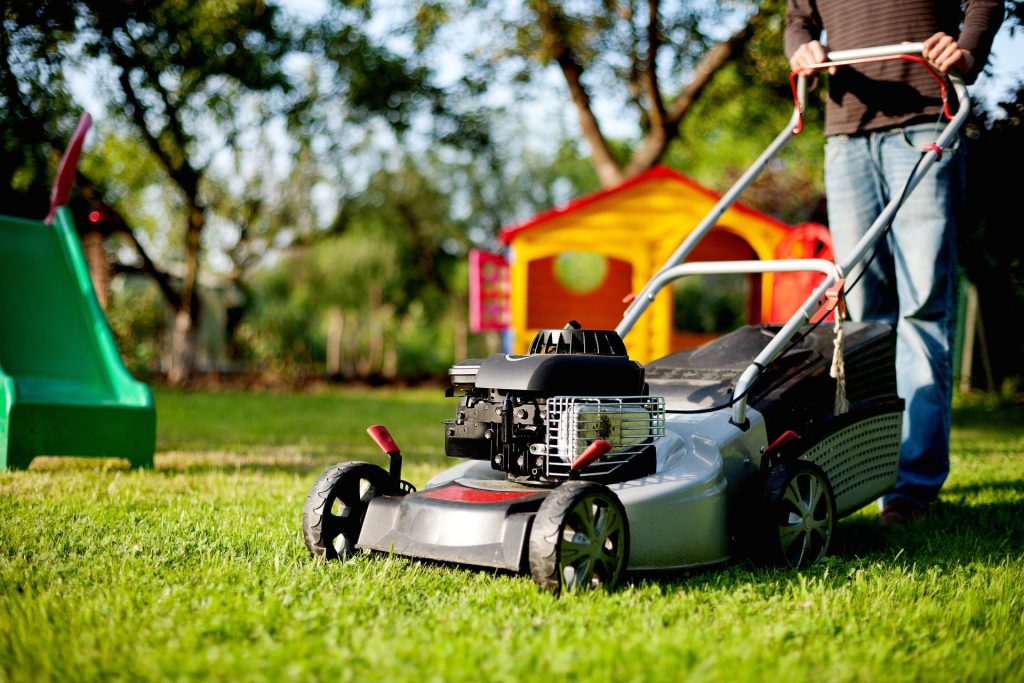 Now we'll explain what you need to know when buying a roller lawn mower.
We'll also discuss what you need to know about mowing a striped lawn.
How does a rear roller work?
A rear roller on a lawn mower is a small cylinder, typically made of metal, that flattens the grass behind you as you mow.
As you push the mower forward, grass enters the cutting deck, and is cut. It's then immediately flattened by the roller, helping you to create a striped lawn.
Patterns are created because light reflects differently off grass bent in different directions. Grass blades bent towards you look dark, while blades bent away from you you look light. Mowing opposite directions in a horizontal line pattern will create a striped lawn..
Note: rear rollers are quite different to standalone rollers. The latter is much heavier, and is designed to flatten the ground. Rear rollers will just bend the grass, rather than flattening the dirt itself.
What types of lawn mowers can mow stripes?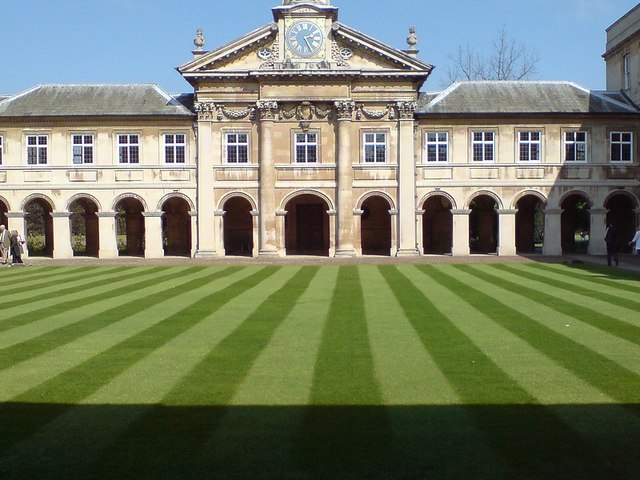 The easiest way to mow stripes (or any other pattern) into your lawn is to use a roller lawn mower. With a roller mower, you get a rear roller included, to help you mow patterns more easily.
For most British lawns, a walk-behind rotary lawn mower with a roller is best for mowing patterns. This is your typical type of lawn mower. Unlike a cylinder mower, which has horizontally rotating blades, a rotary mower has a more simple blade design that cuts parallel to the grass.
Also, having a self propelled petrol lawn mower can be extremely helpful, as it makes it easier to push the mower. If you have a self propelled rear roller petrol mower, rather than a push mower, you can focus on keeping it straight, and mowing neat stripes, rather than having to focus on pushing the mower.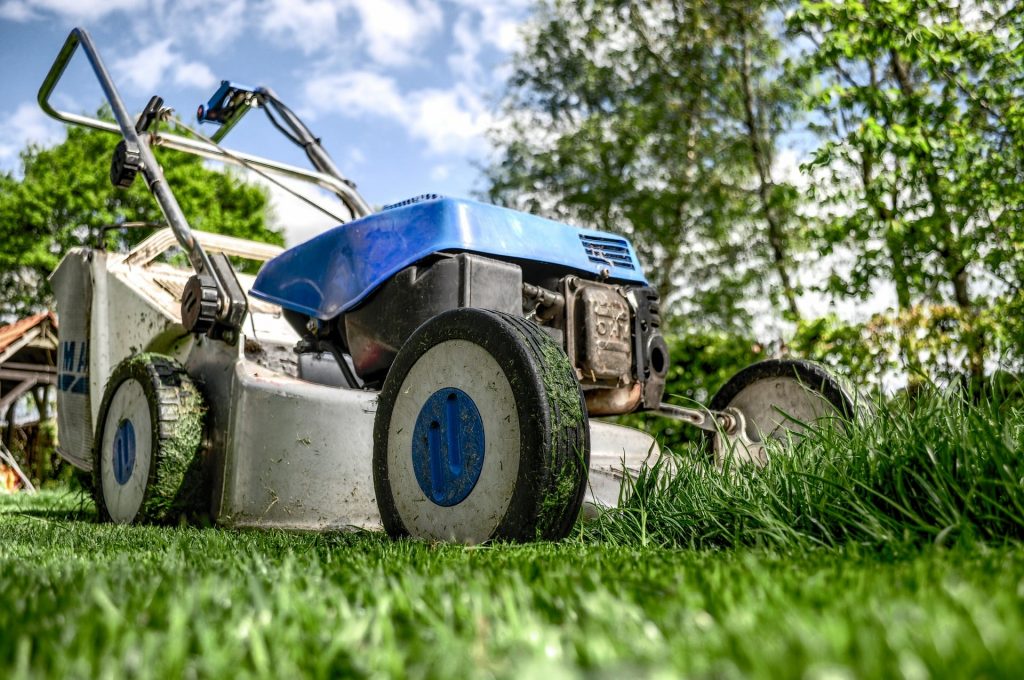 You also need to consider which type of rotary mower is best for you. The two types of rotary mower with a rear roller are:
Petrol mowers. Best for medium to large sized lawns, petrol mowers are typically self propelled, and make for easier, more efficient mowing. However, you'll need to constantly fill them up with petrol, and they can be quite noisy.
Electric battery-powered mowers. Battery-powered, cordless mowers with a rear roller are becoming a lot more common in the UK. The issue with these products is although they're reasonably quiet, and do just as good a job at mowing, they can be quite heavy depending on the size of the battery.
Electric corded mowers. Similar to battery-powered mowers, except you must plug them into mains power to begin mowing. Because they don't need a battery or a petrol tank on board, these are often the cheapest type of rear roller mowers. They're also often very light, and are simple to use – no need to worry about refuelling or charging the battery. However, you have to take care not to mow over the power cable when cutting your grass with a corded mower.
For many households, cordless electric lawn mowers are a great pick. However, there are benefits to more traditional petrol roller mowers, especially for those with larger lawns. Petrol mowers normally have a larger cutting width (greater than 40cm), making them more efficient, and allowing them to mow wider stripes.
How to mow lawn stripes
When you have a rear roller lawn mower, creating stripes isn't all that difficult.
First, find a reference point to create the first stripe. You want the stripes to be parallel to the edge of the lawn, so you could use a fence or your patio as a reference point.
Then, mow your first stripe. To ensure that all the stripes are roughly the same size, be careful not to leave any grass unmown on the reference edge side, otherwise you'll end up with a thicker stripe at the beginning.
It's a good idea to overlap a little bit, to ensure that you don't miss any grass and create uneven stripes. You'll simply push the grass back the other way if you mow in the opposite direction over grass you've already mowed. It's important to ensure that you're consistent with how much you're overlapping, so that the stripes end up roughly the same size.
At the end of a stripe, raise the deck to avoid creating a curve at the end of each stripe. Also ensure to mow on a high setting – if the grass is really short, then the pattern you create will be much less visible.
How to mow a checkerboard pattern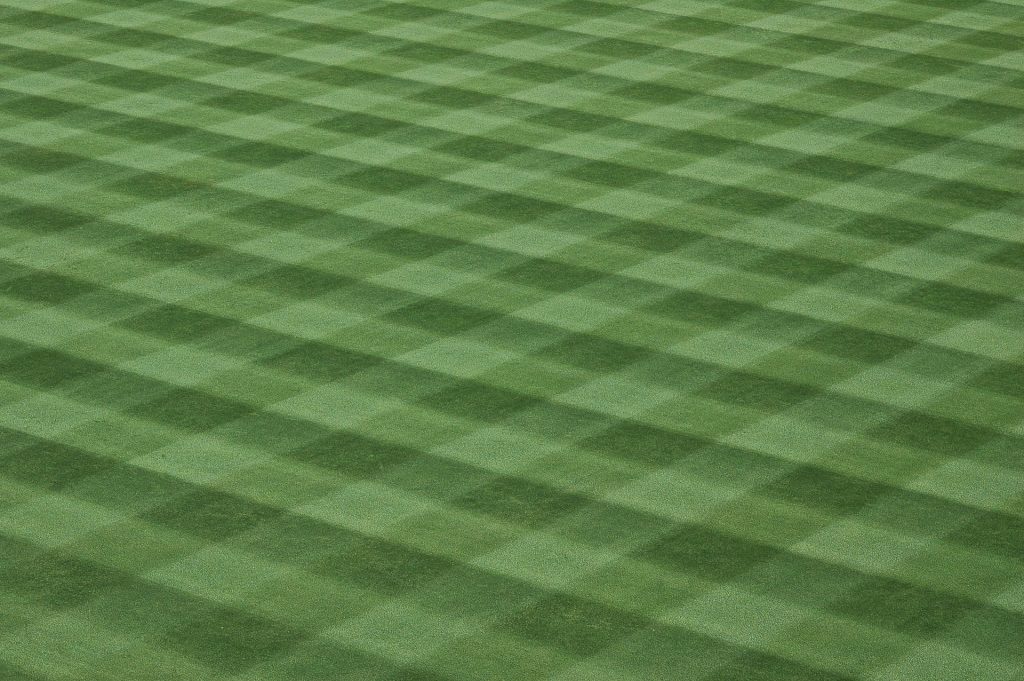 Creating a checkerboard pattern into your grass when lawn mowing is actually quite simple.
To begin, mow stripes with a high blade position, as we described above. Then, mow another striped pattern on your lawn, except mowing perpendicular to the pattern you have already mown.
This will create a checkerboard pattern. To make the checkboard even more obvious, you can mow over the lighter stripes again to make them even lighter.
How to make your striped lawn look better
The mower you use and the roller it has aren't the only part of what makes it possible to mow a beautiful striped lawn. It's also important to ensure that your grass is as healthy as possible. The greener and thicker your grass, the better it will look when you have a striped lawn.
To promote lawn health, you can take steps such as:
Feed your grass with lawn food, kitchen compost, or by mulching your grass clippings.
Ensure your lawn is watered regularly. In the UK, you need to water your grass during dry spells to give the roots the moisture they would normally get from the rain.
Cut your grass on a higher setting more often, rather than taking too much off at a time. This gives your grass more chance to bounce back after each cut.
Aerate your lawn in the early spring to help it develop stronger, deeper roots. This is especially important if it gets a lot of foot traffic in the summer.
Overseed your lawn, if it's patchy or dull in places. This is another step that's best taken in mid to late spring.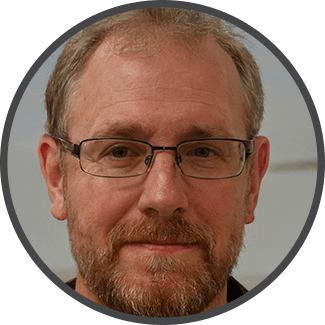 I'm Josh, and I'm the head writer at Lawn Care Pro.
I love everything lawns, but I'm a bit of a lawn mower nerd. I spend a lot of my free time tinkering with mowers, and planning my mowing schedule for the next few weeks.
I'm also into cars, which comes in very helpful when servicing a mower engine!