Need something to help spread salt, grass seed, or fertiliser on your lawn?
In this buyer's guide, we've tried to find the best lawn spreader in 2023, looking at rotary, drop, and handheld lawn spreaders.
Quick comparison table
BEST ROTARY SPREADER

BEST DROP SPREADER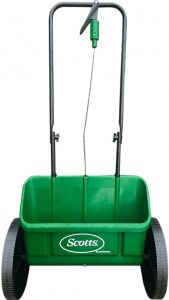 Scotts
Seed and Fertiliser Spreader
BEST HAND SPREADER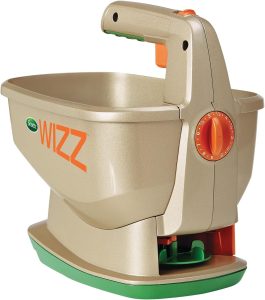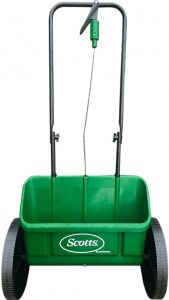 Scotts
Seed and Fertiliser Spreader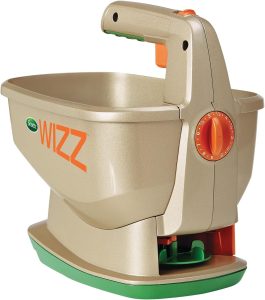 Best lawn spreaders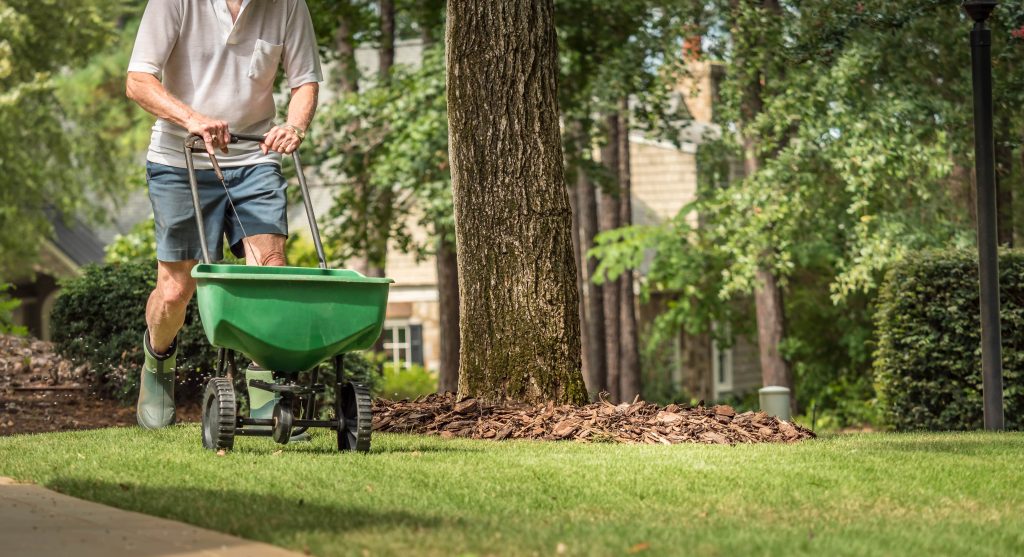 Let's begin our reviews.
In this part, we've reviewed the 7 best devices to spread grass fertiliser, lawn seed, or top dressing on your lawn in the UK right now.
Most lawn spreaders are made mostly out of plastic. This can cause issues, especially when flimsy plastic is used in areas that really need reinforcement, such as the handle and hopper.
This lawn spreader is different: it's made of powder-coated metal, with a steel frame, and thick, heavy-duty wheels. As a result, it's a bit more expensive, and a lot more heavy, than most lawn spreaders on the market right now. But it's also a lot more durable, and the sturdiness and smart wheel design make it very easy to use.
As you'd expect from a broadcast spreader, you can adjust the spread width all the way up to 365cm. Even if you have an extremely large lawn, you'll be able to ensure efficient, consistent spreading of fertiliser, grass seed, or ice melting salt.
Do note though that you can't use salt with this machine, otherwise you may damage the spreading mechanism.
Overall, if you need a sturdy, durable broadcast spreader, and don't mind paying a bit more for a quality product, then this is a great pick.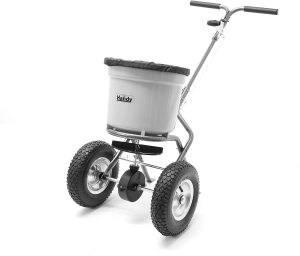 ---
Pros
Very durable.
Massive 365cm max spreading width.
Easy to use.
The best thing about this lawn spreader from Scotts is its flexibility. You can use it with grass seed, fertiliser, and other lawn food. Although Scotts say you're only meant to use it with specific products from specific brands, you should be fine to spread almost anything, as long as the granules are fine enough.
You also have a lot of flexibility to adjust how far you spread with the Scotts EasyGreen rotary spreader. The spreading width can be set to anything between 122 and 340cm, depending on how precise or how efficient you'd like your spreading to be.
Do note though that this spreader is really designed for large lawns. It's not the most precise, even on the lowest spread setting, but has one of the highest maximum spreading widths of any consumer-grade grass spreader you can buy in the UK.
In terms of the actual spreading, Scotts' device is relatively easy to use. You don't have to be a pro gardener to achieve a good fertiliser distribution.
This spreader is reasonably affordable, but isn't the most durable. The hopper is made of a quite flimsy piece of plastic, which can break if not handled delicately.

---
Pros
Good price.
Easy to use.
Very flexible.
340cm max spreading width.
Cons
Could be more durable.
Not the most precise.
In terms of price, this spreader is about in between the two others we just reviewed. It's made of plastic, but it's a more sturdy material than you'll find on the Scotts spreader we looked at earlier.
Also, unlike the Handy spreader we just reviewed, this option is heavy duty enough to distribute salt, as well as grit. So while it might not be as sturdy, it is more tough, in some respects.
The hopper capacity is decent, at 35KG, and it's easy to define how far you'd like to spread. This spreader will reach up to 400cm in each direction, making it very efficient for a larger lawn. However, as you'd expect from a rotary spreader, it's not very precise, and can distribute too much over smaller lawns, depending on how you use it.
Another issue with this spreader is its overall durability. Although the hopper is quite tough, and it's capable of spreading salt, the cable can break if not treated carefully.
For occasional use, this spreader works well. But if you'll be spreading all the time, then The Handy spreader is probably a better choice.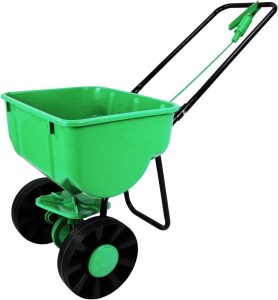 ---
Pros
Reasonable price.
Works with salt.
Great distribution distance.
Good sturdiness, for plastic.
Cons
Not incredibly durable.
With the rotary spreaders we just looked at, one problem stood out. The more durable ones are often quite expensive.
Fortunately, other devices, like this EverGreen drop spreader, are much more simple, and are often cheaper and more durable as a result.
The Easy Spreader Plus allows for fast and precise application of fertilisers and grass seed. It's not recommended for use with salts, but using Epsom salt occasionally on your lawn with this spreader should be fine.
Another good thing about this spreader is the variable settings for the speed. You can define exactly how much to release as you walk, thanks to these adjustable settings. The price is quite good as well.
However, do note that if you stop walking, your fertiliser will keep coming out. There are no controls on the handle to start/stop spreading. This means you'll need to be careful to avoid adding too much lawn food to a specific area, which would increase the risk of burning or scorching your grass.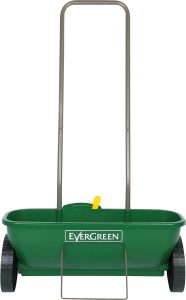 ---
Pros
Good value.
Precise.
Can define your spread rate.
For a similar price to the lawn spreader we just reviewed, you can get this spreader from Scotts.
Overall, this is probably a better buy, because it has an on/off switch on the handle. No need to worry about creating piles of whatever you happen to be spreading when you reach the edge of your lawn.
Despite the affordable price, the spreading width is quite good, at 45cm. And as a drop type spreader, this option offers great precision, allowing for accurate application of whatever you may be spreading. You can apply fertiliser, salt, or seed evenly across your lawn with Scotts' spreader. What's more, granule size isn't an issue, since you can simply open the gap wider in case you're using bigger pellets.
Another good thing about this spreader is its durability. Despite the plastic material, it's not going to fall apart easily. However, it can be a bit tricky to put together when you first receive it.
The hopper capacity is also quite good, and when full, this spreader is still easy enough to manoeuvre. Unless you have a large lawn and need a big spreader, this product is definitely worth considering.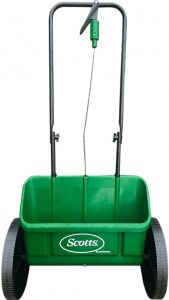 ---
Pros
Reasonably priced.
Good spread width.
Allows for excellent precision.
Relatively durable.
Cons
Can be a little tricky to put together at first.
This handheld spreader actually doesn't have a rotary handle, like most of its competitors. Instead, it has a small motor, powered by AA batteries.
As a result, you get a more even spread, with less effort. All you have to do is hold the trigger, and walk where you want to spread. And despite being automated, the price is quite good – this spreader doesn't cost much more than most other hand spreaders on the market.
There is a slight downside to this automated design though – it's slightly less precise. Although you can control the spreading rate with the trigger on the handle, you can be more precise when rotating a handle.
However, you can still achieve great results with this grass spreader. It works with essentially any material with small enough granules, including salt, and you have a lot of control over how fast it spreads with the included settings.
If you want a hand spreader that's extremely easy to use and won't break the bank, we would definitely recommend checking out this product.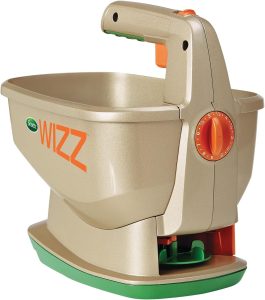 ---
Pros
Automated spreading.
Very consistent.
Allows for much easier spreading.
Great value.
Cons
Slightly less precise than a handle operated spreader.
If you prefer the precision of a manual hand spreader, this is probably the best hand spreader you can buy.
This option has a 9KG hopper capacity, which is extremely large for a hand spreader. As a result, it has an adjustable strap, so you don't have to carry it by hand as you walk around your lawn.
As for the spreader itself, you have the ability to alter not just the spread rate, but the spread direction as well. This is great for ensuring an even spread across your entire lawn – including the edges near the garden beds.
The entire assembly, from the hopper to the gearbox to the strap, is extremely well made and very durable. This is probably the most satisfying spreader to use right now. It's also quite easy to assemble.
However, there is a downside – the cost. This product is more expensive than many drop and rotary lawn spreaders, despite the fact that you have to do all the hard work walking it around. Therefore, it's probably best for small to medium-sized lawns with well-manicured grass, including ornamental lawns.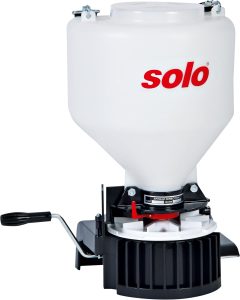 ---
Pros
Extremely sturdy.
Can control spread direction as well as spread rate.
Large capacity hopper.
Lawn spreader buyer's guide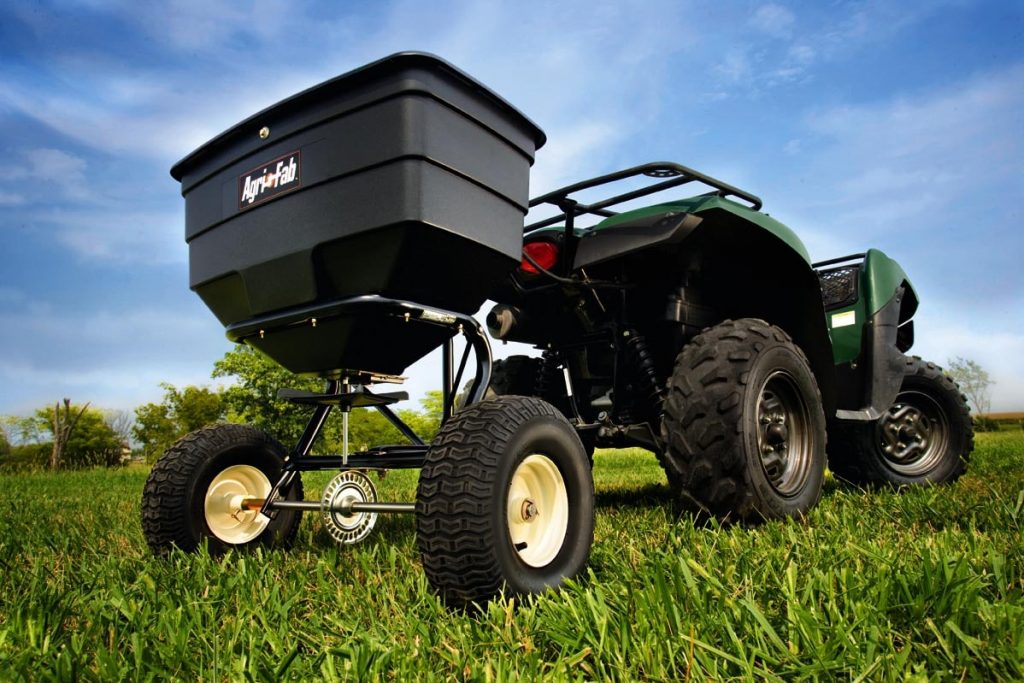 Now we'll explain what you need to know when choosing which lawn spreader to buy.
Why use a lawn spreader – can't I spread by hand?
Lawn spreaders obviously make the process of spreading fertiliser granules or grass seed on your lawn more efficient. They allow you to do more spreading more quickly, especially with a rotary lawn spreader.
One of the other important benefits of lawn spreaders is they allow for a much more even distribution. Remember, putting too many fertiliser granules in a single spot can harm the health of your grass.
For smaller lawns, you may not need a lawn spreader. However, for most medium to large areas, spreaders are an essential tool for keeping a healthy lawn.
Different types of lawn spreader
There are essentially three types of lawn seed spreaders you can buy right now:
Rotary spreaders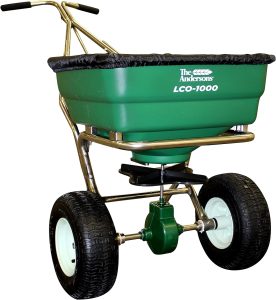 A rotary spreader (also known as a broadcast spreader) are the type of lawn spreader that has wheels. However, the "rotary" in the name actually refers to the rotating disc inside the device that spreads your fertiliser around.
The main benefit of rotary spreaders is their efficiency. They work very well for spreading large amounts of material over large areas quickly. And all you have to do is push, making a broadcast spreader very easy to use. And if they come with pneumatic tyres, typically they're very easy to push.
However, rotary spreaders don't always provide even distribution, which is their main drawback. The rotating disc is in this type of spreader is designed to spread as far as possible, rather than maximising spreading precision.
Therefore, if you're trying to ensure an even spread, rotary spreaders are best avoided.
Drop spreaders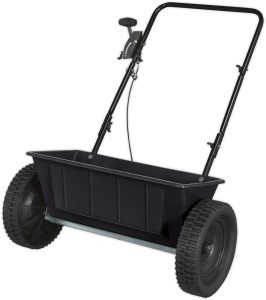 Drop spreaders may look similar to rotary spreaders, in that they both have wheels and a high capacity hopper for your fertiliser or seeds. However, they're actually quite different.
The main difference is a drop spreader is typically much more precise. They release fertiliser much more slowly, because they use a simple release mechanism rather than a rotating disc.
What this means is drop spreaders are less efficient. They don't spread as far as rotary lawn spreaders. Therefore, they're best for situations where high levels of precision are required – when you're not spreading over a very large area. Having a drop style spreader is also good for top dressing your lawn with compost, because it's important to ensure an even spread.
Handheld spreaders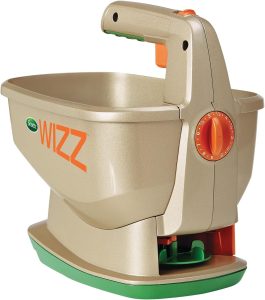 Handheld spreaders (or sometimes just "hand spreaders") are the cheapest, but also the least efficient type of spreader.
To use a handheld lawn seed spreader, you have to hold it, and walk around your garden as you spread. The spreader will have a setting to adjust how fast you're releasing the fertiliser. However, with most hand spreaders, you'll also have to turn the handle to release as you walk – it's not an automated spreading system. There are battery-powered options on the market now though, it must be mentioned.
The good thing about hand spreaders is the precision they offer. You can adjust how fast it spreads, your aim, and your walking speed, which makes it easy to get just the right amount of material exactly where you want it.
There are also less common types of lawn spreaders, made for industrial purposes. For example, there are spreading devices you can tow behind a quad bike, for use on farms and on extremely large gardens.
How spreaders control the spreading rate (and why it matters)
With the exception of broadcast spreaders, most spreaders will offer you some way of controlling how fast you spread.
On a hand spreader, there's normally a switch you can turn to control how much is released with each rotation of the handle.
And with a drop spreader, you can adjust how far the outlet is opened, offering a second way to control the spreading rate, in addition to your walking pace.
In truth, this is probably the most important function of a lawn spreader. You need the ability to control how much fertiliser, salt, or grass seed you're dispersing, depending on what your lawn needs. And importantly, you need to be able to ensure an even coating – otherwise you might burn your lawn in certain patches with too much fertiliser.
Can I use fertiliser, grass seed and salt in any lawn spreader?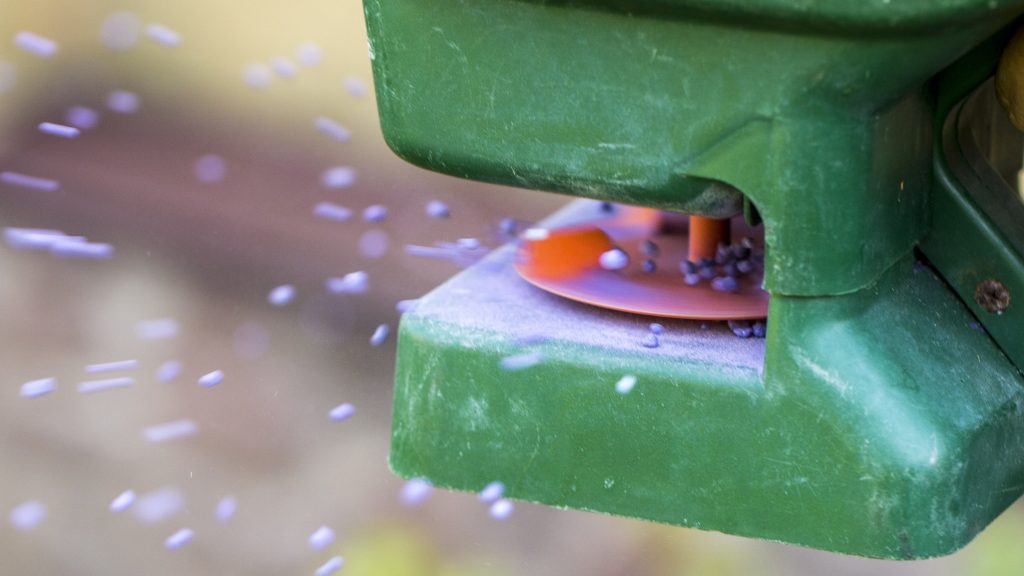 In general, you should be fine to use almost any type of spreadable material in any lawn seed spreader. However, there are exceptions to this rule.
Some lawn spreaders aren't designed for specific types of material, such as rock salt, which can cause corrosion on metal spreaders, for instance. The manufacturer will state what their lawn spreader will and will not work with.
You also need to ensure that your granular lawn feed, fertiliser or Epsom salt granules are small enough, otherwise they'll get stuck in the lawn feed spreader, meaning the spreading width will be greatly reduced. Only use fine salt grains, and ensure that you buy fertiliser pellets rather than using regular fertiliser.
Note that with a drop spreader, the size of your lawn feed pellets or salt granules aren't such a big deal. This is because you can simply widen the opening to allow larger pellets to flow more freely while ensuring a good spread width.
How to use a lawn spreader – the right way
How you use your lawn spreader will depend in part on what type of spreader you have. Here are some general guidelines:
Clear large debris, such as piles of leaves or grass clippings, before you begin spreading, to ensure that the material you're spreading reaches your lawn every time.
Walk at a slow, steady pace, with a medium-low spreading rate. This is typically the best way to ensure an even coverage. If using a rotary style spreader, this will reduce the distance that the material is scattered, so you can go faster if you have a large garden. If precision is your main concern, rather than speed, you may want to use the lowest spreading rate and overlap your previous runs to prevent an uneven spread.
Avoid spreading when turning around – turn off the flow lever to pause momentarily. This prevents you from spreading large amounts of material in patches at the edges of your lawn.
Keep your hopper full of material. By doing so, you're reducing the risk of spreading too little material by running out of grass seeds, salt, or fertiliser pellets.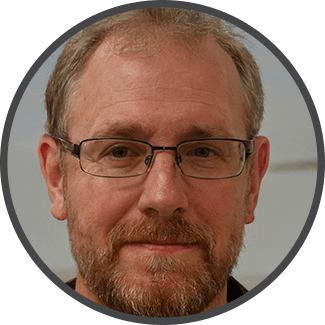 I'm Josh, and I'm the head writer at Lawn Care Pro.
I love everything lawns, but I'm a bit of a lawn mower nerd. I spend a lot of my free time tinkering with mowers, and planning my mowing schedule for the next few weeks.
I'm also into cars, which comes in very helpful when servicing a mower engine!