Fed up of having to rake your lawn all the time, to keep it looking its best?
In this guide, we've reviewed the 5 best lawn sweepers in the UK right now.
We've also looked at what makes a good garden sweeper, as well as the different types, to help you choose the right sweeper to buy for your garden.
Quick Comparison Table
BEST OVERALL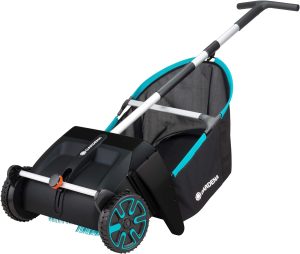 Gardena
Leaf & Grass Collector
BEST TOWED SWEEPER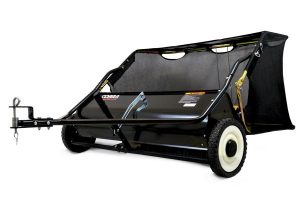 Cobra
TLS97 Towed Lawn Sweeper
BEST PRICE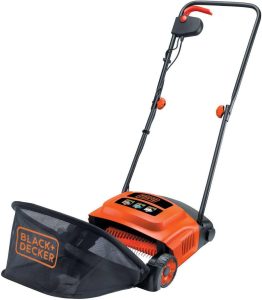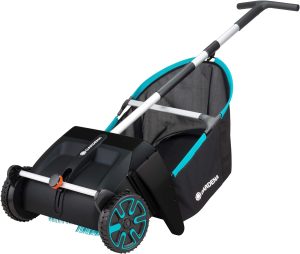 Gardena
Leaf & Grass Collector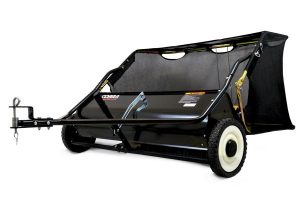 Cobra
TLS97 Towed Lawn Sweeper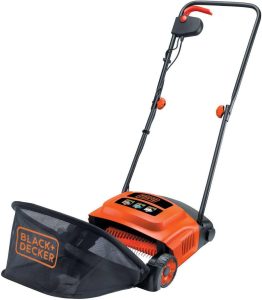 Best lawn sweepers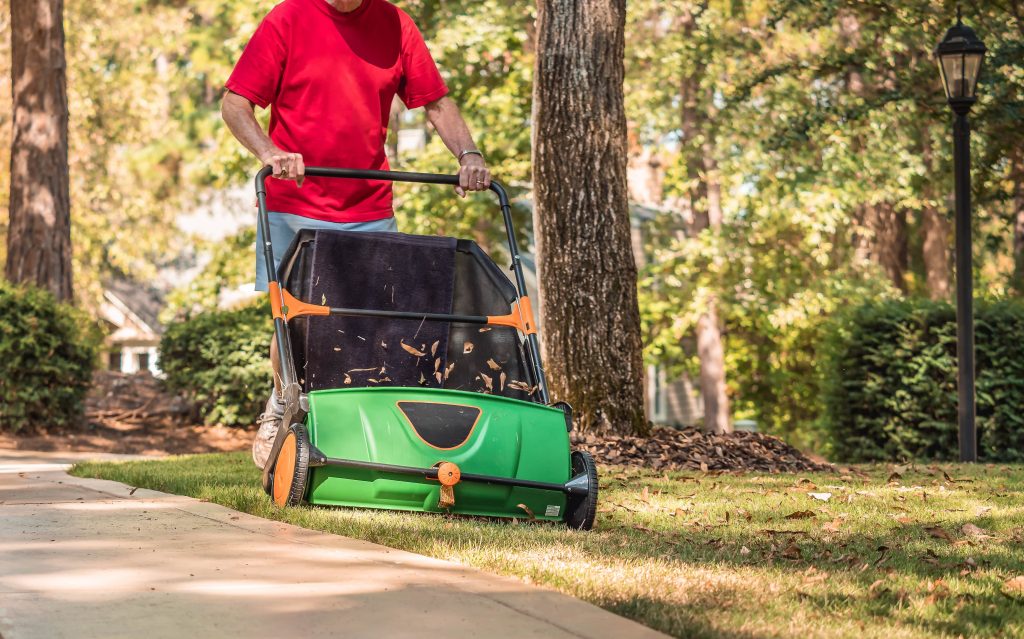 Let's begin our reviews.
Below, we've looked at 5 of the best lawn sweepers that you can buy in the UK.
If you're looking for a fairly simple but effective lawn sweeper that you can push around your lawn, Gardena's grass collector is a good choice.
It has large front wheels, and the assembly is not very heavy, helping to make this sweeper easy to steer.
As you push it around, the sweeping mechanism does a good job at picking up leaves and other debris, such as grass clippings. You can also adjust the sweeping height, depending on the length of your grass, and how much debris there is.
The collection bag isn't massive, but it's about as big as it can be, given the size of the sweeper. You'll need to empty it fairly regularly, but this isn't a big deal – the collector is easy to detach and reattach.
Gardena's leaf sweeper is sturdy, and the design is well-thought-out. It's not extremely cheap, however.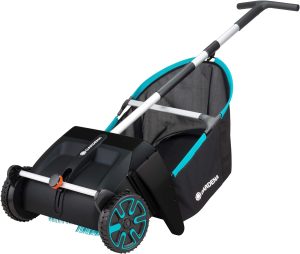 ---
Pros
Sturdy design.
Easy to use.
Leaf collector detaches easily.
Does a good job picking up fallen leaves and other debris.
For those with a larger garden or an orchard, you might like to use a towed lawn sweeper that hitches onto your garden tractor, like this option from Cobra.
The Cobra TLS97 is extremely efficient at picking up debris. It's nice and wide, at 97cm, and the brushes do a great job at sweeping up your lawn.
Given how efficient it is, the price is quite reasonable, in our opinion. Cobra's lawn sweeper isn't cheap, but it's not massively expensive given its working width.
The brushes are very durable, and it's easy to empty the bag – you can do it while still on your tractor. You'll need to empty the leaves into a single pile for later collection and disposal.
The only downside to this lawn sweeper is its width. It's only really suitable for larger lawns, especially open areas without any fences.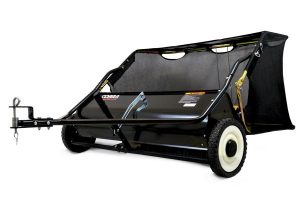 ---
Pros
Reasonable price.
Very efficient.
Can empty the bag from on your tractor.
Durable brushes.
Cons
Only suitable for large gardens.
Unlike most lawn sweepers, this is an electric device, that must be plugged into the mains at all times.
There are three different raking heights, and the tallest one does a good job at raking debris off your lawn. On the lower settings, you can also do scarification, which is nice.
As a relatively small sweeper, the collection bag isn't massive. We wouldn't recommend it for anything other than small gardens, otherwise you'll be emptying the bag all the time.
However, if you do have a small lawn, Black & Decker's device is very manoeuvrable, and it can easily sweep inside tight spaces.
Given that this isn't just a lawn sweeper, its price is quite reasonable. However, there are better devices that are dedicated to sweeping up debris, if this is your main focus, albeit at a higher price point.
---
Pros
Good value.
Can scarify and rake as well.
Very nimble.
Cons
Collection bag is relatively small.
Must be plugged in at all times.
Another towable lawn sweeper worth checking out is this option from Titan Pro.
This lawn sweeper is 106cm (42″) wide, making it very efficient, even if you have a large lawn. It can clear a large area in very little time at all, especially if you have relatively few obstacles to drive around.
The sweeping mechanism does a good job at picking up most types of debris, provided you have it set at the right height. It's easy to raise or lower the brushes, depending on how much fallen foliage you're dealing with.
Also, the design of this sweeper is very durable. The wheels are tough, and the frame is extremely rust-resistant. You won't have to worry about it falling apart, even if you're a professional gardener, and you're using it all the time.
There's just one downside to this lawn swee[er: the price. Compared to other towable lawn sweepers of a similar size, this option is quite expensive.
---
Pros
Durable.
Nice and wide, perfect for large lawns.
Brushes work well on many different types of debris.
Draper's garden sweeper is another small, lightweight, relatively cheap option. But is it worth buying?
The collection bag is nice and tall, meaning it has plenty of capacity given the size of this lawn sweeper. It's also easy to empty and reattach once you're ready to begin sweeping again.
This sweeper is a bit tricky to assemble when it first arrives, but once it's ready, it does a good job, especially at picking up leaves. The brushes are well made, and their height can be easily adjusted.
Draper's garden sweeper is lightweight, which makes it easy to manoeuvre, but it's not extremely sturdy. Most of the body is made of plastic, which is why it doesn't weigh much.
If you need a cheap, simple sweeper, this option is definitely worth looking at. However, there are better sweepers available, if you're prepared to pay more.
---
Pros
Easy to manoeuvre.
Good value.
Performs well, especially with leaves.
Cons
A bit difficult to assemble.
Could be more sturdy.
Lawn sweeper buyers guide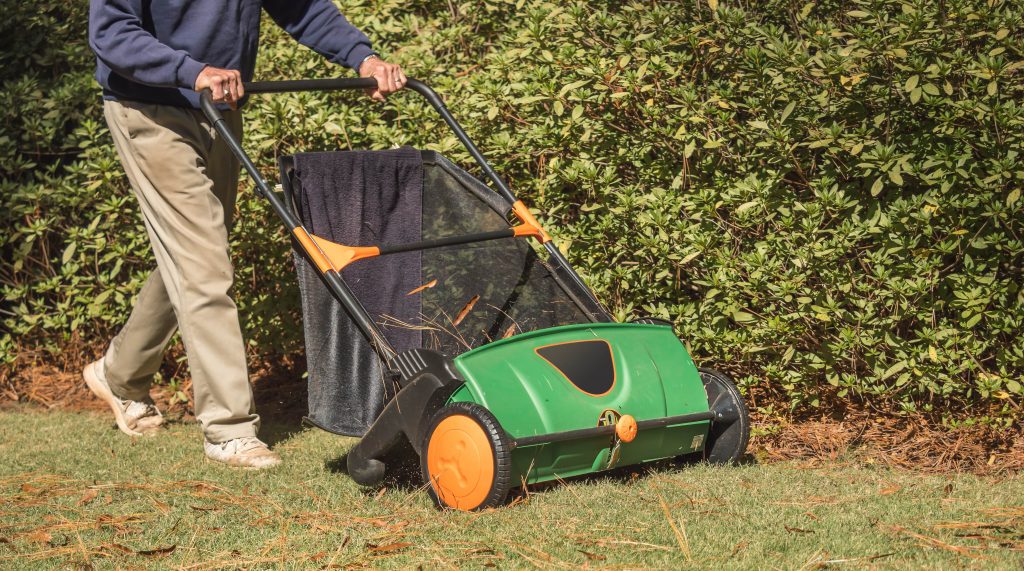 In this section, we've provided some further information to help you choose the right lawn sweeper for your garden.
We've looked at what makes a good lawn sweeper, the different types of products available, and what to consider when buying.
How do lawn sweepers work?
Lawn sweepers have a rotating cylinder with brushes on it, which turns as you push it forward. Normally there are two large wheels on the front, helping to make steering easier, and two small wheels at the back, for stability.
These brushes sweep along the lawn, picking up debris such as leaves, sticks, and grass clippings. This debris is then deposited in a hopper or a collection basket at the back of the sweeper.
The collection bag then detaches from the sweeper, allowing you to tip the waste into your garden rubbish bin. If you have a tow-behind sweeper, it will likely have a rope or a lever you can pull to dump out the contents of the hopper.
Basically, lawn sweepers help you to clean up your lawn in a single step (driving the sweeper across your lawn) rather than having to rake up the debris, pick it up, and put it in the bin.
Different types of lawn sweepers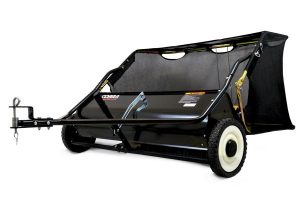 The term "lawn sweeper" is quite a broad one. Not all companies use this phrase, and many devices that are technically lawn sweepers are also labelled as garden sweepers, or grass collectors.
Even the devices that are called grass collectors also pick up other debris such as leaves, so they work just like lawn sweepers.
No matter what a lawn sweeper is called, it will fit into one of these categories:
Push lawn sweepers. These types of sweepers have four wheels, and a brush underneath. They pick up debris and brush it into a small collector at the back of the lawn sweeper, sort of like the grass box on a lawn mower. These are the cheapest types of lawn sweepers.
Artificial lawn sweepers are just like push lawn sweepers, except they're designed specifically for artificial grass. They don't work very well on regular lawns – they're designed for flat, even surfaces. We haven't looked at these types of products in this guide.
Tow-behind lawn sweepers must be pulled along by a garden tractor or quad bike. They are much wider than the types of sweepers that you push along the lawn, sometimes more than a metre wide. They also have a much larger hopper, and are more expensive than regular lawn sweepers.
Remember, when you search for a lawn sweeper, you may also see results for scarifiers as well. Scarifiers actually dig into your lawn to remove thatch, while garden sweepers only remove debris from the top layer.
How much grass collector capacity do I need?
The amount of capacity you need on your lawn sweeper mostly depends on the size of your lawn. However, it also depends on how often you like to sweep it.
Obviously, if you have a larger lawn, you'll have more debris to pick up, and need a bigger collector. But if you have a smaller lawn, you don't want to buy a sweeper that's too big, or it will be difficult to manoeuvre around the garden.
Unlike with most rotary lawn mowers, the capacity of the grass collector is very rarely provided in litres on most lawn sweepers, so it can be hard to judge exactly how big they are. A good rule of thumb is: the collection bag should be about 2x as long (from front to back) and 2x as tall as the main sweeping assembly and wheels.
On a tow-behind lawn sweeper, you'll almost always have a massive collection bag, since these sweepers are typically very large. It's normal to have a 300L+ collector on these types of sweepers.
What debris do lawn sweepers not pick up?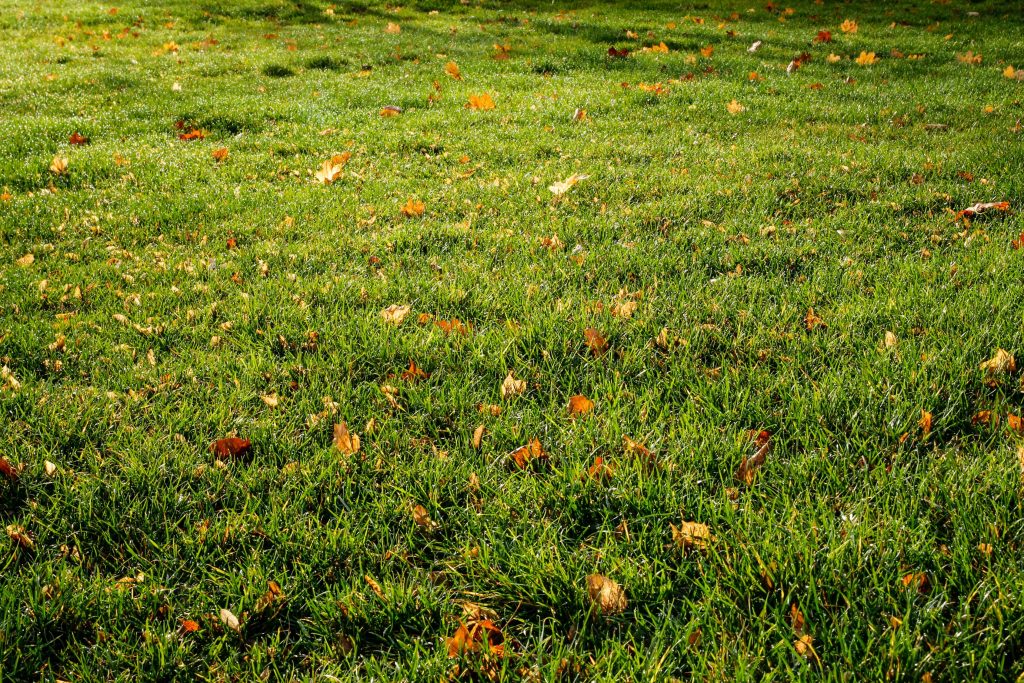 The exact types of debris a lawn sweeper will pick up depend on the design of the brush. But in general, most lawn sweepers will sweep up:
Leaves (dry or slightly wet).
Grass clippings.
Small stones.
Twigs.
Acorns.
Any other miscellaneous, light debris (such as stuffing from your dog's chew toy, if he or she shreds it on the lawn).
Lawn sweepers won't pick up:
Dirt (such as molehills).
Large stones.
Animal droppings (probably not a good idea to try and sweep these up).
Large sticks.
Pine cones.
Apples.
What to look for when buying a lawn sweeper
There are a number of good things to look for when buying a lawn sweeper, to ensure you don't waste your money.
An easy to adjust the sweeping height. This ensures that your sweeper works well all the time, no matter how much debris you have on your lawn. The adjustment should be simple to do, such as with a lever, rather than something you have to manually do.
A low centre of gravity. The last thing you want is the sweeper tipping back when the debris collector is nearly full. A low centre of gravity helps to keep the brushes firmly on the surface of your lawn at all times.
Large front wheels, to ensure that they don't get stuck, and to make steering easier.
A comfortable grip, ideally with a height-adjustable handle (although this is quite rare to find).
An easy way to empty the leaf collector, such as a simple clip system to detach it.
How to find a lawn sweeper that will pick up debris consistently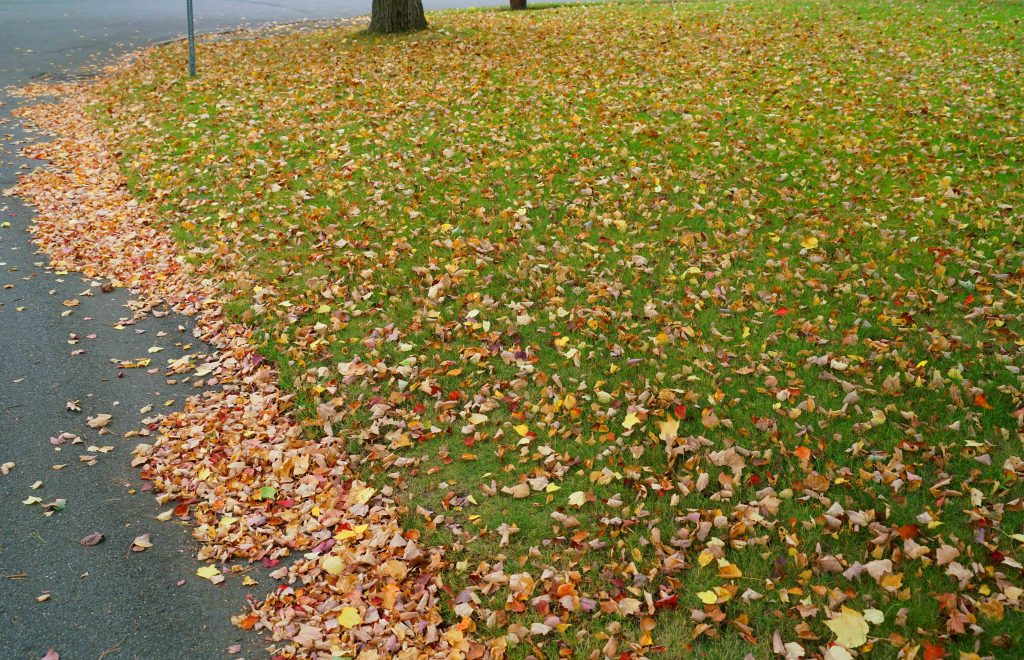 Before buying, it can be hard to know exactly how effective a given lawn sweeper will be.
To find an effective lawn sweeper, the first thing you can do is look at customer reviews. People will be sure to let others know if the sweeper doesn't perform very consistently.
It's also a good idea to look for sweepers with a lot of height adjustment options. Having the brushes at the right height is crucial in ensuring that the sweeper picks up all of your leaves.
How much should I spend on a lawn sweeper?
For a regular walk-behind garden sweeper, you can expect to pay about £100, or a bit more for a really good model.
Tow-behind lawn sweepers aren't actually that much more expensive, despite their size, and how efficient they are. It's possible to get one of these types of sweepers for about £200-£300, depending on exactly how big it is.
How to use a lawn sweeper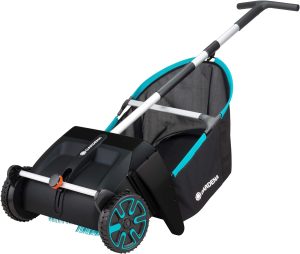 Using a lawn sweeper is quite a basic process. All you need to do is attach it to your quad bike or garden tractor (if using a towable sweeper) and pull it along the lawn (or push it, if you've got a regular lawn sweeper).
However, there are some things you should know about using these bits of kit.
Firstly, ensure to remove as much large debris from your lawn as possible, such as pine cones or large stones. The sweeper won't pick these up, and it's best to avoid trying to sweep up anything with very sharp edges, or anything that's too big, as this could damage the brushes.
Try to avoid using the sweeper when the grass is wet, if possible. This reduces the chances of the brushes getting clogged up with wet leaves, and helps to maximise the amount of debris that the sweeper collects.
Push the sweeper forward slowly, and try to adjust your speed, to achieve a balance between efficiency and effectiveness. Try not to go too fast, or you'll miss quite a lot of the debris on your lawn.
Conclusion
This is the end of our buyer's guide.
It's important to remember, the average lawn sweeper will take a bit of a battering during its life, unless you are extremely careful, and use it very slowly (which most people don't do, because the whole point is to improve sweeping efficiency). Therefore, it's a good idea to go for a sturdy garden sweeper, if possible.
If you're still not sure which sweeper to buy, feel free to leave a comment below, and we'll help out.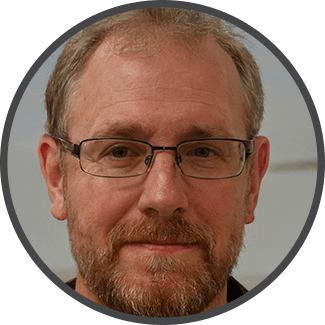 I'm Josh, and I'm the head writer at Lawn Care Pro.
I love everything lawns, but I'm a bit of a lawn mower nerd. I spend a lot of my free time tinkering with mowers, and planning my mowing schedule for the next few weeks.
I'm also into cars, which comes in very helpful when servicing a mower engine!