Looking for a ride-on mower to mow a large garden, field, or paddock?
In this buyer's guide, we've reviewed the 7 best ride-on lawn mowers you can buy in the UK right now.
We've also discussed what you need to know when buying a ride-on mower or lawn tractor.

Quick Comparison Table
BEST OVERALL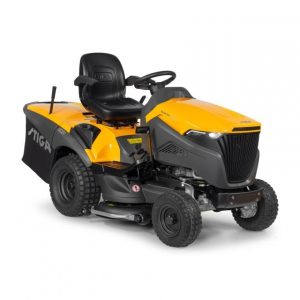 BEST CHEAP RIDE-ON MOWER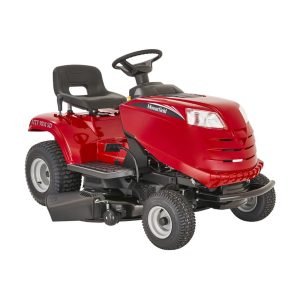 BEST FOR PADDOCKS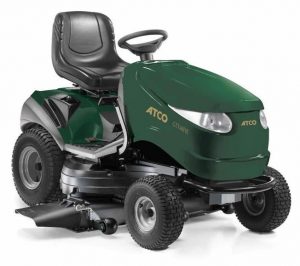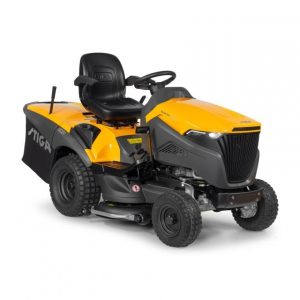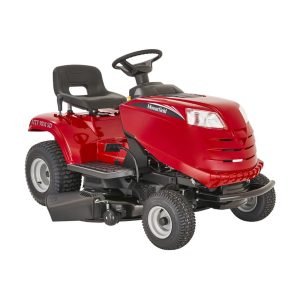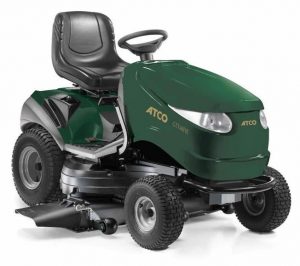 Contents
Best ride-on lawn mowers UK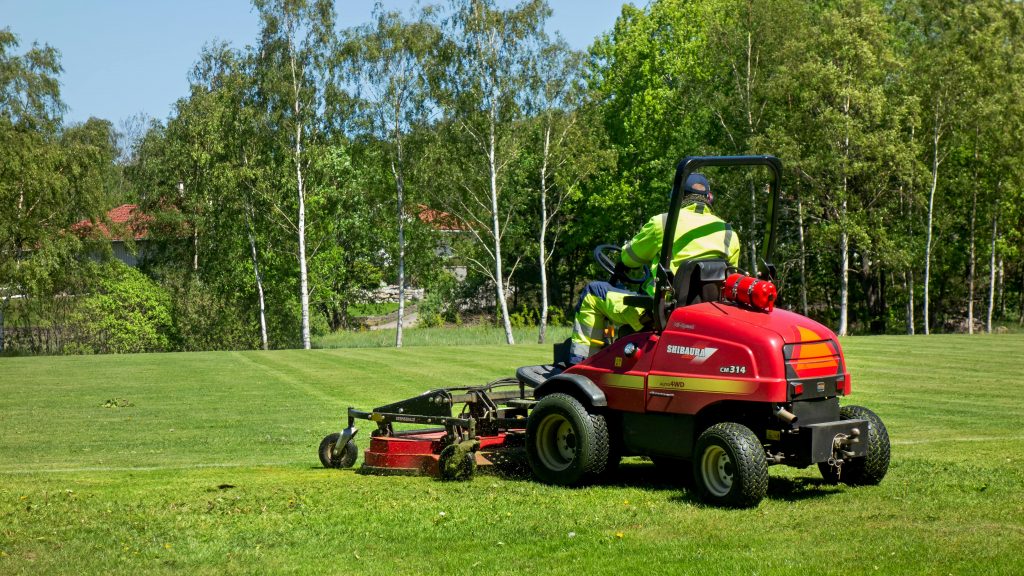 In this part, we'll review 7 of the best ride-on mowers and lawn tractors you can buy in the UK right now.
If you need a ride-on mower for less than £2000, the Mountfield MTF 98M-SD is worth checking out.
The SD in the name stands for side discharge. By default, your clippings are ejected to the side – you can't collect them with this lawn tractor. However, you can mulch them if you like, as Mountfield have included a mulching plug with this ride-on mower.
As a relatively cheap ride-on mower, the engine isn't the most powerful you'll find. It's a 352cc single-cylinder, producing 5.8kW (7.7hp) of power. This might not seem like much, but the MTF 98M-SD is quite lightweight for a ride-on mower, at just 164kg, so it doesn't feel slow.
You can change the cutting heights from between 25-80mm, and there are 7 height adjustment settings available, offering you plenty of freedom to determining how high to cut. The cutting width also allows for efficient mowing, as it's relatively wide, at 98cm.
However, this lawn tractor has a manual transmission. There are 5 gears (plus a reverse gear) that you have to stop and select manually, rather than it having a foot pedal throttle you can use to set a continuous variable speed.
Provided you don't need to adjust the speed often due to mowing a mostly flat lawn, this is still an efficient, easy to use ride-on mower that won't break the bank. It comes with a 5-year warranty, and you can get it delivered assembled from Just Lawn Mowers – they'll even add oil and petrol, and test it on your lawn on delivery day.
---
Pros
Great price.
Allows for efficient mowing.
Can mulch as well as side discharge your clippings.
5-year warranty.
Looking for a 4WD lawn tractor that's built like a tank? The Stiga Estate 9102WX might be worth checking out.
This lawn tractor basically has everything you could ever want from a ride-on mower. For starters, it's relatively wide, at 102cm, and comes with a powerful 12.6 kW (17hp) twin-cylinder petrol engine. It's 4WD, and can either mulch clippings or collect them in the 360L grass box. The mulching mode is particularly good – it creates extremely fine particles from your grass clippings, and ensures that they're pushed down into the grass where they can release their nutrients back into the soil.
Other than these basic specs, there are many more cool tricks up this lawn mower's sleeve. It has the range of gadgets you'd expect to find in a car – including a full dashboard, cruise control, proper armrests, a cup holder, a phone holder, and a 12V plug for recharging your phone.
The suspension is not too firm but not too soft at the same time, and the seat is reasonably comfortable. The seat is also adjustable, so you can move it backwards or forwards depending on how tall you are. You can clean the cutting deck easily – there's a washing link you can use to remove any remaining clippings after each mow.
It's also easy to quickly shut off the blades if you're about to run over a stone, or to avoid any other obstacles. This lawn tractor comes with an electromagnetic clutch, allowing you to instantly turn the blades on or off with a button on the dashboard.
---
Pros
Efficient, powerful lawn tractor.
Has heaps of really cool gadgets.
Can mulch or bag clippings.
4WD – can manage slopes with ease.
We like the Simplicity SZT275 because of the manoeuvrability it offers. It's very agile, and has a small turning circle, meaning it works great for gardens with lots of obstacles.
It's a zero-turn mower, meaning it can turn 180 degrees within its own footprint. This ride-on mower is also easy to control, provided you don't mind it having steering arms rather than a steering wheel.
The wheels are nice and large, especially the back ones, helping you to overcome any uneven terrain. You get a full front and rear suspension, helping to provide a very smooth ride.
Simplicity gives you three different cutting modes on this mower. You can either mulch, rear discharge, or mulch and rear discharge your clippings, depending on your grass care plan. Most mowers don't give you the option to mulch and discharge at the same time – it can be very helpful, especially if you're cutting long grass, but still want to mulch some of your clippings.
This ride on mower comes with a 122cm cutting width, making it quite efficient, even on large lawns. However, it's not extremely cheap. Given what you get, we would have liked to see the price a bit lower.
---
Pros
Very efficient – wide cutting width.
Easy to control, small turning circle.
Nice large rear wheels.
Three grass clippings disposal settings.
This is just about the cheapest ride-on mower you can buy in the UK right now, excluding garden tractors like the Mountfield 1538M-SD we reviewed above.
The Stiga Park 120 is a small ride-on mower, with an 85cm cutting deck, designed with manoeuvrability in mind – it can get around obstacles such as trees and bushes with ease. It's not a zero turn ride-on mower, but the turning circle is quite small, which is good.
Importantly, this ride-on mower comes with a steering wheel, which many people prefer over having two steering arms to control the mower. Steering wheels are better for beginners, because they make it so it's just like driving a car.
You get a hydrostatic transmission, and a 414cc 4-stroke Stiga ST400 engine with this ride-on mower. This provides plenty of power, especially since this mower is relatively lightweight, at 220kg.
The cutting deck can be accessed without turning the mower over, making maintenance easier, which is a nice feature specific to certain Stiga mowers.
However, the Park 120 is 2WD, and doesn't come with anti-scalp wheels. This means it can struggle on sloping lawns – the cutting deck can sometimes scrape the ground when driving uphill.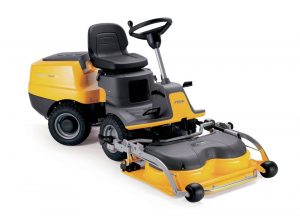 ---
Pros
Reasonable price.
Very easy to manoeuvre with the steering wheel.
Has plenty of power.
Cons
Not the best on steep hills and undulating terrain.
This ride-on mower is a more expensive version of the Park 120 we reviewed previously.
For the extra money, you get a more powerful 586cc petrol engine, and a wider cutting width. The fuel tank is also bigger, at 12 litres instead of 4.6.
Essentially, the Park 500W is made for bigger lawns that still have obstacles such as trees that you need to mow around. Since it has a flat cutting deck that sits far forward of the drivetrain, it can easily get under overhanging branches, and mow under tables. In terms of its mowing reach, this ride-on mower is hard to beat.
Stiga's ride-on mower can either rear-discharge or mulch your clippings, so you'll have to leave them on your grass. The mulching setting works well – the mower can produce extremely fine clippings that will compost almost overnight.
Like on many Stiga ride-on lawn mowers, you get their quick flip deck, allowing you to turn it over and inspect or clean the blades with ease. It also comes with a hydrostatic transmission, and is very easy to drive overall. However, we would like to see this ride-on mower have 4WD, especially given its price. Currently, it only comes in rear wheel drive.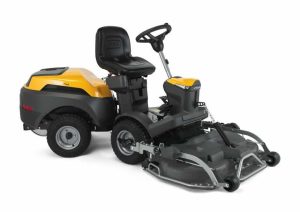 ---
Pros
Easy to drive.
Works very well at mowing in difficult spots.
Powerful engine & large fuel tank.
Cons
Relatively expensive.
Best ride-on mowers for paddocks
In this part, we'll look at a two of the best ride on mowers for paddocks, meadows, and large fields of grass specifically.
This lawn tractor has an extremely powerful engine, especially given its weight. It comes with a 603cc Kawasaki twin-cylinder engine, producing 11.2kW, or more than 15 horsepower. You also get a 15 litre fuel tank, and a large 121cm cutting width.
The GTX48HR is one of the best ride-on mowers for large gardens and paddocks, up to 3 acres in size. It's relatively expensive, but also very efficient. It will absolutely chew through any lawn, no matter how thick or tall it is, and it cuts a massive amount of grass with each pass. There are actually three blades on the cutting deck, rather than two, helping to improve mowing efficiency.
Even if your lawn has slopes and undulations, this garden tractor can handle it – partly due to the power of the engine, but mostly because it comes with 4WD. And as you'd expect at this price point, the GTX48HR comes with a hydrostatic transmission, meaning you can drive the tractor and modulate the power with a regular foot pedal, just like an automatic car.
Atco's ride-on mower is also extremely durable. It won't rust over time, provided you keep it in a garage or barn, and it comes with a 5-year manufacturer warranty.
The only issue with this option is its manoeuvrability and turning circle. This isn't a big problem on flat lawns, but due to its size and weight, it can be a bit difficult to mow with precision.
---
Pros
Extremely efficient.
5-year warranty – very durable.
Very powerful engine.
Comes with 4WD.
Cons
Could be more manoeuvrable.
The HF 2417 HM from Honda is one of the few large-sized lawn tractors that allows you to collect your grass cuttings as you mow. It has a 300L grass bag, allowing you to collect your clippings if you like – it also has a mulching mode as well.
This ride-on mower is best for those looking to mow large, mostly flat areas of grass, such as paddocks or meadows. It's not the most manoeuvrable, but it's very efficient, due to its 102cm cutting width and 530cc/17hp 4-stroke engine.
The cutting deck is right under the seat, like on most lawn tractors, ensuring it has a low centre of gravity. This mower is very stable, and feels great to drive.
As you'd expect from a ride-on mower at this price, you get a hydrostatic style transmission, allowing for smooth acceleration and deceleration. However, what really sets this lawn tractor apart is how it makes your life easier when mowing. It has all the gadgets you could ever need – from automatic headlights, to an electronic automated grass box dumping mechanism. Plus, Honda includes a 5-year warranty with this lawn tractor.
For those looking to mow extremely large areas of grass, this mower performs extremely well. The only downside is the price – it's a little expensive.
---
Pros
Makes your life easy when mowing.
Very efficient.
Can collect or mulch clippings.
5-year warranty.
Cons
Could be better value for money.
Ride-on mower buyer's guide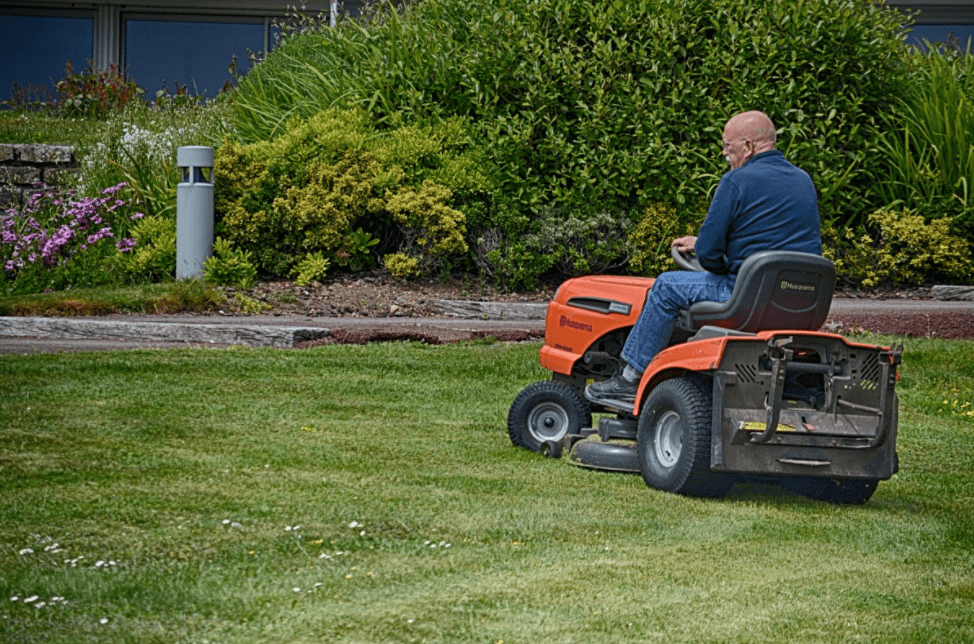 Now we'll discuss some key things to know to find the best ride-on mower or lawn tractor for your garden in the UK.
Ride-on mowers vs garden tractors
While many people use the term ride-on mower and garden tractor interchangeably, there are actually many differences between the two types of mower.
Ride-on lawn mowers actually have the deck at the front of the mower. The blades are in front of where you sit. This makes the mower more manoeuvrable, and helps you to mow in places you can only get to with a rotary mower – such as under tables, bushes, or benches.
On the other hand, garden tractors have a central cutting deck, with the engine at the front of the mower. The blades are located right under where the driver sits. This makes them less effective at cutting difficult to reach areas, such as around trees and bushes, and under overhanging branches and shrubs. However, garden tractors normally have more horsepower, and are more versatile than ride-on mowers, because they have more attachments, allowing you to convert your garden tractor to a tiller or seeder, amongst other things.
Unless you have acreage or a farm, ride-on mowers are normally the best option. They're easier to use, and are more manoeuvrable than garden tractors, with a smaller turning circle. However, lawn tractors are sometimes cheaper, so you'll need to determine whether or not you need the extra manoeuvrability of a ride-on mower.
Battery vs petrol power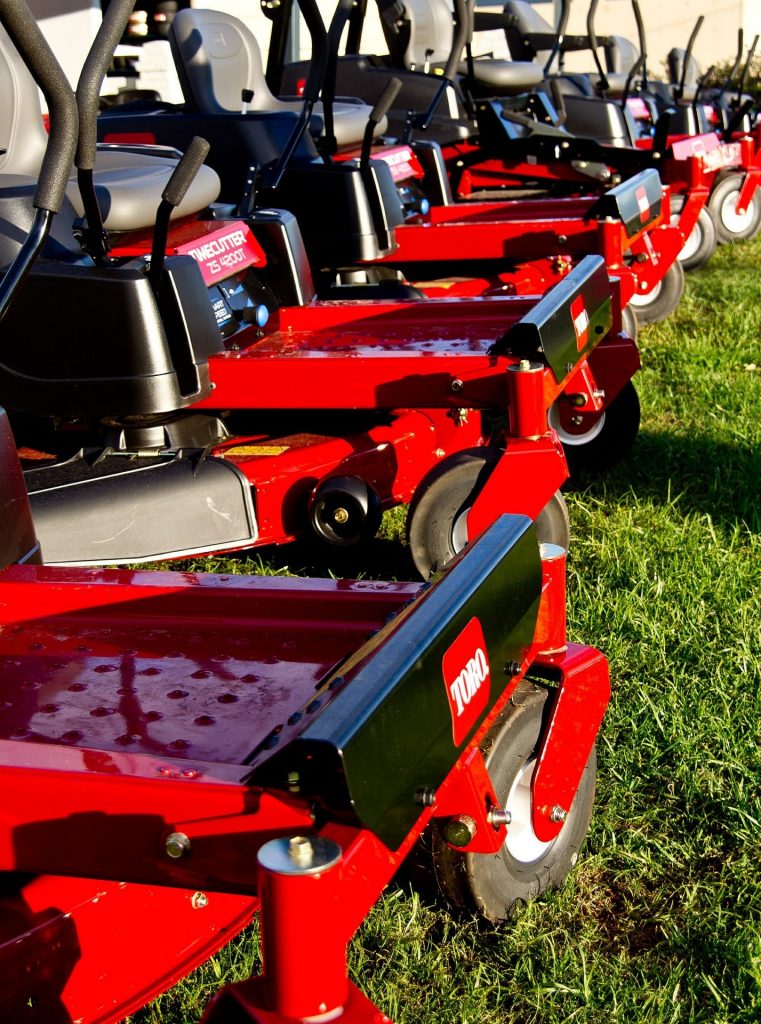 For many years now, the majority of ride-on mowers and lawn tractors have been powered by petrol engines. However, with battery technology becoming increasingly advanced in recent years, there are now ride-on mowers powered by lithium-ion batteries.
The advantage of battery power is it makes for a much quieter ride-on mower. Electric ride-on mowers don't produce fumes, and have a low centre of gravity due to the weight of the batteries.
However, petrol power is still the best, for a number of reasons. Petrol-powered ride-on mowers cost less to buy, because large batteries are very expensive. Battery-powered lawn tractors can also run out of charge relatively quickly, which can be a problem if you've got a very large lawn. From a top-of-the-line battery-powered ride-on mower, you can expect to get about 2 to 2.5 hours out of a 12 hour charge. And over time as you keep using the mower, the battery capacity will begin to fall gradually.
Therefore, we recommend buying a petrol ride-on mower, unless you're particularly concerned about the pollution and noise they generate.
How much do ride-on mowers cost?
Ride-on mowers start at about £1000, and can cost as much as £10,000 for a top-of-the-line ride-on mower.
Different ride-on mowers at different price points will have different features to make your life easier. Here are some features that are worth paying more for, and how they help out.
Four wheel drive (4WD) improves traction and manoeuvrability, and ensures that your ride-on mower never gets stuck. Having four wheel drive is even more important if your grass has slight bumps or hills, as 4WD will help the mower to climb on slopes. Some cheap ride-on mowers with come with rear wheel drive instead, which is fine if your lawn doesn't have slopes.
Zero turn means that the ride-on mower has a turning radius of zero, allowing it to turn within its own footprint – with no turning circle. Zero turn mowers are more manoeuvrable, so look out for zero turn lawn mowers if you have obstacles in your garden you need to avoid, or just need to be able to make sharp turns on a regular basis.
Power steering is another feature that's great to have from a driver aid point of view. If you have power steering, you'll find the ride-on mower much more manoeuvrable, making it easier to mow exactly where you want to.
Cruise control is another helpful feature if you're mowing large, flat gardens or meadows. Just like in a car, cruise control ensures that you don't have to modulate the throttle to keep the ride-on mower at a consistent speed.
Variable speed (also known as variable drive, or a hydrostatic transmission) means that the ride-on mower's transmission allows you to drive along at a variable speed without changing gears. This is very useful if you need to frequently adjust the speed of your ride-on mower – for example if mowing on sloping ground.
Cargo boxes allow you to keep certain items with you as you mow, such as a bottle of water and a snack. Having a cargo box can be convenient if you often do big mowing jobs and need to carry around equipment with you.
Tow bars and trailer hitch attachments can be useful if you're looking to use your ride-on mower for activities other than mowing. For example you might like to spread top dressing on your lawn, such as compost, with a tow-behind lawn spreader.
Ride-on mower engines explained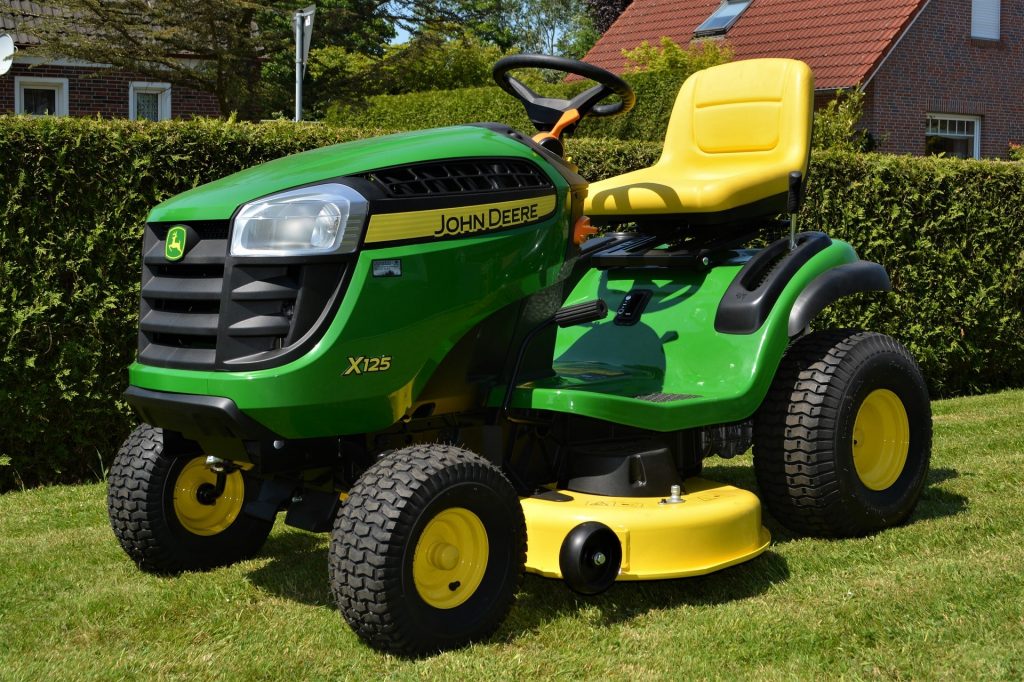 Another thing you can expect from a more expensive ride-on mower is a more powerful engine. Having more horsepower will allow you to cut thick grass more easily, can help you go faster, and giving you more torque for getting up steep slopes.
Cheaper, better value for money ride-on mowers will normally have a single-cylinder engine, with a 350-400cc capacity, and about 5-10 horsepower (4-7.5 kW). More expensive ride-on mowers will typically have a twin cylinder engine, with a 500-700cc capacity and 15-22 horsepower (11-16 kW).
Having a more powerful ride-on mower engine can make a big difference in the quality and efficiency of your lawn mowing. If you have a large garden and plan on mowing thick grass, it's important to get a mower with a powerful enough engine to meet your needs.
Ride-on mower suspension explained
The type of suspension on your ride-on mower will affect how comfortable it is to ride on. You want the cutting deck to be able to move with the ground contours to ensure a close cut, without your seat bumping too much as you drive along. This is what the suspension is designed to do.
More expensive ride-on mowers will typically have a better-quality suspension with better shock absorption. At a bare minimum, you want a riding mower with front and rear suspension springs, for the best comfort.
If you get a mower and find that the ride is too uncomfortable, you have the option of making a suspension seat modification. This basically means that you use your own springs to suspend the seat a few inches off the top of the mower, reducing vibrations. Very few ride-on mowers are sold with a suspension seat from the factory, so it's a modification you might want to consider doing later down the line.
Ride-on mower transmissions explained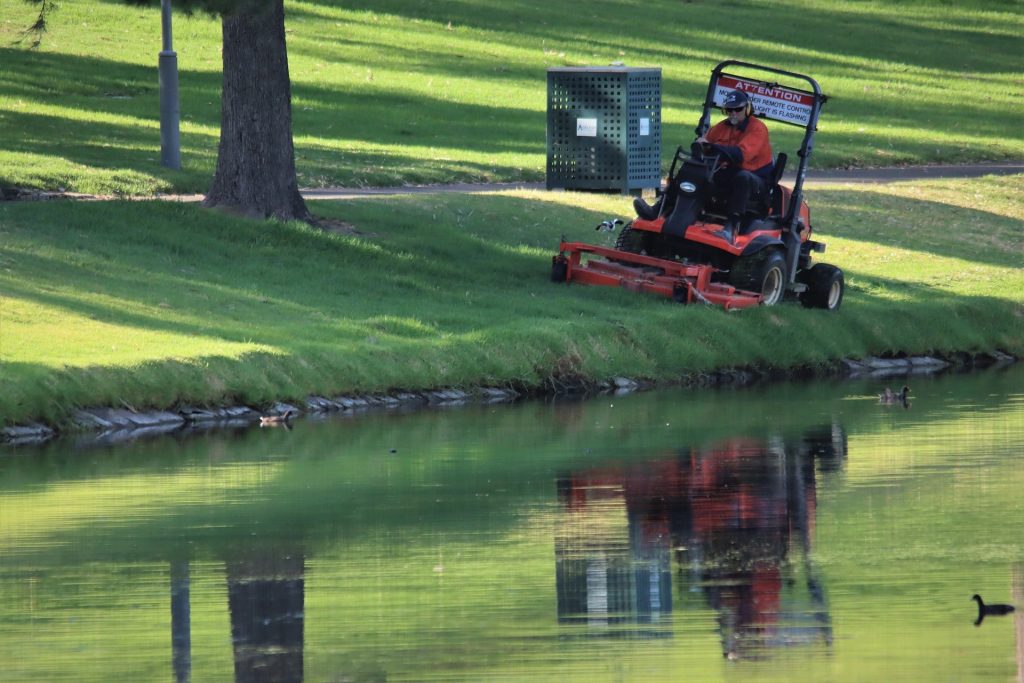 Your ride-on mower's transmission helps to determine what it's like to drive.
If you're changing speeds on a regular basis, the last thing you want is to have to stop the mower to change gear. This is why variable speed transmissions are so popular.
Typically, ride-on mowers use something called a hydrostatic transmission. Hydrostatic transmissions use a hydraulic pump and hydraulic motor to allow you to mow at continuous variable speeds, rather than having to use a manual clutch to change into a specific gear, like you do in a car.
Ride-on mower manufacturers often buy their transmissions from other suppliers, rather than making them in-house. Therefore, it's always worth looking up the product page of the transmission to learn more about how it works, the speed it offers, and how it will need to be maintained.
Buying a ride on mower for a paddock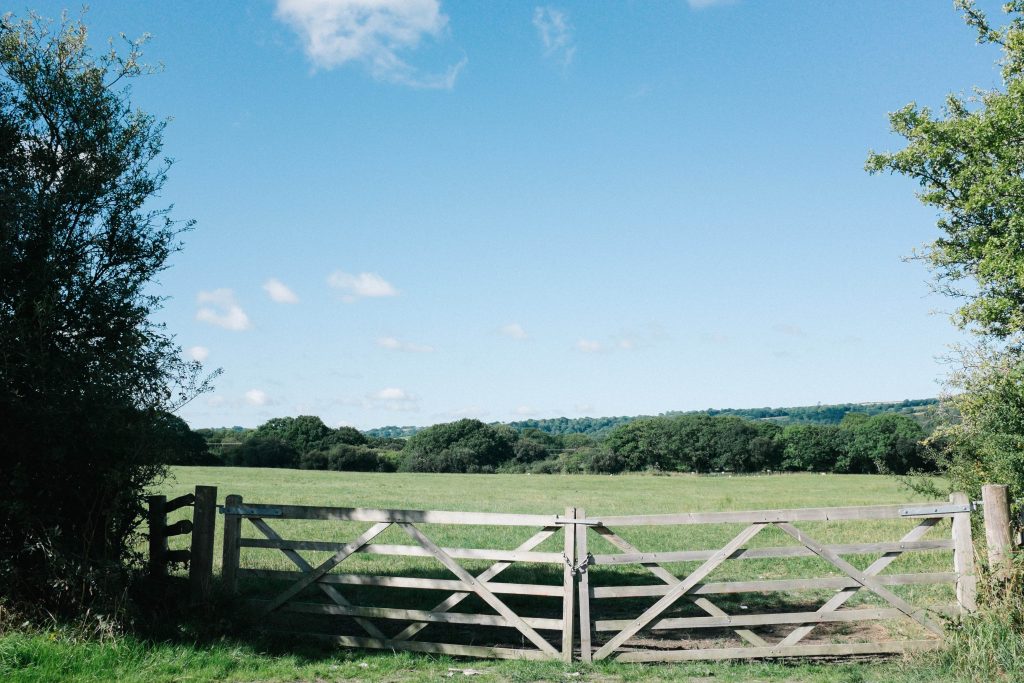 If you have a large paddock you want to maintain, you're going to need quite a large ride-on mower, otherwise you'll spend forever mowing it.
On a perfectly flat paddock, mowing efficiency should be your number one concern. Try to find a reasonably powerful machine, capable of cutting quickly, and managing thick, long grass. A good suspension is also nice to have, so you can stay comfortable during long mowing sessions.
However, if your paddock is uneven, or has hills, you need to prioritise the mower's stability. On sloping ground, the ride-on mowing toppling over can be a major safety risk, especially when using it in a paddock – what if you get trapped under the machine and there's no-one nearby to help? Look for a larger, heavier ride-on mower, with a longer wheelbase and a low centre of gravity.
Also, when mowing paddocks, you probably don't need to pick up your grass clippings – it'll take too much time. Instead, buy a ride-on mower that can discharge the grass cuttings onto the ground as you mow.
Ride-on mower cutting width and cutting height
While a walk-behind mower might have a cutting width of 45cm, you can find ride-on mowers with a cutting deck of 100cm or more. This is part of the reason why ride-on mowers are so good for mowing extremely large areas of grass – they're incredibly efficient.
In terms of cutting height, riding mowers normally have a much larger range of available cutting heights when compared to walk-behind rotary mowers. Typically, on a good riding lawn mower, you can set the blades as low as 35mm or as high as 100mm. To adjust the height of the cutting blades, you typically have a switch or a lever somewhere near the dashboard of the riding mower – it's normally an electronic adjustment.
Can ride-on mowers collect clippings? How does this work?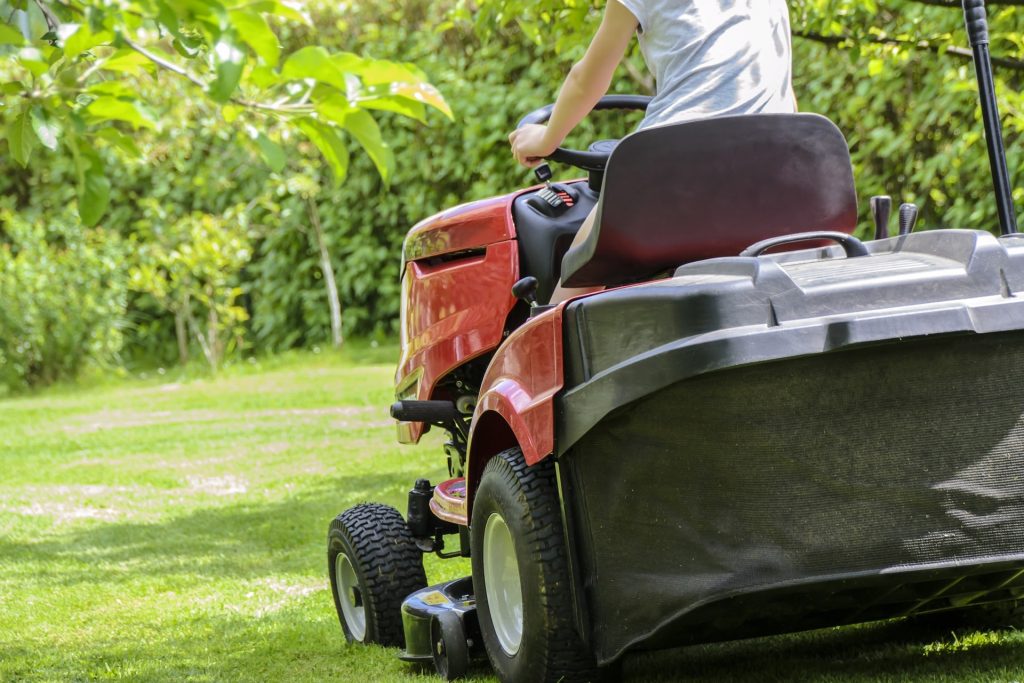 Some ride-on mowers will collect your grass clippings in a grass box positioned at the back of the mower.
However, the majority of riding mowers either side discharge or mulch your grass clippings. This is because when mowing large lawns, even big grass boxes can fill up very quickly.
Unless you have a smaller lawn, and can find a ride-on mower with a big grass box, it's normally best to get a ride-on mower that will mulch or side discharge your clippings.
Do I need a ride-on mower? What are the alternatives?
Having a riding lawn mower has a number of benefits.
They're extremely efficient, especially when mowing large gardens, paddocks, and sports fields.
They allow you to mow with less effort – no need to push a walk-behind lawn mower.
They tend to be very durable, depending on which one you get. Ride-on lawn mowers are one of the only types of lawn mower that is still manufactured in Japan or Europe, at least by certain companies.
However, they're large, complex to operate, and very expensive. So you might be wondering whether or not you need a ride-on mower.
Ride-on mowers are worth buying if you have a large lawn or paddock you want to take care of yourself. They're the best way to mow a large garden efficiently.
The only alternatives to ride-on mowers are buying a large, walk-behind petrol mower for large gardens, or hiring a gardener with their own ride-on mower.
How to maintain your riding mower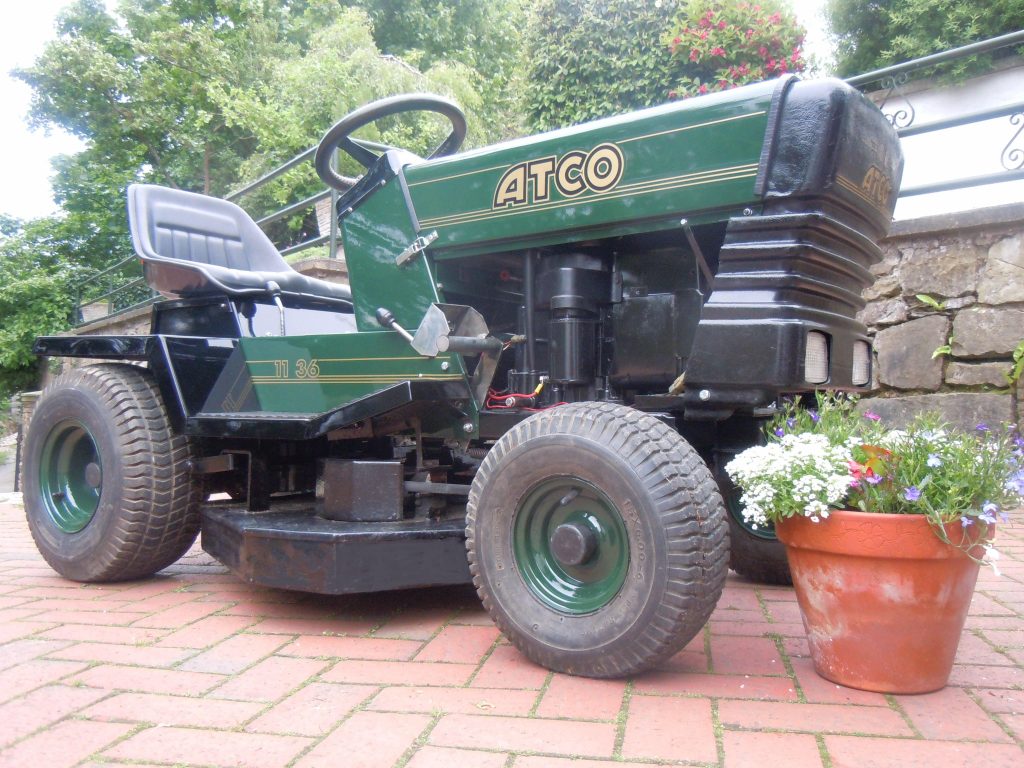 The most basic ride-on mower maintenance you need to do will be cleaning it, to remove stuck-on grass clippings and mud from the cutting deck. Good ride-on mowers will come with a wash-out port, also known as a washing link, which you can plug your hose into and then turn the blades on, to easily clean the cutting deck.
If you have a petrol ride-on lawn mower, you will also need to maintain the engine and transmission. If you don't have experience servicing petrol engines, you can use YouTube to find tutorials, or you might want to get a mechanic to visit you and perform regular maintenance.
To see what needs doing to keep your specific ride-on mower working flawlessly, refer to the owner's manual. Typically, you'll need to perform regular maintenance not covered under warranty, such as oil changes, cleaning out air filters, and replacing the spark plugs every few years.
What age do you have to be to use a ride-on mower?
In the UK you have to be at least 13 years of age in order to use a riding mower.
In the US, there is no legal age limit for using a ride-on lawn mower at a national level, however there may be different rules in certain specific states.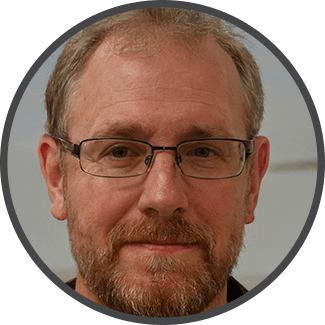 I'm Josh, and I'm the head writer at Lawn Care Pro.
I love everything lawns, but I'm a bit of a lawn mower nerd. I spend a lot of my free time tinkering with mowers, and planning my mowing schedule for the next few weeks.
I'm also into cars, which comes in very helpful when servicing a mower engine!