Looking for a petrol lawn mower for a large garden?
In this buyer's guide, we've reviewed the 5 best petrol mowers for large lawns you can buy in the UK.
After that, we've discussed some key things to consider when buying a petrol lawn mower.
Quick comparison table
BEST OVERALL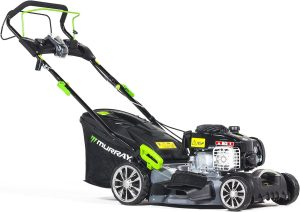 MOST EFFICIENT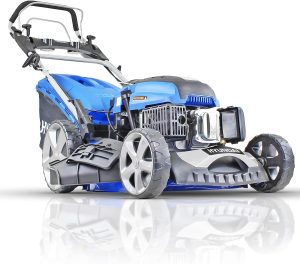 BEST VALUE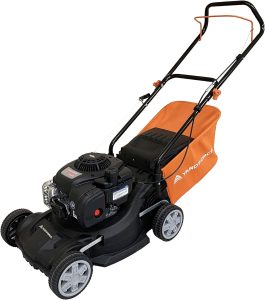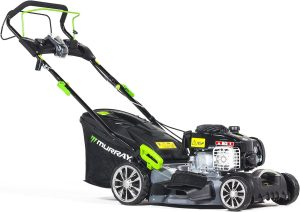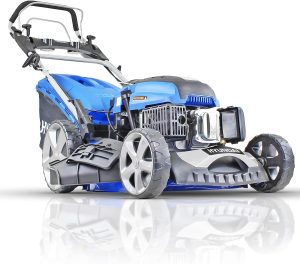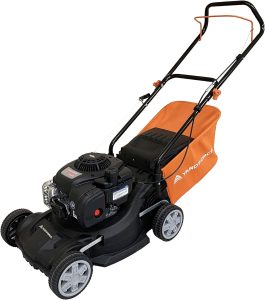 Best petrol lawn mower for large gardens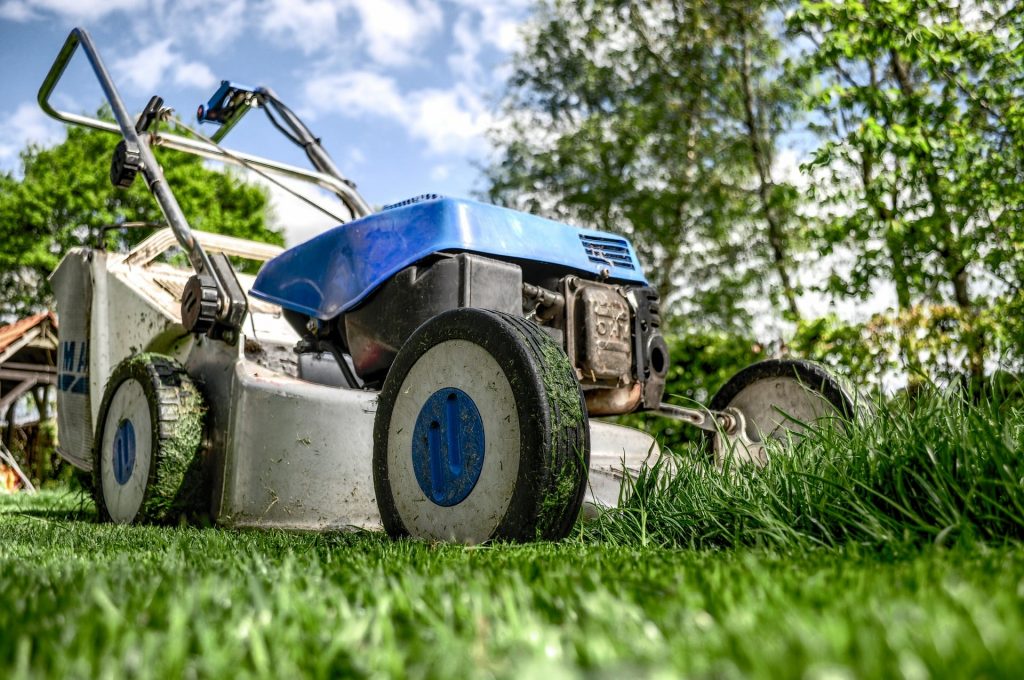 Time to begin our reviews.
We've reviewed the best petrol mowers for large gardens in the UK.
This self propelled lawn mower has basically everything you need to mow a large garden.
For starters, it has a 46cm cutting width, providing excellent efficiency. It covers a good amount of ground with each pass, reducing the time it takes to mow a large lawn.
Secondly, it's extremely tough. The steel cutting deck and blades can withstand hours of mowing, no problem at all. And Murray includes a 2-year warranty for peace of mind.
The EQ2-500 also offers you four different ways of managing your clippings. You can mulch them, side or rear discharge them, or collect them in the large 50L capacity grass box. Many other mowers, even at this price point, won't have such a good mulching function. And although you might not ever use the rear discharge option, it's good that Murray has included it as a setting – most other manufacturers only offer a side discharge function.
Given what you get with this mower, the price is actually quite reasonable, especially given it comes with a powerful 140cc Briggs and Stratton engine. It's not cheap, but there are definitely more expensive self propelled petrol lawn mowers on the market right now.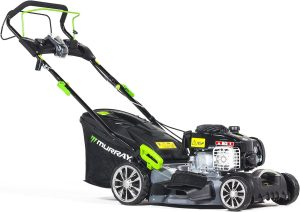 ---
Pros
Good cutting width.
Very durable.
Four different methods of managing grass clippings.
Great value.
Cons
None to mention – great petrol mower for the price.
If you're looking for a slightly larger lawn mower for increased mowing efficiency, this option from Hyundai is worth checking out.
It has a massive 51cm cutting width, and is a self propelled lawn mower, making it a perfect lawn mower for large gardens. This is also a very powerful motor, at 5.6hp, helping to improve efficiency. Hyundai's mower cuts through thick or slightly wet grass or damp grass with ease, and it's self-propelled, helping to make your life easier. You can use the variable speed settings to determine how fast you want to mow – the maximum mowing speed makes cutting your grass quite an efficient process.
Plus, the grass collector is larger on this mower – it's a 70 litre grass box. There is also a mulching plug, and you can side discharge if you'd prefer. It also comes with a nice and heavy rear roller for mowing stripes.
This is a relatively expensive mower. However, it's very durable, as you'd expect at this price, and it has an electric start to make your life that little bit easier. It also comes with engine oil, which is a nice touch – you won't have to go and buy it yourself to begin mowing.
In terms of overall performance, this mower is an excellent choice for big gardens up 200 square metres.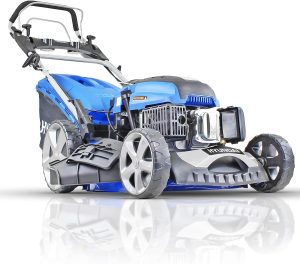 ---
Pros
Powerful motor, self propelled mower.
Extra large grass bag.
Durable.
Electric start.
Cons
Relatively expensive.
The Yard Force GMB40 is a relatively cheap petrol lawn mower. But is it worth buying?
In return for the cheaper price, you get a narrower cutting width, at 40cm, and a relatively small 45L grass bag. The engine is also a little smaller, at 125cc.
However, this is by no means a bad mower for big gardens. It comes with a good range of cutting height adjustment settings, from 25-75mm, and it's quite comfortable to use. The handle is nice and soft, making it easier on the hands during long mowing sessions.
And despite the price, this mower is quite durable. It might not feel as sturdy as some other petrol mowers because it doesn't weigh much, but it's still quite tough. The steel blades stay sharp over time.
We'd recommend this mower if you're on a tight budget, or need a lightweight, manoeuvrable lawn mower. For extremely large gardens though, you will want something with a wider cutting width and a more powerful engine – this is not a self propelled mower, so you'll have some pushing to do.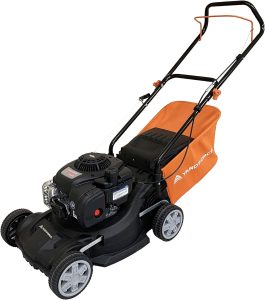 ---
Pros
Great price.
Lightweight.
Quite durable.
Mountfield is another company that offers a 41cm petrol mower designed for ease of use.
Compared to other self propelled mowers, this is a slightly more simple option. There is no mulching or side discharge mode – instead you'll have to pick up clippings in the 55L collection bag. You also get a recoil start rather than a push-button start.
Although this is meant to be a more intuitive petrol mower, it can be difficult to fill with oil. The filler cap is in an awkward location, which is a bit annoying. This isn't a particularly cheap mower either – we would expect it to cost less given what you get.
On the plus side though, you won't have any durability issues with this mower. It comes with a steel chassis and a 5-year warranty, which is about the maximum warranty length you can expect on a petrol mower.
This mower is self propelled, and is easy to get started with. If you can find it at the right price, then the S421R PD is worth considering if you need a simple self propelled lawn mower.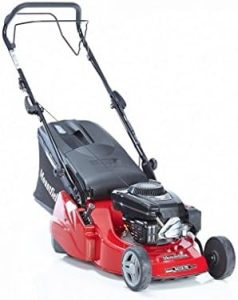 ---
Pros
Easy to use.
Very durable.
5-year warranty.
Cons
Could be cheaper.
Difficult to fill with oil.
This is a 46cm lawn mower, making it a bit smaller than Hyundai's mower that we've already reviewed.
The difference between the two is, this mower is a fair bit cheaper, and comes with fewer frills.
For example, there's no push-button start, and no engine oil included with this mower. However, the engine is still very powerful, at 4.3hp, and it performs extremely well. It even has four different options for your grass cuttings, including mulching and side discharge.
This self propelled lawn mower is also quite durable. It has steel used in all the areas you need it, including on the cutting deck. You also get a two-year warranty from Fox.
If you're looking for an inexpensive self propelled petrol mower with a good cutting width, this is probably your best bet.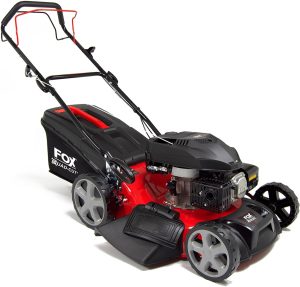 ---
Pros
Reasonable price.
51cm cutting width.
Four discharge options.
Tough, made mostly of steel.
Cons
No electric start – would expect one on a mower of this size.
What you need to know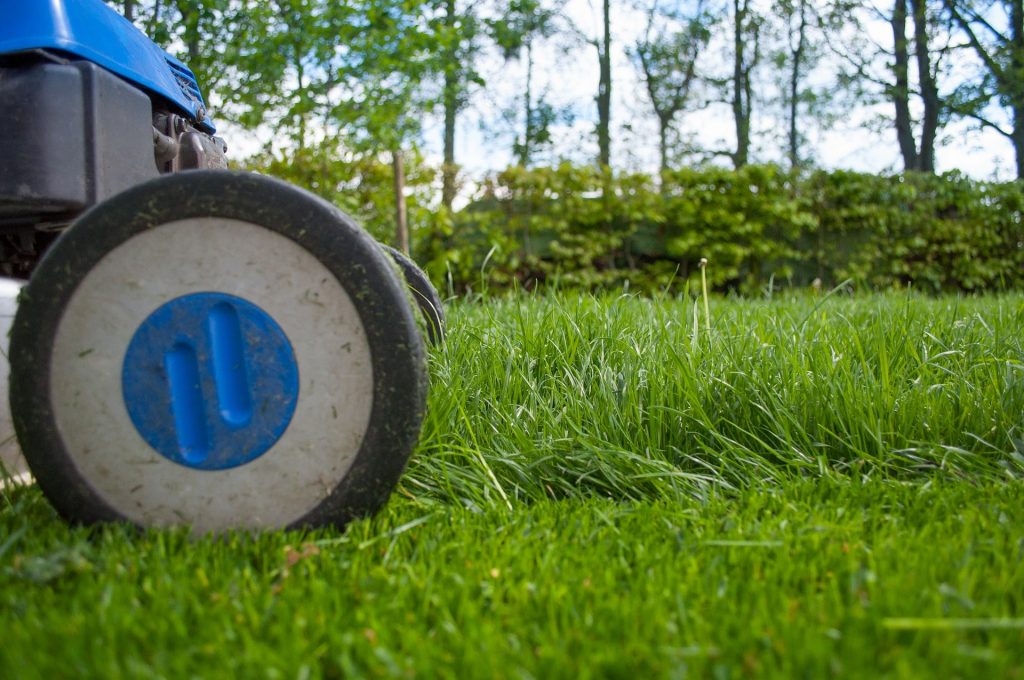 In this part of the buyer's guide, we'll discuss what you need to know when buying a lawn mower for a big area of grass.
What you need to know as a first time petrol mower owner
If you're planning on buying your first petrol lawn mower, there are a few things you should know about owning them.
They can be quite noisy. It's a good idea to invest in a good pair of earmuffs to protect yourself from the noise, even if you buy a mower with a relatively quiet engine.
Petrol lawn mowers require regular maintenance. On an annual basis, you'll want to change the oil, air filter, and spark plug.
They require some steps to ensure safe storage in the winter. You will want to empty the petrol tank, and completely clean and dry the mower before putting it away.
Petrol mowers often feel quite different to use, because they're often self-propelled. This means that they're less effort to push, but the feeling of a self-propelled mower may be a little strange if you're used to using manual or electric mowers.
How much engine power do I need?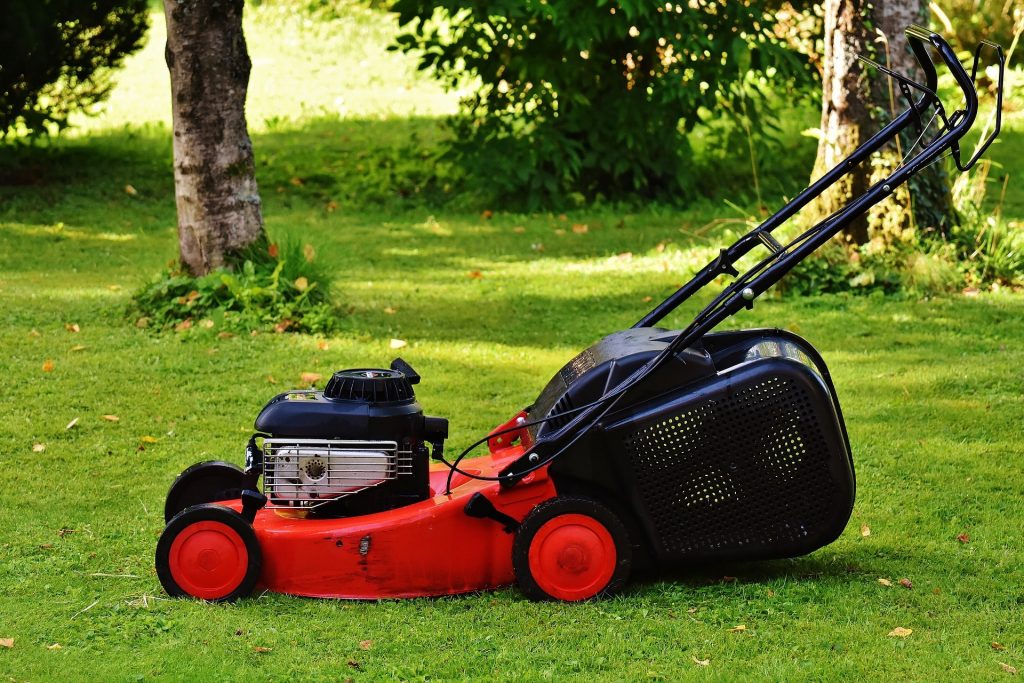 While electric corded mower power is measured in watts, and cordless mowers' power is measured in volts, petrol mowers have a horsepower rating.
Typically, petrol mowers will have between 3hp and 6hp. Manufacturers will sometimes also provide the cc of the motor – 150-200cc is typical for a lawn mower engine.
The more horsepower, the more expensive the lawn mower will be. However, there are significant benefits to having more power.
Firstly, the more horsepower you have, the better the mower will cope with thick or wet grass. And more power means that the mower will move with less effort on your part, because powerful mowers are likely to be self propelled.
Therefore, mowers with 5hp or more are best for larger gardens.
What cutting width do I need?
Since most petrol lawn mowers are designed for medium sized gardens and larger lawns by default, nearly all of them will have an appropriate cutting width.
If mowing large areas of grass, you will lawn a cutting width of 40cm or more. Anything less and mowing will feel very inefficient.
Do note that the wider the cutting width, the heavier the mower will be, and the more power you'll want. As the mower gets bigger, the quality of the drivetrain also begins to matter more, since you're relying on it to do more work – in that it's powering a bigger mower.
Therefore, if going for a mower with a wide cutting width, it's best to invest in a better-quality petrol lawn mower.
How petrol lawn mowers manage grass cuttings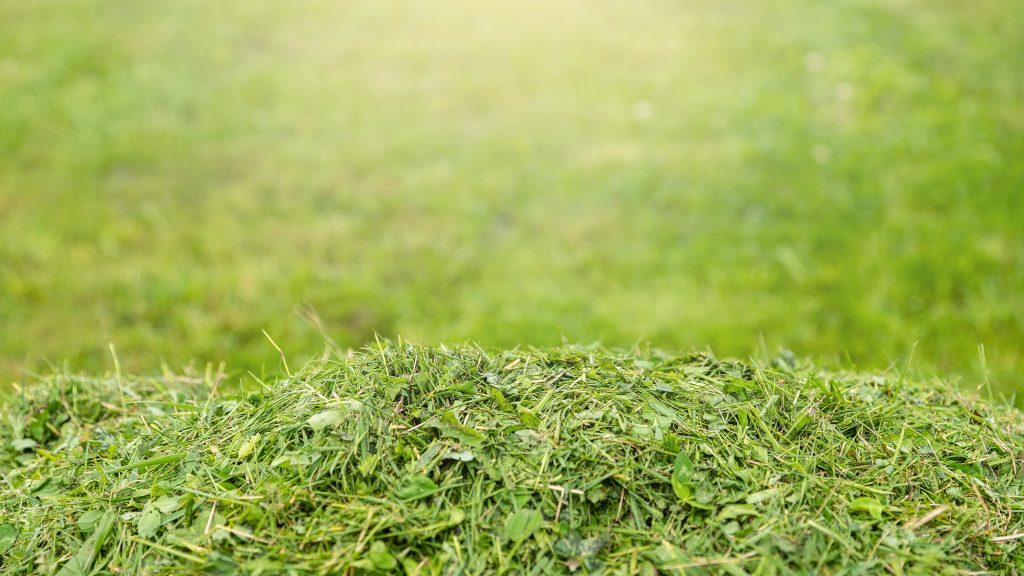 Lawn lowers can deal with grass clippings in three different ways. Most mowers will allow you to switch between two or more of these different options.
Collecting clippings in a grass collection box. Nearly aall petrol lawn mowers will have a grass box or grass bag, which you have the option of using. They allow you to keep your lawn clean and free of clippings, which can be useful if you have an existing thatch problem. However, if you're mowing a large lawn, you're going to be emptying the grass box a lot. Ensure that you get a mower with a large grass box capacity (50L and above) if you want to collect your clippings. Also, look out for a large chute size. The larger the chute from the deck to the grass collection bag, the easier it is for your clippings to make it in, especially if the grass is slightly wet.
Side discharge – clippings are ejected out of a hole in the side of the mower as you mow. This helps to keep the underside of the deck clean, and means you never have to empty a grass box. However you may create piles of clippings on your grass, which can block sunlight from reaching your lawn in areas.
Mulching – rather than bagging or ejecting them, clippings recirculate inside the cutting deck, being chopped into extremely fine pieces. They're then forced down into the soil as you mow, where they become compost for your grass. Using a mulching mower is a great way to keep your lawn healthy without having to add mulch separately. You just need to ensure that the underside of the deck doesn't get too clogged up over time with grass cuttings.
If looking for a lawn mower for larger gardens, side discharge or mulching is typically best, depending on how you like to take care of your lawn. For example, if you want a hands-off approach, mulching allows you to feed your lawn without having to use fertiliser – and spreading lawn feed over a large area can be very time-consuming.
However, if you take pride in using your preferred fertiliser and lawn feed products, then you'll want to collect your clippings.
Drive control options
Lawn mowers aren't like vacuum cleaners – the blades aren't operated by an on/off switch. For safety, there will be a drive control device that you have to operate to keep the mower moving.
There are many different drive control mechanisms fitted to petrol mowers. Here's how they each work (and which are best):
A lever that you pull towards you on the handle. This is a very common drive mechanism on lawn mowers, as the design is quite simple. The issue is, continually grabbing the lever in your hand as you mow can be quite tiring, especially if you're cutting a big area of grass.
A handle that can be pushed forward to make the mower move. This requires less effort on your part as the operator. However, the mechanism needs to be designed well, otherwise the handle might require too much or too little effort to make it move, which would be quite frustrating.
A lever on the handle that can be operated with your thumb. These systems can be good in that they require less effort to operate. They can still cause thumb strain over time though.
Neither of these systems is perfect. If we have to pick one, it would be #1. Having a lever on the full width of the handle gives you more freedom to choose where and how you hold it, making you more comfortable during long mowing sessions.
Start mechanism options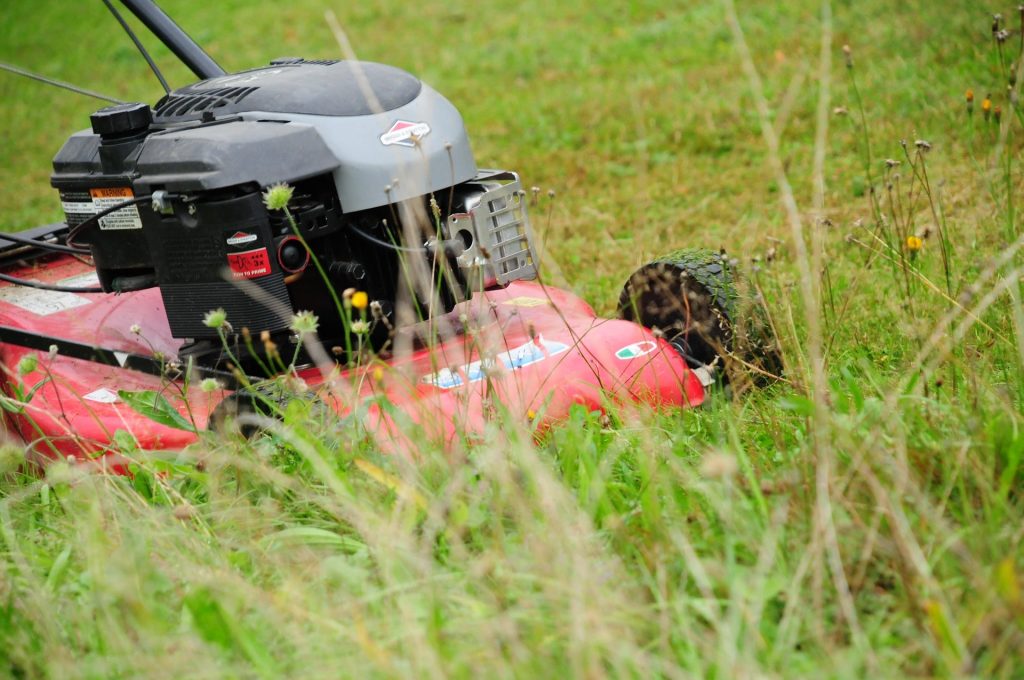 When you think of electric lawn mowers, you probably imagine having to pull on a cord to get them to start. This is called a recoil start mechanism.
However, if you don't want to go to the effort of using a recoil start, these days there are many mowers on the market with an electric start.
Using an electric start, you simply push a button to start the mower instantly.
Do note though that electric starts are normally only available on more expensive mowers.
Other handy features on petrol mowers
Apart from an electric start, here are some other features you might like to look out for when choosing an electric mower.
Quality wheel designs. Most petrol powered lawn mowers are quite heavy, which can affect their manoeuvrability. Good mowers will have a quality wheel design to help solve this issue. For example, there are some mowers that have special wheels which allow them to turn around inside their own footprint.
Grass box windows. Being able to see into the grass collector to find out how much space it has left can be really useful, especially when mowing larger lawns.
Wash out ports. A wash out port is essentially a hole in the mower you can plug a standard garden hose into. With the hose inserted and the tap turned on, you can turn the mower on with the cutting height lowered, and it will clean the cutting deck. Essentially, a wash out port makes cleaning and maintenance much easier.
Can I mow stripes on a large lawn?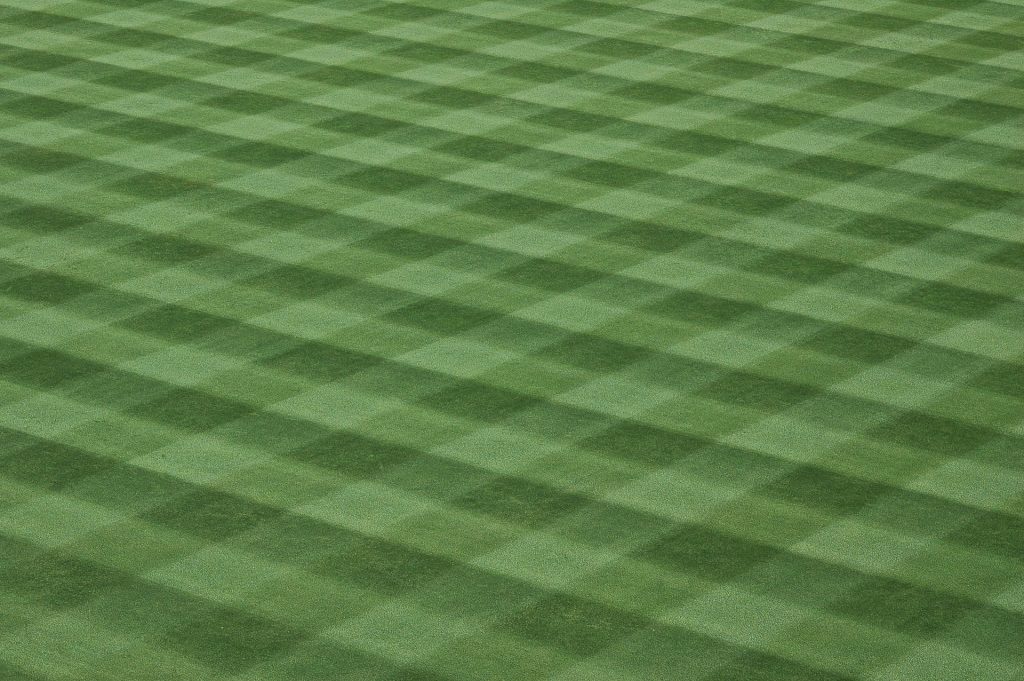 Yes, you can mow stripes on a large lawn with the right lawn mower. You just have to be very careful to keep the lines straight. Over long distances, it can be easy to stray off-track.
Most petrol mowers come with a rear roller, which will flatten the grass in the direction you mow.
To mow the best stripes, look for a mower with a heavier rear roller. Also, check out our guide to rolling stripes to learn more about the technique involved.
Could I use a ride-on mower instead?
If you have a large garden, you may be able to justify buying a ride-on mower instead of a rotary lawn mower, in order to reduce the effort involved in cutting your grass.
You don't need to have acreage to justify having a riding mower. There are smaller ride-on mowers on the market now that are suitable for medium and large gardens 30x30m and above.
The issues with riding mowers are:
Their cost. Not only are ride-on mowers expensive to buy, they're expensive to service as well. Expect to pay about as much as you would to service a cheap car on an annual basis to keep your mower going.
Storage. You'll need a large garage or shed with spare space to store a ride-on mower.
Ride-on mowers can make cutting large lawns an easier process. However, they're not for everyone.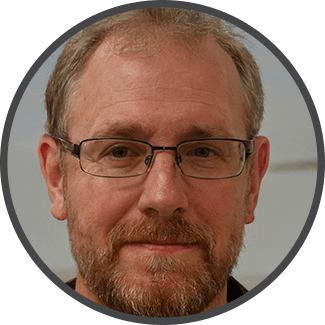 I'm Josh, and I'm the head writer at Lawn Care Pro.
I love everything lawns, but I'm a bit of a lawn mower nerd. I spend a lot of my free time tinkering with mowers, and planning my mowing schedule for the next few weeks.
I'm also into cars, which comes in very helpful when servicing a mower engine!