Looking for a simple, easy to use manual lawn mower?
In this buyer's guide, we've reviewed the 7 best hand push mowers you can buy in the UK in 2021.
We've also explained some key things to consider when choosing a manual lawn mower.
Quick Comparison Table
Best Manual Lawn Mowers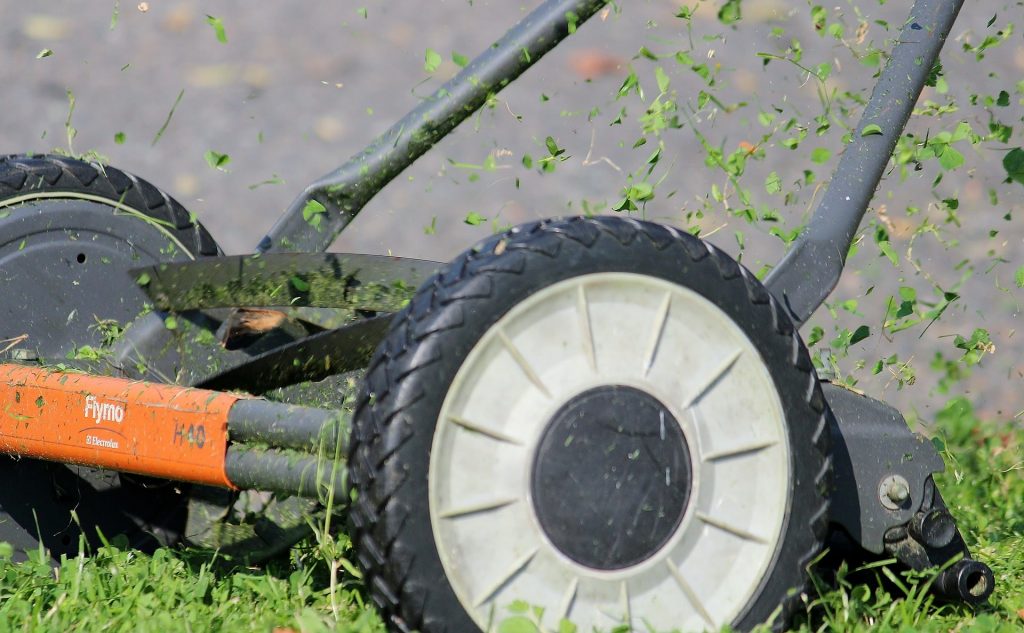 Let's begin our reviews.
Below, we've tried to answer the question: what's the best hand push lawn mower you can buy at the moment?
This isn't the cheapest manual lawn mower on the market. However, it does offer good value, given what it costs.
The best thing about this mower is how easy it is to use. You can immediately begin mowing once you assemble it, and it's not too difficult to push. It's also easy to adjust the cutting height, which is a nice bonus.
You get a 38cm cutting width with this lawn mower. This is is on the higher side for a hand push mower, meaning you can cut more grass in less time. But despite the size, this is still a very manoeuvrable mower, which is great.
Given what this mower costs, its durability is pretty good. You won't have to worry about it breaking on you, because the design is very simple – which is what you want when buying a manual mower.
The only real downside to this mower is the lack of a grass box. You can buy one separately if you want to collect your clippings.
In terms of overall performance, this is probably the best manual mower for sale right now. It cuts just as well as basically any lawn mower out there, even if you have thick grass.
As you might be able to see from the picture, this is a very sturdy lawn mower. It's made mostly of metal, and the steel blades stay sharp over time.
This push mower is also easy to use over extended periods. The handle is soft and easy to grip, and it doesn't take much effort to push, despite not being particularly lightweight.
The reason you can push this mower so easily is mostly down to the wheel design. They perform extremely well, and work well on uneven lawns, which is not something that many push mowers can do.
There is a big downside to this hand mower though – it's quite expensive.
Looking for a budget-friendly manual mower?
The Bosch AHM 38 G is a decent bit cheaper than the other two mowers we've reviewed so far.
Despite being reasonably cheap, it's still very efficient, due to the 38cm cutting width. It also comes with a 25L grass box, and even has a rear roller – meaning it can mow stripes.
This isn't the most sturdy manual mower you can buy. Although the reel is good, in that the blades are sharp and made of durable steel, there is a lot of plastic. This does make the mower lightweight, but it does feel a little flimsy.
To sum up, if you want a relatively cheap push mower to just get the job done, the AHM 38 G is worth considering. But if you want a mower with a more sturdy feel, there are better options out there.
This is another low-budget manual lawn mower, similar to the Bosch we just reviewed.
The difference is, this mower is a good bit smaller. It has a 30cm cutting width. This does reduce its efficiency a bit, but in return you get better manoeuvrability. If you have a very small garden, this smaller cutting width is nice to have.
You get an 18L grass box with the HRM 300-3. It's not the biggest catcher you'll see on the market, but it does a good job collecting clippings. The box has plenty of capacity for smaller gardens.
Due to the low price, there's quite a bit of plastic used on this lawn mower. Similar to the Bosch, it does feel a little flimsy. But its lightweight design further contributes to its manoeuvrability.
Plus, the steel blades do a good job, even on tall grass. The performance of this Grizzly mower is great, given what it costs.
Another relatively cheap manual mower is the HM381 from Cobra.
This lawn mower comes with a 38cm cutting width – so it's relatively wide. However what sets it apart is it doesn't feel that flimsy. Despite the price, it has a nice feel to it, and comes with a 2-year warranty.
The cutting height settings are also good. You can set it from 13-38mm, and there are four settings, which is pretty good at this price point. Changing between them is also quite easy – you just move a lever to adjust the blades.
You even get a rear roller with this mower. It's not perfect, but you can mow stripes with Cobra's mower on a flat lawn with some patience.
Even its performance stands out, when compared to similarly-priced mowers. It'll deal with any type of grass, but twigs will jam the cylinder, which is expected of most push mowers.
At first glance, you might be wondering why this mower costs as much as it does. There's no grass box included, and it looks like it has a quite basic design.
The Gardena 400 C is designed to be simple but effective, in that it gets the basics right. It's easy to use, and the handle is comfortable to hold for extended periods. Since it's quite simple, it's easy to assemble when you receive it, and it folds down easily when you want to store it away.
In terms of performance, the quality of the blade is great. It makes light work of thick grass, and doesn't dull easily over time. Plus, due to the 40cm cutting width, it's very efficient as well. It does a great job even on slightly larger gardens, up to 250 square metres.
This isn't the cheapest manual mower, but it's not that expensive either. It makes a good investment, in that it's durable – it's not made of flimsy plastic like many cheaper mowers are.
Ultimately, this mower is a better choice if you're deciding between buying a push mower or an electric mower. It's larger and heavier than many other manual mowers, but performs just as well as most rotary mowers.
Einhell have another smaller push mower for smaller gardens. Although they say that this mower has a "wide" cutting width, it's actually not, at only 30cm.
You do get a grass bag with this mower, which is a nice touch. It has a decent capacity, but doesn't always collect all your clippings. You might want to use this mower without the grass box.
Apart from that though, this is a good little lawn mower. It's extremely light, and the wheels make it very manoeuvrable. For small gardens, it works great.
The cutting height settings are also quite good – you can get the blades as high as 42mm, which is great for a mower at this price.
Also, the durability is quite good, given what it costs. There's less plastic used on this mower than on most others of this size. However, it's not extremely cheap.
Hand Push Mower Buyer's Guide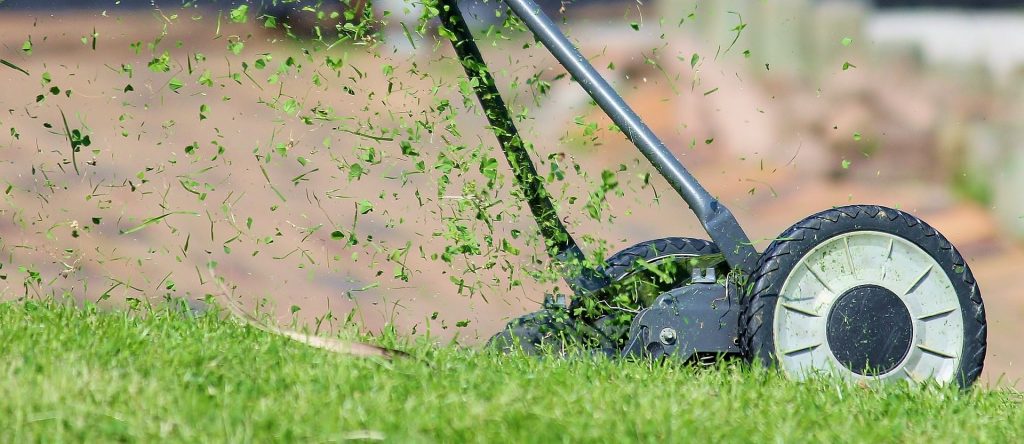 Now we'll discuss some important things to know about manual lawn mowers before buying one.
Using this information, you'll be able to determine whether or not a hand push mower is the right mower for your lawn.
Who is a manual lawn mower best for?
Manual lawn mowers are best for when:
You have a small lawn and want a simple way to cut it. If you don't have a very large area of grass, it might not be worth buying an electric or petrol lawn mower. Rather than having to worry about refuelling or recharging, you can mow small areas of grass with a manual mower much more easily.
You're on a tight budget. Hand push mowers are generally much cheaper. For the amount a good manual mower costs, you'd only be able to get a cheap and cheerful electric corded mower.
You're concerned about the environment. Petrol mowers produce a massive amount of emissions, not to mention the noise they generate. And with an electric cordless mower, the battery can be difficult to dispose of in an environmentally-friendly manner at the end of its usable life. Push mowers by contrast don't have these types of environmental issues associated.
When not to use a manual lawn mower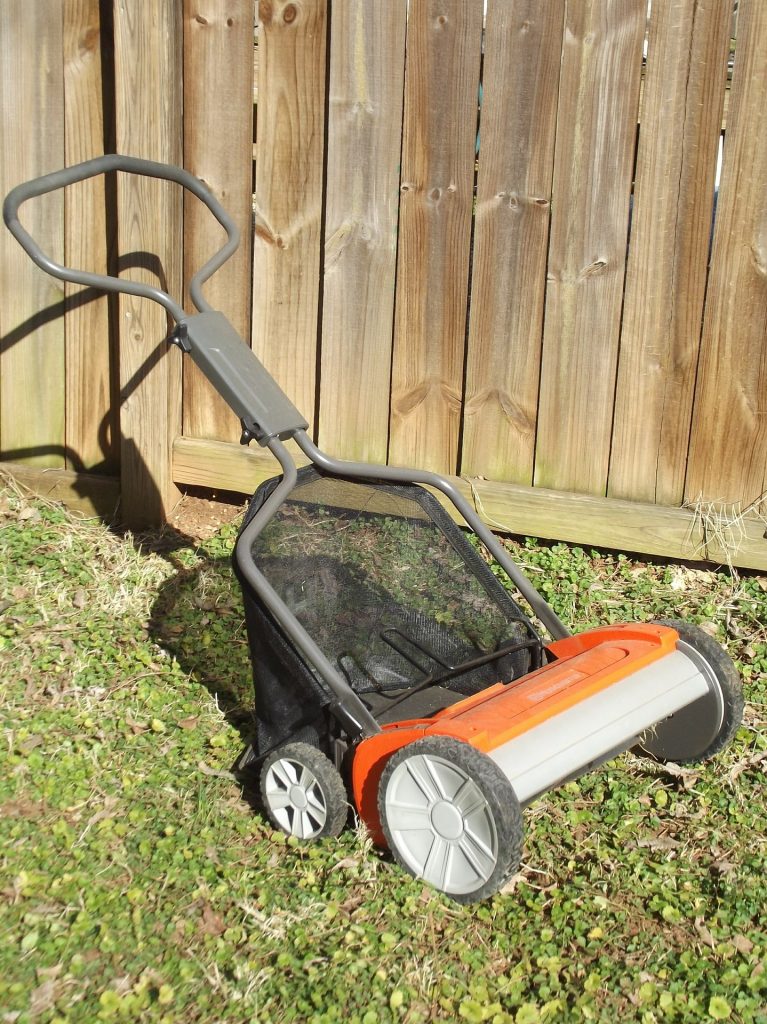 However, there are situations in which you probably shouldn't use a manual mower, due to the downsides they have.
Avoid using a manual mower if:
You have a medium or large-sized garden. Because you have to push them by hand, manual mowers take a lot more effort to use, which becomes an issue for bigger lawns. If you're on a budget, consider getting a hover mower instead.
You have a very uneven lawn, or a lawn with lots of obstacles. Manual mowers struggle to mow right up to the edges of trees for instance. If you have a lot of plants that obstruct a manual mower from cutting, you may need to use a strimmer on these areas.
You have limited mobility. Manual mowers take a decent amount of effort to get moving. You don't need to be incredibly strong to use them, but they're best avoided for the unfit.
You want to mow stripes. Push mowers sometimes have a rear roller, but they're often not heavy enough to do a good job mowing stripes.
How do manual mowers work?
Most lawn mowers are rotary mowers. This means that they have a single blade that sits parallel to the ground rotating clockwise to cut the grass.
Manual mowers are also known as cylinder mowers, or manual reel mowers. As the name implies, a cylinder mower has a cylinder of blades, which spins forward onto the grass as you push, cutting similar to how a pair of scissors would.
When compared to rotary mowers, cylinder mowers are less likely to rip the blades rather than cutting them. This can result in a neater-looking cut, and less chance of diseases spreading in your lawn. This is why powered cylinder mowers are often used on ornamental lawns – when the reel is designed well, they produce a great quality cut.
Are manual lawn mowers effective?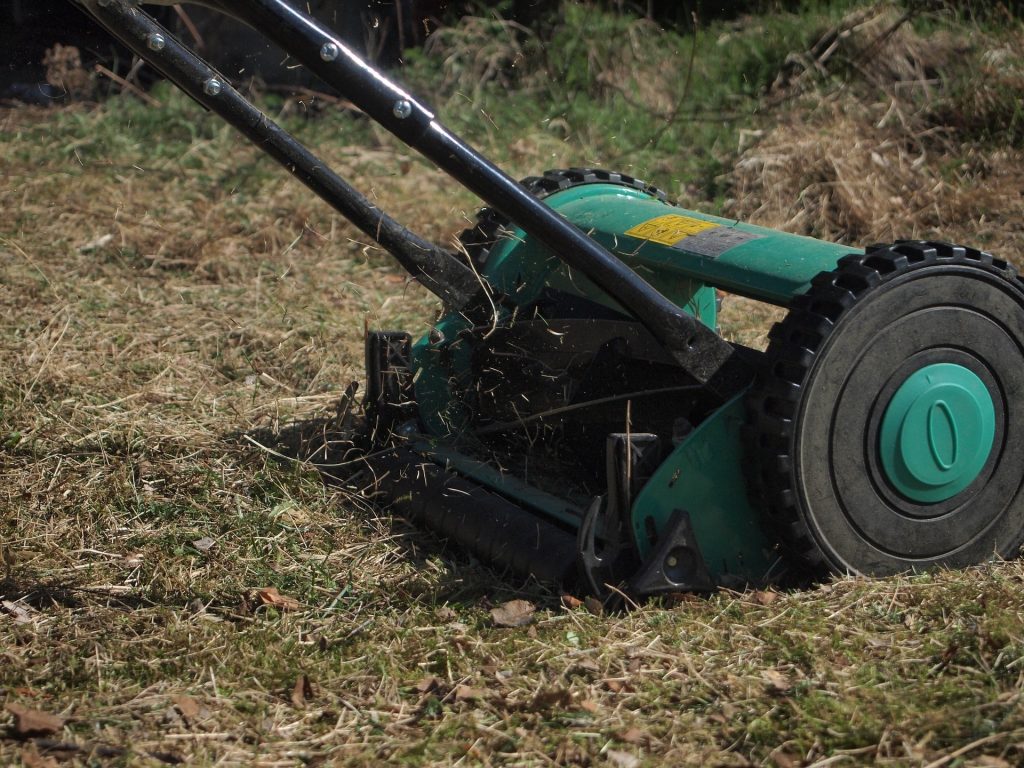 Manual lawn mowers are very effective on most common types of grass you will find in the UK.
One thing that will reduce a push mower's effectiveness is pebbles. If your lawn is near a gravel driveway for example, these small rocks can get stuck in the reel, preventing the cylinder from turning. Small sticks and twigs will cause a similar issue – you'll have to stop and remove them before continuing.
Some manual mowers will also struggle with thick grass. This really depends on how good your push mower is. With the right blade design, you'll be able to mow thicker grass, even when slightly damp.
Cutting width explained
The cutting width is the amount of grass that you will cut with each pass. A 35cm cutting width for example means that the blade, in terms of its effective cutting width, is 35cm wide.
With the cutting width, you are essentially trading off straight-line efficiency and manoeuvrability. The wider the mower, the fewer passes you will have to do to mow your lawn. However, wider manual mowers are heavier and more difficult to manoeuvre. And the wider the cutting width, the more expensive the mower will be.
To decide how big a mower to buy, consider the size of your lawn. Also think about how you'll end up mowing it. If your lawn is mostly flat, and is a square shape, then manoeuvrability isn't such a big issue. But if you're mowing around trees for example, then you might want a smaller push mower to make the process a bit easier.
Cutting height adjustment explained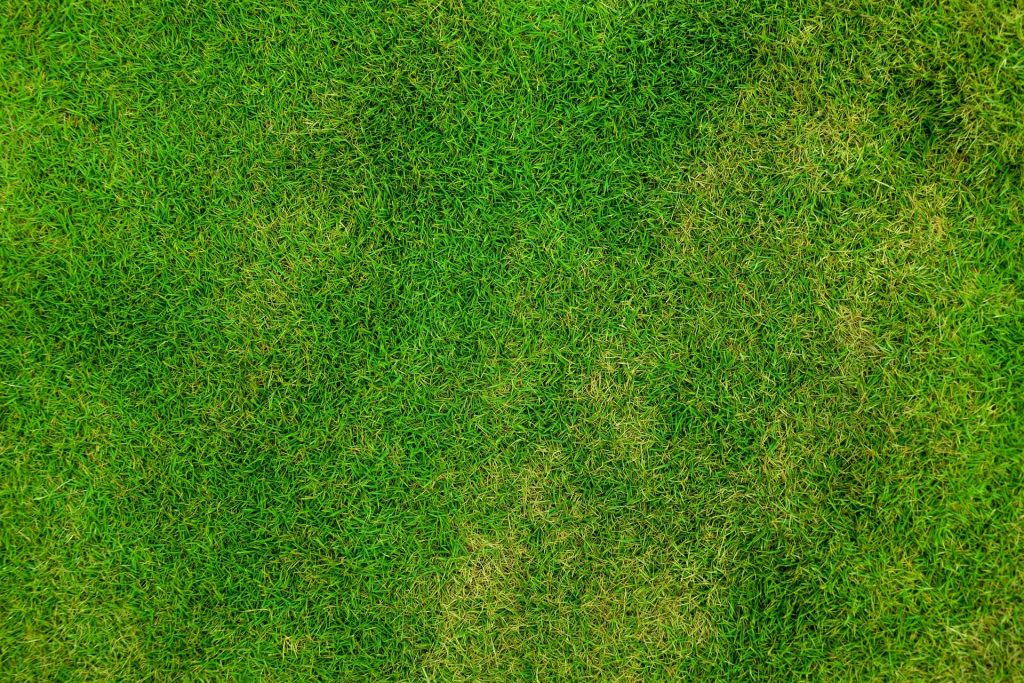 On most manual mowers, you can raise or lower the cutting height to adjust how short you're cutting your grass.
If you don't like to mow often, and want to keep your grass short, look for a minimum cutting height of 15mm or less. But if you like to do shorter cuts on a regular basis to keep your lawn as healthy as possible, then you will want to cut at a height of about 20-30mm.
Also consider how easy it is to adjust the cutting height. Normally, on a manual mower, the process will involve moving a lever, which can be fiddly if not designed well. See what other customers have to say about the cutting height adjustment process before buying.
Important things to look for in a manual mower
There are a few other things you need to look for in a good-quality manual mower.
A quality grass box. This is one thing that hand push mowers often struggle with. They often fail to collect clippings consistently. Look for mowers that have a proper grass box, rather than a flimsy-looking basket, if you want to ensure that all clippings are collected.
Manoeuvrability. This isn't just down to the cutting width. Manoeuvrability is also affected by how well the wheels are designed, as well as the overall weight of the mower. It always pays to have a mower that's easy to move around, especially when you're doing all the pushing yourself.
Quality materials. In terms of material choice, designing a manual mower is a fine balance between ensuring durability and keeping it lightweight. Tougher materials are often heavier. You want to avoid mowers made mostly of plastic. Also try to look for mowers with reviews from customers who have owned them for more than a year. This gives a good indication of how well the materials hold up over time.
How to maintain a manual lawn mower

Manual lawn mowers are much more simple to maintain than petrol mowers. However, there are still steps you need to take to keep them mowing at their best.
Here are some steps you can take to care for a hand push mower.
Oil the gears every so often, especially when the cylinder begins tougher to turn after a few month's use.
Sharpen the blades when they become dull. There are special sharpening kits that allow you to do this. This might involve using a sharpening compound, or installing a strip of sandpaper on the cutting bar, then rolling the blades across it by pushing the mower.
Clean the blades thoroughly before storing the mower away for the winter. To do this, first scrub them with a coarse brush to get rid of dried grass blades, then use a wet cloth to remove any remaining dirt.