If you live in the UK, you're probably used to mowing wet grass. But what lawn mower should you be using when it's recently rained?
In this guide, we've reviewed the 5 best lawn mowers for wet grass you can buy right now.
Quick comparison table
BEST OVERALL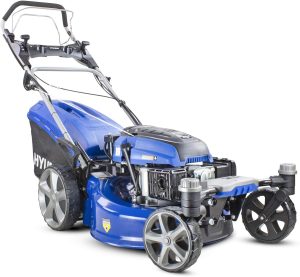 BEST DURABILITY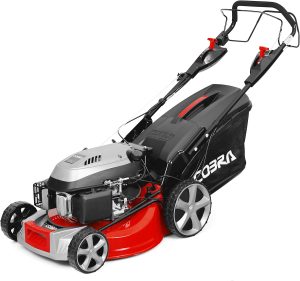 BEST VALUE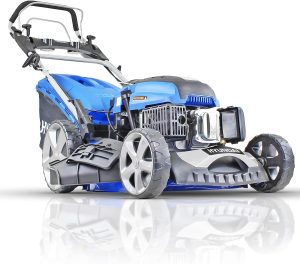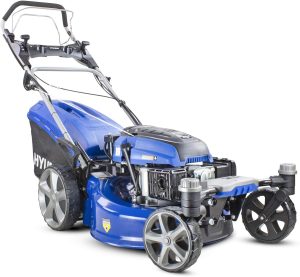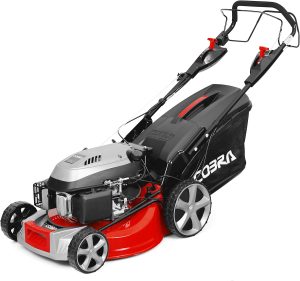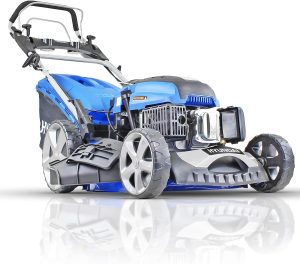 Contents
Best lawn mowers for wet grass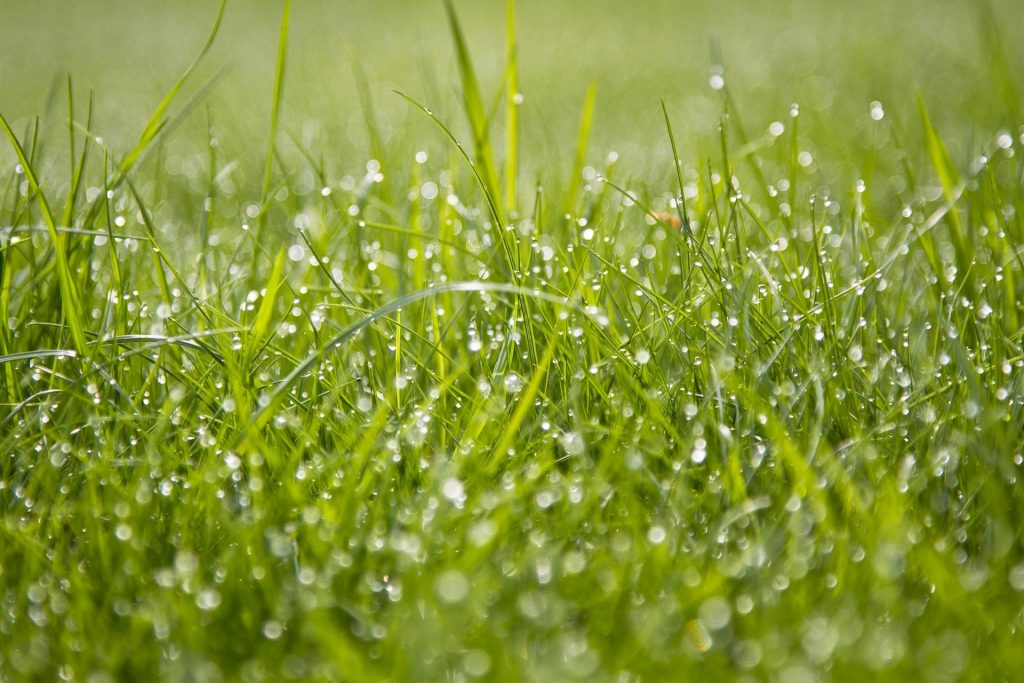 Time to begin our reviews.
We've looked at the top 5 lawn mowers for wet grass in terms of their cutting ability, durability, and value for money.
In terms of raw ability to mow wet grass, this is probably the best lawn mower you'll find for sale in the UK for around £500.
This mower comes with a 4.2 kW (5.6 HP) 196cc petrol engine, which provides enough power to cut wet grass. It's also a self-propelled mower, which is very useful – it can be quite tough to push a self-propelled lawn mower on wet grass, especially if it's very long.
The height adjustment on Hyundai's mower is also great. You can get it as high as 75mm, helping you avoid taking too much off at a time, which would result in the cutting deck clogging with wet grass clippings.
Another nice thing Hyundai has done with this lawn mower is fit it with front wheels that can turn 360 degrees. This means you can turn the mower in a very small space, which can be helpful when mowing in tight spaces.
What's more, you get a 3-year warranty from Hyundai with this lawn mower.
The only real downside to this product is the price. But if you need the ability to mow wet grass efficiently, it's hard to go past this mower.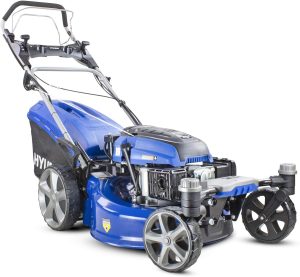 ---
Pros
Has enough power for wet grass.
3-year warranty.
Easy to cut the blades high enough for cutting wet grass.
Smart wheel design.
Cons
Expensive, but worth the cost in our opinion.
Cobra offers a slightly cheaper lawn mower than the Hyundai we just looked at. This is because this mower doesn't have the 360 degree wheel design, and the warranty is shorter, at 2 years.
However, the MX534SPCE still does a good job cutting wet grass. Its Honda engine has a decent displacement, at 196cc, and provides enough power for wet grass with the right technique. This engine is also reasonably quiet for a 4-stroke, which is nice.
What's most useful about this mower though is it comes with a 4-speed gearbox. You can set it to go slowly when the ground is damp, or go much faster when doing more frequent cuts in the spring and summer months.
With the clippings, you can choose to collect them, mulch them using the mulching plug, or use the side discharge mode to clear them from the cutting deck.
In terms of durability, this mower does quite well. The sharp blades keep their edge over time, which is useful for those mowing damp lawns. It's also easy to use the adjustable cutting heights.
If you don't mind the 2-year warranty, this lawn mower is a good buy at this price.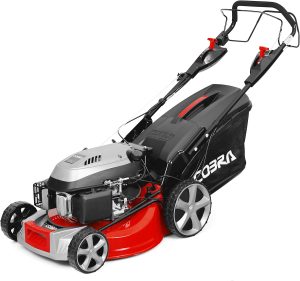 ---
Pros
Good durability.
Can choose how fast you want to mow.
Reasonable price.
Engine has enough power for wet grass.
Cons
Only a 2-year warranty.
Yard Force offer a petrol mower that's a decent bit cheaper than most other options on the market.
Coming in at 125cc, it has a decent amount of power for the price, and can cut damp grass with the right technique. You can also keep the blade nice and high (up to 75mm), making for easier mowing.
As a cheaper lawn mower, this option is self-propelled. This can make things a bit tricky if your grass is extremely damp. However, if you have a small, flat lawn, and typically cut it when it's wet, this mower will do the job nicely.
For the price, the warranty is decent. You get 2 years by default, with an extra year added on when you register your details on the Yard Force website.
On the whole, this is a great lawn mower that can handle wet grass, especially given its price. However, it may have problems with collecting damp grass cuttings, especially if you're using the blades on a lower cutting height setting.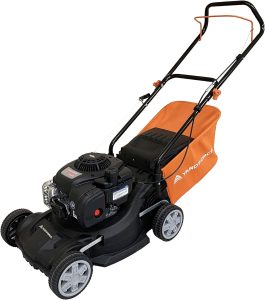 ---
Pros
Great price.
3-year total warranty.
Good power for the price.
Cons
Self-propelled.
May struggle to collect clippings when the grass is wet.
This is another high-powered 4-stroke Hyundai mower. It's similar to the HYM510SPEZ we reviewed earlier, but is a bit cheaper.
In return for the lower cost, you get a slightly less powerful engine – it has 173cc rather than 196cc. Hyundai has also ditched the 360-degree wheels for this product to save you some money.
Apart from that, the mowers are similar weights, have the same 3-year warranty, and are both self-propelling. Both are an excellent lawn mower for wet grass.
So, is it worth paying more for the more expensive option?
It depends on the size of your lawn. This lawn mower has plenty of power to cut the grass on a small/medium lawn in wet conditions. But if you have a large lawn, or want to take off more than a few millimetres off, then the extra power of the HYM510SPEZ is worth paying extra for.
This slightly cheaper option is probably better overall value for money. You save a lot, but get still get a durable, powerful, fuel-efficient lawn mower that cuts well even when your grass is wet.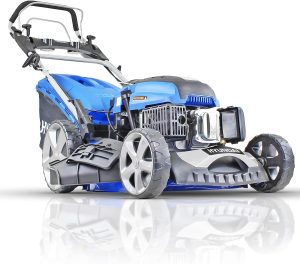 ---
Pros
Great value.
Good power for the price.
Durable.
3-year warranty.
Cons
No fancy wheel design or other gadgets.
This is another mid-budget mower for wet grass that's a similar price to the Hyundai we just reviewed.
Webb's mower is a bit smaller, with a 46cm rather than a 51cm cutting width. This may slow you down a bit, because when cutting wet grass, you really need to overlap your previous cuts a decent bit, so having a wider lawn mower can be advantageous.
For small lawns though, this isn't a big deal. Most lawn mowers with a smaller cutting width are lighter and easier to mow with, and take up less room when stored.
In terms of power, the WER460SP isn't the best, at only 141cc. However, it does feel more powerful than you might expect with this level of displacement. It does a good job cutting damp grass and long grass, as long as you keep the blades nice and high. The adjustable cutting height system is easy to use.
The warranty is only 2 years, but this shouldn't be a problem due to the durability of Webb's mower. It won't get damaged easily when used in the wet, provided you clean it well after each use.
Due to the moderate power level though, this lawn mower is probably best for those looking for something they can occasionally use when it's damp – not someone who is constantly cutting soaking wet grass.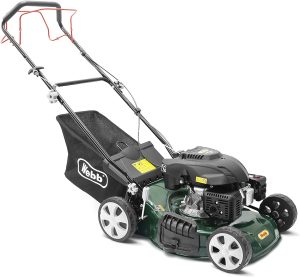 ---
Pros
Good price.
Very durable.
Easy to use.
What to know about cutting wet grass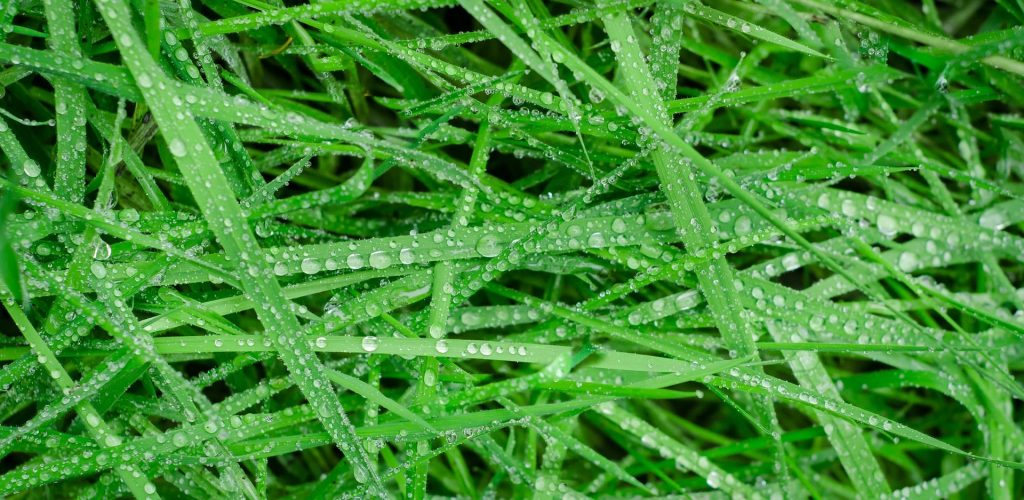 In this part, we'll explain what you need to know about mowing wet grass, and how to find the right lawn mower for the job.
Why does everyone say not to cut wet grass?
In general, most people are going to tell you to avoid mowing wet grass.
This is because wet grass is harder to mow properly. Even sharp blades won't cut damp grass blades very easily, even if you don't have long grass, and you'll have a hard time collecting your clippings, because the grass will clump up.
Another problem: you can't use an electric mower when cutting wet grass. Water and electricity don't mix.
However, for many people, you need to mow grass when it's a least a bit wet. If you live in somewhere like Cumbria for instance, where it's constantly raining, then you'll very rarely be able to wait until your lawn dries out completely.
Or if you're a gardener booked to mow on a certain day, you can't simply wait for the weather to clear up before getting the job done.
What is the best type of lawn mower for wet grass?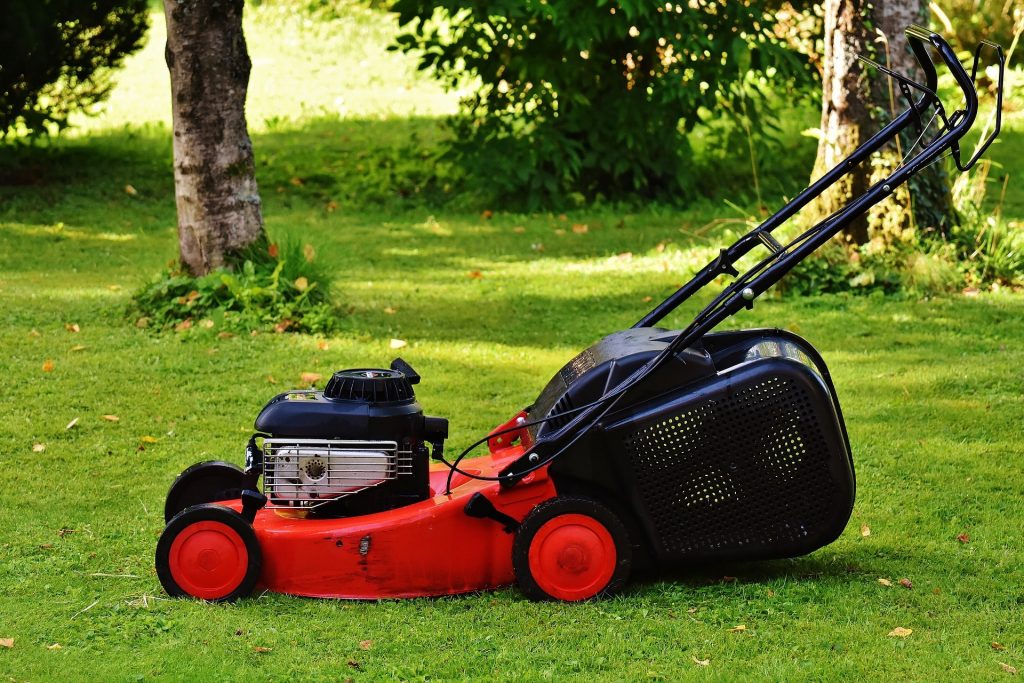 As we just explained, you can't use electric mowers when cutting wet grass. Neither cordless battery mowers nor corded mowers are safe to use when it's wet.
Therefore, the best lawn mowers for a wet lawn is petrol lawn mowers. Specifically, you should use a walk behind rotary petrol lawn mower, with at least 4 horsepower.
The important thing about petrol mowers is they're more powerful than most electric options, giving them the ability to cut grass in tougher conditions, such as when you have wet, long grass.
Also, most petrol lawn mowers are self-propelled, meaning you don't need to push them as much to get moving. This is important because it's much harder to push a lawn mower on wet ground.
You need to avoid using cylinder lawn mowers, as they're too delicate for cutting grass in the wet. Hover mowers are also best avoided, because they're not designed for wet weather.
You will also likely want to avoid using a ride-on mower on wet grass, unless it has been designed specifically for the job. Most ride-on mowers will clog up very quickly when the grass is wet.
Clearing standing water
Once you have the right type of mower for a wet lawn, you will want to prepare by clearing as much water as you can from the surface of your grass.
To clear standing water from wet grass, there are two methods you can use:
Grab a garden hose, and place one end in any pools of standing water. You may want to pin or weigh down the end. Take the other end to the lowest possible point that it will reach, away from the grass. Then create a siphon to move standing water off the lawn.
Use a wide broom to sweep standing water off the lawn, onto a garden bed or patio (provided it can drain from the place you're sweeping it to).
If your lawn is damp but not extremely wet, you can also use your hose pipe, dragging it along the grass knock any excess water off the lawn and into the ground below.
Collecting wet grass clippings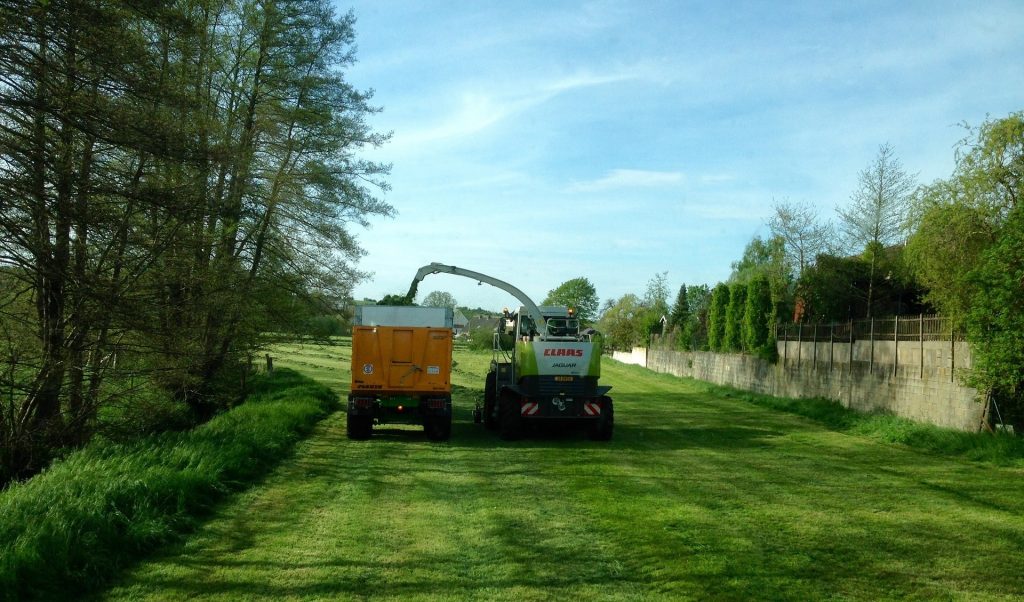 This is one of the most challenging aspects of mowing wet grass. When wet, clippings will clump up, making it very difficult to get your lawn mower to suck them into the grass collection box.
Some options to manage this problem:
Use a more powerful mower that can collect damp clippings. Remember it's not just power that determines how good the grass collection will be – it also depends on the design of the chute into the grass collection bag – the larger the chute, the better it will manage wet clippings.
Use side discharge, and then rake or vacuum up the clippings. Remember though, you probably don't want to wait for the clippings to dry before removing them, because they will stay in place too long. Leaving large clumps of clippings on your lawn will block precious sunlight from patches of your lawn, which could hinder its growth.
Note that if you choose the first option, you will likely have some raking to do anyway. Very few lawn mowers are going to avoid leaving clumps of grass when the lawn is wet.
Blades and height adjustment
When cutting wet grass, you want to use the highest blade speed setting on your lawn mower you possibly can. But you also want to mow slowly, to avoid putting too much strain on the mower.
Even on dry grass, best practice is to only take a small amount off the top. However, this is especially important when mowing wet grass, again to lessen the load on your mower.
In terms of blades, you need to ensure that you have extremely sharp blades. Blunt mower blades will really struggle in the wet. Not only might they be ineffective at cutting, they may also damage the grass by ripping it.
How to mow wet grass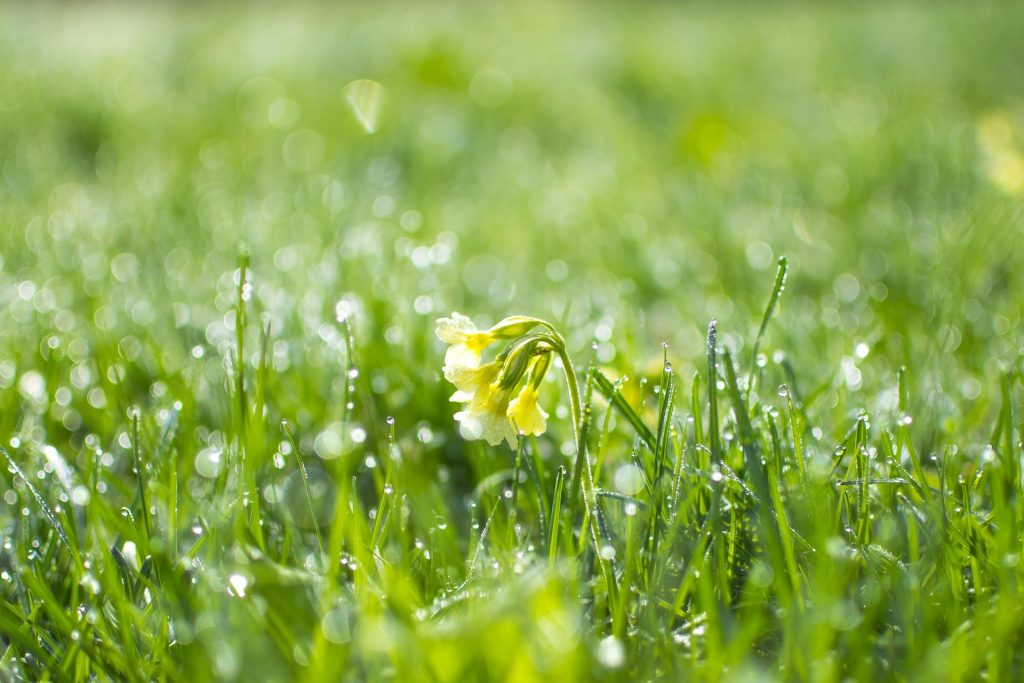 After getting the right mower, clearing standing water, and adjusting your mowing height, you're ready to begin mowing your wet lawn.
Here are some more tips to help ensure a successful cut.
Wear the right PPE for the job. Long pants, protective glasses, protective boots, and gloves are a must have.
Overlap your previous cut by about half. This is essential in ensuring that you don't overwork your mower. By giving it less grass to cut each time, you'll make the mower's job much easier in the wet.
Push at a slow walking pace. Your mower needs more time to cut grass when it's rained recently. Slowing down will also allow for more time for wet clippings to clear the cutting deck.
Listen closely for any odd noises coming from the mower. if it's under strain, stop and check that it's not clogged up with wet trimmings.
Cleaning a mower after mowing wet grass
Wet grass trimmings love to get stuck on basically anything they're exposed to on your mower.
When you're finished cutting, you need to scrape off excess clippings on the blades and underside of the deck while they're still wet. If they dry, they can become extremely difficult to remove.
If your mower has a wash out port, then you will want to use this immediately. Follow the manufacturer instructions – typically, you want to move the mower somewhere flat, lower the cutting height, insert the hose into the port, and turn the blades on, standing behind the mower. Then do the same with the hose turned off, once all the clippings have come out.
Do not use a pressure washer on the cutting deck. This can result in water getting in places it's not supposed to be, which will damage your mower.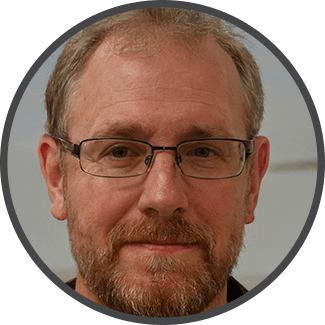 I'm Josh, and I'm the head writer at Lawn Care Pro.
I love everything lawns, but I'm a bit of a lawn mower nerd. I spend a lot of my free time tinkering with mowers, and planning my mowing schedule for the next few weeks.
I'm also into cars, which comes in very helpful when servicing a mower engine!