Looking for a scarifier to improve the health of your lawn?
In this buyer's guide, we've reviewed the 5 best lawn scarifiers you can buy in the UK right now.
We've compared each option based on its quality, ease of use, durability, and effectiveness at clearing moss and thatch buildup.
Quick comparison table
BEST OVERALL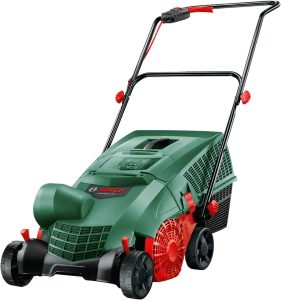 Bosch
UniversalRake Lawn Scarifier
BEST PUSH SCARIFIER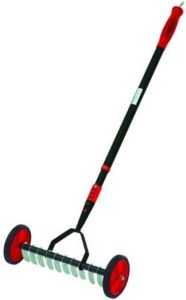 BEST PETROL SCARIFIER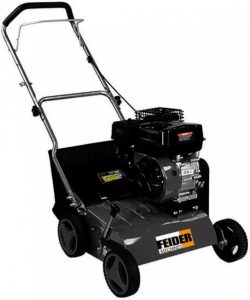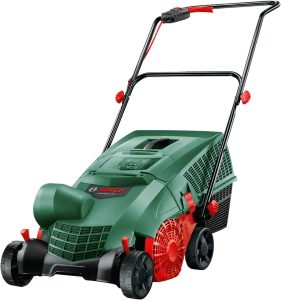 Bosch
UniversalRake Lawn Scarifier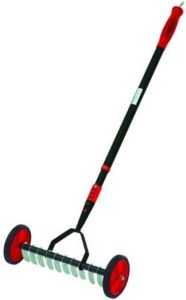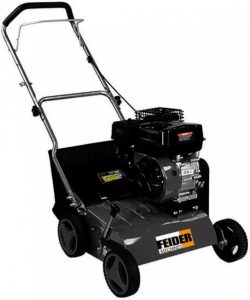 Best lawn scarifiers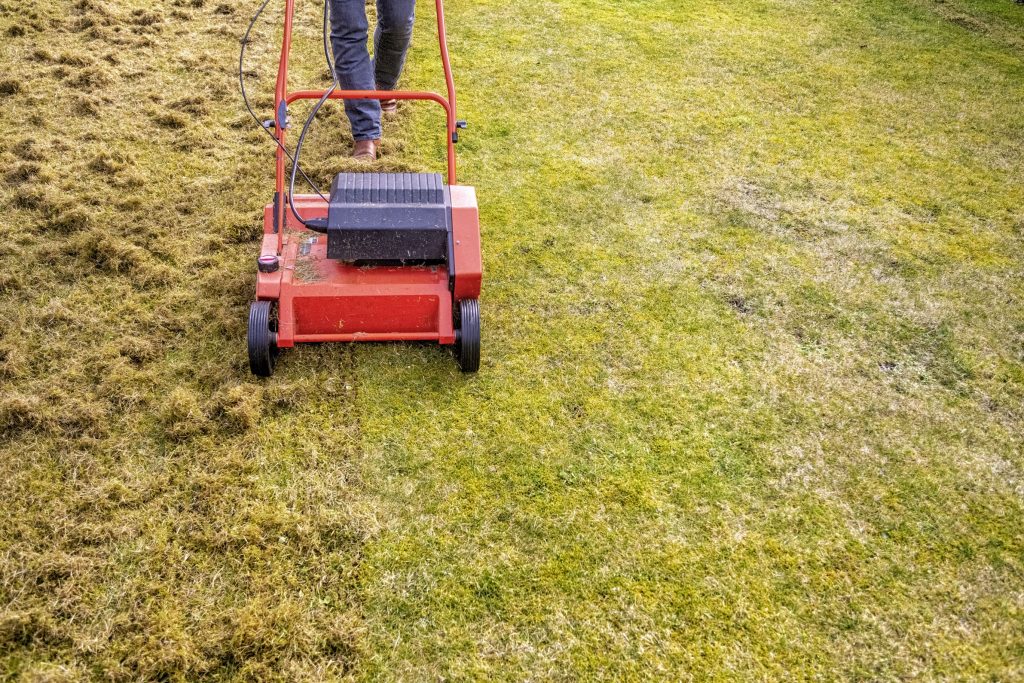 Let's begin our reviews.
In this section, we've looked at the 5 best lawn rakers and scarifiers for sale in 2023.
The Bosch UniversalRake Lawn Scarifier is a great all-rounder if you're looking for a lawn scarifier and aerator that just gets the job done.
For the price, this raker offers great value for money. Despite not being too expensive, it offers a 32cm working width, making it quite efficient, and a large 50 litre collection box that you won't find yourself having to empty very often.
The cutting heights on offer are also pretty good. You can set it to scarify below the surface, as deep as -5mm, or just collect surface debris with the tines at +10mm high. No matter what you have it set to, this scarifier does a great job removing thatch and other garden debris such as fallen leaves.
As you'd expect from Bosch, this is a pretty sturdy scarifier – it comes with a 2-year warranty for peace of mind when buying. However, the grass collection box is a little flimsy.
Overall, if you need a quality scarifier for a small to medium-sized garden, this Bosch lawn raker is definitely worth checking out.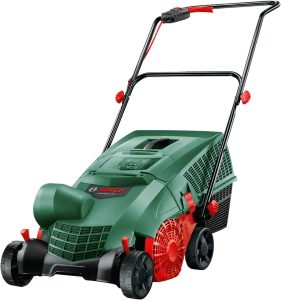 ---
Pros
Good cutting height settings.
Sturdy.
Efficient.
Does a great job scarifying your lawn.
Cons
Collection box feels a bit flimsy.
If you have a very small lawn, or are on a limited budget, this hand held scarifier is probably a better choice.
Don't let its looks deceive you – although the DP888 seems a little puny, it does a great job aerating and dethatching your lawn. Even if you have a thick lawn thatch or mossy lawn, the powder-coated steel blades on this scarifier are very effective.
For ease of use, the handle is actually telescopic. This means you can adjust it to a height that works for you, and store the raker away in tight spots when not in use. The handle is also easy to adjust – you simply twist the handle and lock it into place – no screws required. You can even adjust the depth of the blades in the cassette by changing the angle of the handle.
Surprisingly, despite not have a motor, this scarifier and aerator isn't that difficult to push. It's easy to use, but we wouldn't recommend it for large gardens, or if you have limited mobility. It takes more energy to use than an electric scarifier or petrol scarifier.
What's more, this lawn raker is very reasonably priced, because it's a relatively simple bit of kit.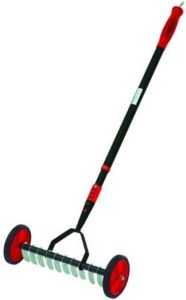 ---
Pros
Great price.
Intuitive telescopic handle.
Works really well, even with thick thatch buildup.
Easy to use the adjustable height settings.
Cons
Takes more time and effort to use than a powered scarifier.
This lawn raker is small enough that you might think it doesn't have an engine. But it actually does – there is a tiny 600W motor inside Black & Decker's raker.
Essentially, if you want something simple and cheap to clean up a moss problem without having to rake your lawn manually, then this lawn rake is worth looking at.
It doesn't have a true collection box – there's a basket instead, which does mean that some thatch and moss can escape as you rake. And this device doesn't scarify your lawn – it only rakes it. This means it doesn't do aerating and scarifying of the ground, or reduce compaction.
However, it is very cheap, and has a good range of adjustable height settings. It's also quite small, which makes it very manoeuvrable.
For minor thatch and moss issues in small gardens, this raker gets the job done.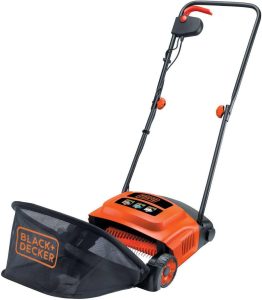 ---
Pros
Very cheap.
Easy to manoeuvre.
Works well at removing moss and thatch buildup.
Cons
Only rakes, doesn't scarify.
This is another mid-budget electric scarifier and aerator that offers a lot of value, given what it costs.
Despite the reasonably low price, you get a 38cm working width, and 14 quite tough steel blades. This scarifier does a great job aerating and clearing debris from your lawn. As it rakes up moss and fallen leaves, they go into a 55 litre collection bag – which is quite a good level of capacity for the price of this scarifier.
Part of the reason this electric lawn rake is so efficient is the 1300W motor. This is a decent amount of power, especially for such a lightweight machine. AL-KO has also included a 12m power cable, rather than a shorter 10m one, which is a nice touch.
As we touched on above, the Comfort 38E is quite light. This makes it manoeuvrable, and easy to use, but does lead to a slightly flimsy feel. You may want to invest in a petrol scarifier if you want something more sturdy.
There are more durable scarifiers on the market. However, you are unlikely to find any at this price.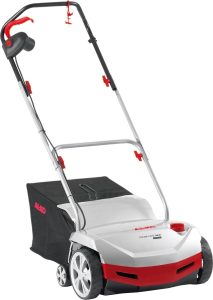 ---
Pros
Great value.
Very efficient.
Lightweight and easy to manoeuvre.
Cons
Feels slightly flimsy.
For those with larger lawns who want the best lawn scarifier possible, this option from Feider is worth considering.
The FST212 is a petrol-powered lawn scarifier. It comes with a 4-stroke 212cc petrol engine, which produces 3 horsepower, and a 3.6 litre fuel tank.
This is quite an expensive scarifier. However, unlike the electric rakers we've looked at so far, you don't have to keep it plugged in when in use, making it much better for those with medium to large sized gardens.
As you'd expect at this price, this scarifier does a fantastic job dethatching your lawn. It's very efficient, as it has a 45cm working width, and comes with a good range of height adjustment settings, from -15 to +5mm.
Plus, the FST212 is very durable. It feels very sturdy, because it's made mostly of steel, and comes with a 5-year warranty. You won't have to worry about this scarifier feeling flimsy, or breaking as you use it.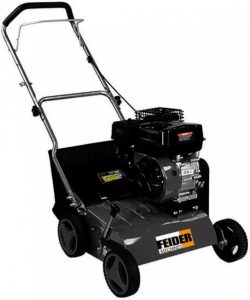 ---
Pros
Very efficient.
Performs extremely well.
5-year warranty – durable.
No need to keep it plugged in.
How to choose a lawn scarifier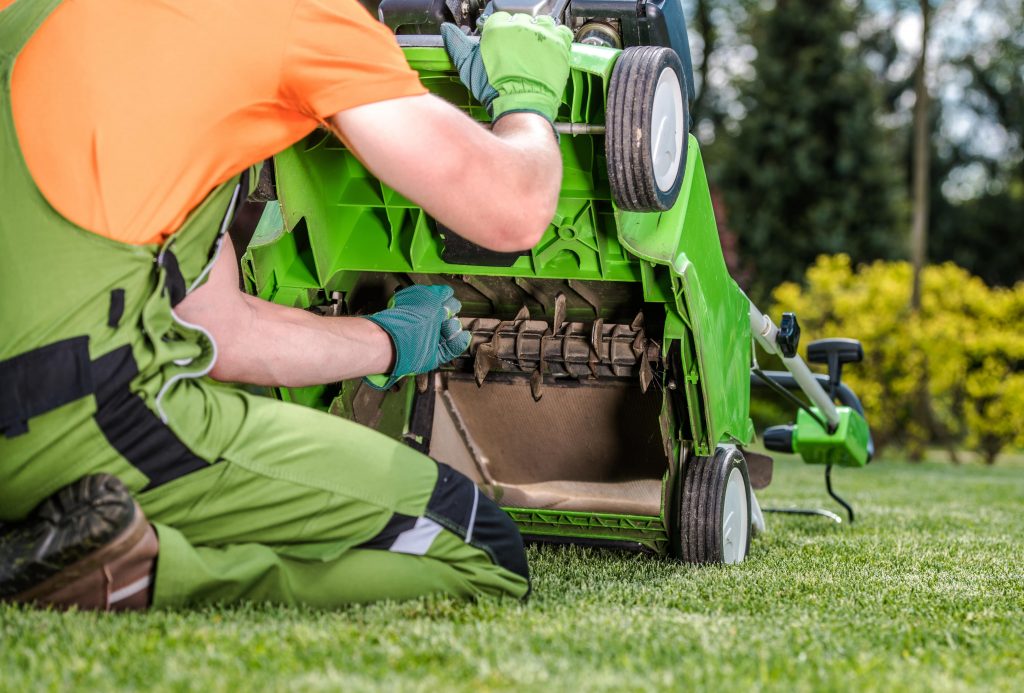 In this part, we'll explain what you need to know when choosing a lawn rake or scarifier for your grass.
What exactly does a lawn scarifier do?
Essentially, a scarifier helps to make your lawn healthier.
It does this by removing debris, such as fallen leaves, moss, and thatch, from the surface of your lawn. The scarifier essentially combs the lawn, picking up anything that could be restricting the grass from growing.
By removing this debris, you're allowing sunlight and warmth better access to reach the roots of the lawn, allowing your grass to grow more easily.
Scarifiers also work to aerate the lawn. Their metal blades make small, shallow incisions into the ground, reducing compaction and allowing your lawn to breath. In saying this, specialised lawn aerators will do a better job at aerating specifically, as they can penetrate the ground much more deeply.
And finally, good scarifiers will also cut the stolons, which are lateral shoots of grass that grow just below the ground, encouraging better grass growth. The end result: a thicker, lusher lawn.
What type of lawn scarifier do I need?

There are three broad types of scarifiers and rakers you can buy right now.
Manual scarifiers. These are the most simple type of scarifier. You basically get two wheels, the lawn scarifying blades, and a long handle. Then you just push to rake your lawn. A manual lawn scarifier is great if you want a basic, inexpensive, hassle-free way of making your lawn look nicer. For small lawns and medium sized gardens, they're great. However, they will take a long time to scarify large lawns, and they require a decent amount of effort to use – especially since they're often quite small (and don't scarify much ground with each pass).
Electric scarifiers. Electric scarifiers are probably the most common type in the UK right now. They offer a good all-round package: they're relatively efficient and easy to use, while still being reasonably priced. Typically, these types of scarifiers are powered with a 10-12 metre mains power cord, rather than a battery. Unlike on a manual scarifier, you can change out the cassette on an electric option, if it ever happens to break or become blunt.
Petrol scarifiers. If your lawn is larger than 100 square metres, you might want to invest in a petrol scarifier. Although they're quite expensive, and can be a little noisy, they're the best lawn scarifier, especially if you're looking for maximum efficiency. These options aren't the best lawn scarifier for beginners, but if you know your stuff, they can't be beaten.
Working depth explained
Similar to a lawn mower's cutting height, lawn scarification machines will come with different working depth settings.
Basically, the deeper your thatch buildup, the deeper you will want your scarifier to penetrate. Having depths from -10 (below the surface) to +10mm (above the surface) is fairly typical on electric or petrol scarifiers.
Also look at how easy the depth adjustment is on a given lawn scarifier, before buying it. If you plan to adjust the working depth often, you don't want it to be a difficult process.
What working width do I need?
Like lawn mowers, scarifiers come with different working widths.
The smaller your lawn, the smaller the width you'll need. This is why manual hand held scarifiers are smaller. They need to be more nimble to manage smaller gardens.
However, if you have a larger lawn, you'll want a wider cutting width, of 35-40cm or more, to make scarifying a more efficient process.
Is a lawn rake the same as a scarifier?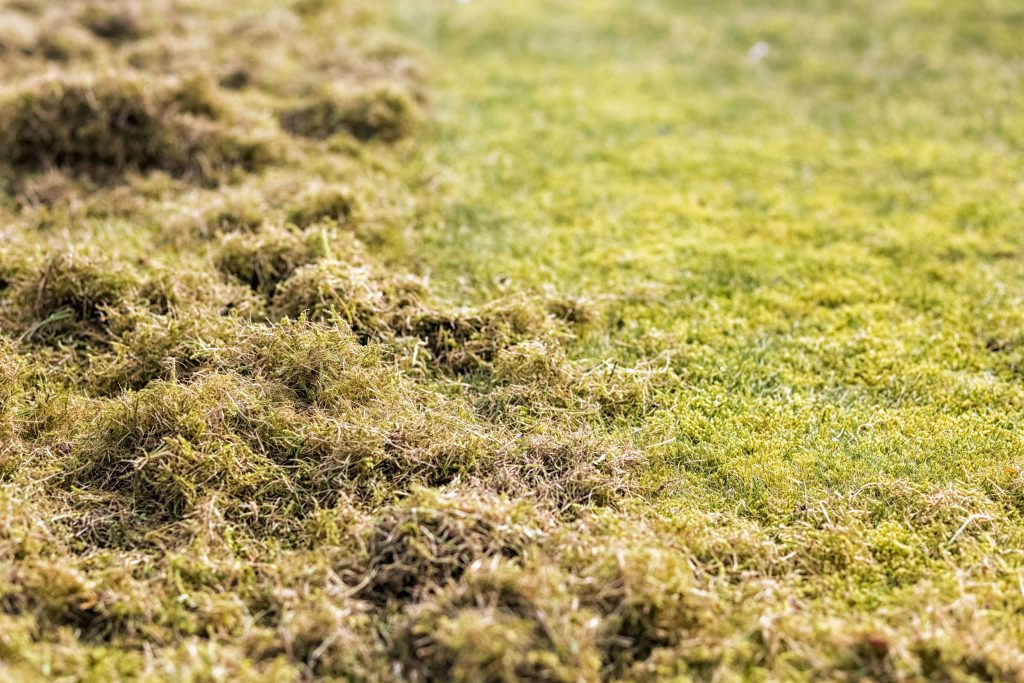 The terms lawn raker and lawn scarifier are often used interchangeably. In fact, scarifiers are often advertised as electric lawn rakes as well.
Here's what the two terms mean.
In simple terms, lawn scarifiers cut into the ground and aerate your lawn, while lawn rakes do not. While scarifiers have steel blades, that can make shallow incisions into the ground, lawn rakes typically have a plastic cylinder with metal tines. While the two both remove debris in a similar way, a raker is more focused on just combing the lawn. Lawn rakes won't cut the grass shoots, meaning they won't make your grass grow thicker like a scarifier can.
If you're just looking to remove moss and thatch buildup from your grass, then a lawn rake will do the job. However, if you really want your lawn to look great, and think that aeration could help with your soil, then it's worth going for a scarifier instead.
If you see something advertised as both a raker and a scarifier, then you can just assume that it's a scarifier, since scarifiers also rake the ground.
Is it worth buying a lawn scarifier?
You might be wondering at the end of this whether or not you really need a lawn scarifier. Could the job be done with a manual scarifier or a rake instead?
While you can clear a lot of moss with a rake, cordless scarifiers are going to do a much better job, especially if you have a lot of thatch as well. An electric model of scarifier may make the job much more easy as well.
At some stage, nearly every lawn is going to benefit from being scarified. It's just a question of whether now is the right time to clear all the debris, or if there's not enough for it to be worth doing just yet.
When should I scarify my lawn?
The best way to tell when your lawn needs scarifying is to look for thatch and moss buildup. When it gets bad, you'll want to clear the debris to allow your lawn to breath.
You want to use your scarifier when your lawn is not too wet, but not too dry. If the lawn is too wet, you can do considerable damage to it by scarifying the grass. But if there's not enough moisture, the scarifier might not do the best job dethatching your lawn.
Avoid using your scarifier in the winter. When the ground is hard, this can also do damage to your lawn if you begin raking it.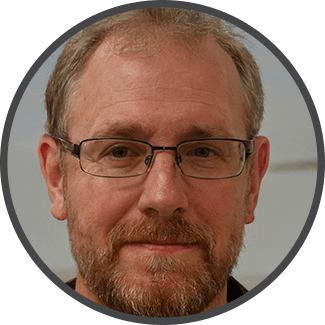 I'm Josh, and I'm the head writer at Lawn Care Pro.
I love everything lawns, but I'm a bit of a lawn mower nerd. I spend a lot of my free time tinkering with mowers, and planning my mowing schedule for the next few weeks.
I'm also into cars, which comes in very helpful when servicing a mower engine!