Looking to prepare your soil for laying turf, or your allotment for planting seeds?
In this guide, we've reviewed the 7 best rotavators for sale in the UK in 2023.
We've looked at rotavators, tillers, and cultivators, to help you break up and aerate your soil with ease.
Quick comparison table
BEST PETROL-POWERED ROTAVATOR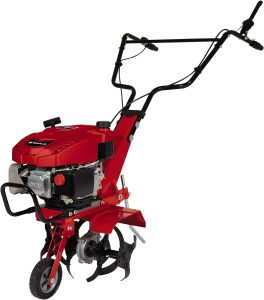 Einhell
GC-MT 2236 Petrol Rotavator
BEST ELECTRIC ROTAVATOR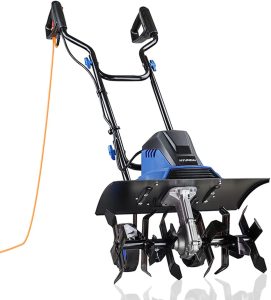 VonHaus
1400W Electric Tiller
BEST CHEAP ROTAVATOR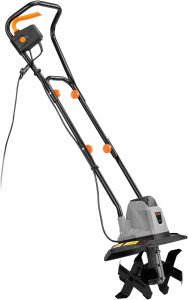 VonHaus
1050W Electric Tiller
BEST PETROL-POWERED ROTAVATOR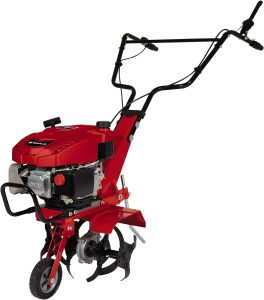 Einhell
GC-MT 2236 Petrol Rotavator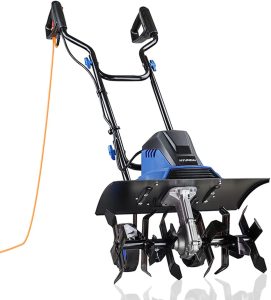 VonHaus
1400W Electric Tiller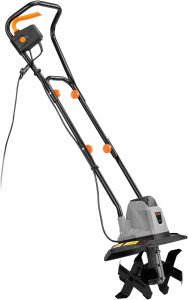 VonHaus
1050W Electric Tiller
Best rotavators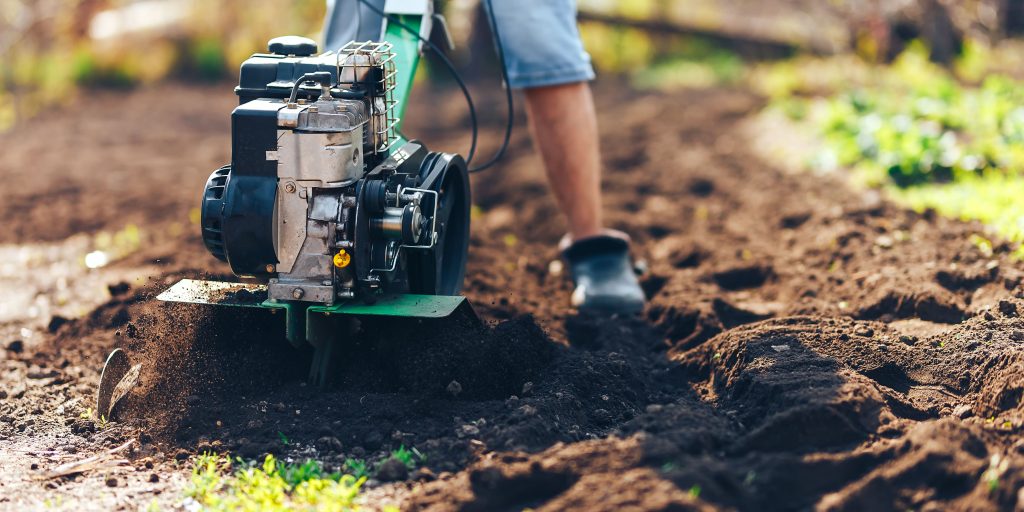 Let's begin our reviews.
Below, we've looked at 7 of the best petrol and electric garden rotavators you can buy in 2023.
If you're looking for a good-size tiller for an allotment that won't break the bank, this petrol rotavator is definitely worth checking out. It's not cheap, but it still offers good value, especially given its build quality.
The first thing to know about this rotavator is it comes with a 36cm cutting width. This makes it very efficient, but still quite manoeuvrable – it's not too heavy. It's the perfect size for most allotments.
Because it's a decent size, Einhell has included a quite powerful petrol engine on this rotavator. They've used a 4 stroke motor, which is relatively quiet. As a 4 stroke motor, you don't have to mix petrol and oil before you pour it into the fuel tank, making it easier to refuel quickly.
There are four durable steel blades, each with four tines included. They do a great job breaking up your soil, and can operate very deep – the maximum working depth is 26cm.
You also get a 3-year warranty, which is a nice touch. Most other rotavators only come with a 2-year guarantee against defects.
---
Pros
Good working depth – not too big nor too small.
Rotavates and aerates very well.
Efficient.
3-year warranty.
Cons
N/A – excellent value for money.
Looking for an electric garden tiller?
This rotavator from VonHaus is powered by a 1500W electric motor. It comes with a 10 metre power cord, which you plug into a mains power outlet, rather than having to go through the hassle of buying and storing petrol. This is a decent cable length, but you may need an extension cord, unless you're just rotavating a small garden bed.
In terms of ease of use, this is one of the best rotavators you can buy. Even though it's still quite large, with a 45cm working width, this rotavator is extremely lightweight, due to the lack of a petrol engine. It also comes with two wheels mounted at the back, rather than one at the front. This makes it much easier to turn, allowing you to rotavate exactly where you want to.
The maximum depth is also quite good, at 22cm. This is plenty of depth to prepare your lawn for sowing new grass seeds, as well as planting vegetables. You also get six separate steel blades, rather than the four you get on most petrol rotavators.
The only thing we can fault this tiller for is the fact that it needs to be plugged in. But provided you can get around this issue, and make the cord reach, then this rotavator is an excellent choice.
---
Pros
Easy to steer and manoeuvre.
Can work nice and deep.
40cm cutting width.
No need to manage petrol & oil.
Cons
Needs to be plugged in at all times.
This is just about the cheapest tiller you can buy in the UK right now.
Given what it costs, this cultivator is surprisingly wide. It has a 32cm cutting width, offering decent efficiency for rotavating allotments.
The reason it doesn't cost much is there's only two rotors, each with four tines. This means that you might have to rotavate each area multiple times, to ensure proper aeration. Sometimes, the steel blades won't dig up the soil much with each pass.
However, apart from that, this rotavator has everything you'd expect from an electric tiller, for a fraction of the cost. You can adjust the depth down to a maximum of 22cm, and you get a 10m power cord to allow you to cultivate the far edges of your garden. The handle is comfortable to hold, and the electric motor has plenty of power for rotavating clay soil – although you might have to prepare the soil first by turning it over with a garden fork.
Provided you don't need to rotavate a large allotment, and just want to aerate the soil on a small garden or veggie patch, this rotavator has everything you need.
---
Pros
Great value for money.
Wide cutting width.
Decent working depth given its price.
Powerful 1050W electric motor.
Cons
Only comes with two blades.
This is another electronic rotavator. The difference between this tiller and the Vonhaus one we looked at before is this machine is smaller and cheaper.
Einhell's rotavator only comes with a 30cm cutting width, and four blades. As a result, it's not extremely efficient when aerating large gardens or allotments. However, this tiller offers plenty of cutting width and depth for rotavating small areas.
Another thing to note about this rotavator is it only comes with a 750W motor. This isn't a massive amount of power – most electric garden rotavators have at least 1000 watts. Although it works well at breaking up most soils, we wouldn't recommend using this rotavator for tilling compacted clay soil or breaking new ground.
However, if you have loam or sandy soil, and only want to cultivate a small area, the GC-RT 7530 works well. It's relatively quiet, easy to use, and isn't very expensive.
Another good thing about this tiller is assembly is nice and easy. Trickly assembly is a common problem on rotavators, but you'll be up and running quickly with this one.
---
Pros
Good price.
Works well in small areas.
Easy to assemble.
Quiet during operation.
Cons
Motor isn't especially powerful.
Not very efficient on large allotments.
Bertolini is another company that makes a premium petrol tiller.
This rotavator actually has adjustable rotors. Rather than having a fixed cutting width, you can change the rotors to be either 46cm, 32cm, or 22cm wide. This adjustability is great to have, especially if you need to rotavate in between crops, while also covering large areas of open ground where you want the widest cutting width possible.
The handlebars are also adjustable, helping to ensure comfortable rotavating. There are three height settings, which cater to just about everyone, even if you're less than 5′ or greater than 6′ tall.
Bertolini's rotavator isn't the cheapest option on the market. However, it's very effective, even when tasked with breaking up tough clods. The four stroke motor has plenty of power, and the six blades and their tines are quite tough and stay very sharp over time.
Overall, if you have a medium or large allotment, this rotavator is a great choice. Although it's not cheap, it's a good investment to make, backed up by a 2 year warranty.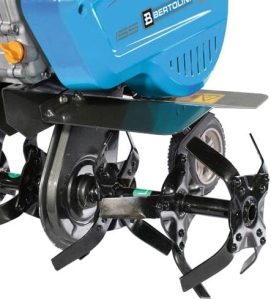 ---
Pros
Adjustable cutting width.
Adjustable handle height.
Very effective, even on hard dirt and clods.
Quality blade design.
Cons
Expensive, but worth the investment in our opinion.
This petrol tiller is actually quite similar to the Bertolini rotavator we just looked at. They both cost about the same, and have a similar blade design. But which is best?
Draper's rotavator is actually a bit smaller than Bertolini's. It comes with four blades rather than six, and only has a 36cm working width. It's not a small tiller by any means, but it's not extremely large either.
Another difference between the two machines is this rotavator is slightly heavier, and comes with a slightly more powerful 141cc engine. It can break up even the toughest of dirt, all the way down to its maximum cultivation depth – 26cm below the surface.
The fuel tank capacity is quite good, at 1.3L, which is plenty for long tilling sessions. The included safety features are also great to have – there's a dead man's safety switch on the handle for example, ensuring that the rotors only spin if you're holding both handlebars.
However, given the price, we would like to see more from this rotavator. It doesn't have an adjustable working width, and the handlebar height is also fixed in place.
---
Pros
Excellent rotavating performance, on any type of soil.
Powerful engine.
Good tank capacity.
Cons
Slightly expensive, given what you get.
This garden rotavator has just about everything you need for aerating small areas of soil, all for a pretty good price.
It comes with a 3 horsepower 2 stroke petrol motor, which offers plenty of power for small lawns and allotments, even when breaking up compacted soil.
This is also a very easy to use rotavator. It only weighs 17kg, so it's quite easy to push along the ground. And because it's small, it's easy to manoeuvre. However, assembly can be a bit tricky.
The maximum working depth is also quite good for a small rotavator, at 15cm. This is plenty of depth for laying new soil, or planting vegetables. But you might want to go deeper into the soil if you're preparing to lay turf.
The shallow working width and depth makes this tiller only suitable for small allotments. If you want to rotavate a bigger area, you will need a bigger rotavator.
---
Pros
Great price.
Lightweight and easy to use.
Good working depth.
Cons
Bit tricky to assemble.
Rotavator buyer's guide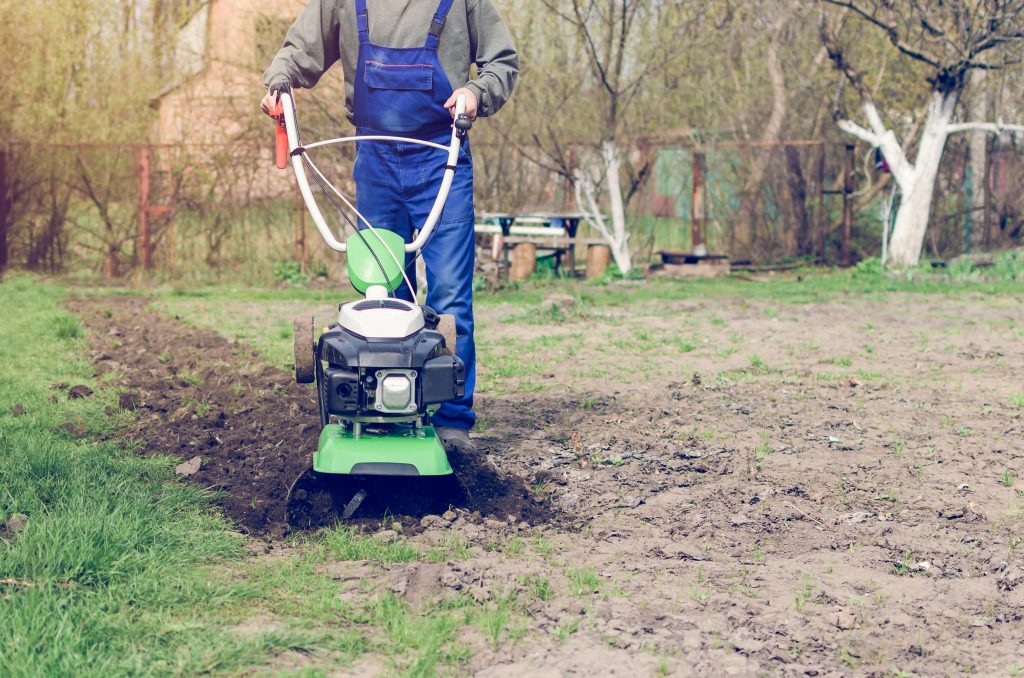 In this section, we've outlined some key things to consider when choosing a rotavator, tiller, or cultivator for your garden.
Rotavators vs tillers vs cultivators – what's the difference?
The terms rotavator, tiller, and cultivator are generally used interchangeably by manufacturers. Many tillers for example are called a "tiller/rotavator".
The strict definition of each is as follows:
Rotavators get their name from their heavy-duty rotary tine tillers. They're the most powerful of the three machines, and often have a greater tilling depth. Rotavators are best for when you want to get the maximum amount of aeration or want to break up firm ground.
Tillers are similar to garden rotavators. They're often used to break up hard compacted soils (including clay), ready to plant your seeds or lay turf.
Cultivators are more for mixing soil that is already loose, rather than breaking down hard soils.
Rather than paying too much attention to these words, consider what you're trying to achieve, and the maximum depth and power of each machine. If you're just trying to get a veggie patch ready for planting vegetables, you probably only need a small garden tiller/cultivator. But if you have a large allotment with compacted clay soil, getting a larger, more powerful garden rotavator with a greater maximum depth is probably a good idea.
What makes a good rotavator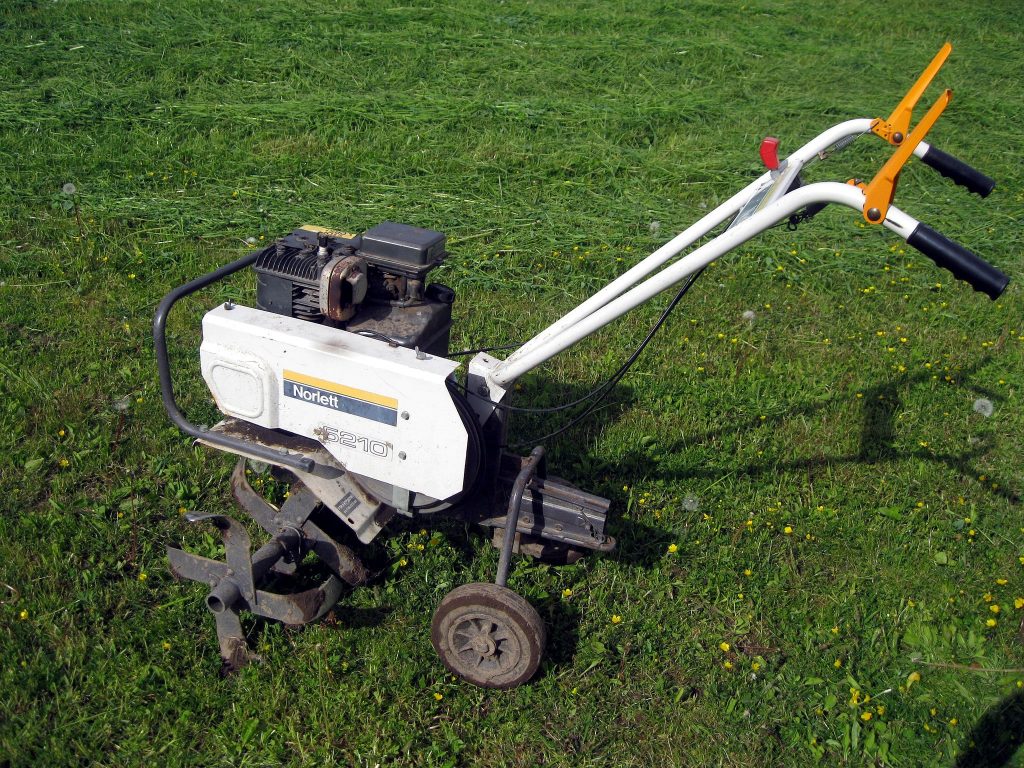 There are a number of things to look out for when choosing a garden rotavator.
Good wheel design – rotavators will either have no wheels, one wheel at the front, or two wheels at the back. The best tillers come with at least one wheel. Some people like two-wheeled rotavators, because they're easier to steer. But single-wheel rotavators have the advantage of helping you see where you're rotavating more easily – plus they're often cheaper.
Adjustable handles – many rotavators come with handles that are not height adjustable. This means that if you're taller or shorter than average, the garden tiller might be uncomfortable to use. If this is a concern, it's best to look for a rotavator with height-adjustable handlebars.
Four stroke motor (if buying a petrol-powered rotavator) – these types of garden rotavators will either come with a 2 stroke or a 4 stroke petrol engine. 4 stroke motors are quieter, and don't require you to fuel them with an oil and petrol mix. They take petrol and oil separately, making them easier to use. However, 4 stroke motors are more expensive.
What working width do I need?
The wider the garden rotavtor, the more efficient it will be. However, bigger tillers and cultivators are more expensive, and will be heavier and less manoeuvrable.
For a small allotment, a good cutting width is about 20-30cm. This will allow you to aerate and break up the ground efficiently, without it being too difficult to turn the rotavator around in a tight space. It will also allow you to rotavate the soil in narrow areas, between crops that have already been planted.
For larger allotments and gardens, a width of 35-40cm is best. If you have more space to turn around, then it's best to get a bigger rotavator if you can to make the process more efficient.
What tilling depth do I need?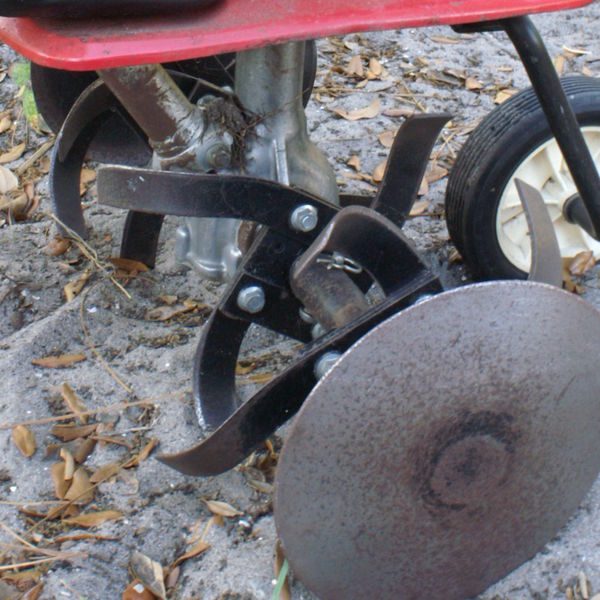 Generally, the tilling depth on a garden rotavator is adjustable. More heavy duty rotavators will have a deeper maximum depth. If you need to churn up the ground more deeply, you'll have to use a more expensive rotavator.
When tilling an allotment, you will want to work the soil to a depth of about 3 to 4 inches. You don't need to dig all that deep to get great results, even when growing very deep-rooting crops such as carrots.
When tilling a garden prior to laying sod, you will want to rotavate the soil to a depth of about 6 to 8 inches. Since you're only going to rotavate the soil once, you want to do it properly to ensure that your lawn is healthy for the years to come.
Electric vs petrol-powered rotavators
There are two main types of tillers and rotavators you can buy in the UK: corded electric rotavators and petrol-powered rotavators.
Petrol rotavators are generally the best type. They're more powerful, and are more heavy-duty, meaning they can penetrate the ground deeper and a wider cutting width. They're also more heavy duty, and don't need to be plugged in. On most allotments, your nearest power outlet will be quite a long way away from the far side of the allotment.
Normally, petrol-powered rotavators come with a 4 stroke or 2 stroke single cylinder engine. If you get a 2 stroke motor, this means that you will need to fuel the rotavator with a mixture of petrol and oil, which will need to be mixed before pouring into the fuel tank.
Corded electric rotavators are better for rotavating small gardens and vegetable patches. They're cheaper than petrol-powered rotavators, but must be plugged in at all times. The other advantage of electric rotavators is they're quieter than petrol tillers, and don't emit fumes.
I have clay soil – will a rotavator work?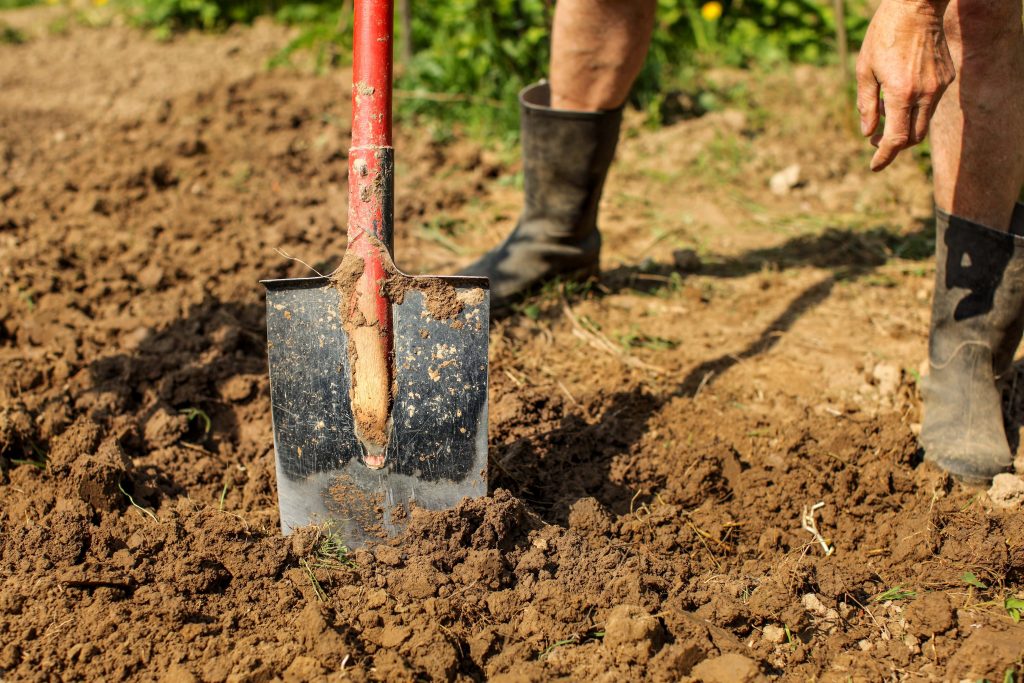 Yes, you can rotavate clay soil successfully, even if it is very compacted. You just need to use the right technique.
Before rotavating clay soil, it's a good idea to water it heavily a few days in advance. If the soil is extremely dry, your rotavator will have a hard time breaking it down. But if the ground has just been watered, clods may form when you till the soil. When these clods dry out, they become very difficult to break down again, so you want to avoid tilling clay soil when it's very muddy.
In terms of choosing a garden rotavator for clay soil, it's best to use a heavy duty petrol-powered rotavator rather than a lightweight garden tiller. This will ensure that the tines have the power necessary to penetrate the compacted soil at a good depth.
I have limited mobility/strength – can I still use a rotavator?
Rotavating an allotment is a bit more tricky than mowing your lawn. The ground will likely be quite uneven, and rotavators are not self propelled, meaning you'll need to do a lot of pushing yourself.
This doesn't mean that you need to be an athlete to use a rotavator, though. You just need to ensure that the rotavator you buy isn't too heavy, and has good quality wheels, to minimise the amount of effort it takes to push.
Also, look for a rotavator with adjustable handlebars. You don't want to have to lean over a lot when using the cultivator, otherwise you could strain your back.
How much should I pay for a rotavator?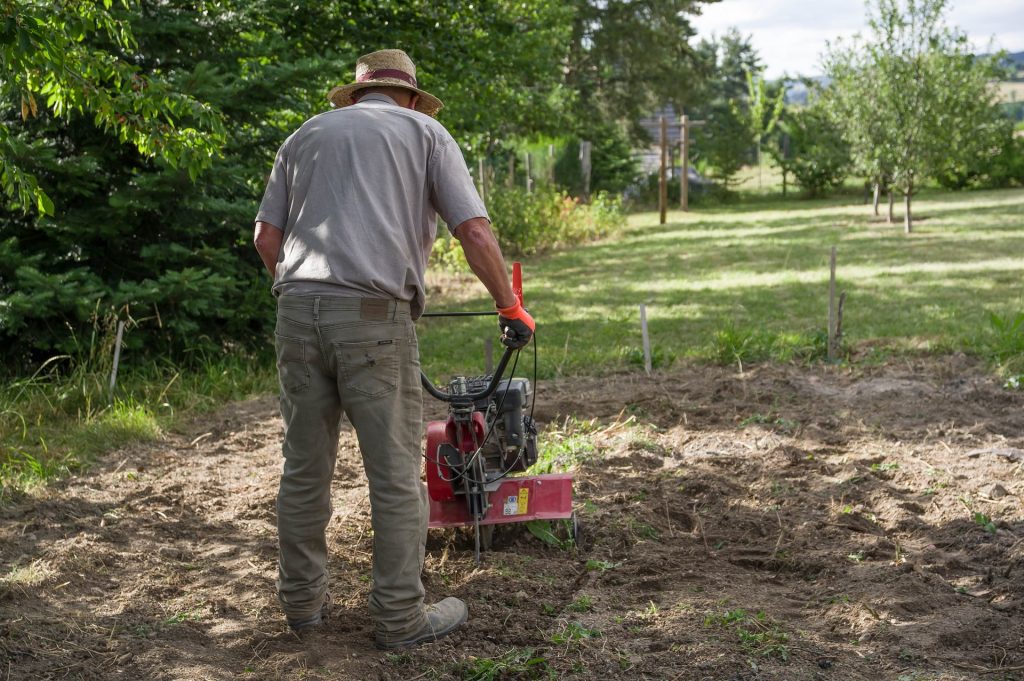 Even though most rotavators look very similar, each type of product comes at a variety of different price points.
For a good-quality electric rotavator, expect to pay about £100 or so. And for a petrol-powered garden rotavator, you will have to pay about £200-£250.
For a bigger rotavator of either type, expect to pay about 10-20% more, depending on the build quality and extra features you get with the tiller.
Tips for using a rotavator
Before using a rotavator, you need to clear any weeds, grass, and stones from the surface. Stones can damage the garden tiller, and grass seeds and weeds will be spread throughout the soil when tilling. This can result in weeds or old turf growing through your new lawn, which can be quite difficult to fix.
Avoid using a garden tiller when the ground is extremely wet mud or extremely dry soil. This helps to ensure that the cultivator can penetrate the surface, while ensuring that you avoid forming clods if the surface is too wet.
Always take proper safety precautions when using a garden rotavator. Wear gloves, eyeglasses, and proper boots. Ensure to keep your feet and hands away from the tines while the rotavator is switched on. If it jumps up out of the soil when rotavating, don't panic, and let it come back down to the ground. Then you can continue to guide the rotavator.
You should use the rotavator like you would a lawn mower, tilling the soil in strips, with a slight overlap of each pass. You might want to make multiple passes at increasing depth if you have compacted soil.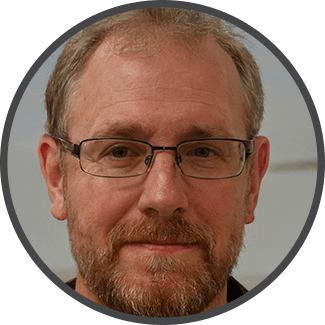 I'm Josh, and I'm the head writer at Lawn Care Pro.
I love everything lawns, but I'm a bit of a lawn mower nerd. I spend a lot of my free time tinkering with mowers, and planning my mowing schedule for the next few weeks.
I'm also into cars, which comes in very helpful when servicing a mower engine!