Looking for a new wheelbarrow for your garden?
In this buyer's guide, we've looked at the 5 best wheelbarrows you can buy in the UK in 2023.
We've also explained what to look for, to help you find the right wheelbarrow to move items such as building materials or garden waste around the garden.
Quick comparison table
BEST LARGE WHEELBARROW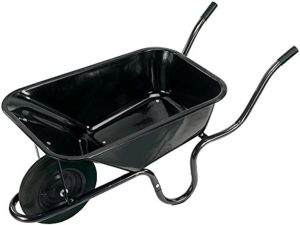 BEST SMALL WHEELBARROW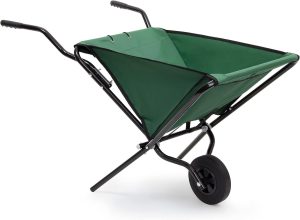 BEST MOTORISED WHEELBARROW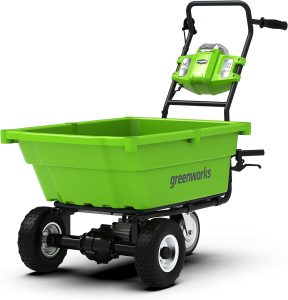 Greenworks
Motorised Garden Cart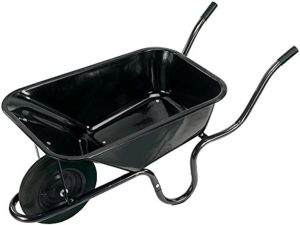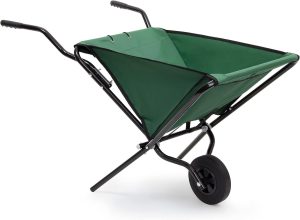 BEST MOTORISED WHEELBARROW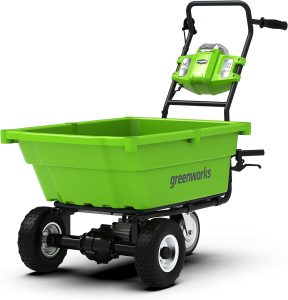 Greenworks
Motorised Garden Cart
Best wheelbarrows UK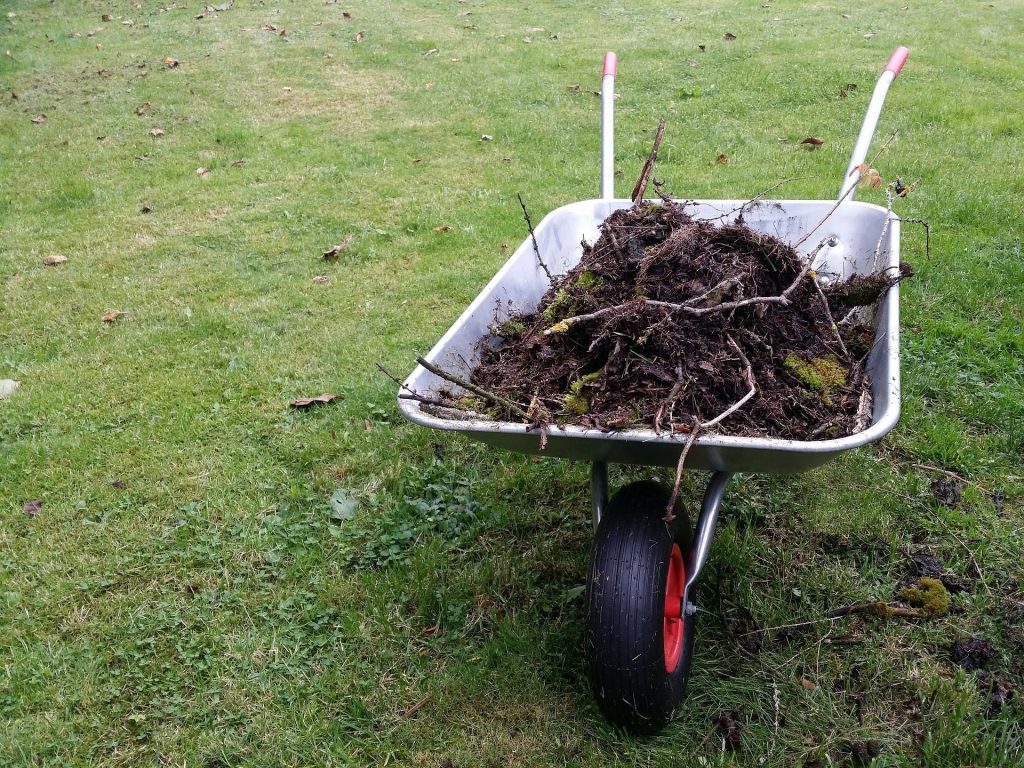 Let's begin our reviews.
Below, we've looked at the 5 best wheelbarrows you can buy in the UK, including small, medium, and large wheelbarrows.
Looking for a sturdy, high capacity wheelbarrow to get the job done quickly?
Draper's 85L wheelbarrow is the type of large wheelbarrow that most contractors use – it will move large amounts of dirt or concrete very efficiently. However, the company have made a few smart design tweaks to make this product different to a regular wheelbarrow, making your life that little bit easier.
For instance, the handles attach to the steel frame of the wheelbarrow, rather than the tray. This makes it easier to pull the handles up and lift the wheelbarrow when it's full, no matter your height.
You'll also find that your load will tip out of this barrow very easily. The front of the tray has a steep tipping angle, and the smooth epoxy finish actually helps reduce friction and make it easier for your material to slide out.
The pneumatic wheel is nice and large, and allows you to manoeuvre the wheelbarrow easily, even when full to its total capacity. The only issue with Draper's wheelbarrow is it can be a bit tricky to assemble, although the included instructions are easy to understand.
---
Pros
Large, sturdy wheel.
Easy to lift.
Heavy loads tip out easily.
Large capacity.
Cons
Slightly difficult to assemble.
If you want a smaller wheelbarrow that's a bit easier to manoeuvre, this 56L wheelbarrow is worth looking at.
As you can see from the photo, the tray is actually made of polyester – it's not a metal wheelbarrow. In fact, the entire tray folds down, and can be stored in an extremely small space when not in use.
Because this is a small wheelbarrow, designed for easy storage, it's not the most efficient barrow on the market. It's best for moving around small plants, rather than large amounts of gravel or dirt. Also, it doesn't come with an inflatable tyre, which makes the ride a bit bumpy.
However, it's easy to assemble, with no tools required, and this wheelbarrow is very light and easy to use. It's also quite reasonably priced, given how well it's made.
Overall, for small gardens and flat surfaces, this barrow is a good pick. It's quite a smart design, and does a good job moving around small amounts of material.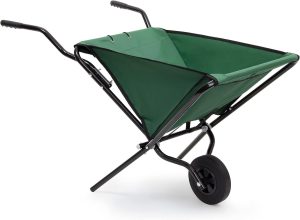 ---
Pros
Light & easy to use.
Good price.
Easy to assemble.
Folds down easily.
Cons
Non-pneumatic tyre.
Only 56 litre capacity.
This motorised wheelbarrow is not cheap: in fact it's very expensive. However, if you have limited strength or mobility, this electric garden cart can help you move stuff around the garden much more easily.
Rather than having one wheel and two stands, you get three wheels with this cart, making it much more stable. You still control it from the handlebars, just like a regular wheelbarrow, except the 40V electric motor powers the wheels for you, so you don't have to do any pushing or lifting.
The motor is powered by a decent size battery, which offers a pretty good operating time, depending on how often you move the cart. This wheelbarrow also has a reverse gear, and moves forward at a nice slow speed – about walking pace, making it easy to control.
The barrow is also tipped by the motor, meaning you don't have to do any manual tipping. The tray is a good size, and is quite sturdy due to being made of thick plastic. However, Greenworks haven't included a battery with this barrow – you'll need to buy one separately.
Apart from the price, the only other downside to this electric wheelbarrow is it's not the best in the mud. The wheels can get clogged up if you drive over extremely wet dirt.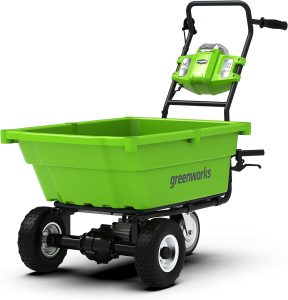 ---
Pros
Easy to steer, moves nice and slowly.
Good run time.
Heavy duty tray and steel frame.
Does not take an ounce of manual effort to operate.
Cons
Expensive.
Not the best in mud.
If you're worried about the stability of a traditional single-wheel barrow but don't want a motorised wheelbarrow, this garden cart is a good alternative.
This might look like a small wheelbarrow in the pictures, but it's actually quite big. Oypla advertise that it has a 150kg capacity, which is massive. The actual capacity is probably a bit lower than this, but you can still move around a lot of dirt with this wheelbarrow.
You might be worried about getting a wheelbarrow with a poly tray rather than a tray made of galvanised steel. This material is not as sturdy as steel of course, but this is still a very heavy duty wheelbarrow. Despite not being a metal wheelbarrow, the tray material is thick, and is very weather resistant.
Other than the tray, the rest of the design is also very smart. Since there are two front wheels and two stands on the steel frame at the back, it's very difficult to tip this wheelbarrow over. It's also very easy to put it down again after moving it with a full load. No longer do you have to ensure that the barrow is perfectly level before putting the back end down.
This wheelbarrow is also surprisingly easy to assemble, provided you follow the instructions carefully. It's a great choice if you want a wheelbarrow with two wheels.
---
Pros
Very stable.
Easy to assemble.
Heavy duty design.
Good capacity.
Cons
Need to follow the instructions carefully during assembly.
This is another large wheelbarrow made of sturdy galvanised steel, similar to the Draper barrow we previously looked at.
The first thing you'll notice about this 85L wheelbarrow is the sheer size of the pneumatic wheel. It's not a puncture proof pneumatic wheel, but its size makes it much easier to steer the wheelbarrow when the tray is full. Although it might look unwieldy, the size of the wheel actually makes the wheelbarrow much easier to use.
In terms of durability, Haemmerlin's wheelbarrow is very heavy duty. You get a thick, powder coated steel tray, and the powder coated steel frame is very heavy duty as well. You won't have to worry about rust with this wheelbarrow, even if you keep it outdoor – it's very rust resistant.
Despite being quite sturdy, this isn't actually a very heavy wheelbarrow, because the steel frame is tubular. This, as well as the design of the wheel, makes it very manoeuvrable, even if you're not especially strong.
For the price, this wheelbarrow offers good value for money. The only thing we can fault it for is it would have been nice for Haemmerlin to install puncture-proof wheels from the factory.
---
Pros
Lightweight.
Very sturdy.
Good value.
Easy to manoeuvre.
Cons
No puncture-proof tyre.
Wheelbarrow buyer's guide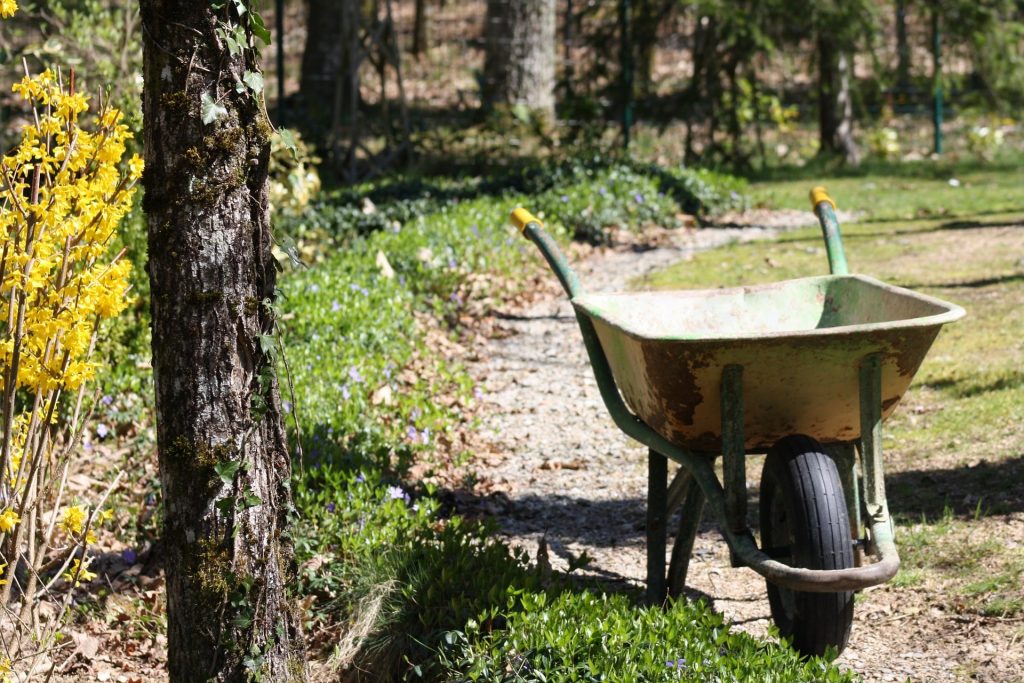 In this part, we'll explain what you need to look for to find the best wheelbarrow for your specific needs.
What capacity wheelbarrow do I need?
Wheelbarrow capacity is generally measured in litres. Small wheelbarrows will have about a 40 litre capacity, while large heavy duty wheelbarrows will have an 80 litre capacity or more.
If you have a small garden, and only ever move around small amounts of dirt, you'll probably be fine with a 40-50 litre capacity wheelbarrow. Remember, bigger wheelbarrows are heavier and more difficult to manoeuvre, and are also more difficult to fit through tight spaces.
On the other hand, if you have a lot of dirt or gravel to move, and a sufficiently large garden, it's definitely worth investing in a bigger, more expensive wheelbarrow. Just ensure that you have the strength to wheel around a big wheelbarrow before buying one.
Is it a good idea to buy a wheelbarrow online?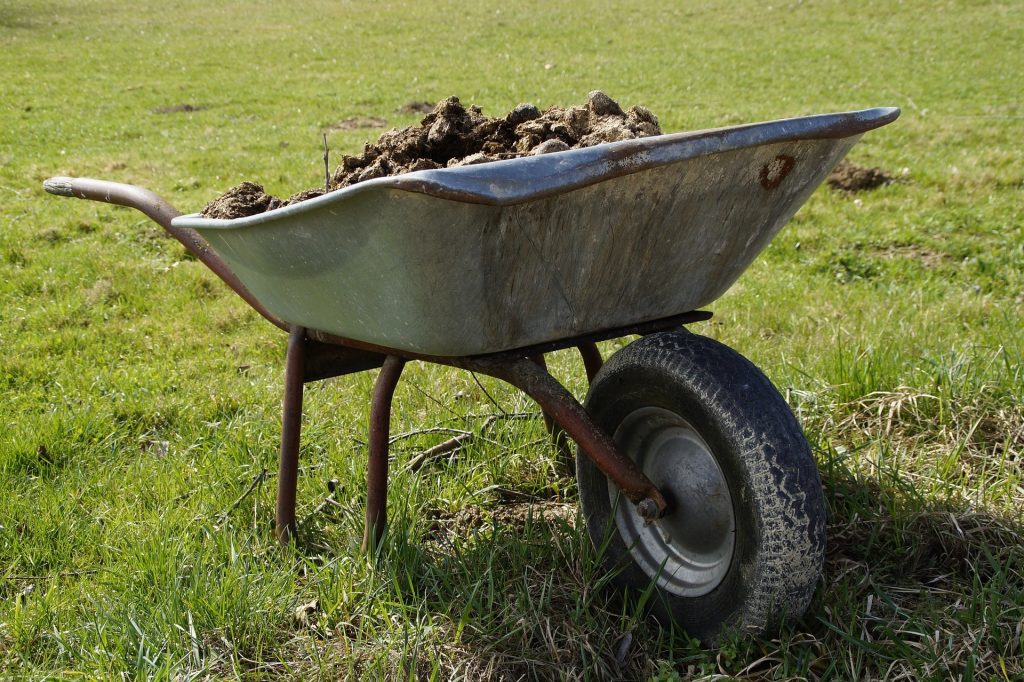 You can actually get some very good deals when buying wheelbarrows online. Web retailers can often offer you better prices and more choice than a hardware store like B&Q.
There are two things you need to know before buying a wheelbarrow online:
Be sure to look through the reviews very carefully. Since you can't test out the wheelbarrow in person, it's a good idea to have a good look at what previous customers have to say about the wheelbarrow. Is it stable, heavy duty, and easy to use? Remember though, if buying from a major retailer such as Amazon, you can always return the wheelbarrow if it doesn't meet your needs.
You will likely have to assemble the wheelbarrow yourself if you buy online. This will mean getting the screwdriver out to put everything together. Some wheelbarrows are easier to assemble than others, so once again it's important to look through the customer reviews very carefully.
Metal vs poly wheelbarrows
Most wheelbarrows are made of galvanised steel. However, more recently, some companies have started using poly plastic materials instead.
Although poly barrows are much lighter, they're best avoided in most circumstances. The plastic can become brittle extremely quickly, reducing the durability of your wheelbarrow. Galvanised steel is a much more heavy duty material, and is worth paying a bit extra for.
There are also some wheelbarrows made of poly fabrics. This material is often used on foldable wheelbarrows. If you need a barrow you can store in a small space, foldable poly wheelbarrows are worth considering, as long as you treat the wheelbarrow with care to prolong its longevity.
Wheelbarrow tyres explained
Most wheelbarrows come with a single pneumatic tyre. The word "pneumatic" means that the tyre must be pumped up with air. You want to look for thick tyres that won't puncture easily, and that don't lose their air easily over time, so that you don't have to pump them up too often.
You can also buy a wheelbarrow with non-pneumatic tyres, which are punctured proof wheels. However, this will make the ride a lot more bumpy, especially on uneven ground. Generally, pneumatic wheels are the best type to get.
Wheelbarrow wheels are measured with two numbers, such as 4.00 – 6. The first number refers to the height of the tyre sidewall, in inches. The second number refers to the wheel diameter, again in inches. If you ever puncture a wheelbarrow tyre, you can simply buy another tyre of the same size, as wheelbarrow wheels are universal.
The larger the wheelbarrow tyre, the wider it will be, and the more stable the wheelbarrow will be. Although having a larger tyre makes the wheelbarrow a bit less manoeuvrable, it's best to have bigger tyres to maximise stability when carrying heavy loads.
Also, some wheelbarrows have a single ball wheel at the front. This design allows you to turn the wheelbarrow much more easily when the tray is full, or you're carrying heavy loads.
Can I get a wheelbarrow with more than one wheel?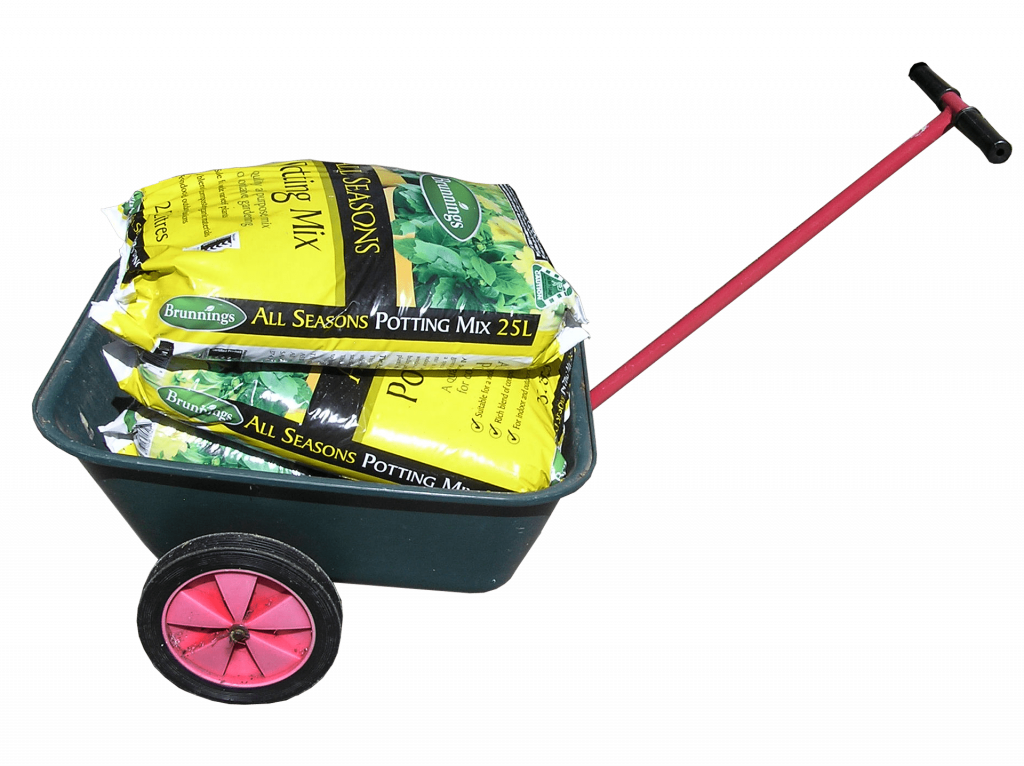 Yes, you can. If a wheelbarrow with a single front wheel will be difficult for you to use, you can also buy garden carts with either two or four wheels. However, these carts will function a little differently to a single-wheel barrow.
For example, to tip out a four wheeled wheelbarrow, you may have to push down on a lever, rather than pulling up on the two handles like on a wheelbarrow with two wheels.
Most motorised wheelbarrows are either three or four wheeled wheelbarrows. This is why they're often called garden carts. However, although they're very easy to use, including if you have limited strength, motorised wheelbarrows are often very expensive.
What to look for when buying a wheelbarrow
Here are some other very useful features to look for when buying a wheelbarrow in the UK.
Wide handlebars. The larger the distance between the two handlebars, the easier the wheelbarrow will be to lift up and tip out.
Tipping bar. This is a U-shaped piece of metal just above the wheel, which you can brace the barrow against as you tip out its contents.
Steep tipping angle. Imagine you have a pile of dirt in your wheelbarrow. As you tip, the ease with which the dirt pours out will be determined by the angle at the front of the tray. The steeper the tipping angle at the front of the tray, the easier the dirt will come out.
How should I store my wheelbarrow?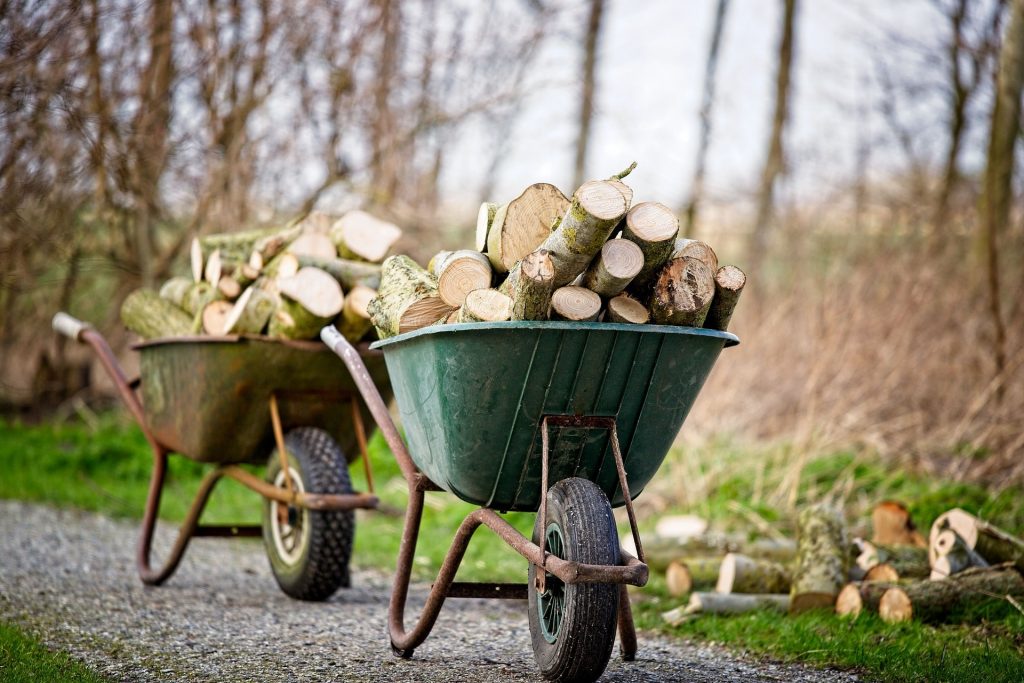 Even the best galvanised steel wheelbarrows can begin to rust in places when kept outdoors for extended periods. The best wheelbarrow storage location is in your garage or shed, so you can keep it out of the weather.
Foldable wheelbarrows are becoming increasingly popular because they allow you to keep your wheelbarrow in an extremely small space, which is useful if you don't have a garage.
Prior to storing your wheelbarrow, it's important to brush off any clumps of dirt that may be stuck to the wheels or tray. If you leave mud in the wheelbarrow in storage, it can be very hard to get off after it dries. You also want to keep the wheels clean to ensure that they can spin freely, and to prevent the rubber from wearing out over time.
How much should I expect to pay for a wheelbarrow?
For a high quality wheelbarrow, you can expect to pay about £40 for a small one, and up to £80 for a large one, when shopping online. Wheelbarrows with an electric motor will cost £400-£500 or even more.
Of course, polypropylene tray wheelbarrows are the cheapest wheelbarrows to buy. However, these types of wheelbarrow don't last as long as barrows made of galvanised steel.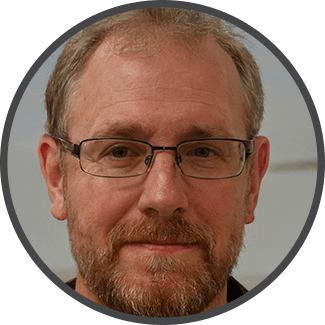 I'm Josh, and I'm the head writer at Lawn Care Pro.
I love everything lawns, but I'm a bit of a lawn mower nerd. I spend a lot of my free time tinkering with mowers, and planning my mowing schedule for the next few weeks.
I'm also into cars, which comes in very helpful when servicing a mower engine!