Considering buying a WOLF-Garten lawn mower?
In this guide, we've reviewed three WOLF-Garten lawn mowers, to see if they're worth buying.
We've also looked at WOLF-Garten as a brand, to see if they're any good.
Contents
About WOLF-Garten
WOLF-Garten is a garden equipment and garden tools brand, founded in 1922 by August Wolf in Betzdorf, Germany. The company began to manufacture electric lawn mowers in the 1950s.
Currently, WOLF-Garten is owned by MTD Products, an American company that owns a number of garden equipment and lawn mower brands, such as Cub Cadet, Robomow, and Rover.
WOLF-Garten sells a number of different products in the UK, including lawn mowers, scarifiers, hedge shears, moss removal rakes/rollers, hand tools, and more. You can spot WOLF-Garten products by their distinctive bright red and yellow colour.
Who makes WOLF-Garten lawn mowers?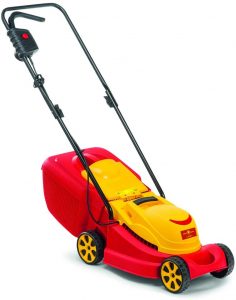 WOLF-Garten lawn mowers are produced by MTD Products (the parent company) at a manufacturing plant in Nemesvámos, Hungary. WOLF-Garten also has factories in Germany, and elsewhere in Europe, but their lawn mowers are made in Hungary.
Are WOLF-Garten lawn mowers any good?
WOLF-Garten mowers are generally quite good. The company has a lot of experience making lawn mowers, especially electric ones, and they're made in Europe, rather than in China.
However, you can still expect most WOLF-Garten lawn mowers to be made mostly of plastic – this is typical for electric lawn mowers on the market right now. As relatively cheap mowers, they're not the most sturdy.
This doesn't mean that you have to worry about durability, though. WOLF-Garten includes a 3-year warranty with their electric mowers, and the design is generally very tough.
As we'll explore below in our reviews, WOLF-Garten S-series mowers are typically a bit better than their A-series models.

WOLF-Garten S3800E Review
This lawn mower is possibly WOLF-Garten's best seller, due to its size, quality, and power output. With its 38cm cutting width, the S3800E isn't too large, nor too small, for most British gardens.
Although it's not a super small mower, the S3800E is quite lightweight. This is because the plastic used on the body isn't extremely thick or sturdy, when compared to more expensive electric mowers. However, this mower is still very tough, and comes with WOLF-Garten's 3-year manufacturer warranty.
The folding handle on this mower only has a switch/trigger at one side, rather than on both ends of the handle. As a result, you'll need to push down with your right hand at all times, to keep the blades spinning. This can be a bit annoying if you're left handed, or have a large garden and want to rest your right hand.
As you'd expect at this price range, you'll have to push this mower – it's not self-propelled, since it's electric rather than petrol. The weight makes this mower relatively easy to push.
On the plus side though, the grass collector has plenty of capacity. At 40 litres in size, you won't have to worry about the grass box running out of space while you're mowing, unless your garden is absolutely massive.

WOLF-Garten A320E Review
For smaller lawns, you might like to look at the WOLF-Garten A320E instead.
This mower has a 32cm cutting width, making it much more manoeuvrable in small spaces, especially given it's so light.
Apart from its weight, this mower is similar to the S3800E in terms of price as well. It also has the same 3-year warranty, although the grass box capacity is much smaller, at just 26 litres. Unfortunately, some grass does spill out of the mower, rather than going into the grass box – and this grass collector can be a bit difficult to assemble.
There are three cutting height settings to choose from, which is quite good for a mower at this price. It's easy to change between them, using the adjustment lever – you don't have to take off the blades and manually adjust them.
Regarding the blades and the quality of the cut you get when mowing, the A320E performs quite well. It can handle long grass quite well, and includes a long power cable. We just wish that the grass box on this mower model was a bit better quality.

WOLF-Garten S3200E Review
This lawn mower is a more expensive but slightly better version of the A320E we just reviewed.
It comes with a 32cm cutting width, and three cutting height settings just like the A320E. However, its grass box is larger, at 30 litres. Also, the grass collector is more sturdy, easier to install, and is overall better designed. The mower itself is quite easy to assemble as well.
Because the S3200E is still a cheap, lightweight lawn mower, it's not the most sturdy – the plastic is quite thin. However, it's still quite durable, and its weight makes the mower easy to push.
The motor on this electric mower is only 1000 watts, which doesn't seem like much. Despite this, the mower still provides a quality cut, and the blades stay sharp over time.
Overall, the WOLF-Garten S3200E is quite good value for money, if you need an electric push mower for a small area of grass.

Conclusion
This is the end of our WOLF-Garten lawn mower reviews.
Hopefully this guide helped you to determine if WOLF-Garten is the right mower brand for your lawn.
If you're looking for alternative electric lawn mowers to choose from, read our reviews of Cobra, McGregor, or Webb mowers.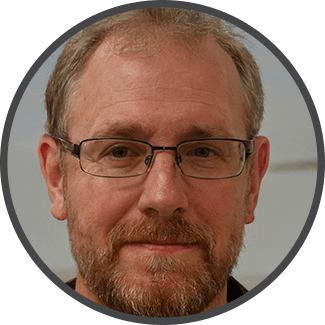 I'm Josh, and I'm the head writer at Lawn Care Pro.
I love everything lawns, but I'm a bit of a lawn mower nerd. I spend a lot of my free time tinkering with mowers, and planning my mowing schedule for the next few weeks.
I'm also into cars, which comes in very helpful when servicing a mower engine!