Considering buying a lawn mower made by Hyundai?
In this guide, we've reviewed three different types of Hyundai lawn mowers, to see if they're any good.
We've also looked at Hyundai as a company in more detail, to see if their lawn mowers are worth buying.
Contents
About Hyundai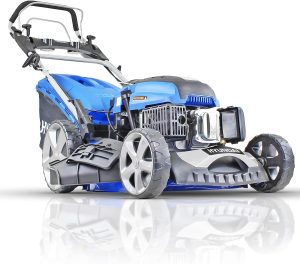 When the word Hyundai comes to mind, the first thing you probably think about is the cars they make. Motor vehicles are Hyundai's main line of operations, and they also own a majority of Kia, another car brand, as well.
When the company was founded in South Korea in 1967, cars were the main focus, despite Hyundai originally being a construction company. These days, Hyundai produces everything from oil transformers to excavators.
Hyundai lawn mowers are sold by a subsidiary, known as Hyundai Power Equipment. These products are imported into the UK by a British company, called Genpower Ltd. The company produces a range of different power equipment products other than lawn mowers, including circular saws, leaf blowers, and generators.
Hyundai specialises in rotary lawn mowers, especially petrol mowers – this is what the majority of the range is made up of. However, the company also sells corded and cordless electric mowers, as well as robotic lawn mowers.
Where are Hyundai lawn mowers made?
Despite Hyundai being a South Korean company, Hyundai lawn mowers are made in China.
Are Hyundai lawn mowers any good?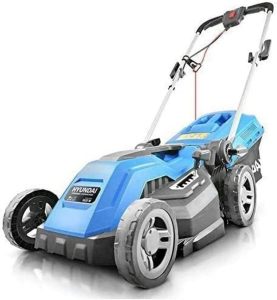 Hyundai's lawn mowers are typically effective, reasonably priced options. They often make an effort to make their lawn mowers are easy to use as possible, such as installing electric starters on their petrol mowers. They even have a YouTube channel showing how to use and maintain their lawn mowers, which not many other companies do.
The other good thing about Hyundai's mowers is the power they offer. You will very rarely feel like you don't have enough power to go up slopes (with their self-propelled mowers) or cut through long grass.
It's also worth noting, Hyundai mowers are typically quite heavy, and feel sturdy. This is a positive for most people, but it does reduce the mower's manoeuvrability somewhat.
Hyundai lawn mowers come with a three year warranty in the UK, which is quite good. However, you need to ensure that you register your product with Hyundai, to ensure full coverage.
Compared to other mowers at a similar price point, Hyundai mowers are quite durable. But when they do break, it can be difficult to get the parts for them, which is why having warranty coverage is so important.

Hyundai lawn mower reviews
Below, we've reviewed three of the most popular lawn mowers that Hyundai sells in the UK right now.
We've looked at petrol and electric lawn mowers at different price points. The mowers are listed in descending order, based on their size and price.

With this large, self-propelled petrol lawn mower, Hyundai has taken a few nice steps to help make mowing easier.
For starters, you get an electric push button start with the HYM510SP, which you would expect on a mower at this price point. However, you also get large wheels, ensuring that the mower doesn't bog down when it's slightly muddy, and a massive 70 litre grass box, preventing you from having to empty your clippings mid-mow.
If you'd prefer, you can also mulch your grass clippings and return them to your lawn, rather than bagging them, with the included mulching plug. There are also six different cutting heights, and it's easy to switch between them.
This is not a cheap lawn mower, especially when compared to other smaller models. However, if you have a large garden, it's a good investment to make.
Pros
Offers plenty of power.
Large grass box capacity.
Easy to use.
Mulching plug is easy to use.
Cons
Only worth buying for large lawns.
Overall value rating
⭐⭐⭐⭐⭐
If you're looking to save a little money, or want a smaller, lighter mower, this product is Hyundai's take on the mid-size cordless electric lawn mower.
This mower is actually quite reasonably priced for a battery-powered mower of this size. Also, unlike other similar mowers, it's actually quite heavy, and has a very sturdy feel to it. This makes the mower a bit less manoeuvrable, but it does feel great to mow with.
The wheels on this mower are not very big, and we also would have liked to see it come with a longer battery life. You get about 15 minutes from a single charge, which is only enough for small gardens.
However, this mower is very durable, and the battery doesn't degrade very easily over time after being recharged over and over. Provided you don't have a large lawn, this mower is definitely still worth checking out.
Pros
Good price.
Durable – feels very sturdy.
Battery doesn't degrade easily over time.
Cons
Slightly small battery capacity.
This is the cheapest, smallest Hyundai mower that we've reviewed. It comes with a 38cm cutting width, making it suitable for small gardens.
Despite the small cutting width, the grass box is quite a decent size, at 40 litres. You won't have to worry about emptying it constantly.
Hyundai has included a 10m power cable on this mower, which is to be expected on a product designed for small gardens. Typically, manufacturers install 12m cables on bigger mowers. You might need an extension cord, depending on where the nearest outlet is.
You get five cutting height settings with this mower, which are easy to switch between with the included lever. Also, the 1600W motor provided plenty of power, even if you're cutting quite thick grass.
The only real issue with this mower is its ability to collect clippings. It can leave a bit of a mess on your garden, which isn't a problem from a lawn care perspective, but may be a bit unsightly.
Pros
Great price.
Good grass box capacity.
1600W motor offers good power.
Cons
Doesn't pick up all of your clippings.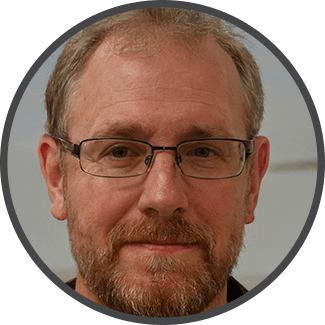 I'm Josh, and I'm the head writer at Lawn Care Pro.
I love everything lawns, but I'm a bit of a lawn mower nerd. I spend a lot of my free time tinkering with mowers, and planning my mowing schedule for the next few weeks.
I'm also into cars, which comes in very helpful when servicing a mower engine!