Bosch Rotak 32R Specifications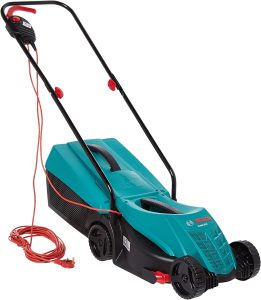 | | |
| --- | --- |
| Manufacturer | Bosch |
| Model | Rotak 32R |
| Type | Walk behind, rotary mower |
| Weight | 6.8KG |
| Power | Corded electric |
| Wattage | 1200W |
| Cable length | 10m |
| Cutting width | 32cm |
| Blade material | Metal |
| Cutting height | 20 - 60mm |
| Grass box | 31L |
| Mulching capability | ❌ |
| Rear roller | ❌ |
| Warranty | 2 years |
| Price | Check on Amazon |
Bosch Rotak 32R Review
The Bosch Rotak 32R is a small, cheap, electric mower, designed for small to medium sized gardens.
It has a 32cm cutting width, and has three height settings, from 20mm up to 60mm. This is an electric corded mower, with an included 10m power cable, and a 1200 watt motor.
You get a 31L grass box with the Bosch Rotak 32R electric rotary mower. It comes with a steel blade, and includes an electric start mechanism. The mower is also self-propelled, as you might expect, given what it costs.
Assembly
Before you begin using this Bosch lawn mower, some assembly is required.
It ships in a number of different pieces, which all clip together. The handle can be a bit tricky to assemble, but putting the entire mower together normally takes no longer than 10 to 20 minutes.
On the whole, putting this mower together is relatively easy. However, some of this mower's competitors are even easier to assemble because they ship in fewer pieces. The Flymo Chevron 32V ships in just three parts, for example.
Ease of use
"
Since it's so lightweight, this mower is easy to manoeuvre, and make tight turns with.
"
When you first get this mower, and during assembly, one of the first things you'll notice is how light it is. The entire mower weighs just 6.8KG.
We mention this because it affects how easy this mower is to use. Since it's so lightweight, it's easy to manoeuvre, and make tight turns with. However, some people don't like this slightly flimsy feel – it's a matter of personal preference.
Apart from that, this mower is quite user-friendly. It has an electric button start, and is easy to mow straight lines with. There is no vision window into the grass box though, which would have been nice to have.
To adjust the cutting heights, you need to turn the mower over and move the wheels manually. There's no height adjustment lever or switch on the front of the mower to make this easier.
Power
"
It's not the most powerful mower you're going to find.
"
The Rotak 32R comes with a 1200W motor. It's not the most powerful motor you're going to find, but this type of engine is fairly typical for mowers that cost this much.
You get a 10m power cable included with this mower, so before you buy, it's a good idea to take out your measuring tape and see whether or not you'll need to use an extension cable.
Ultimately, this mower is really designed for small to medium sized gardens, which is why the cable is relatively short.
Mowing effectiveness
"
…for small gardens, it does a great job. It even works well on long grass, which is nice.
"
On the whole, this mower does a good job, and produces a clean, easy cut. Because of the 32cm width, it doesn't make an incredibly wide cut on each pass, but for small gardens, it does a great job. It even works well on long grass, which is nice.
Also, the 32R does a particularly good job reaching the edges of your grass as you mow, thanks to its grass combs. Many lawn mowers at this price point really struggle with this, so points for Bosch there.
We would like to see more cutting height adjustment settings on this mower. Having more flexibility to define how short your grass is cut allows you to keep your grass healthier as the weather changes. For example, in winter you might like to keep the grass a bit longer while it's dormant. But in summer it's best to cut more off, especially if your lawn is growing very quickly.
There are only three cutting heights on this mower – 20mm, 40mm, and 60mm. However, having only three cutting heights is to be expected, given what it costs.
Another slight downside is the capacity of the 31 litre grass box. Once again, 31L is only really enough for small patches of lawn. With anything larger, you'll need to empty the grass box once or twice per mow.
Mulching
You cannot mulch your grass clippings with the Rotak 32R. As grass is cut, it goes straight into the grass box – there is no mulching plug you can use to turn your clippings into compost.
View our mulching mower buyers guide to view similar mowers with a mulching function.
Ergonomics
As you would expect from Bosch, this mower is quite ergonomical.
The handle is comfortable, but isn't designed to be held for extended periods, because this mower is meant for small lawns. You have to hold down the orange on switch on the handle while mowing, and doing so isn't difficult – it's a nice safety feature to have.
Durability
"
Overall, this is a reasonably tough little lawn mower.
"
While some parts of this mower may seem flimsy, because they're made of plastic, Bosch has used metal in the parts of this mower that actually need the reinforcement.
Where this matters most is the blades being made of metal. Many other mowers that cost a similar amount use plastic, instead of a steel blade.
As you might expect, metal blades cut better, avoid ripping the grass, last longer, and can be sharpened when they do eventually wear down. This is why mowers with plastic blades are best avoided.
Overall, this is a reasonably tough little mower. It's not going to break down on you within the first few years, as long as you're careful with the more flimsy components, such as the trigger mechanism. It stands up well to regular use, making for a durable mower.
Bosch also include a 2 year manufacturer warranty with the Rotak 32R, covering you on the off chance it does break soon after purchase.
Value for money
"
…this Bosch mower is excellent value for money.
"
This is one of the least expensive mowers you can buy right now. There are two reasons why Bosch is able to make this mower so cheap:
It's quite small, and only has a 32cm cutting width.
It's powered by an electric cord, rather than a battery or petrol motor – both of which are expensive to include.
Overall, if you have a small lawn, and don't mind using an electric corded mower, this Bosch mower is excellent value for money. Bosch is generally regarded as a pretty good mower brand, and the Rotak 32R performs well given what it costs.
The verdict
4.2/5 – Great value, easy to use mower
If you want a cheap lawn mower ideal for small gardens, the Bosch Rotak 32R is worth checking out. It cuts well, is easy to use, and won't break the bank.
There are downsides to this mower. It does feel flimsy, and is only 32cm wide, making it inefficient for larger gardens.
However, you're unlikely to find anything much better at this price point, especially with grass combs. The Flymo Chevron 32V, which costs about the same, performs very similarly, except it has an extra litre of grass box capacity.
Expect to pay £30-£50 more for a mower that feels more sturdy.
Alternative lawn mowers
If you're looking for a sturdier mower, or a mower with a battery, check out some of the alternatives below.
DIRECT COMPETITOR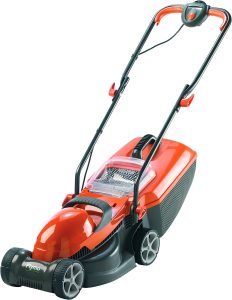 LARGER VERSION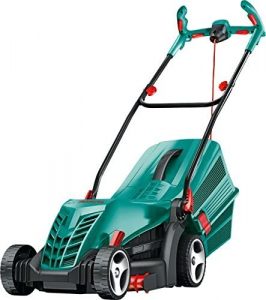 BATTERY ALTERNATIVE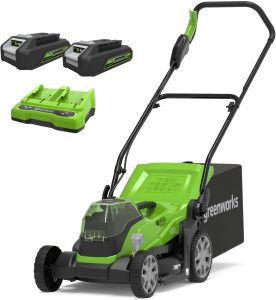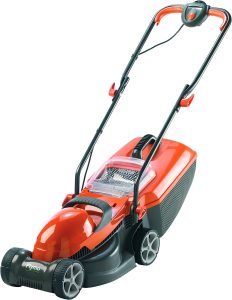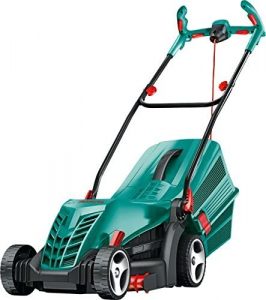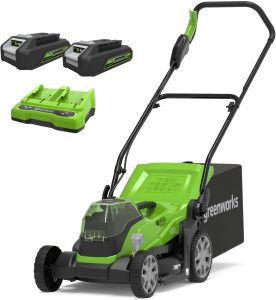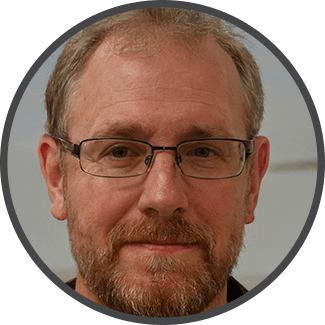 I'm Josh, and I'm the head writer at Lawn Care Pro.
I love everything lawns, but I'm a bit of a lawn mower nerd. I spend a lot of my free time tinkering with mowers, and planning my mowing schedule for the next few weeks.
I'm also into cars, which comes in very helpful when servicing a mower engine!