Looking for something to help clear leaves and other debris from your garden or driveway?
In this buyer's guide, we've reviewed the top 7 best petrol leaf blowers for sale in the UK in 2021.
After that, we've explained some key things to consider when choosing a petrol leaf blower.
Quick comparison table
Best petrol leaf blowers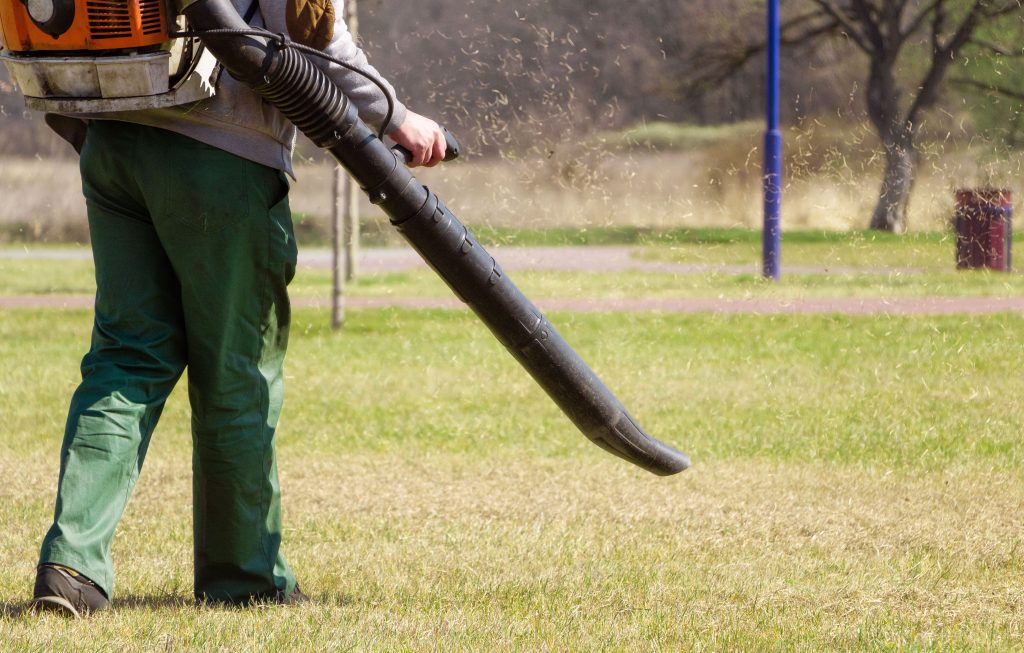 Let's begin our reviews.
Here, we've looked at the 7 best petrol leaf blowers you can buy in the UK right now.
This isn't the cheapest petrol leaf blower you can buy. But you do get a lot in return for your money.
For starters, Stihl has done a great job eliminating vibrations from this leaf blower. It's very comfortable to use, even for extended periods, due to the amount of vibration dampening they've used.
Speaking of comfort, the BG86CE is very light, making it easy on the arm, and is also extremely easy to start. It doesn't come with a vacuum or a mulching mode, however.
The other great thing about this petrol leaf blower is the engine. It's not massive – the motor only has a 27.2cc capacity. But it blows like a gale-force wind, offering plenty of power to remove heavier debris, such as wet leaves.
Overall, if you don't mind investing the extra money for a quality leaf blower, Stihl's blower is a great choice.
The Hyundai HYB5200 has about double the engine capacity of the Stihl leaf blower we just looked at, at about half the price.
This is because although the engine is quite large, it doesn't have massive power. It still offers plenty of airspeed for most small to medium sized gardens, but it's not extremely powerful.
Hyundai's petrol leaf blower is another very user-friendly option. The backpack has strong but lightweight straps, and is comfortable to wear. Plus, it has cruise control – you can lock the throttle in place to keep blowing with just the right amount of force.
There are two reasons this petrol leaf blower is so cheap. Firstly, it's quite heavy, especially the part you carry on your back. And secondly, it's quite loud. You'll need to wear a good pair of earmuffs while using it.
However, the HYB5200 does perform quite well, given what it costs. If you don't mind the noise and the weight, it offers great value for money, and comes with a 3-year warranty from Hyundai.
With this petrol leaf blower, McCulloch has tried to design something that has everything you need to clear leaves from your driveway or garden, that doesn't cost a bomb.
Despite being relatively inexpensive, you still get most of the tech you'd expect on a premium petrol leaf blower with the GB322.
For example, it comes with cruise control, and a 322 km/h blow speed, which is a massive amount of blowing force. The 0.9kW engine offers plenty of power, is very easy to start, and is also very reliable.
There's no vacuum mode though, and at 4.8kg, this leaf blower could be a bit lighter. However, it doesn't feel too heavy. Unless you have limited strength, this petrol leaf blower is fairly easy to use.
One thing to note about the GB322: it doesn't come with a backpack. This is one of those petrol leaf blowers that you carry around in your hand, with the motor attached to the tube directly.
Unlike all of the other petrol leaf blowers we've looked at so far, this option from Makita has a 4-stroke motor.
As a result, this leaf blower is slightly more expensive than most 2-stroke blowers. However, there are a number of advantages to this 4-stroke engine design.
Firstly, despite the power of its engine, the BHX2501 is relatively quiet, and doesn't require a fuel and oil blend. You can add petrol and oil separately, with no need to mix them together before fueling the motor.
Secondly, this petrol leaf blower is very fuel efficient, and doesn't produce that many emissions. It won't choke you to death with fumes as you use it.
Finally, Makita has also equipped this leaf blower with a vacuum and mulching mode, which you can use if you buy the vacuum attachment.
With this attachment, you can collect leaves in the included bag, mulching them into fine pieces, ready for the garden waste bin. No longer do you need to blow leaves into neat piles to rake up later.
This is another petrol leaf blower that can vacuum and shred your leaves. However, this one comes with the ability to vacuum as-is, without the need to buy any attachment or add-on.
Apart from its hoovering abilities, this is actually a relatively cheap and simple machine.
This leaf blower comes with a small 2-stroke 1hp/0.7kW motor, which isn't particularly powerful. However, it still provides enough blowing or sucking force to move nearby leaves.
There's no backpack attachment, meaning you have to carry the leaf blower around in your hand. It's quite light though, so this isn't a big deal.
On the whole, the Parker PBV-2600 is best for those on a budget looking to keep small gardens or driveways clean. It's not the biggest petrol leaf blower, but it gets the job done in small areas.
This petrol leaf blower is designed for maximum comfort when you've got it on your back.
Makita has added 4 damper springs on the front side of the backpack, plus a heap of cushioning. As a result, you feel barely any vibrations on your back as you use this leaf blower.
Another thing Makita has done is use sporty ventilated shoulder straps. This ensures that you don't get too sweaty after using this petrol leaf blower for extended periods.
Apart from its comfort for the end user, it's important to note that this isn't a cheap petrol leaf blower. However, it's extremely powerful – the 4hp 4-stroke motor provides a massive amount of blowing power.
There are also a number of nice things available with this blower that make your life that little bit easier. For example, there's an anti-icing mode, to prevent the carburettor from freezing up in cold conditions. Plus, the tube and nozzle are telescopic, allowing you to adjust the pipe to the perfect length, depending on your height.
This petrol leaf blower is another cheaper option with the ability to vacuum and collect your leaves.
To change between the blowing and vacuuming modes, you simply switch between the two pipes that are included with this leaf blower. No need to buy any additional attachments.
The reason this petrol leaf blower is so cheap is the motor isn't especially powerful. It has a maximum airspeed of 225 km/h, or 140 miles per hour. This is enough to shift most leaves, small twigs, and other debris. However, this isn't enough power for a large garden where you want to blow leaves at long range.
What this petrol leaf blower does well though is vacuuming and shredding your leaves. It produces a very fine mulch, perfect for use as compost, using a strong steel blade found inside the impeller.
However, this petrol leaf blower can sometimes be difficult to start, especially when cold.
Petrol lawn mower buyer's guide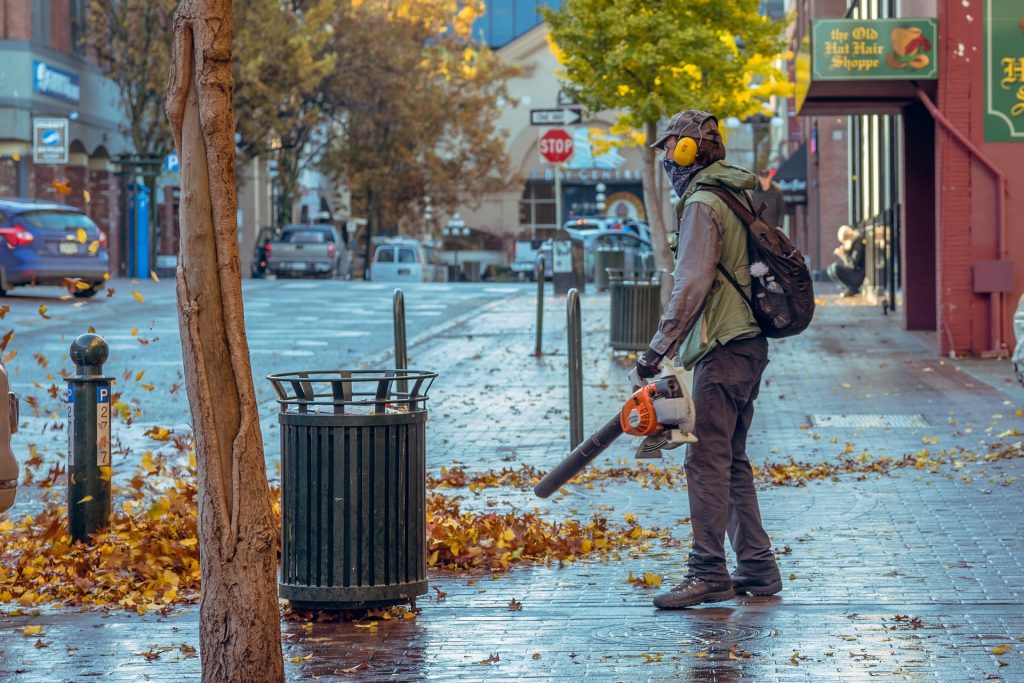 In this part, we'll explain what you need to know when choosing which petrol-powered leaf blower to buy.
Why buy a petrol leaf blower instead of an electric leaf blower
These days, it is in fact possible to buy cordless electric leaf blowers. They're completely portable, just like petrol leaf blowers, and don't make as much noise.
However, there are still many reasons why petrol leaf blowers are a better option for most people.
They're often cheaper, because batteries are very expensive.
Petrol leaf blowers can keep running for as long as you want, without needing to be recharged.
Petrol leaf blowers are often more powerful.
This is why petrol blowers are the most common type used by gardeners and homeowners alike.
Petrol leaf blower engine sizes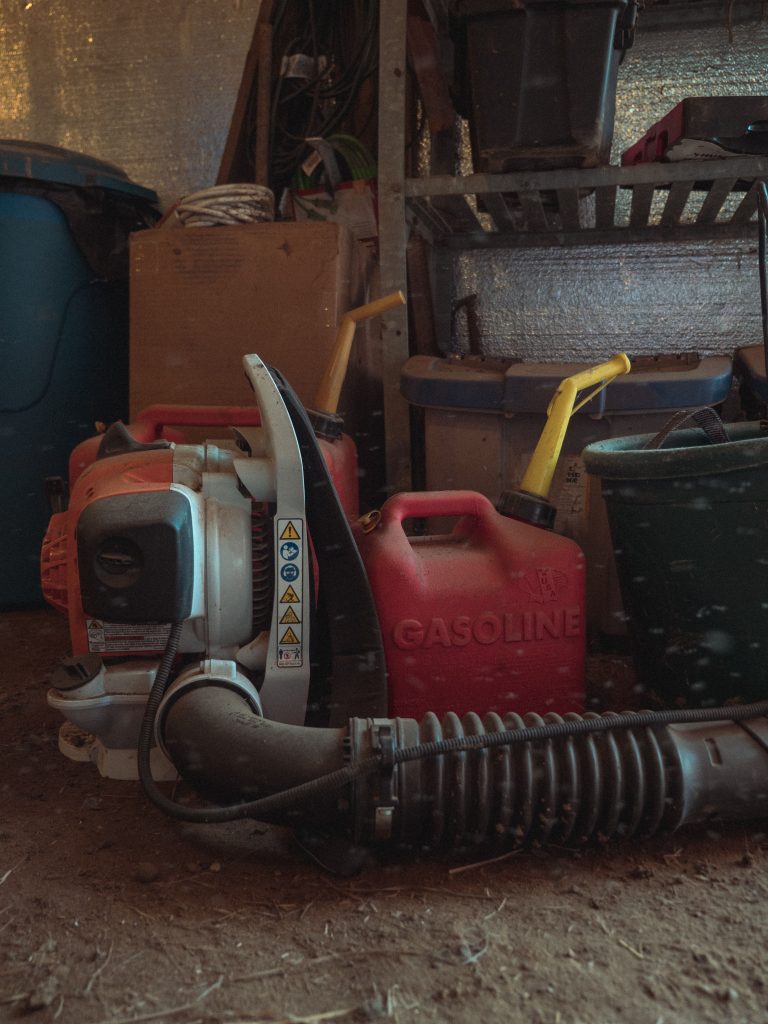 Petrol leaf blowers come in a number of different engine sizes, generally from around 20cc up to 55cc.
Remember, cc measures the capacity or displacement of the engine, and not its power. It's the amount of fuel and air that can be pushed through the engine cylinder(s).
The higher the cc, the more powerful the leaf blower will be, in general. However, it's also important to look at its horsepower or kilowatt rating.
Most petrol leaf blowers will have about 0.8 – 1.2kW of engine power, or about 1 – 1.5 horsepower.
For most gardens, having at least 1kW of engine power will be plenty. You would only ever really need more for commercial use, or for clearing leaves from a large garden.
2-stroke vs 4-stroke leaf blower engines
Most petrol leaf blowers these days come with a 2-stroke single cylinder petrol motor. However, you may also find some that come with a 4-stroke engine.
Here are the differences between 2-stroke and 4-stroke leaf blower motors.
Price: 2-stroke motors are generally cheaper.
Noise: 4-stroke motors are often quieter.
Power: 2-stroke engines often produce more power, although this also depends on the size of the engine.
Fueling: 2-stroke engines must be fueled with a mixture of petrol and oil, which must be mixed externally to the fuel tank. The ratio of fuel to oil is generally about 50:1, although the manufacturer will specify how much of each to use for their given engine. On the other hand, 4-stroke engines take fuel and oil separately, like a car.
Fuel efficiency: generally, both types of motors have about the same level of fuel efficiency. However, 4-stroke motors are sometimes slightly more fuel efficient.
Leaf blower vacuum and mulching functions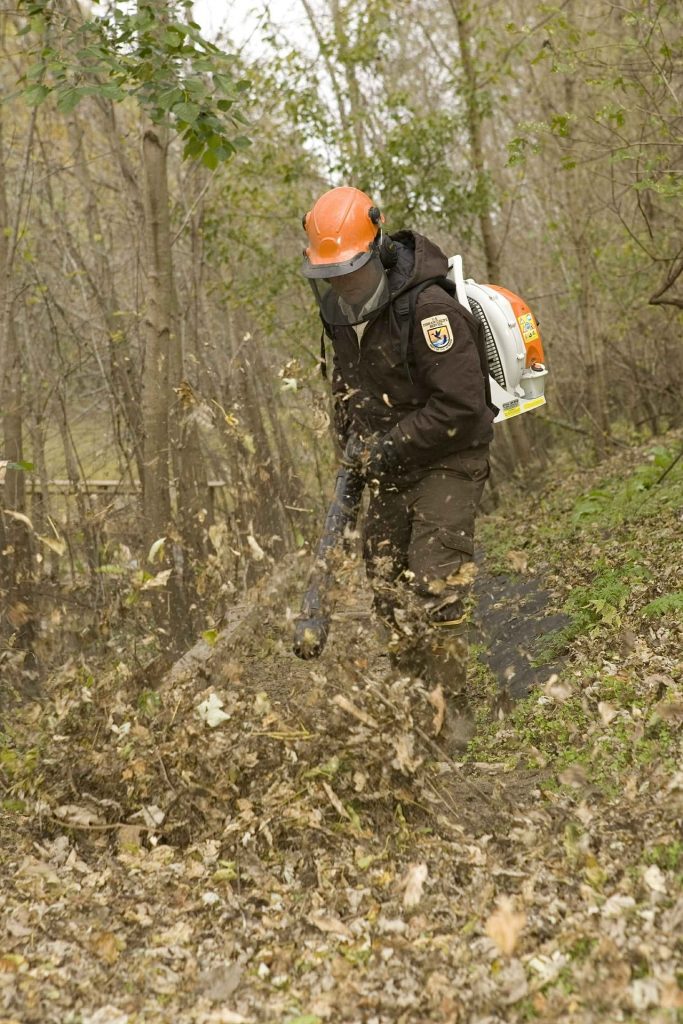 Many petrol leaf blowers come with the ability to work as a vacuum cleaner for leaves. Some can also mulch your leaves into small pieces as they vacuum them up.
With a vacuum, the leaves are sucked up through the blower tube and get sent into a collection bag. Since a separate bag is required, vacuum add-ons are sometimes sold separately to the leaf blower itself.
Often, when you get a garden vacuum, it will mulch up the leaves into small pieces, pushing them through a small blade before they enter the collection bag. This helps to save space in the bag, and also allows you to use the leaves you've hoovered up as mulch for your garden.
The thing to remember when considering leaf blowers with vacuum capabilities is how easy or difficult it is to convert them between the two modes. On some leaf blowers, it can be quite a lengthy process to take off the bag and convert the leaf blower back into leaf blowing mode. However, if you will mostly be just vacuuming or blowing, and don't plan to switch between the two modes very often, then this isn't such a big problem.
Leaf blower air speed
The engine capacity and horsepower of your petrol leaf blower, as well as the design of the motor, will help to determine its airspeed.
The blow speed of a petrol leaf blower determines the amount of force that it can blow with. Having more force is especially helpful for clearing slightly wet leaves, as well as large piles of debris.
Smaller, cheaper leaf blowers will typically blow with an airspeed of about 250 km/h (about 155 miles per hour). On the other hand, more expensive petrol leaf blowers with a more powerful engine will offer a maximum airspeed of 350 km/h (200 mph) or more.
In general, the higher the airspeed, the more expensive the leaf blower will be, and the less fuel efficient it will be. However, if you get a more powerful leaf blower, you don't have to use it on full throttle all the time. The extra power can just be kept in reserve in case you need it.
For most gardeners, a blow speed of about 180 mph is plenty. Having more power will help to make the job of clearing leaves from your garden in autumn a lot more efficient, however. Plus, you can even use more powerful petrol leaf blowers to clear snow in winter.
Leaf blower backpacks explained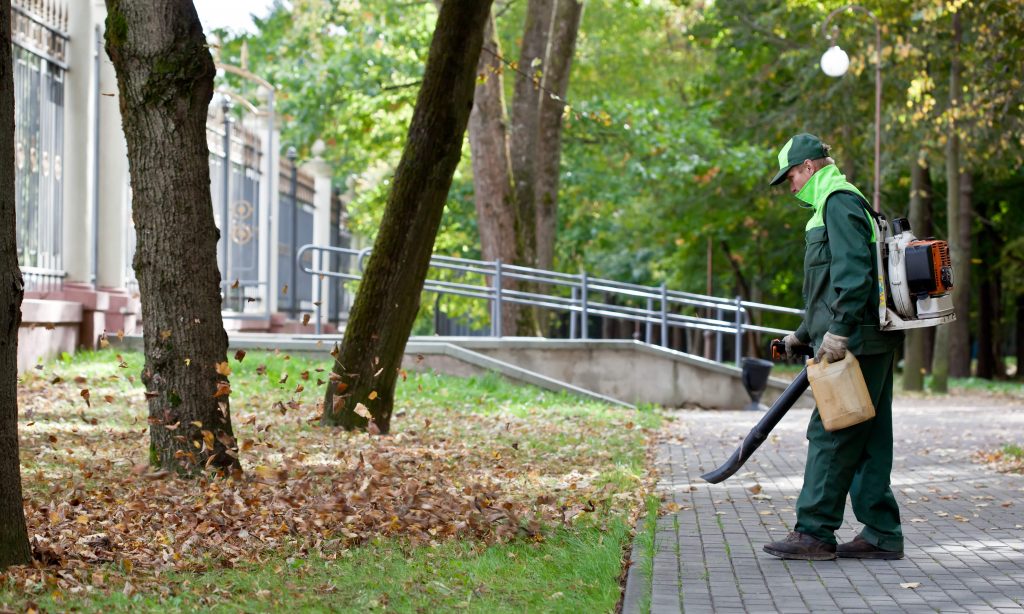 Because petrol leaf blowers are often quite large and heavy, some come with a backpack design. This means that the engine sits on your back, rather than being connected with the blower tube directly.
Backpack leaf blowers have shoulder straps and a harness, allowing you to carry the engine around on your back. The only thing you have to hold is the handle, to help guide the leaves where you want to blow them.
The harness used attach the backpack is usually adjustable, so you don't have to worry about sizing.
What you do have to worry about though is how comfortable the leaf blower is on your back. Look for a design with plenty of cushioning, and strong damper springs to limit the amount of vibrations transferred from the leaf blower to your back.
How much should I pay for a petrol leaf blower?
0ood-quality, cheap 2-stroke petrol leaf blowers can be had for about £150. You probably wouldn't want to spend less than this on a petrol leaf blower, especially if you want it to last.
If you're looking for a more powerful leaf blower, especially one with a vacuum function, expect to pay around £350 or perhaps a bit more, depending on the power.
You can get both types of leaf blower (basic and more advanced options) for less money. However, if you want to buy something that's good quality, these are the amounts you can expect to pay.
What makes a good petrol leaf blower?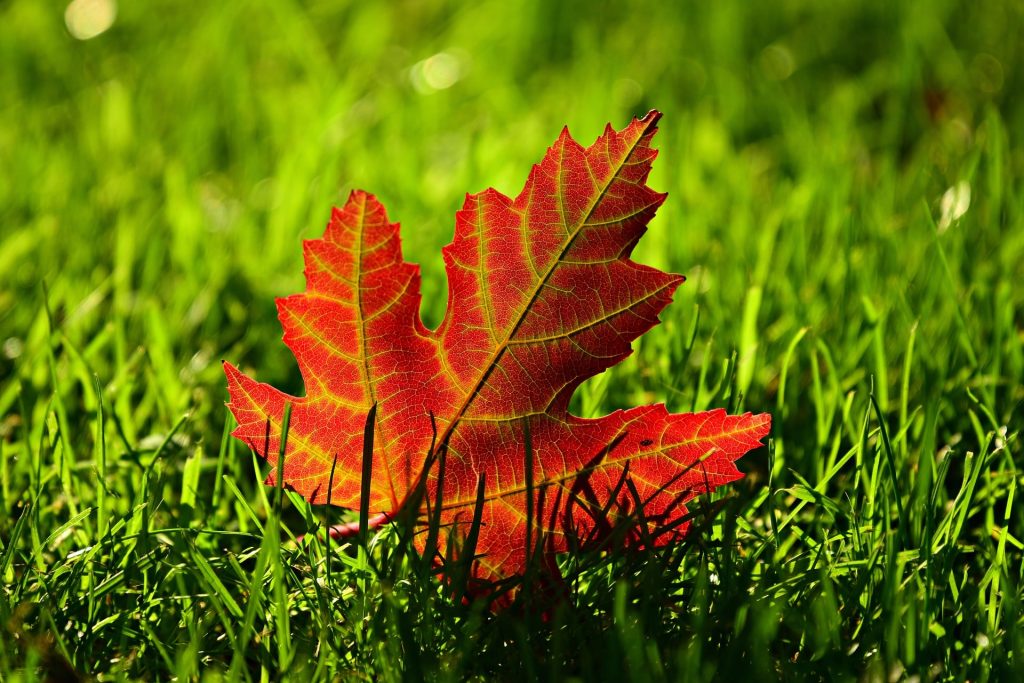 Apart from what we discussed above, there are some other things to look for in order to find a great petrol leaf blower.
Good fuel efficiency. The last thing you want is a petrol leaf blower that chews through petrol. Not only will this increase your petrol costs, it will also mean that the blower produces more emissions and a stronger smell as you use it. You ideally want to get at least an hour of full throttle use out of your petrol leaf blower for every litre of fuel that you put in.
Cruise control. Rather than having to hold down the throttle at the right speed all the time, some petrol leaf blowers have a cruise control mode. This allows you to use it at half throttle for example for as long as you want, without having to hold the trigger in just the right spot all the time.
Vacuum settings. Sometimes, it's very useful to be able to vacuum up all those leaves, rather than scattering them in the garden or on the road.
A quiet motor. When using a petrol leaf blower, you'll need to use ear muffs no matter how loud the engine. However, quieter leaf blowers are less likely to annoy the neighbours, and anyone else in earshot.
3-year warranty. Petrol leaf blowers will typically either come with a 2-year warranty or a 3-year warranty. Having an extra year of warranty protection can help to provide a little extra peace of mind that the product won't fail on you.
Telescopic tube and/or nozzle. Many leaf blowers have an adjustable-length tube, but telescopic pipes are normally only found on top of the line petrol leaf blowers. However, they can be very useful in helping you get the pipe exactly as long as you want it.