Looking to buy an Einhell lawn mower, and wondering if they're any good?
In this guide, we've conducted an Einhell lawn mower review, to see how good their mowers are.
We've looked at Einhell manual push mowers, electric cordless mowers, and petrol mowers.
BEST MANUAL MOWER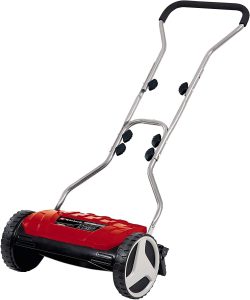 Einhell
GC-HM 38 Manual Lawn Mower
BEST CORDLESS MOWER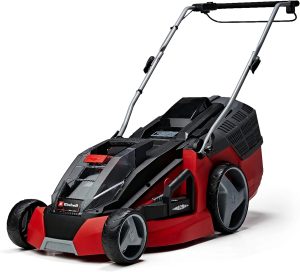 Einhell
GE-CM 43 Li Cordless Lawn Mower
BEST PETROL MOWER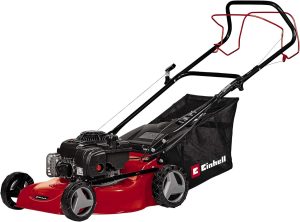 Einhell
GC-PM 46/1 Petrol Lawn Mower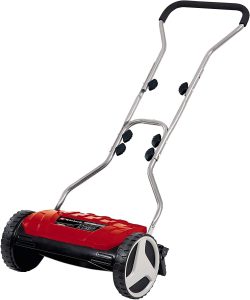 Einhell
GC-HM 38 Manual Lawn Mower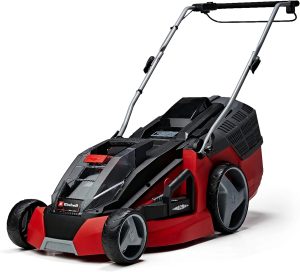 Einhell
GE-CM 43 Li Cordless Lawn Mower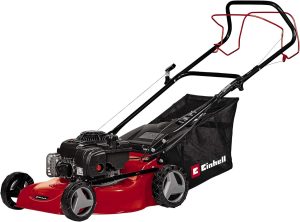 Einhell
GC-PM 46/1 Petrol Lawn Mower
Contents
About Einhell
Founded in 1964, Einhell is a German company that specialises in power tools and other garden equipment. They expanded into Britain in 1999, and currently have a local headquarters in Merseyside.
Einhell has a large range of mowers, although they also make drills, saws, and strimmers as well. Einhell's mowers come with a 2 year warranty in the UK.
Are Einhell's mowers any good?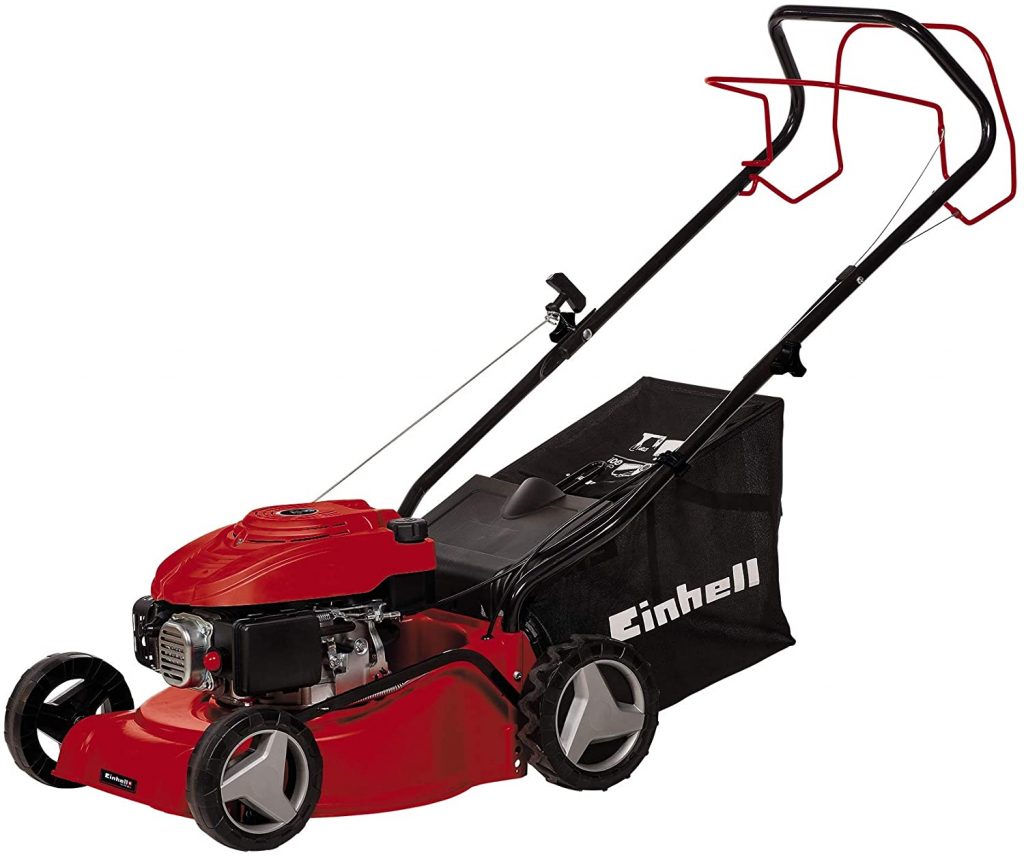 Einhell's mowers typically have quite a good reputation, mostly for their durability. Although the company does use quite a lot of plastic on its mowers these days, and they're made in China, Einhell mowers are still known to last for a long time.
Einhell is also known for making lawn mowers that perform well. Even their cheaper mowers will work well in tougher conditions, such as when mowing long grass.
The only downside to Einhell is they're not the cheapest. They're not the most expensive, but are positioned as more of a premium lawn mower brand, rather than a cheaper option.

Einhell Push Mower Reviews
First, we'll look at Einhell's range of manual mowers, as the company has a decent range of push mowers for sale in the UK.
On the whole, Einhell manual mowers are generally good value for money. Their larger, more expensive push mowers perform much better than their smaller ones, however.

The GC-HM 30 is Einhell's more basic push mower. It's a relatively small push mower, with just a 30cm cutting width.
Although it comes with good-quality steel blades, this isn't the most efficient mower, because it's not very wide. However, it is quite agile and easy to use, in part because it's so lightweight.
The main drawback to this lawn mower is the grass collection box. It's a little flimsy, and doesn't always collect all of your clippings. This isn't an issue if you prefer to leave the clippings in place as mulch, as you can detatch the grass box to mulch the clippings.
However, there are a lot of things to like about the GC-HM 30. It's mostly made of metal, rather than plastic, so it feels quite sturdy, apart from the grass collection bag. It also has a good range of height adjustment options, which is good, because manual mowers can get jammed by small twigs on your grass. If you have lots of twigs, you want to have the blade high, to cut over them.
Verdict: good sturdy manual mower, if you don't need to collect clippings.
Pros
Very manoeuvrable.
Works well for small gardens.
Sturdy.
Cons
Grass box isn't the best.
This is a slightly more expensive Einhell mower. The main difference is it comes with a 40cm cutting width, rather than a 30cm wide blade. As a result, it's more efficient on larger lawns – you can mow your grass without too much effort, even though this is a manual mower.
Einhell have made the blades nice and sharp on the reel, allowing them to cut through thicker grass. However, this mower is not the best on slopes. Although it will cut when pushed downhill, it won't really mow uphill – you'll need to bring it back up the slope and go down again to cut. Like most push mowers, this product is best for use on flat lawns.
The grass basket on this mower is also a bit less flimsy, and does a better job collecting grass clippings as you mow. It has a capacity of approximately 26 litres, which is quite good for the size of the mower. As with the GC-HM 30, the grass collection box can be detached if you'd prefer to leave your clippings on the grass.
This mower is also very durable. The frame is mostly made of steel, and although the wheels are plastic, they hold up quite well. They're actually designed to be delicate on your lawn, ensuring that they don't flatten your grass too much as you mow.
Although this is one of the more expensive manual mowers Einhell makes, it doesn't cost that much when compared to most other mowers. If you're looking for a simple but efficient way of mowing your lawn, the GC-HM 38 is worth checking out.
Verdict: great value for money, efficient push mower.
Pros
Very efficient.
Reasonable price.
Durable.
Performs well at cutting.
Cons
Not the best on sloped lawns.
Overall value rating
⭐⭐⭐⭐⭐
Einhell Cordless Lawn Mower Reviews
Einhell also has a range of different electric cordless mowers, powered by li-on batteries. These mowers are generally quite good, albeit a little expensive.

The GC-CM 18/30 is one of the cheaper, smaller electric cordless lawn mowers that Einhell makes.
It comes with a 30cm cutting width, which is about as small as you'll find on a mower like this. As a result, this mower isn't very efficient for large gardens over 150 square metres, because it'll take a lot of passes to cut your entire lawn. However, it is quite light, and is easy to manoeuvre, which is better for smaller lawns.
Given what this mower costs, the range of cutting heights is quite good. You can set it to cut as low as 30mm if you want to reduce how often you mow, or as high as 70mm if you like to make more frequent cuts.
There is a decent amount of plastic used on this mower – this is part of the reason why it's so light. However, you won't face any durability issues, and Einhell have included good-quality steel blades.
This mower can be a bit tricky to assemble, especially with the grass collection box, as it comes in a lot of different pieces. But once you've put it together, it is quite easy to use, even for beginners.
Verdict: good reasonably-priced cordless mower for small gardens.
Pros
Great price.<
Good cutting height adjustment.
Good durability.
Easy to use once assembled.
Cons
Tricky to assemble.
Feels a bit flimsy in places due to the plastic.
This mower is Einhell's bigger, beefier, more expensive lithium-ion cordless lawn mower.
It has a larger 43cm cutting width, and a much larger grass box, allowing for very efficient mowing on lawns up to 500 square metres in size. The run time of Einhell's universal Power X Change battery is quite good, which is another thing that's useful for those with large lawns.
Despite being a relatively large mower with a big battery, the Einhell GE-CM 43 isn't actually all that heavy. It's still quite easy to push, which is good given that this is not a self-propelled lawn mower.
This mower can be folded down for storage, and comes with a mulching kit adapter if you'd prefer not to collect your clippings. Although the grass box has plenty of capacity, it's always good to have the option of mulching your clippings to help feed your lawn.
As you would expect at this price point, the motor on this mower is quite powerful, allowing it to handle thick grass just fine. Assembly is also a little easier than on the GC-CM 18-30, allowing you to begin mowing almost as soon as you get it.
Verdict: not cheap, but a good-quality cordless lawn mower for larger gardens.
Pros
Large cutting width.
Powerful motor.
Good battery life.
Easy to push.
Cons
Relatively expensive.
Overall value rating
⭐⭐⭐⭐⭐
Einhell Petrol Mower Reviews
Now we'll review an Einhell petrol lawn mower. The company's petrol mower range isn't massive, but they do offer some good petrol mowers at quite reasonable prices.

This petrol mower from Einhell is actually cheaper than their more expensive electric mower. This is due to the cost of the battery – lithium-ion batteries are not cheap, although prices have come down a lot recently.
If you have a larger lawn, one reason you might look at this mower is the fact that it's self-propelled, unlike most battery-powered options. This makes your life much easier when mowing for extended periods. You can turn it off if you'd prefer to push manually.
You get a 46cm cutting width with this mower, which is on the small side for a petrol mower. The maximum cutting height is also a little low, at 80mm, although the cutting heights adjustment mechanism is quite easy to use. The GC-PM 46/1 is also a bit noisy, even for a petrol mower.
This mower is also quite heavy, despite the plastic housing. Many people prefer this heavier, more sturdy feel, but it's not the best if you have limited mobility.
The best thing about this mower though is its performance. It cuts great, even on slight slopes, and the mulching function works well too.
Verdict: small but very effective petrol lawn mower.
Pros
Feels very sturdy.
Good mulching function.
Reasonable price.
Performs and cuts well.
Cons
Noisy.
Slightly small for a petrol mower.
Are Einhell's mowers worth the money?
You might end up paying a bit more for an Einhell mower than you would for a similar mower from another brand. This raises the obvious question: are Einhell's mowers worth paying for?
As we discussed above, some Einhell products are better than others. Some are quite good value for money, while others are a bit expensive.
In general, we think that Einhell's mowers are quite good, and are worth the money. No matter what type of mower you're looking for, Einhell generally offer a quality, durable option that's going to be easy to use. Some of their mowers are a bit difficult to put together though.
You just have to consider whether or not it's worth paying extra for an Einhell mower. Many of their lawn mowers are not the cheapest available, when compared to direct competitors. However, you do generally get what you pay for.
We just wish that Einhell included a 3 year warranty, like some of their competitors do, rather than a 2 year manufacturer guarantee.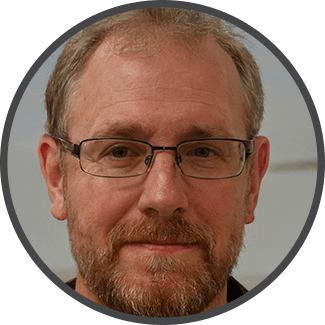 I'm Josh, and I'm the head writer at Lawn Care Pro.
I love everything lawns, but I'm a bit of a lawn mower nerd. I spend a lot of my free time tinkering with mowers, and planning my mowing schedule for the next few weeks.
I'm also into cars, which comes in very helpful when servicing a mower engine!